AUTUMN / WINTER
KNITWEAR MADE IN SCOTLAND
Here at KESTIN, one of our fundamental focuses is on championing Made In Scotland production. Our Autumn/Winter 2023 collection comes once again with us working with the wonderful team at the Esk Cashmere Factory, located in Annan, Dumfries.

So far we have two returning silhouettes – the Fife Gansey Knit and Brushed Shetland Knit Crew Neck, accompanied by two new silhouettes – the Donegal Roll Neck and the Galloway Cable Knit. Below you can read about the specifics on the three models to find your perfect winter sweater.

With one last silhouette to come, the good folks at Esk are knitting our Shetland Cardigan as we speak.
GALLOWAY CABLE KNIT
The cable knit pattern, originally developed in the Aran Islands in the Atlantic Ocean, is made from a naturally insulating, breathable, hypoallergenic and biodegradable Shetland-style Lambswool, sourced from a mill established in 1798. The wool was knitted in a 5-Gauge Machine using whole-garment technology for minimal waste and maximum efficiency, powered by renewable electricity.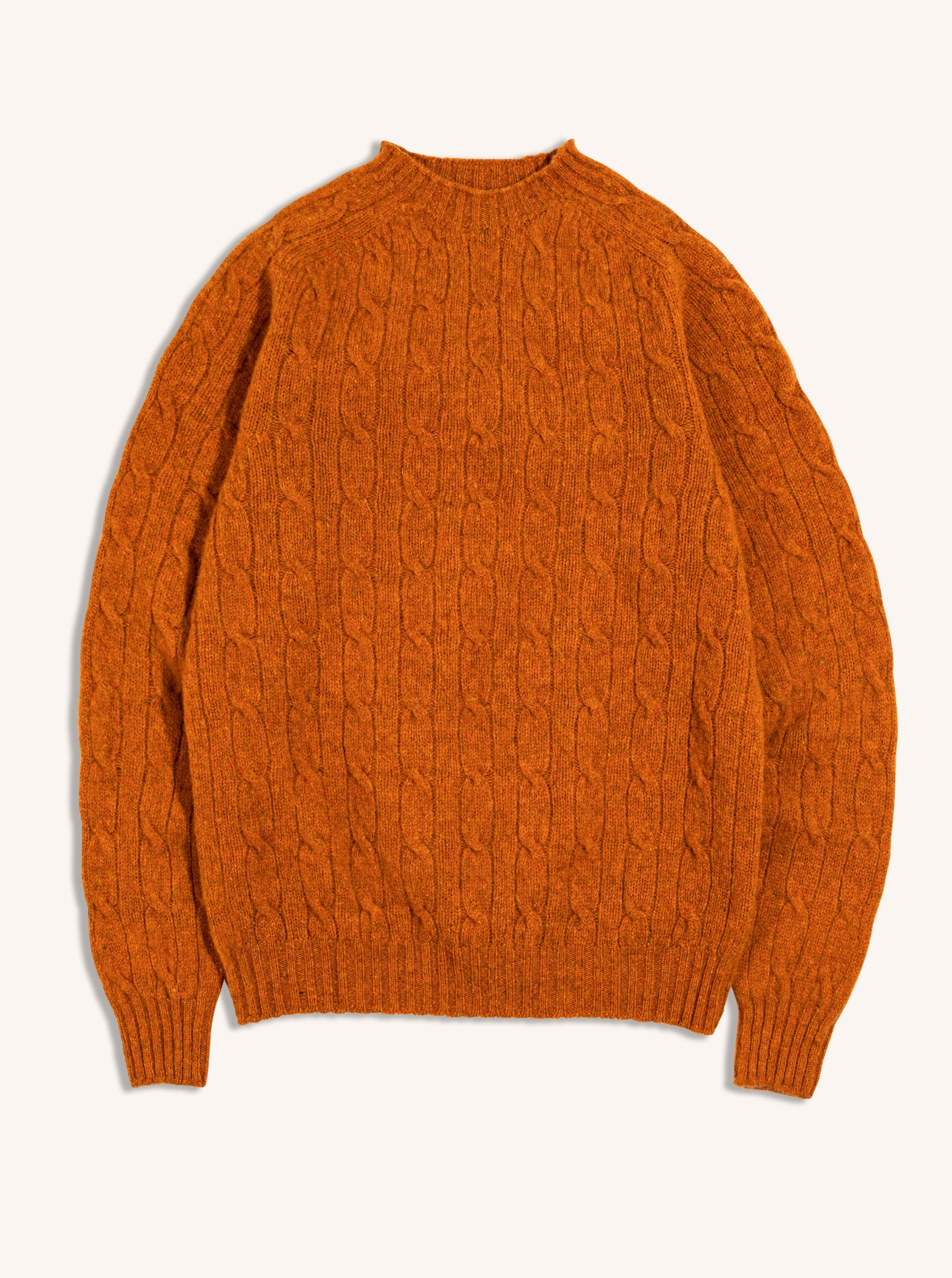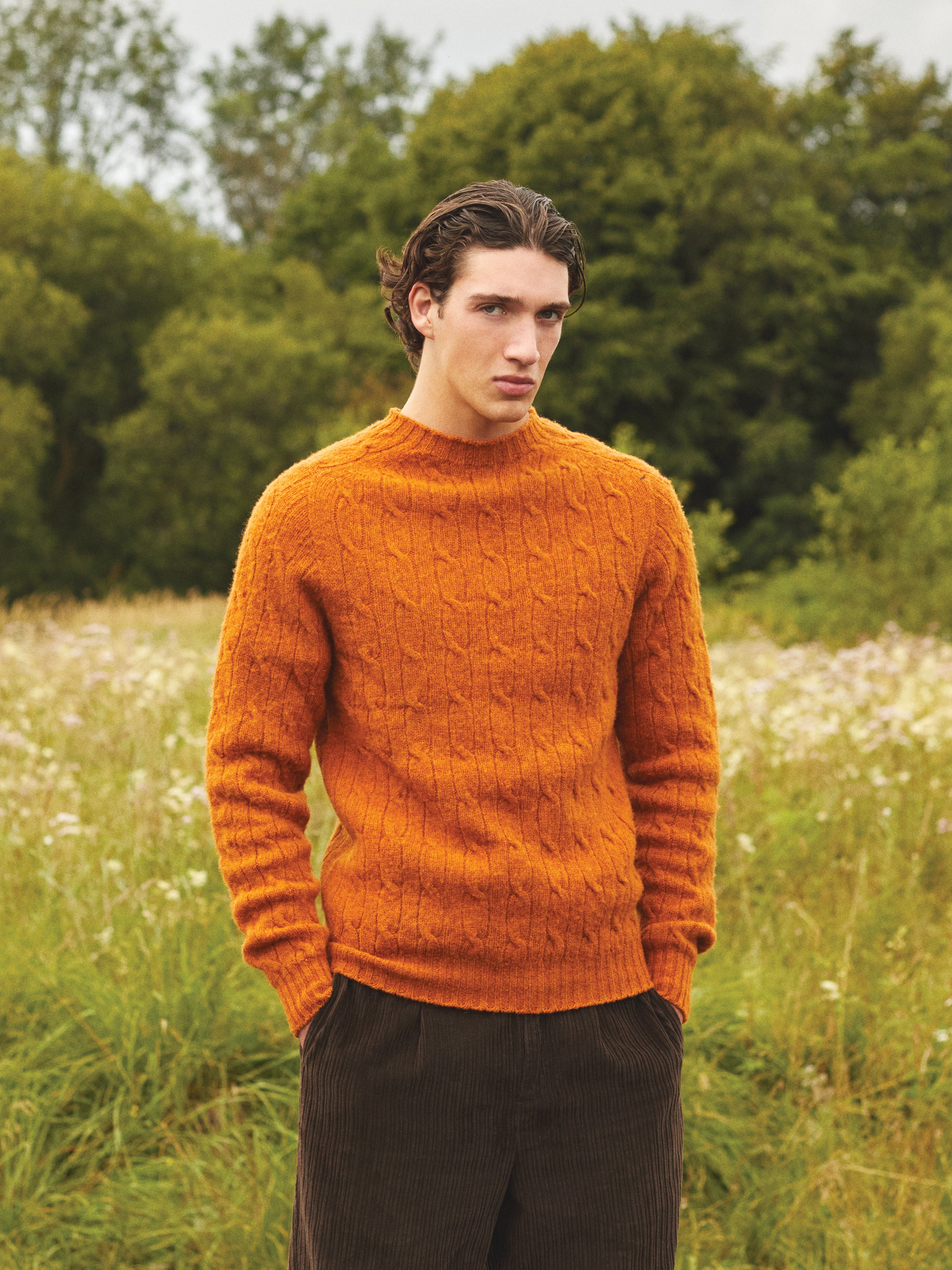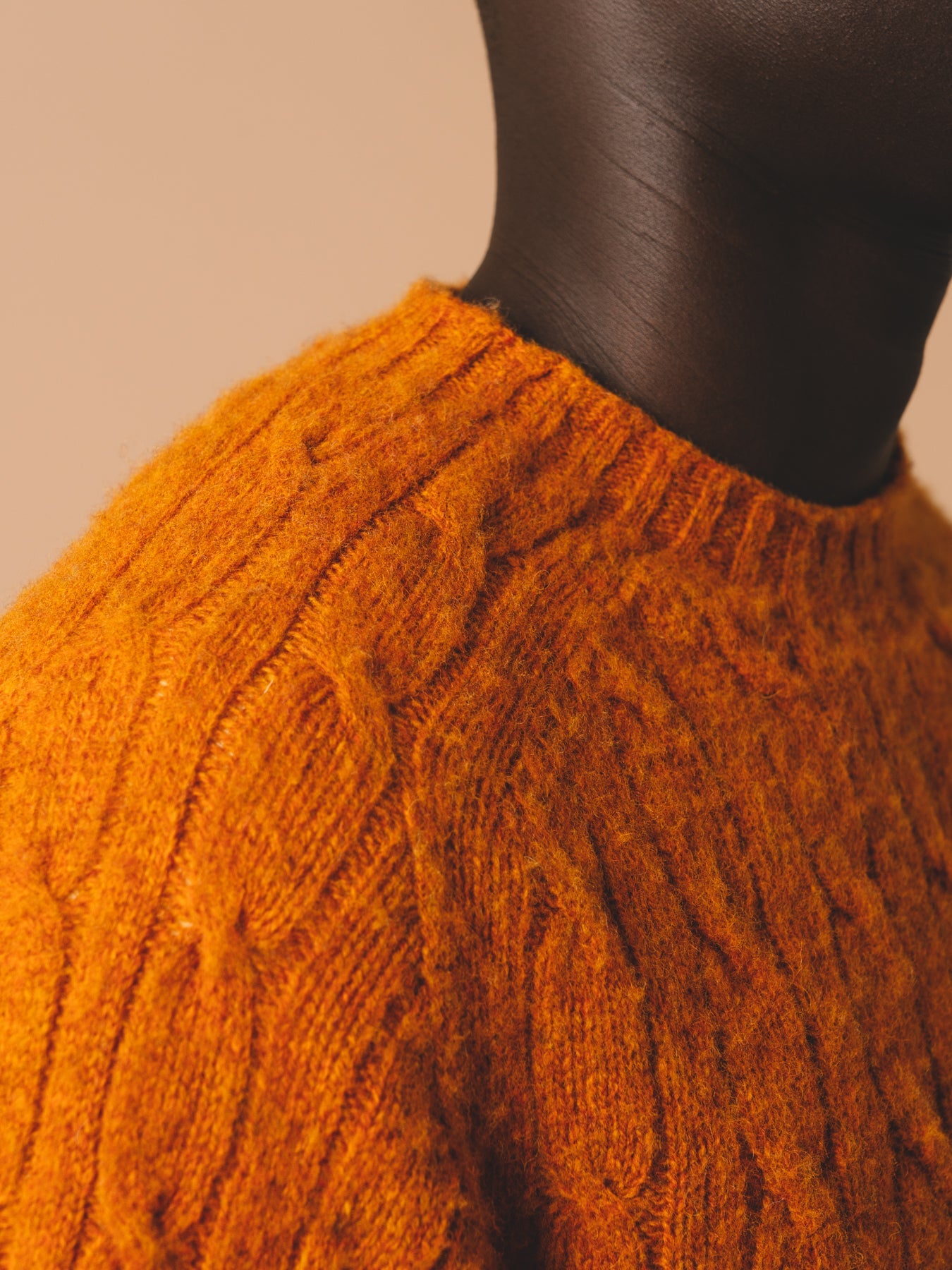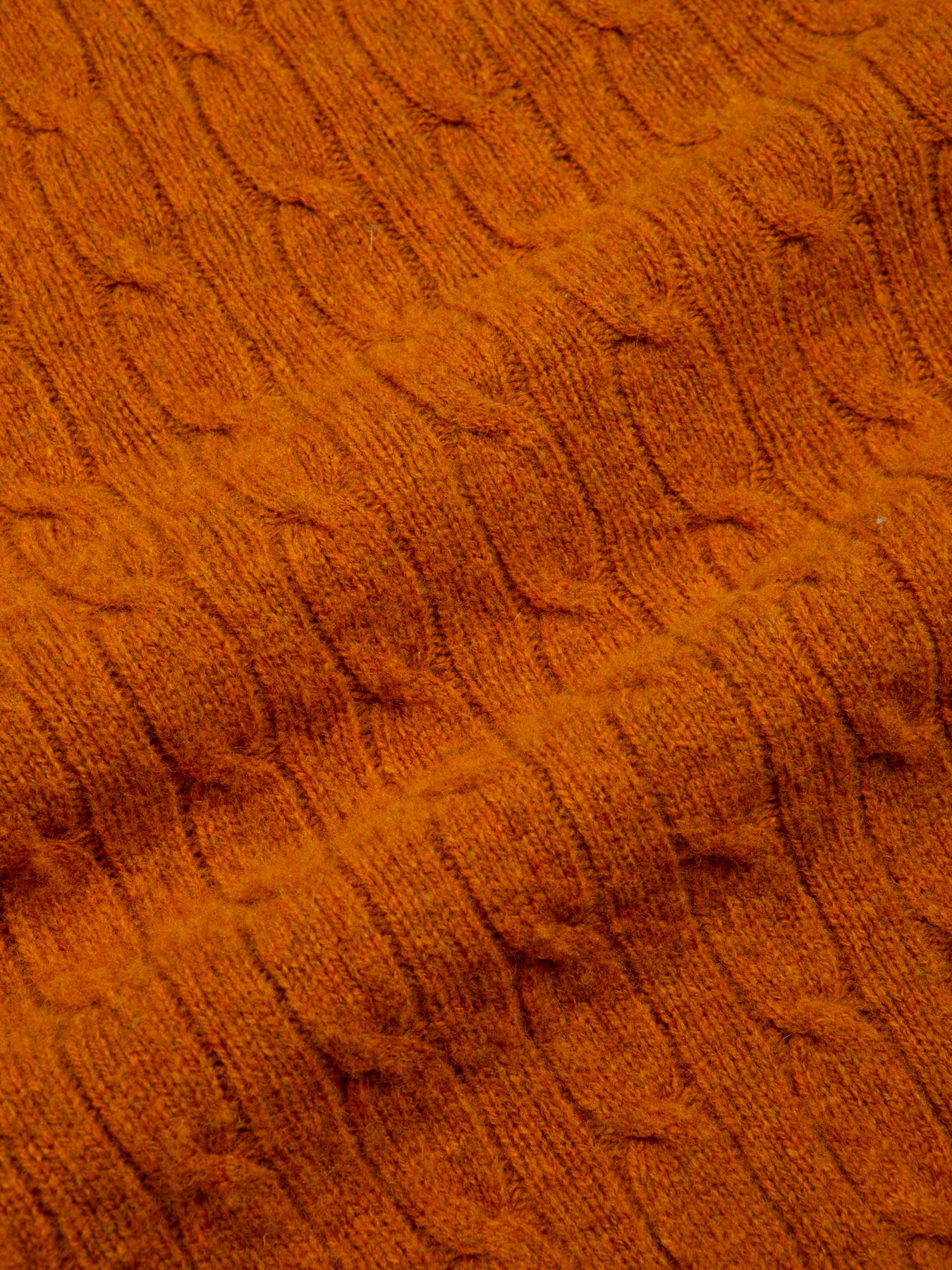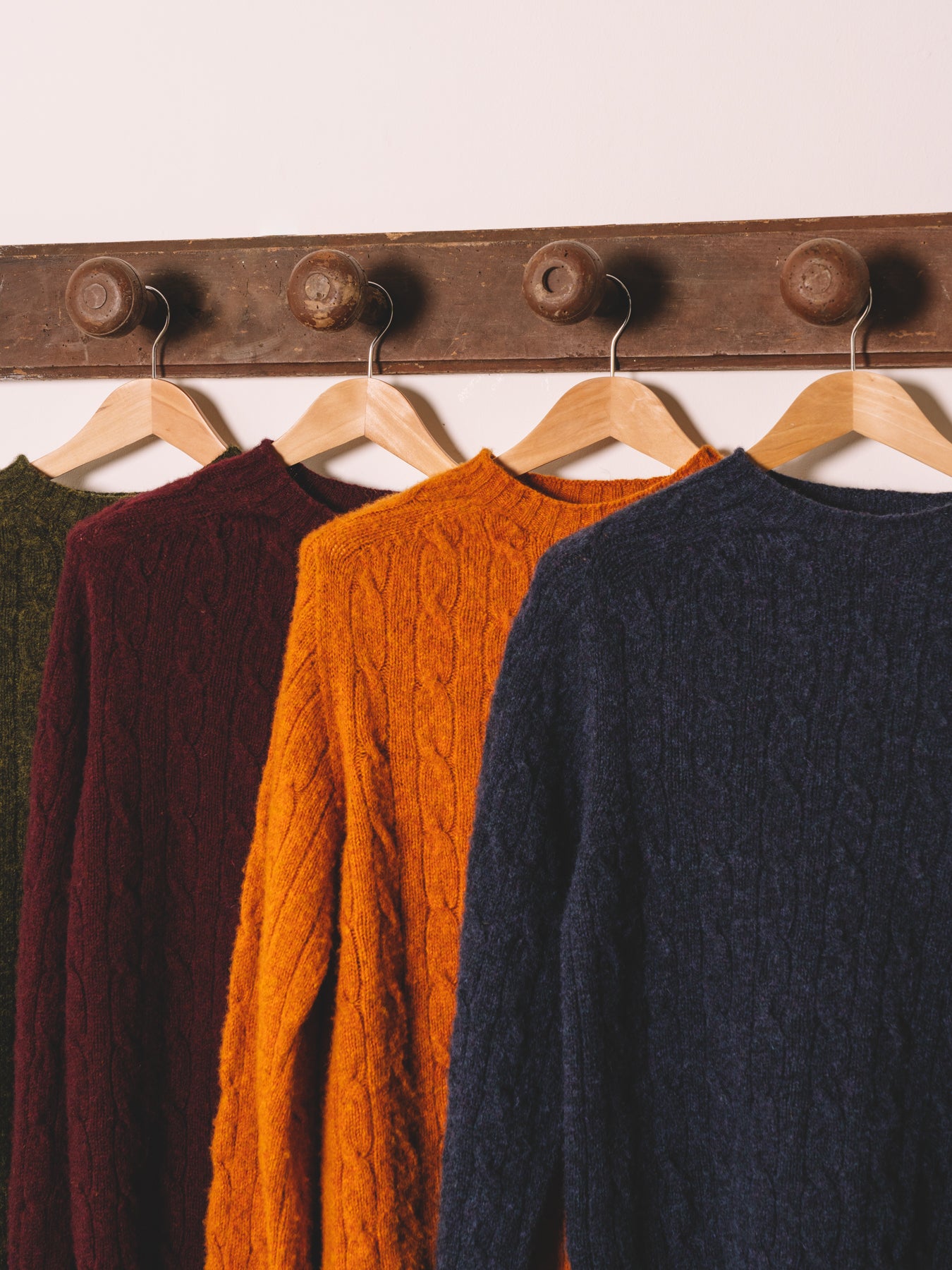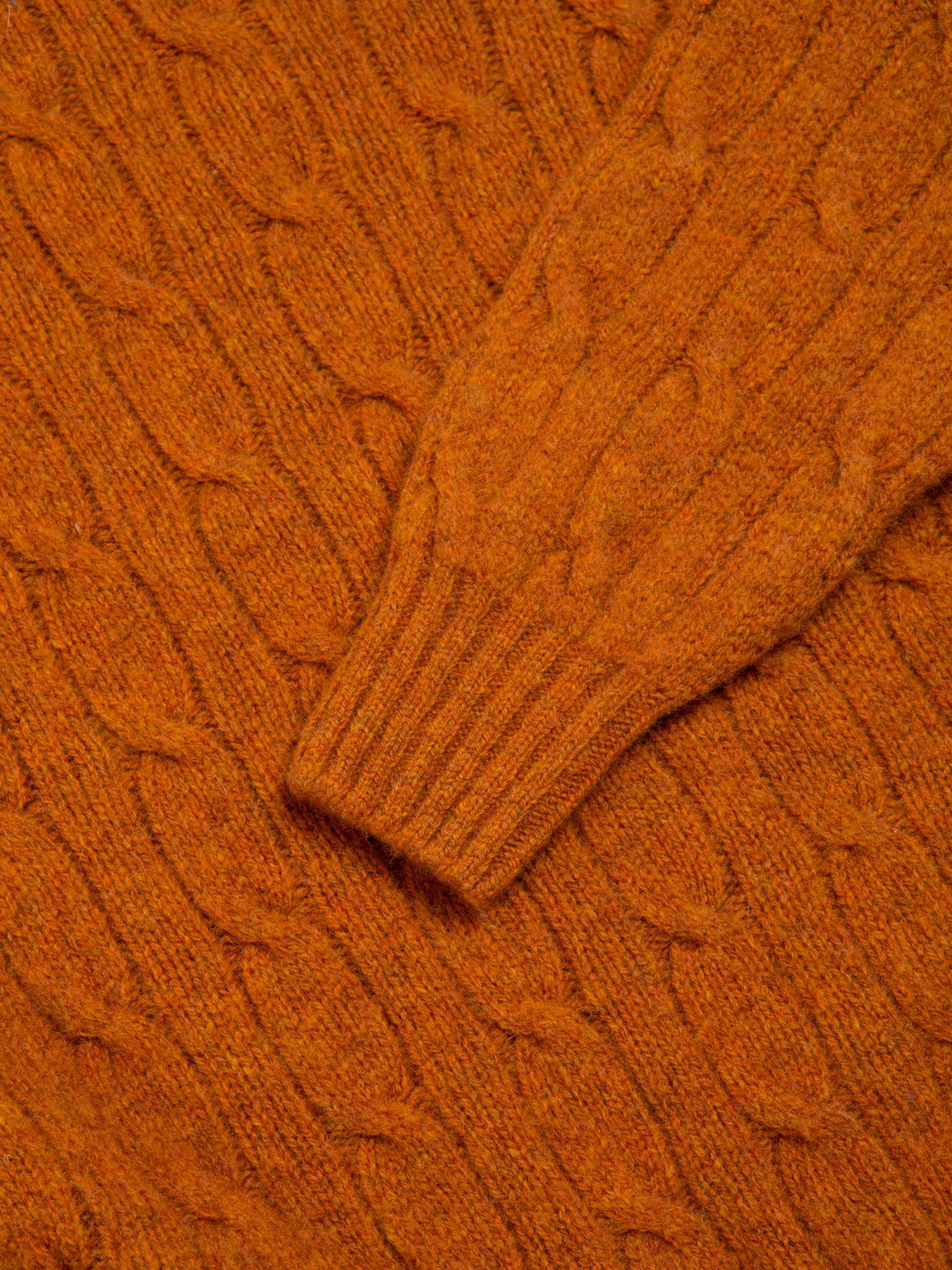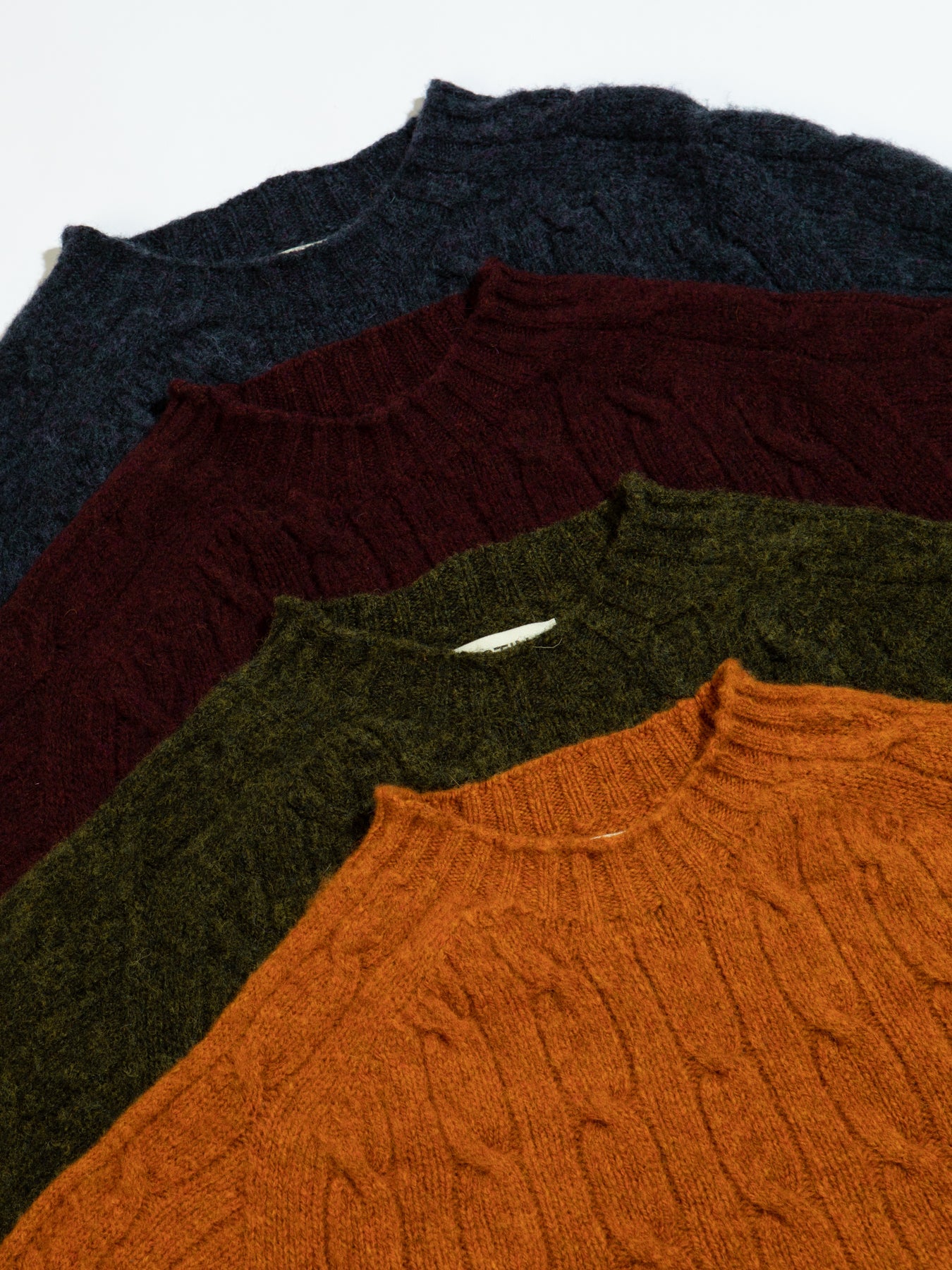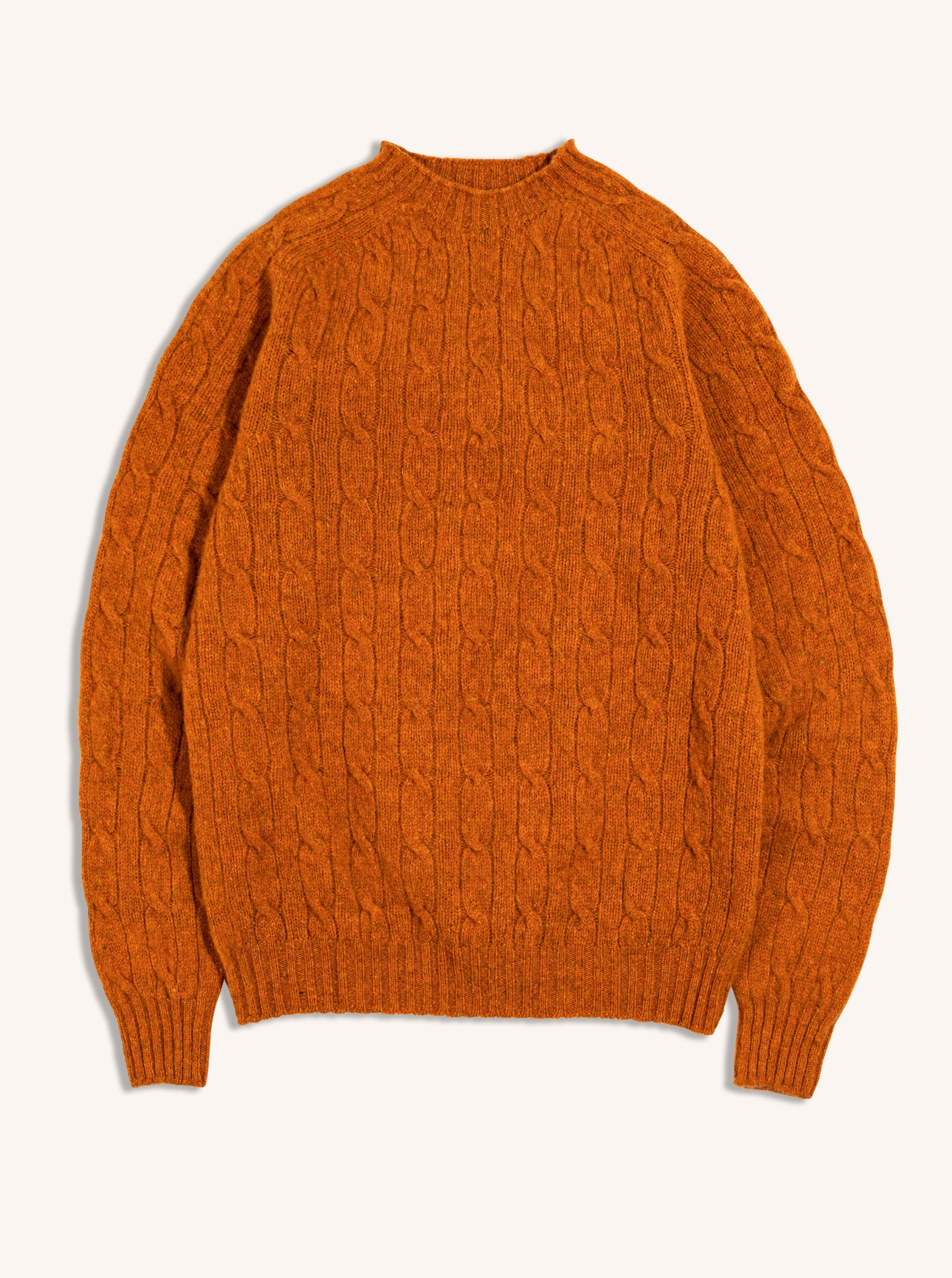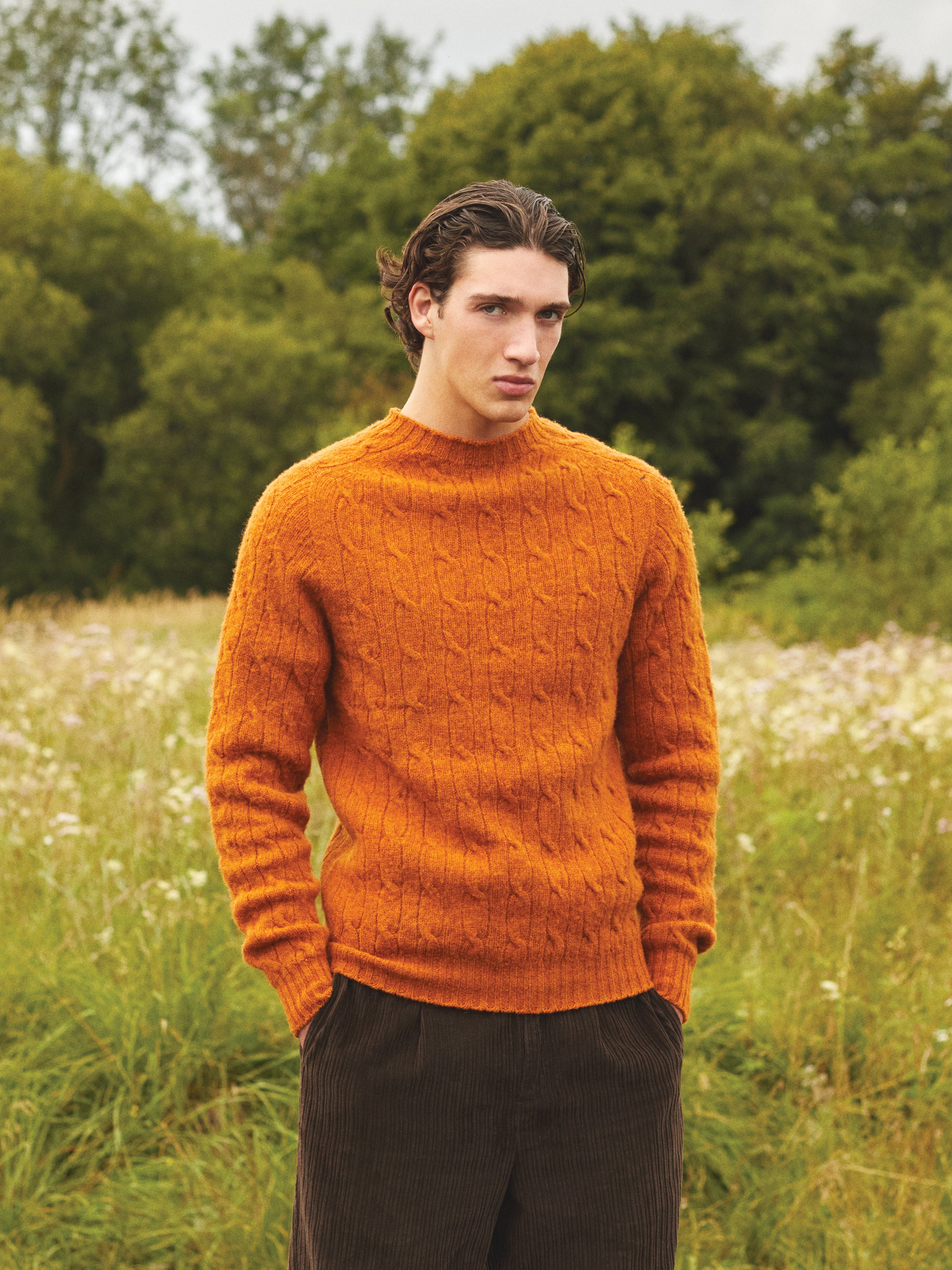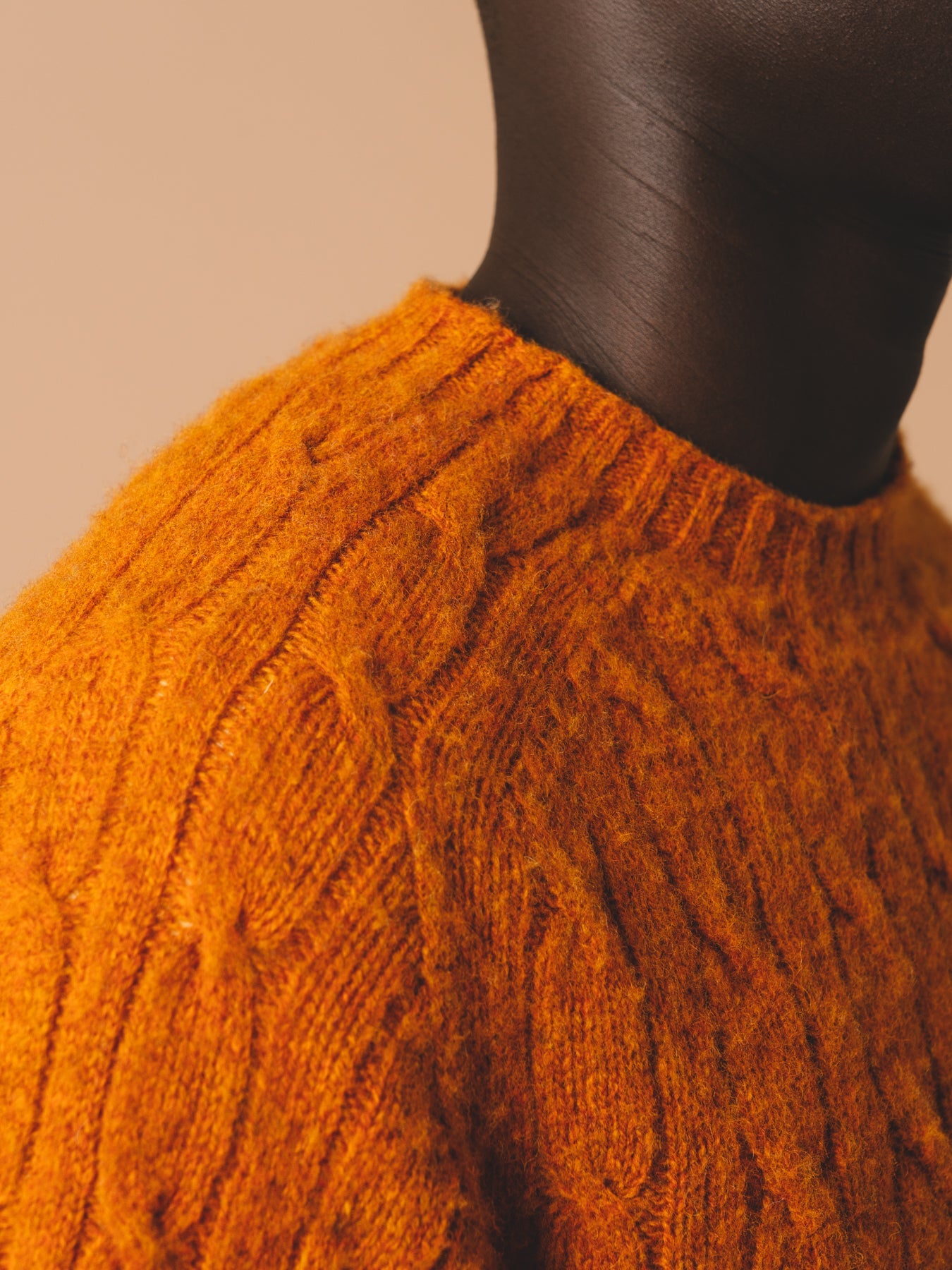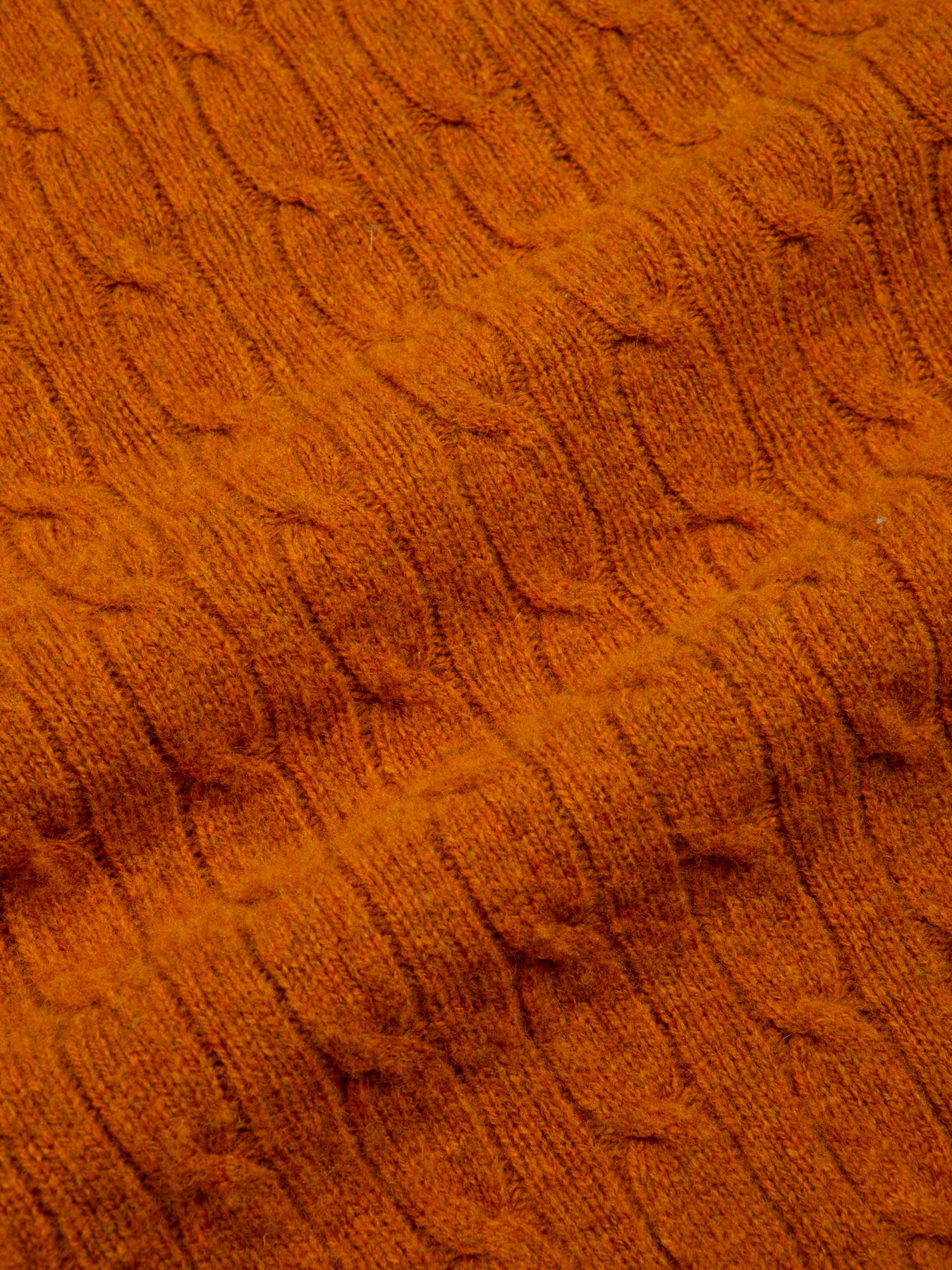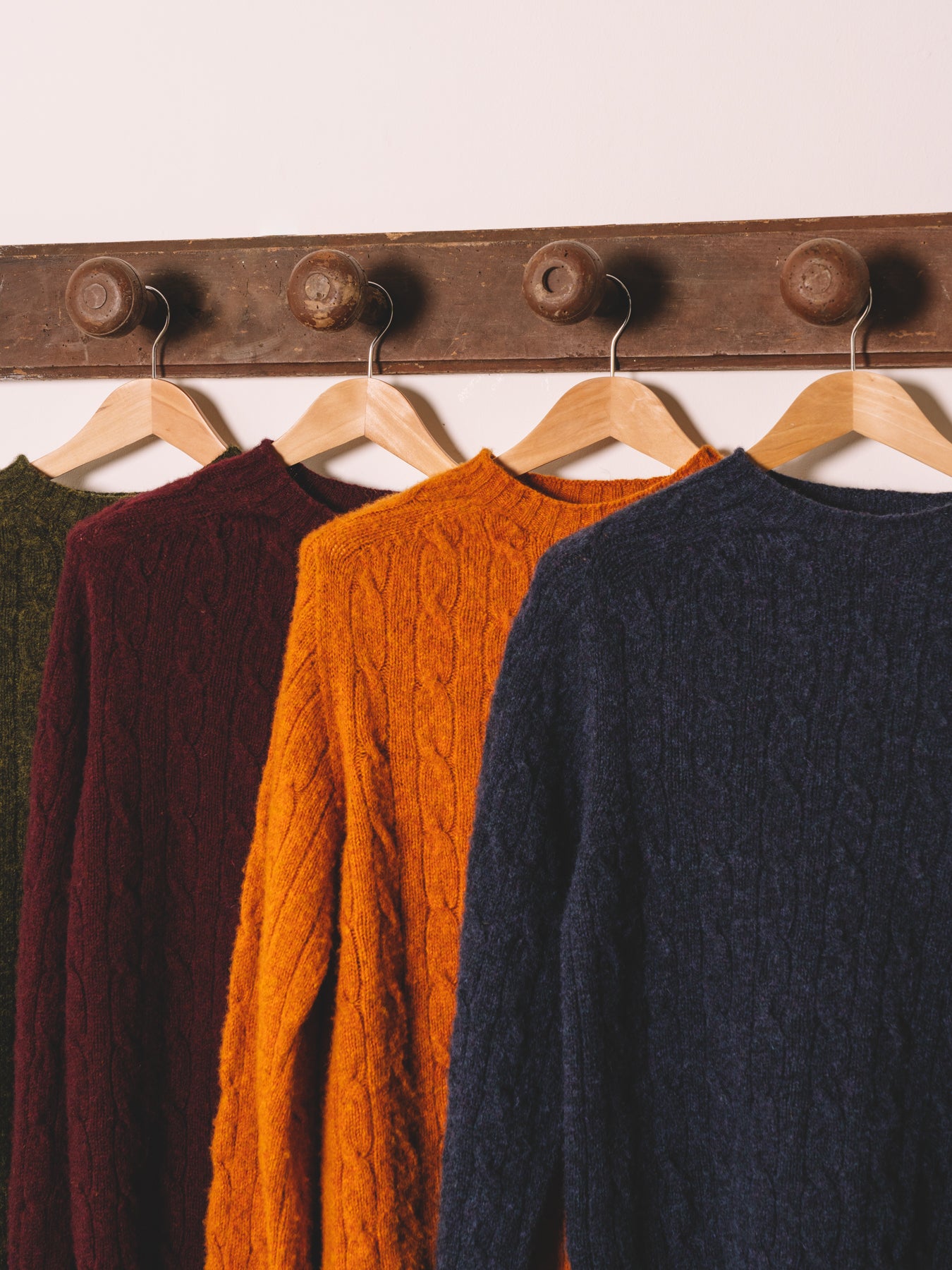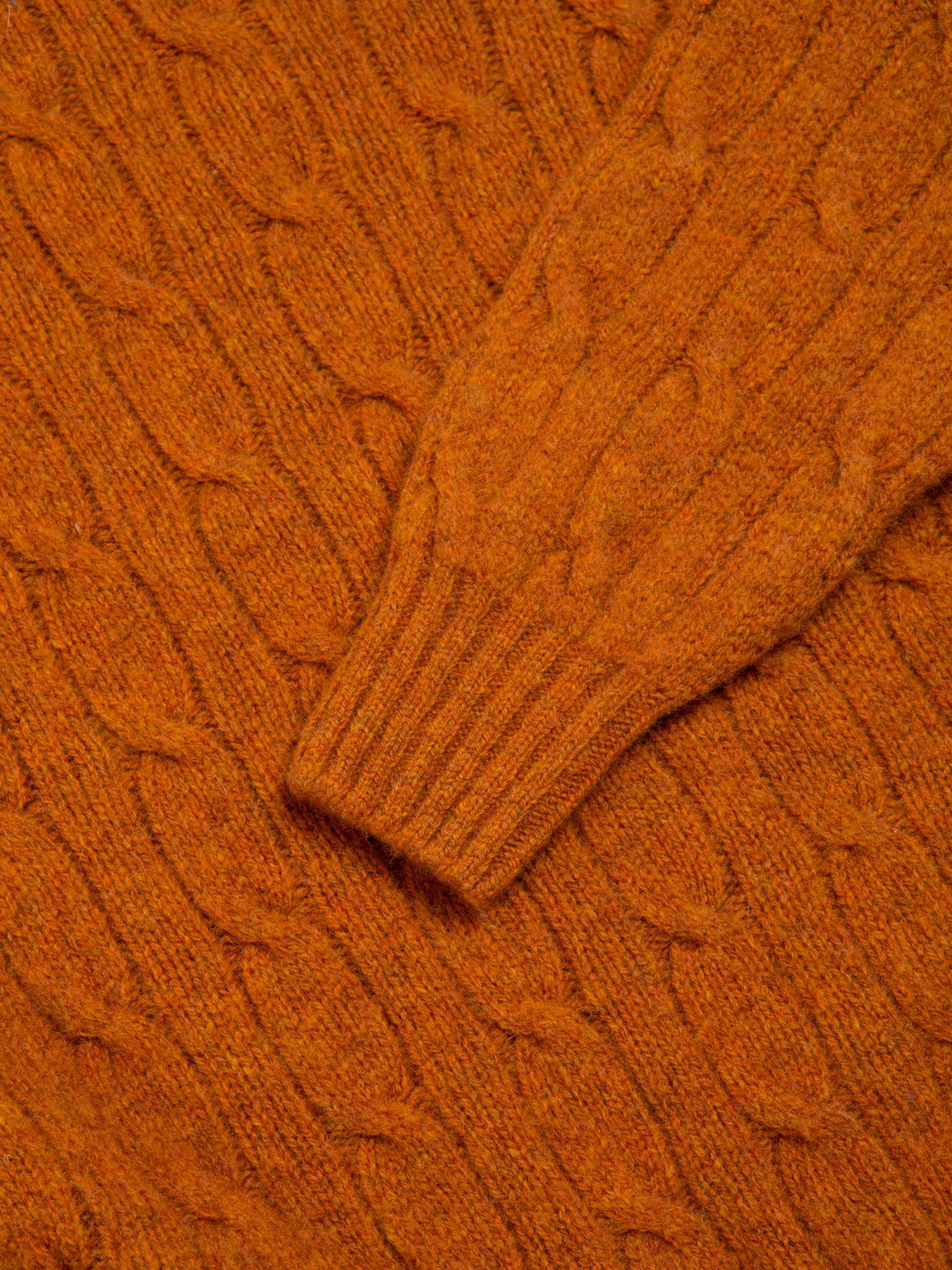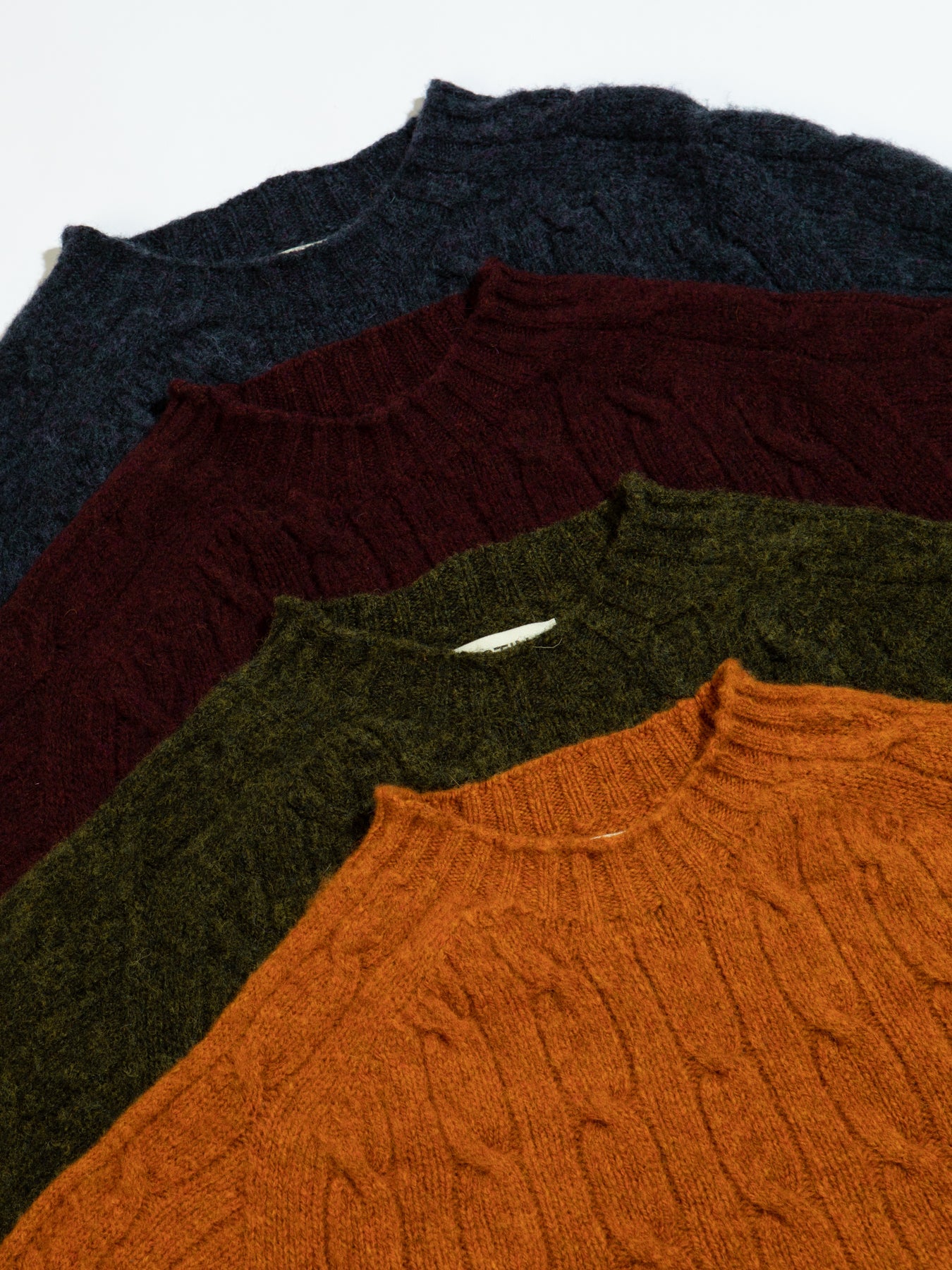 TANGERINE
£169.00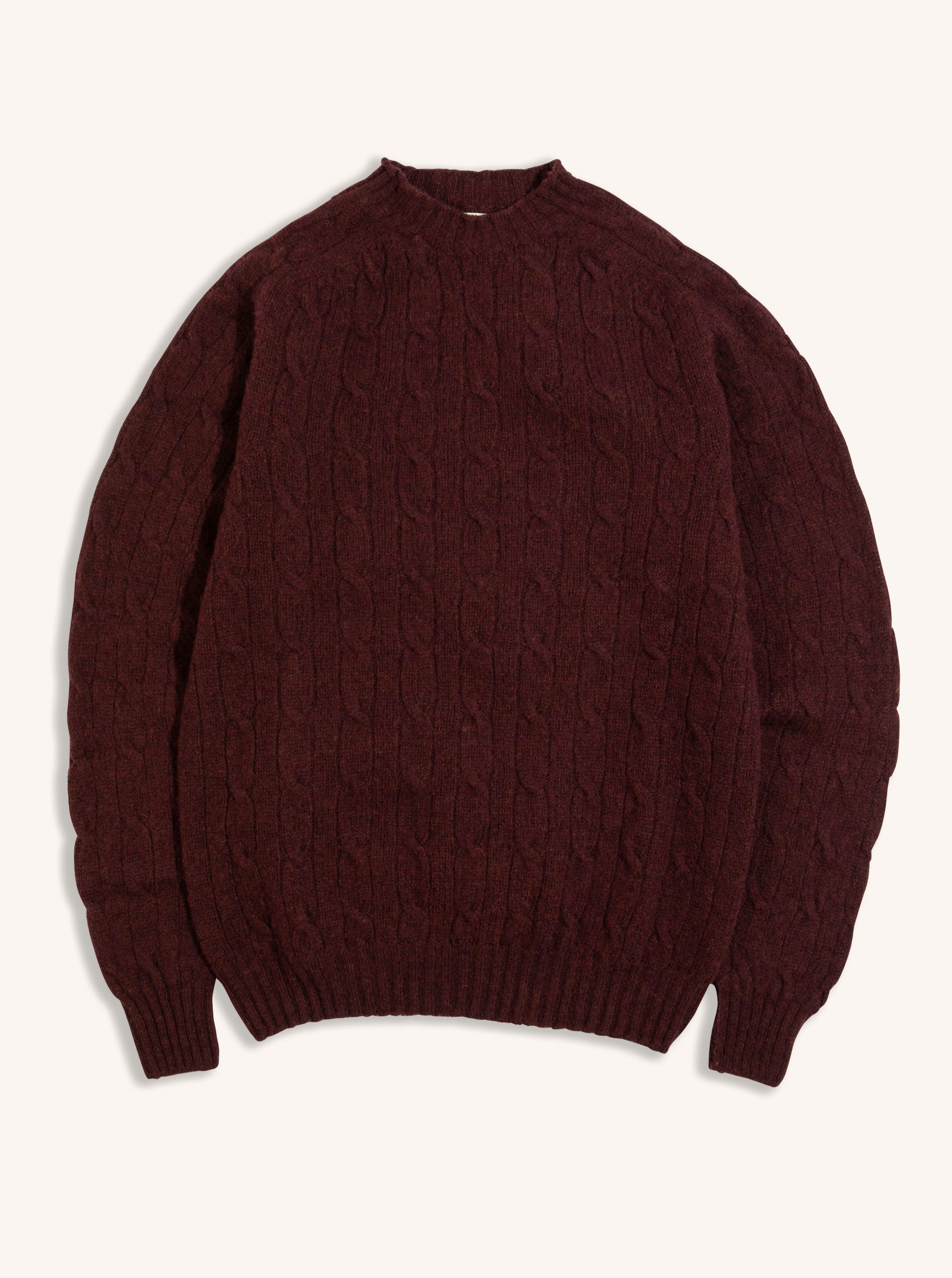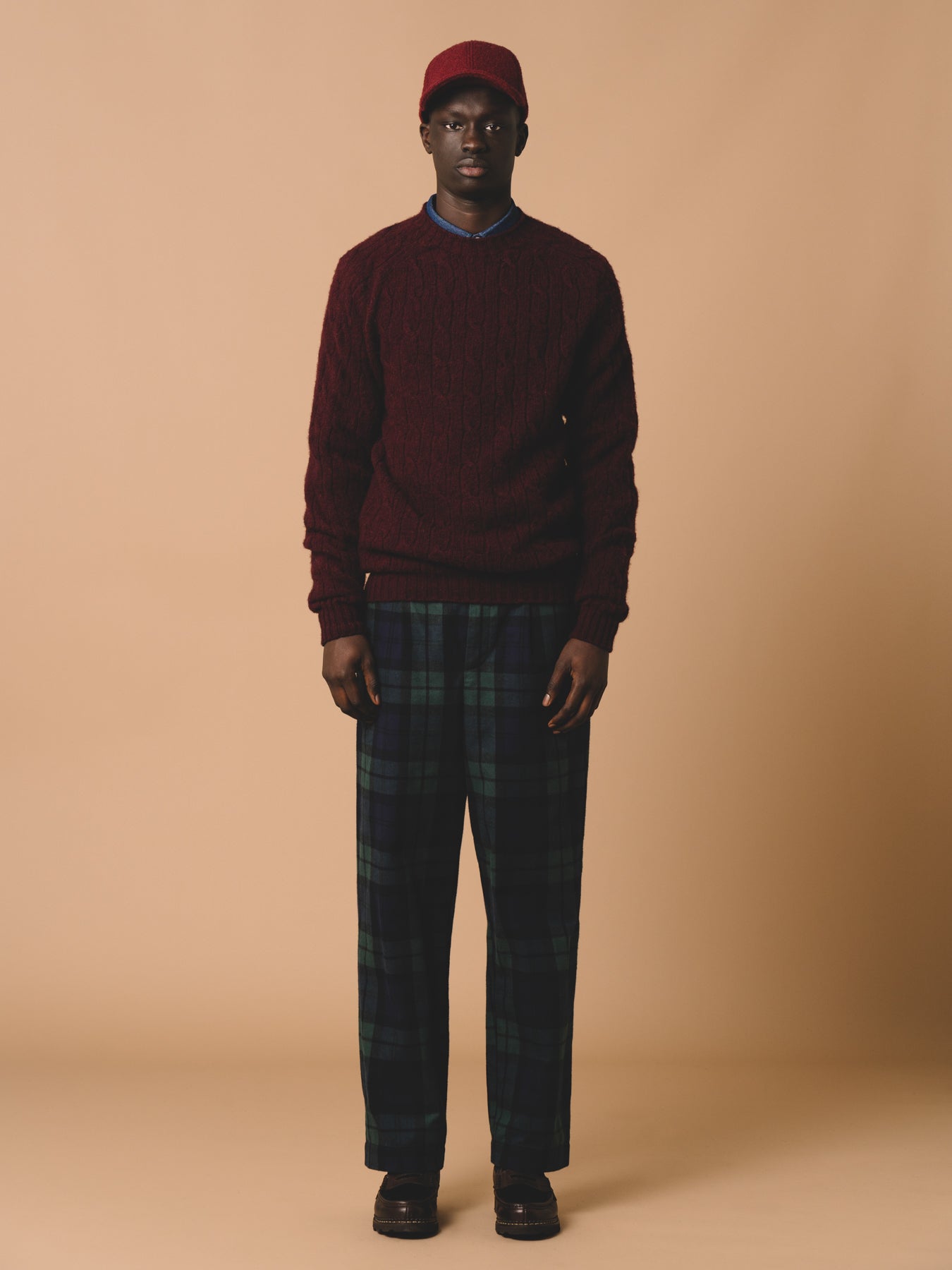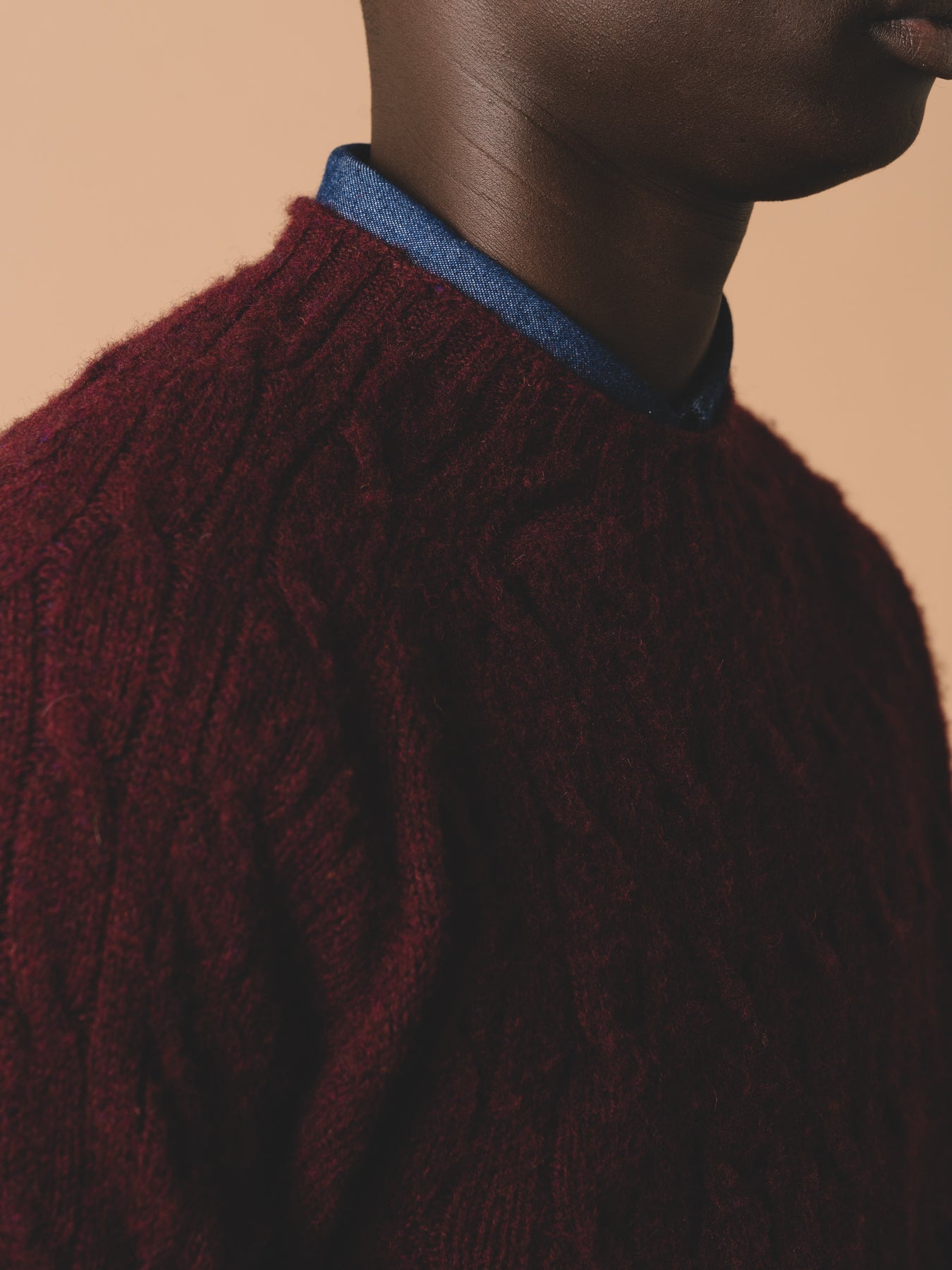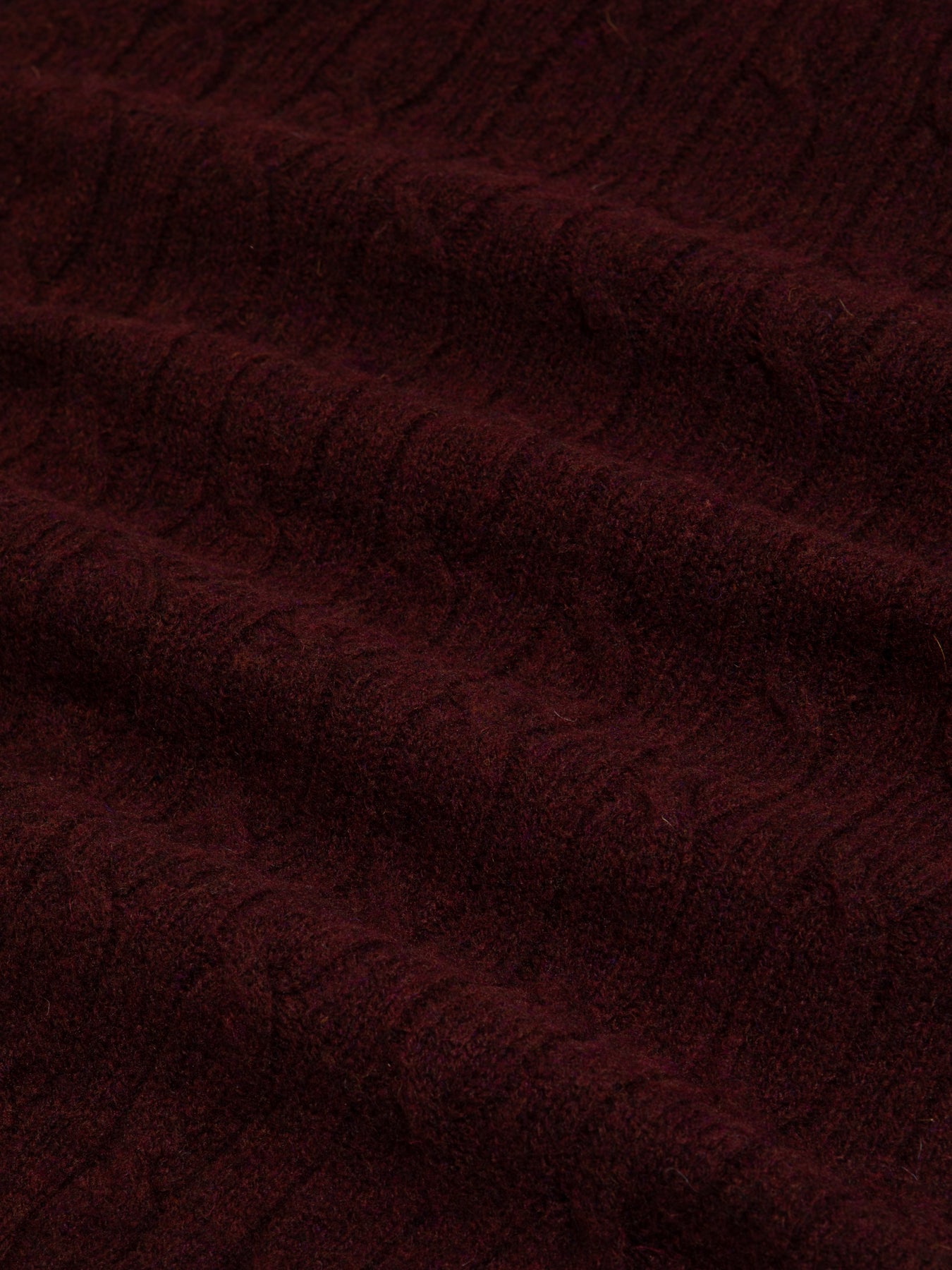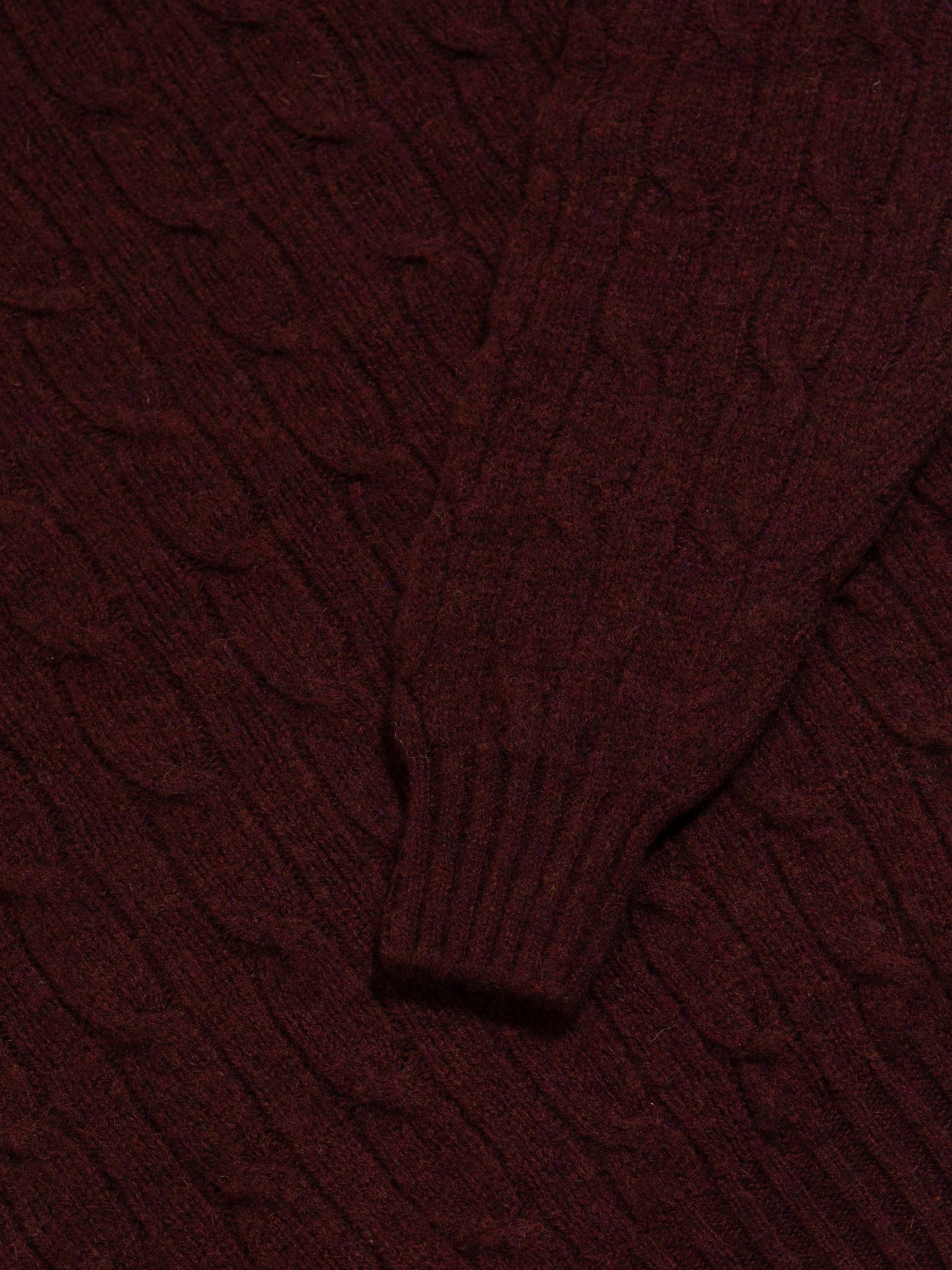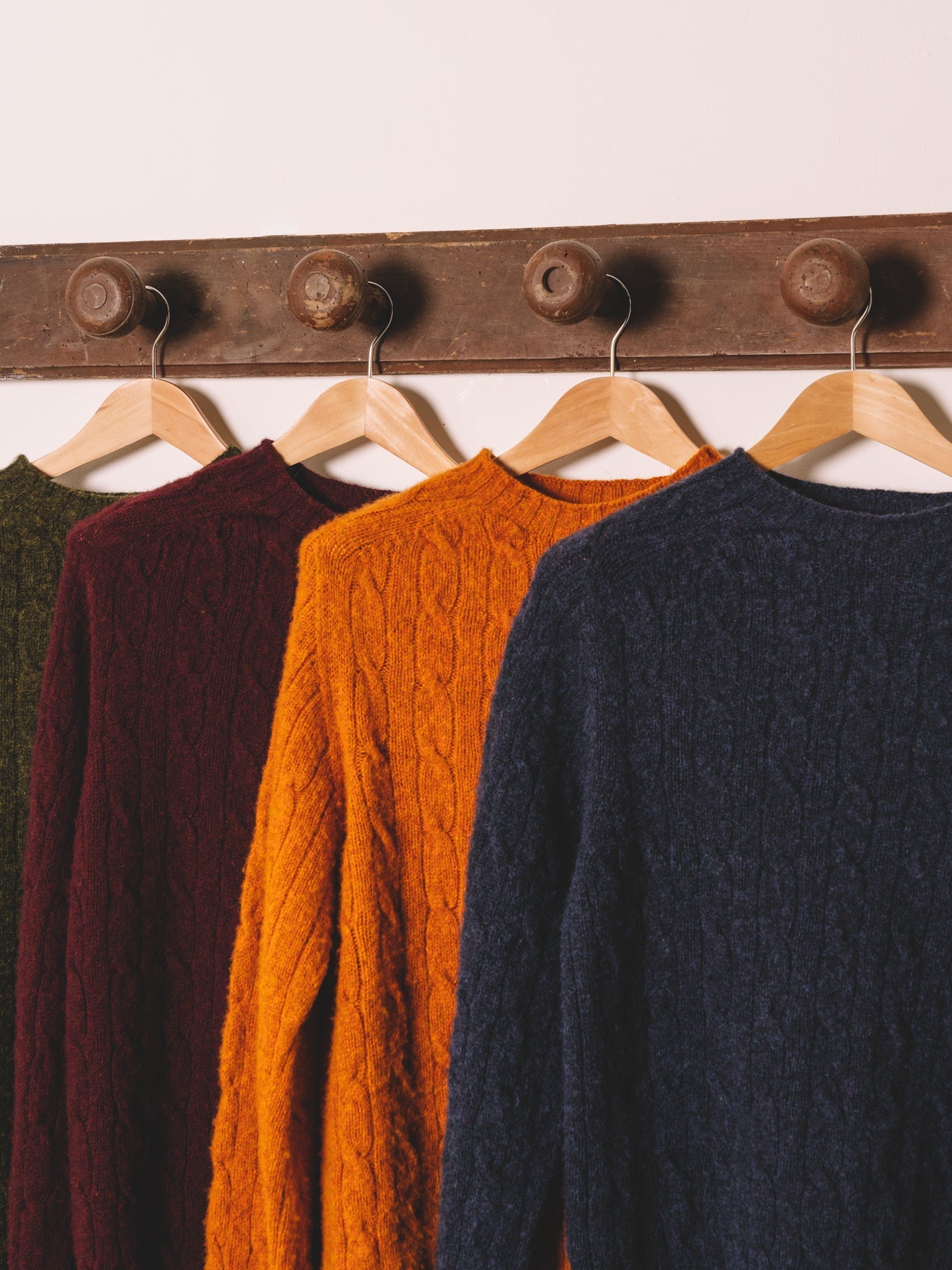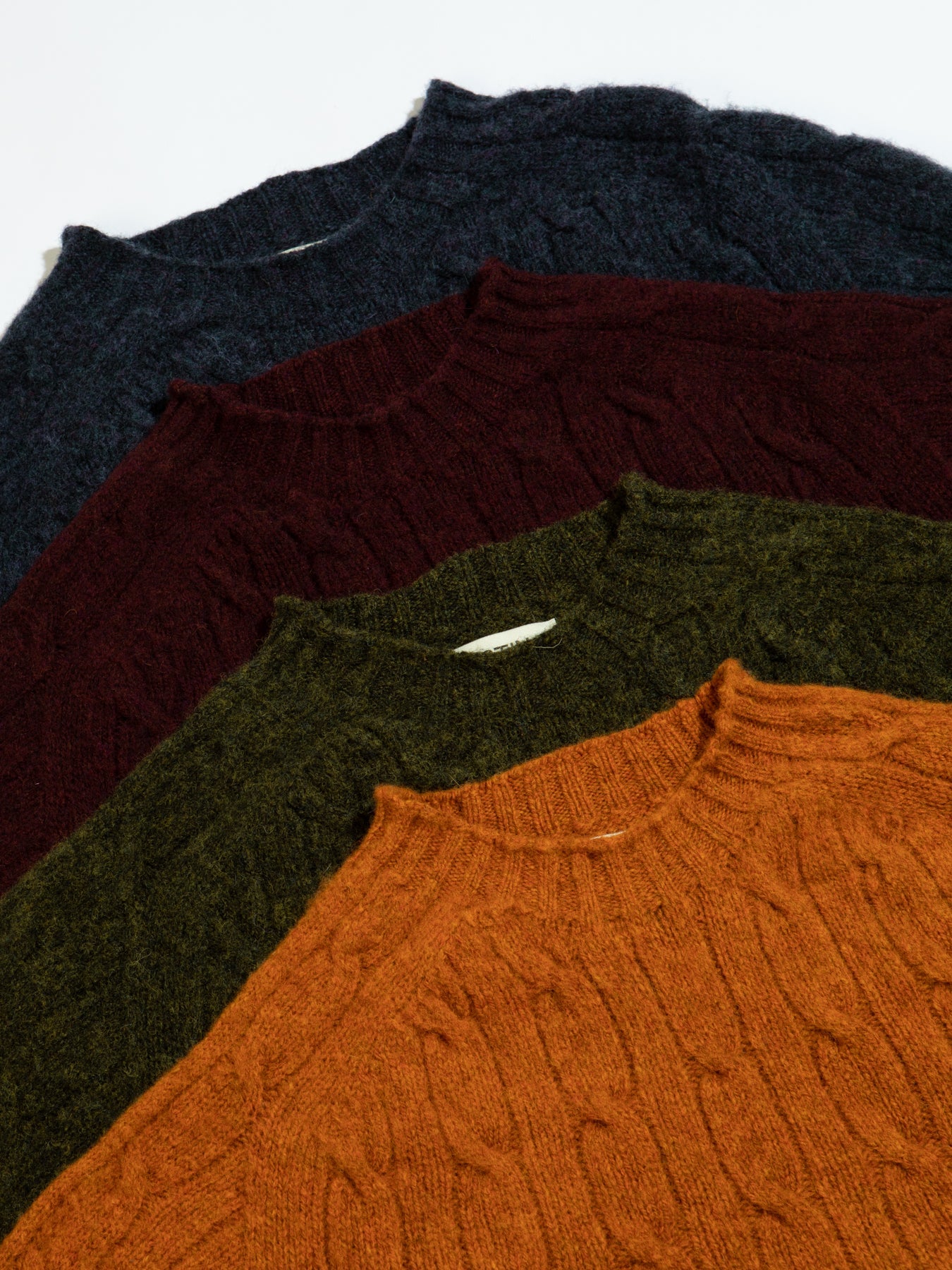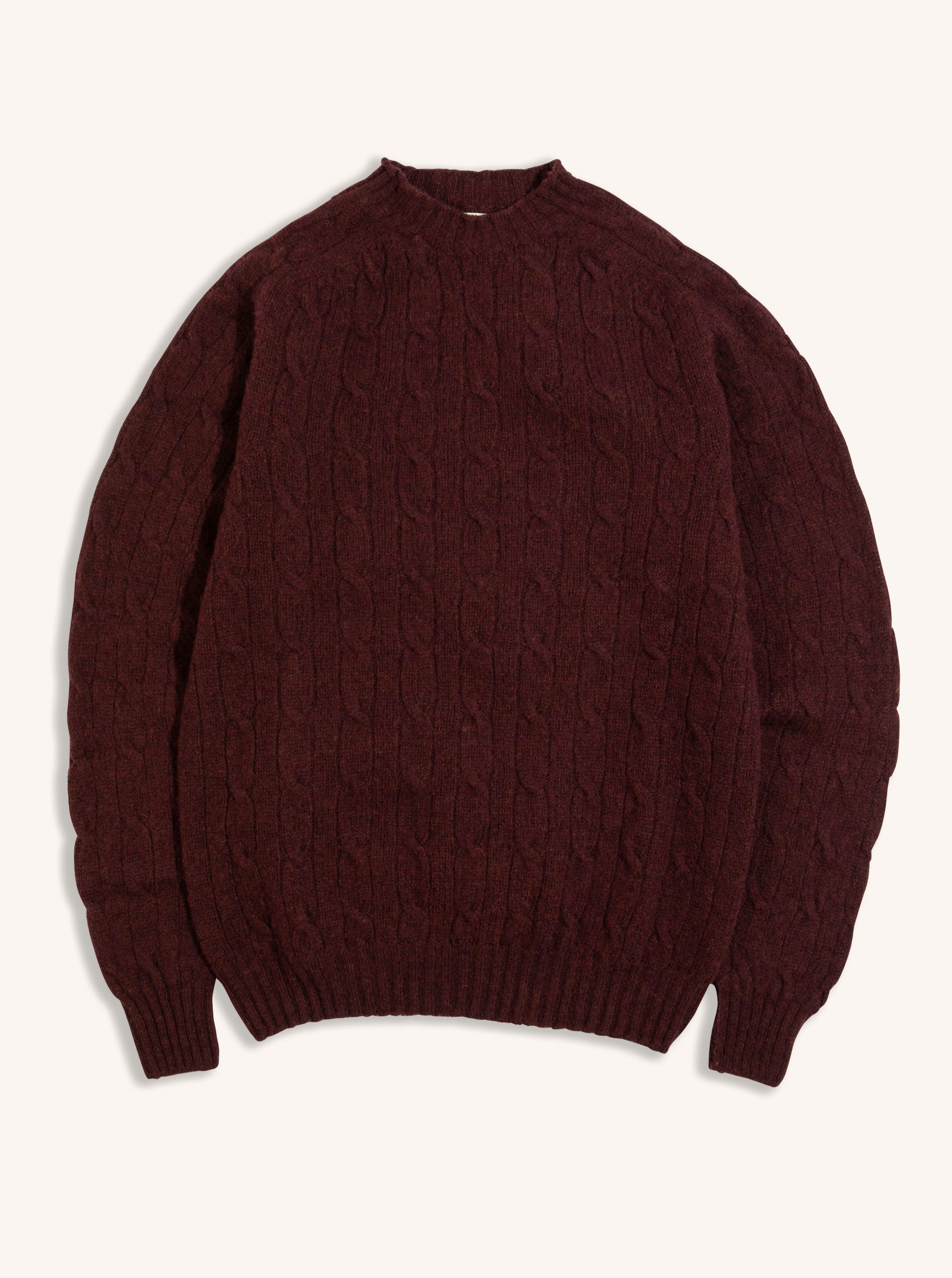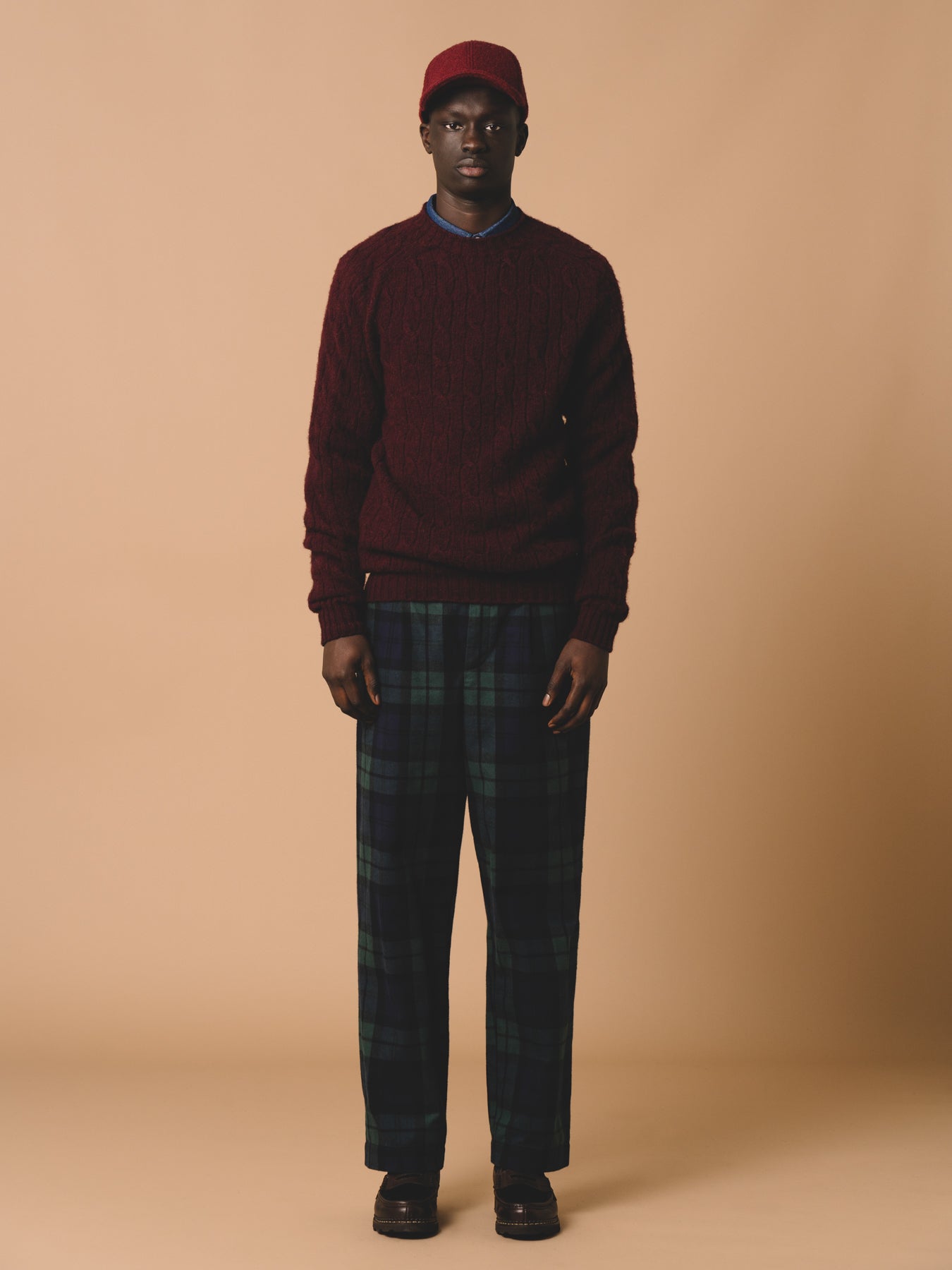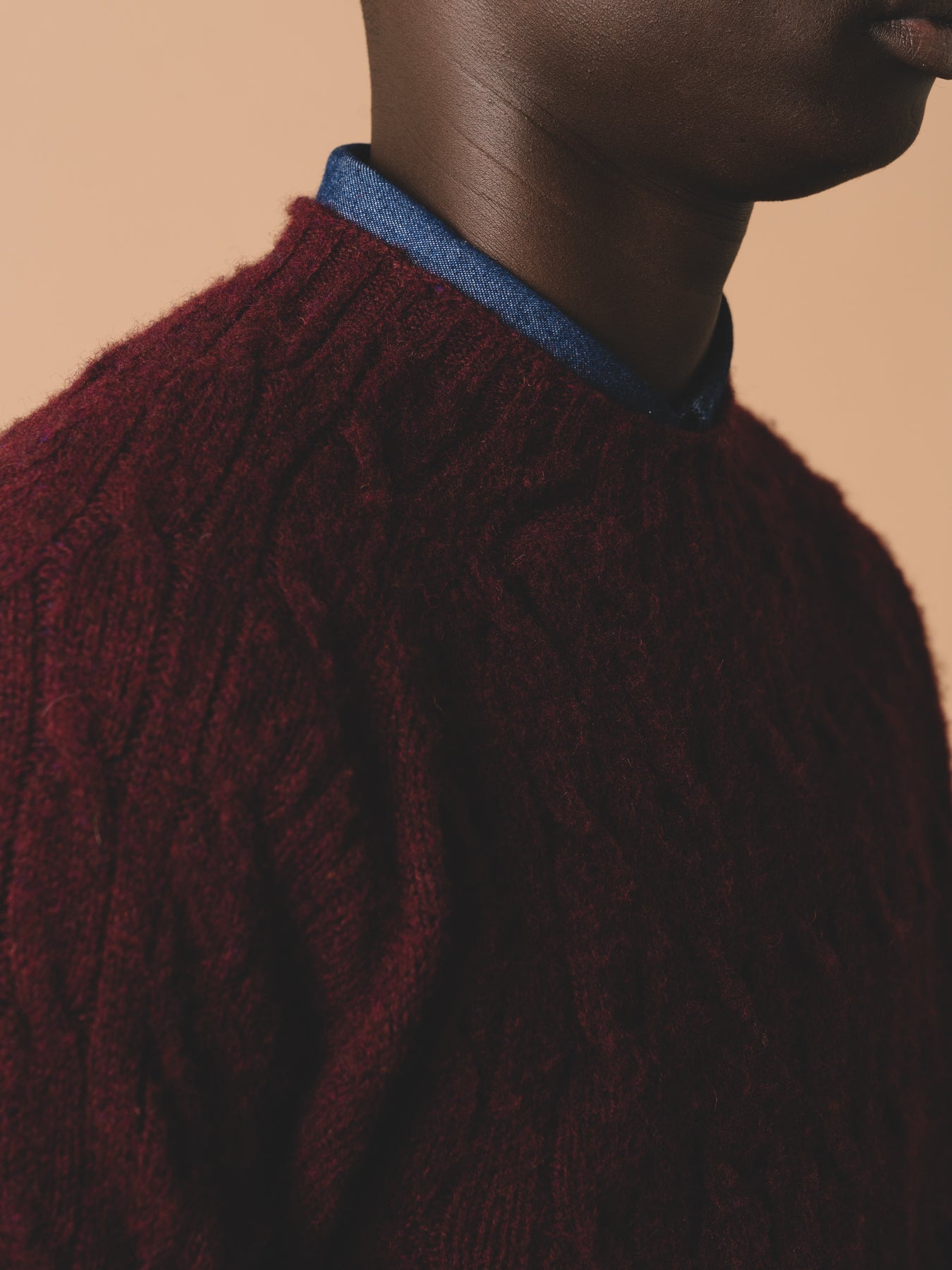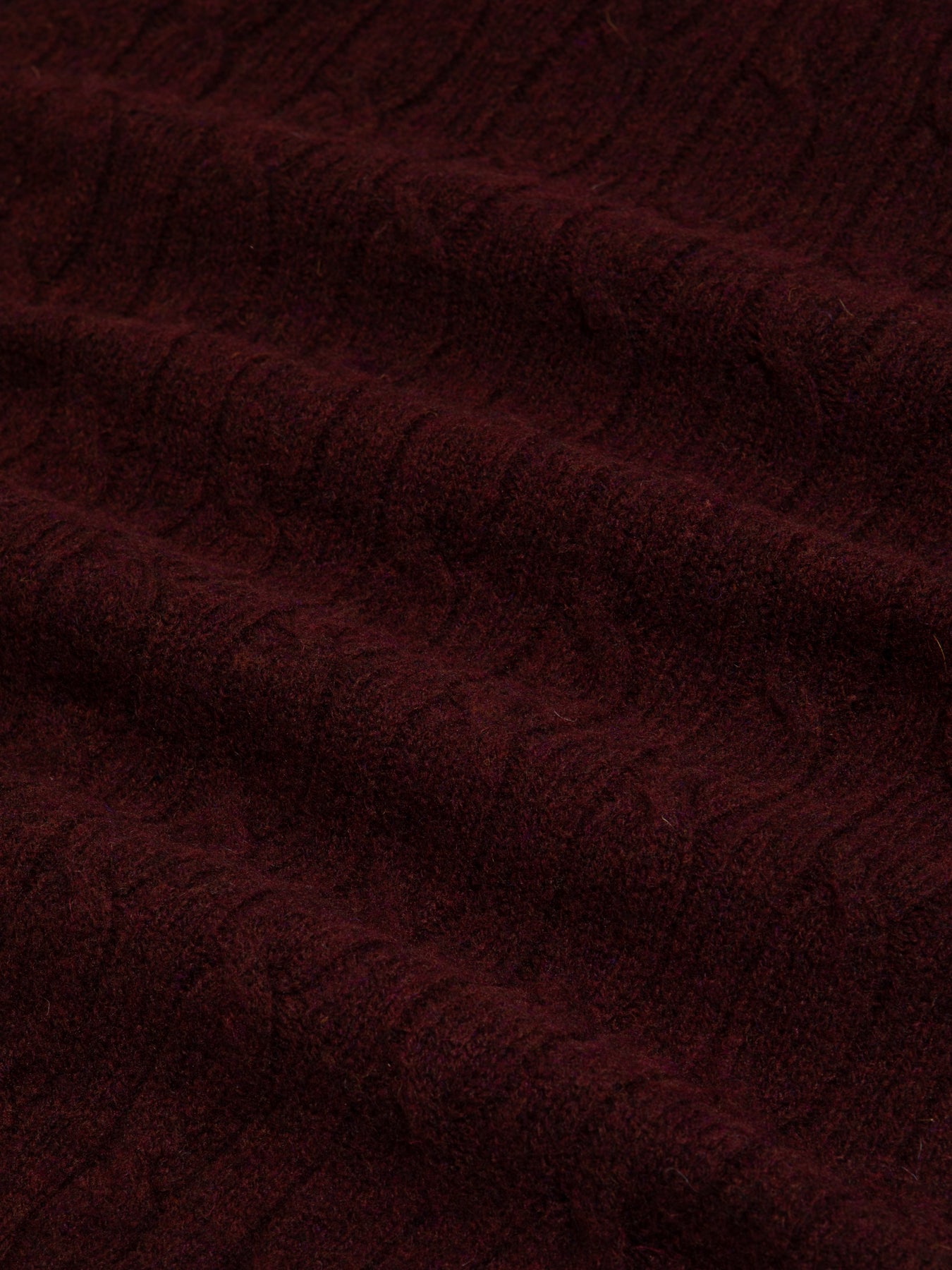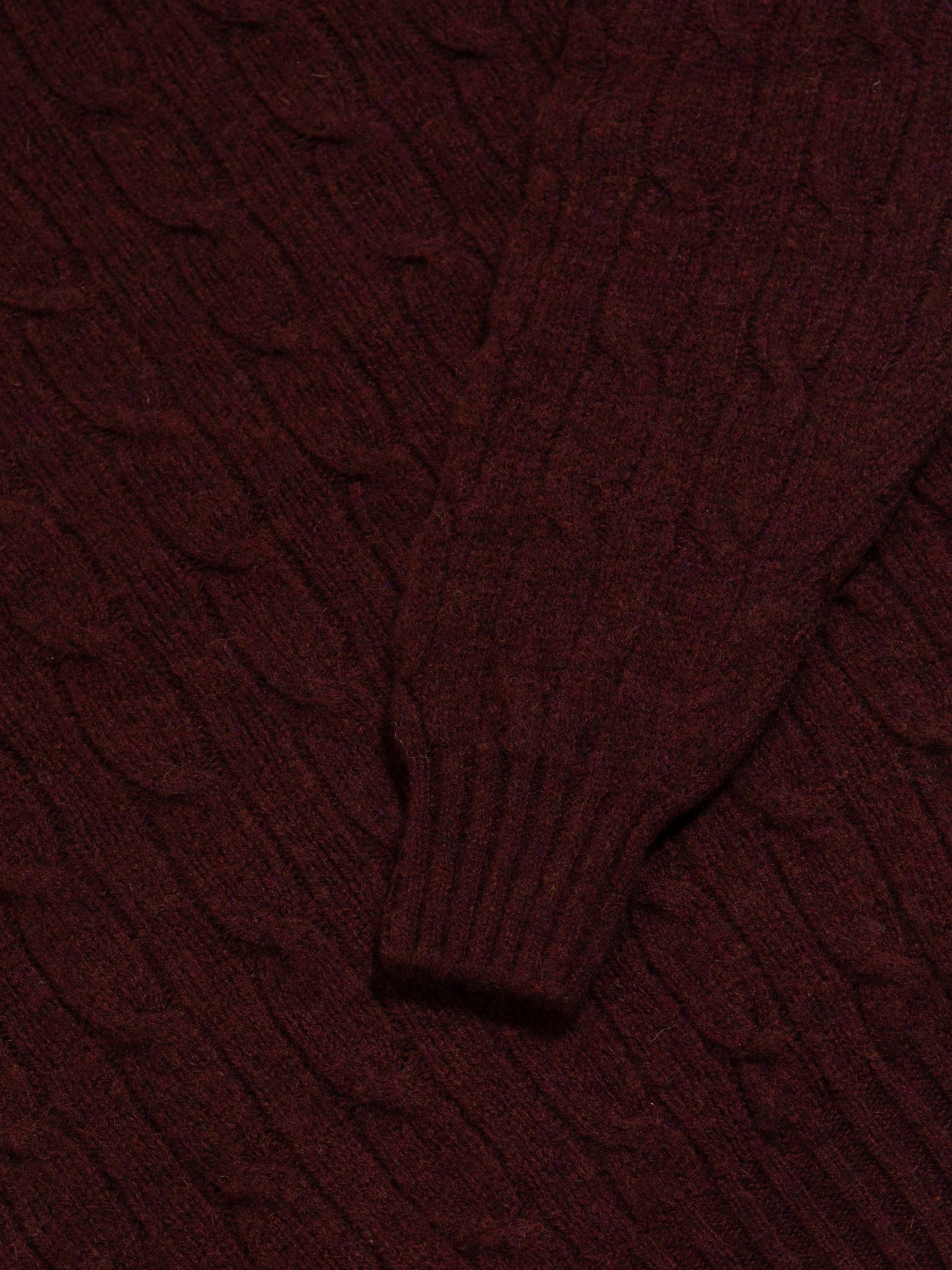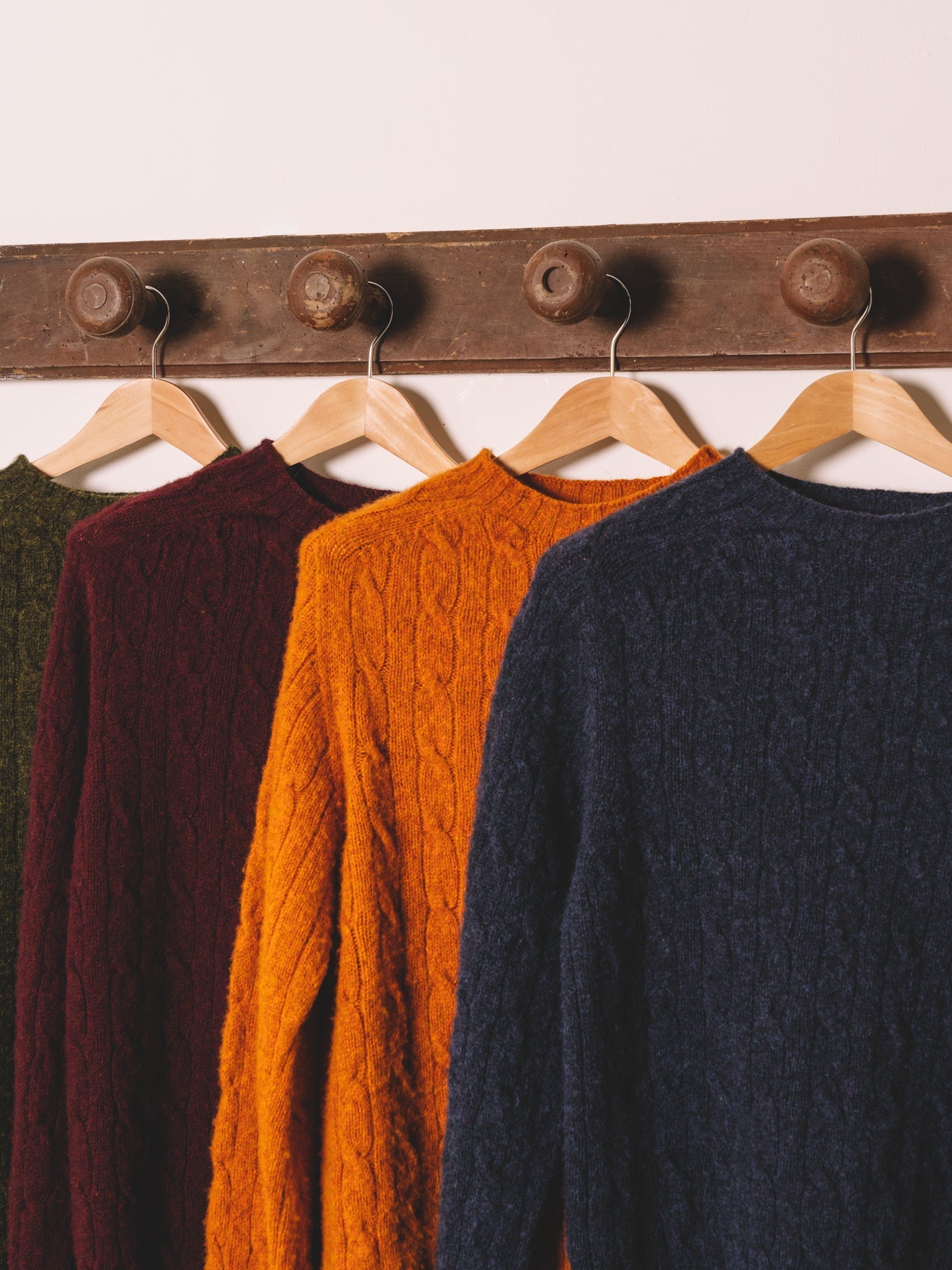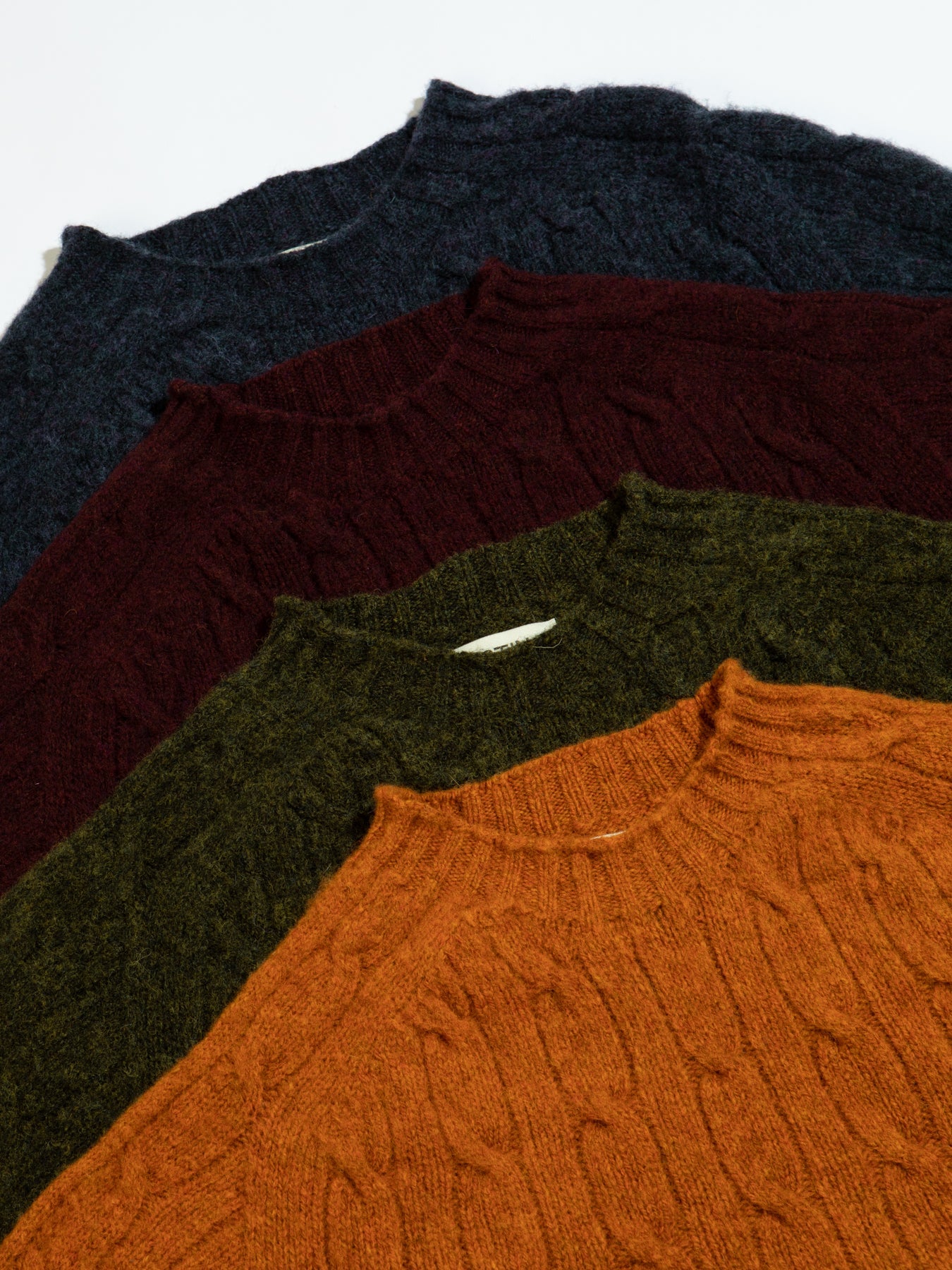 MAROON
£169.00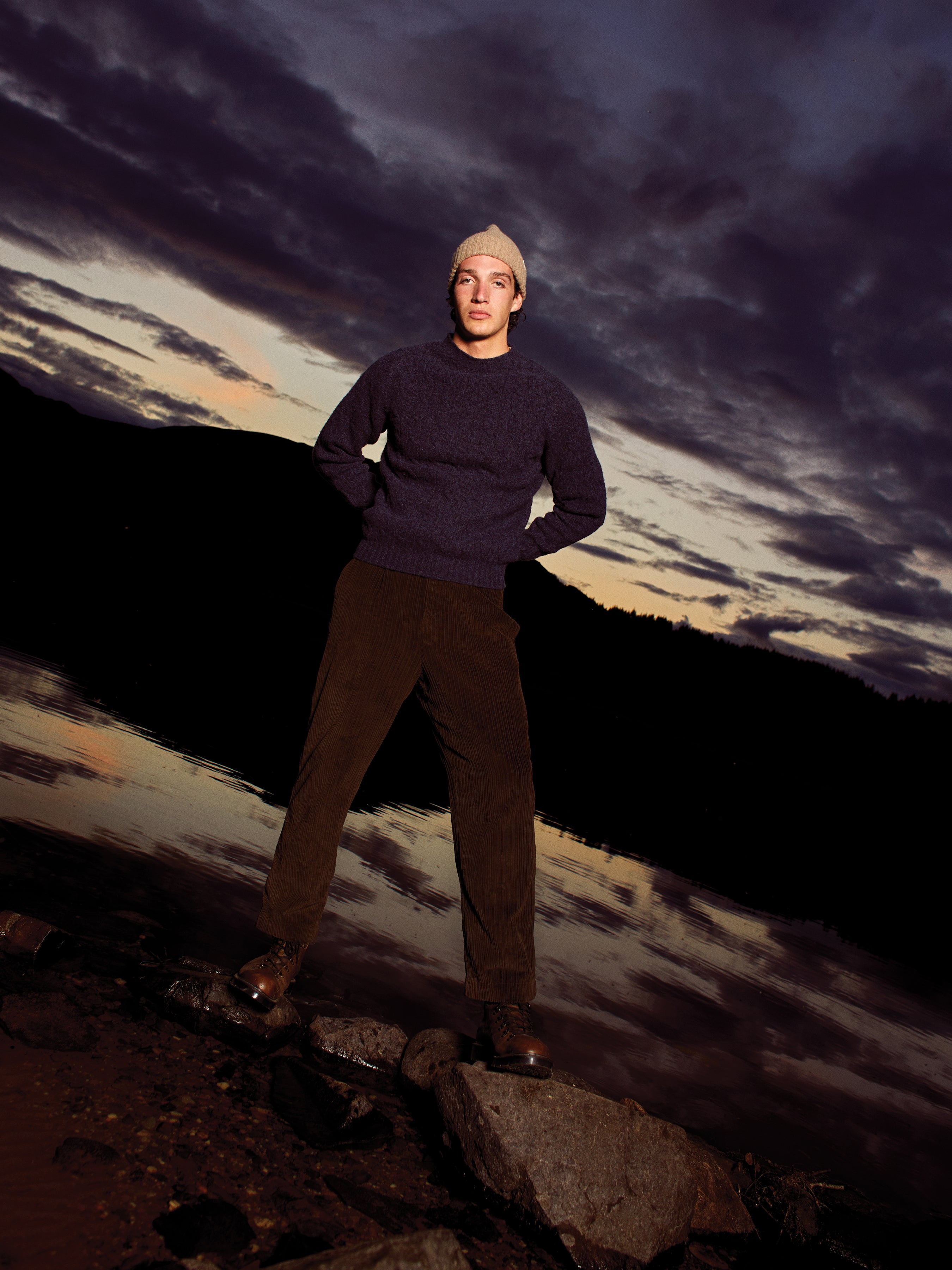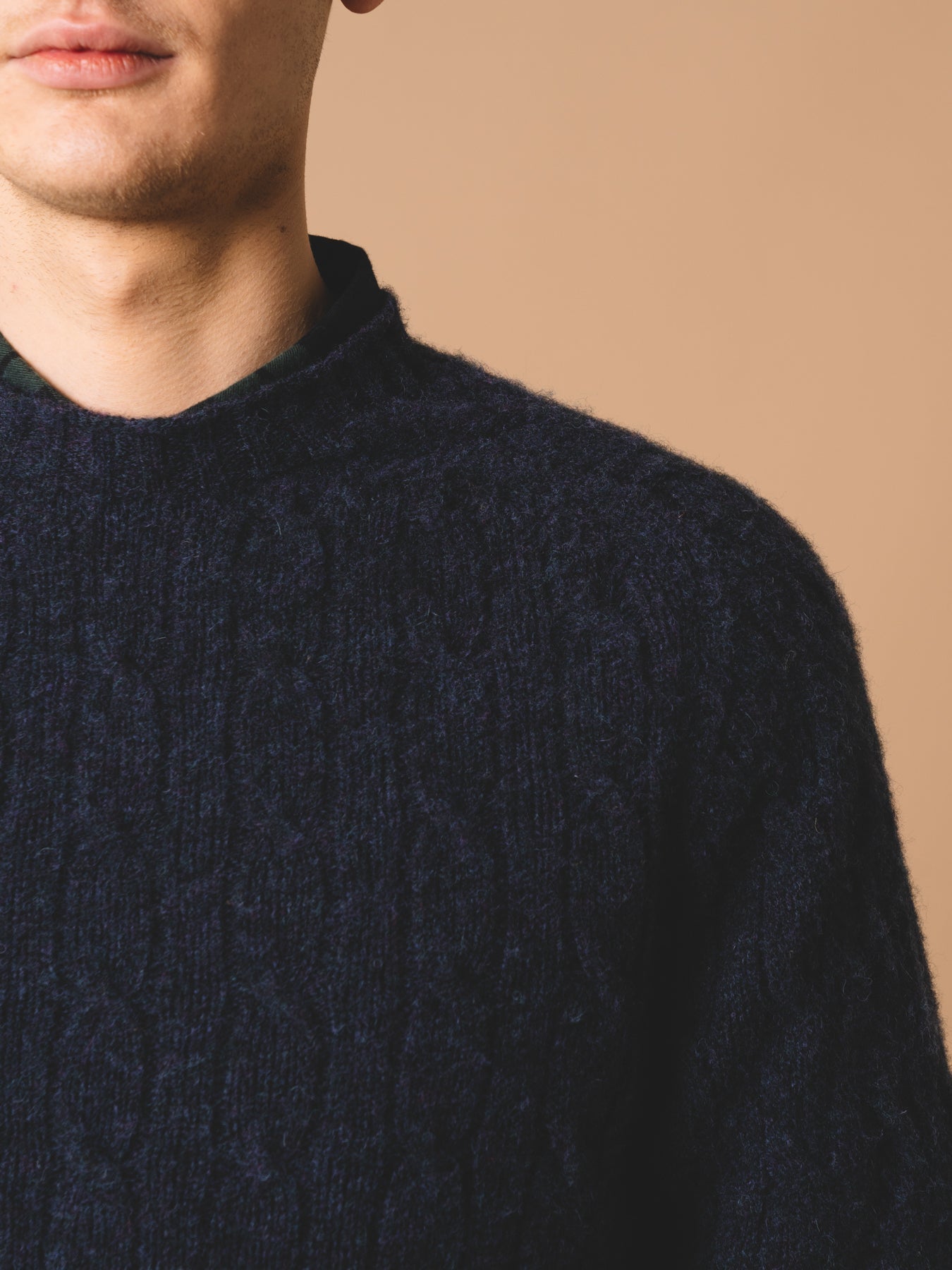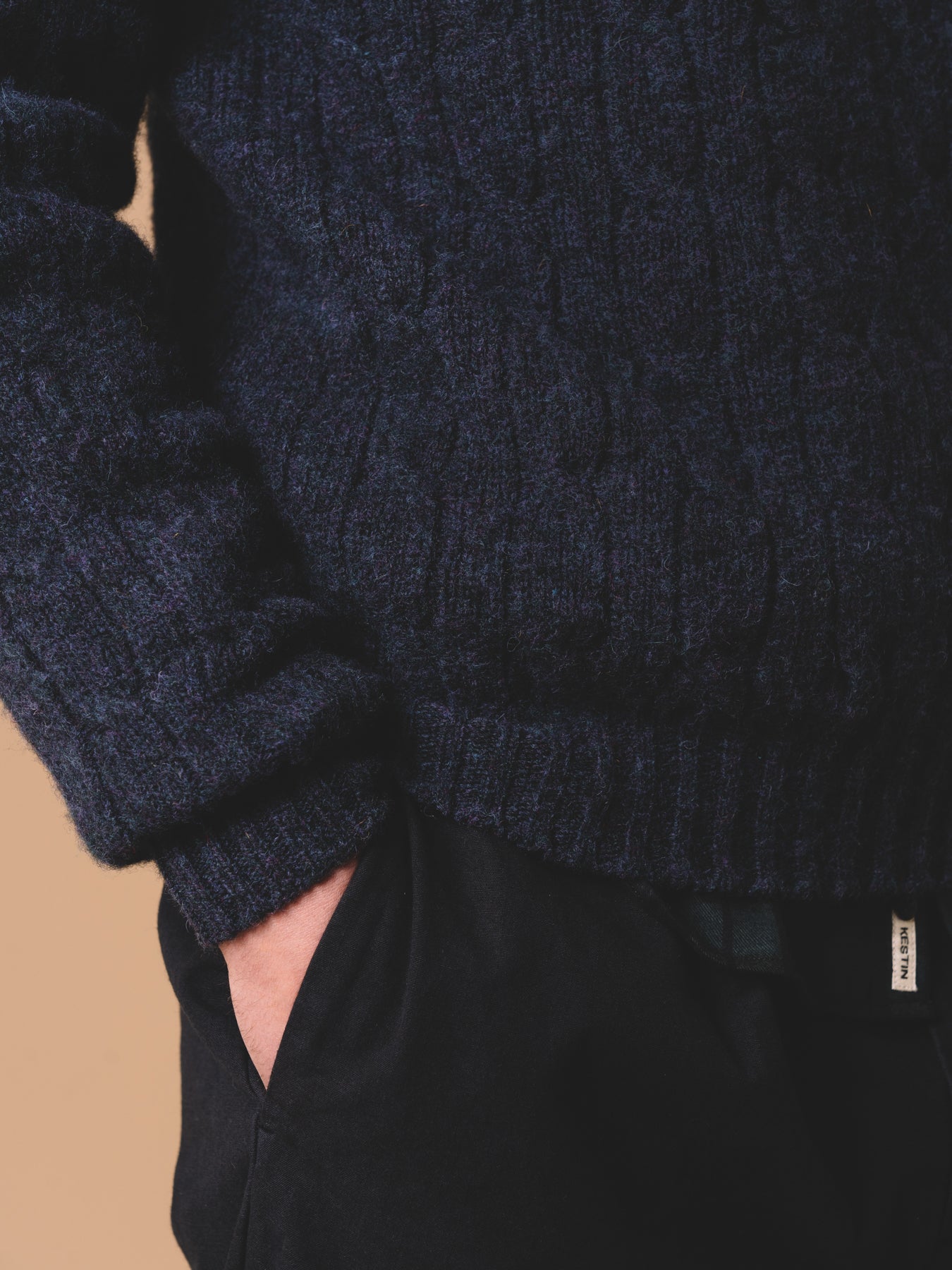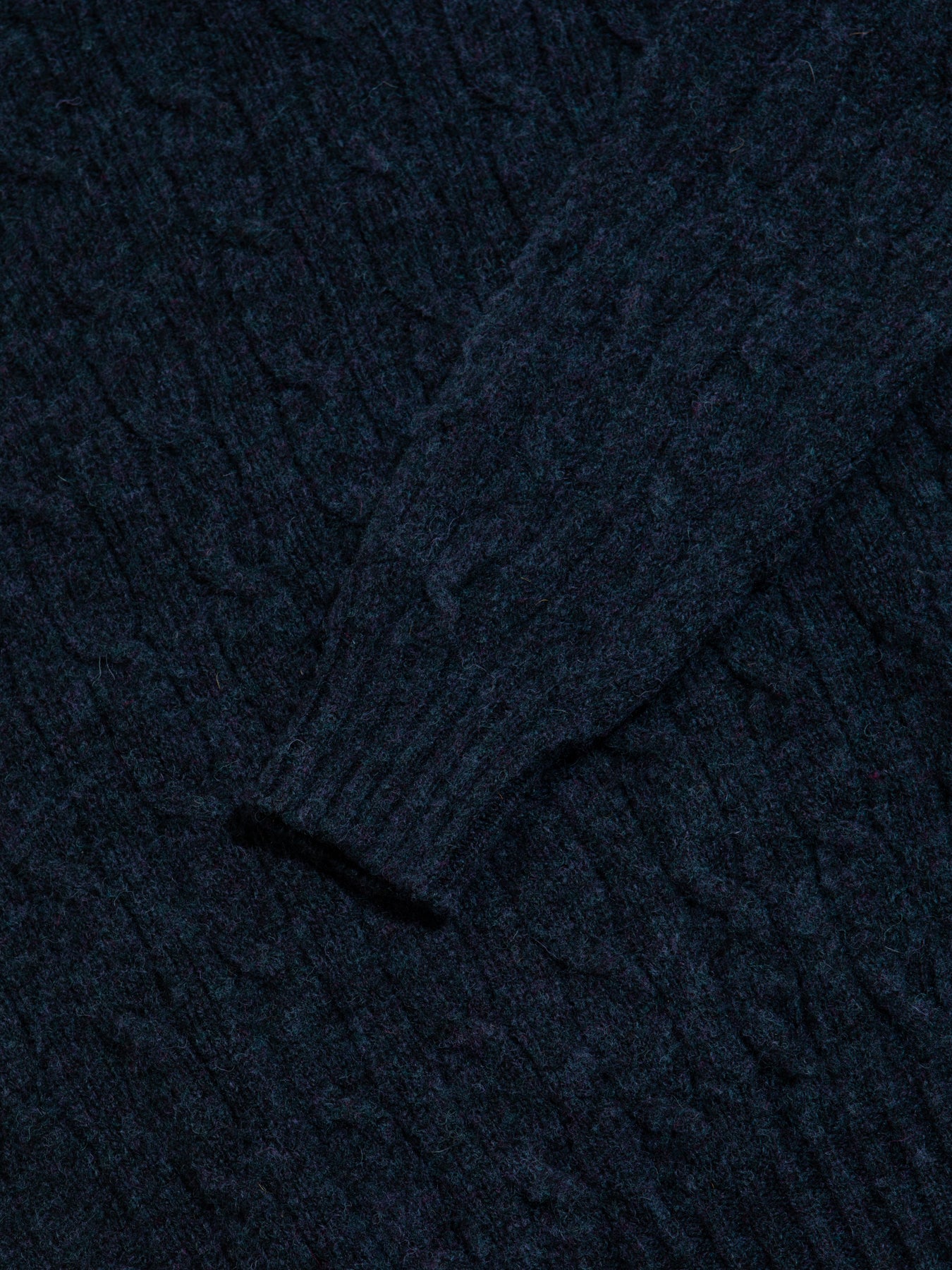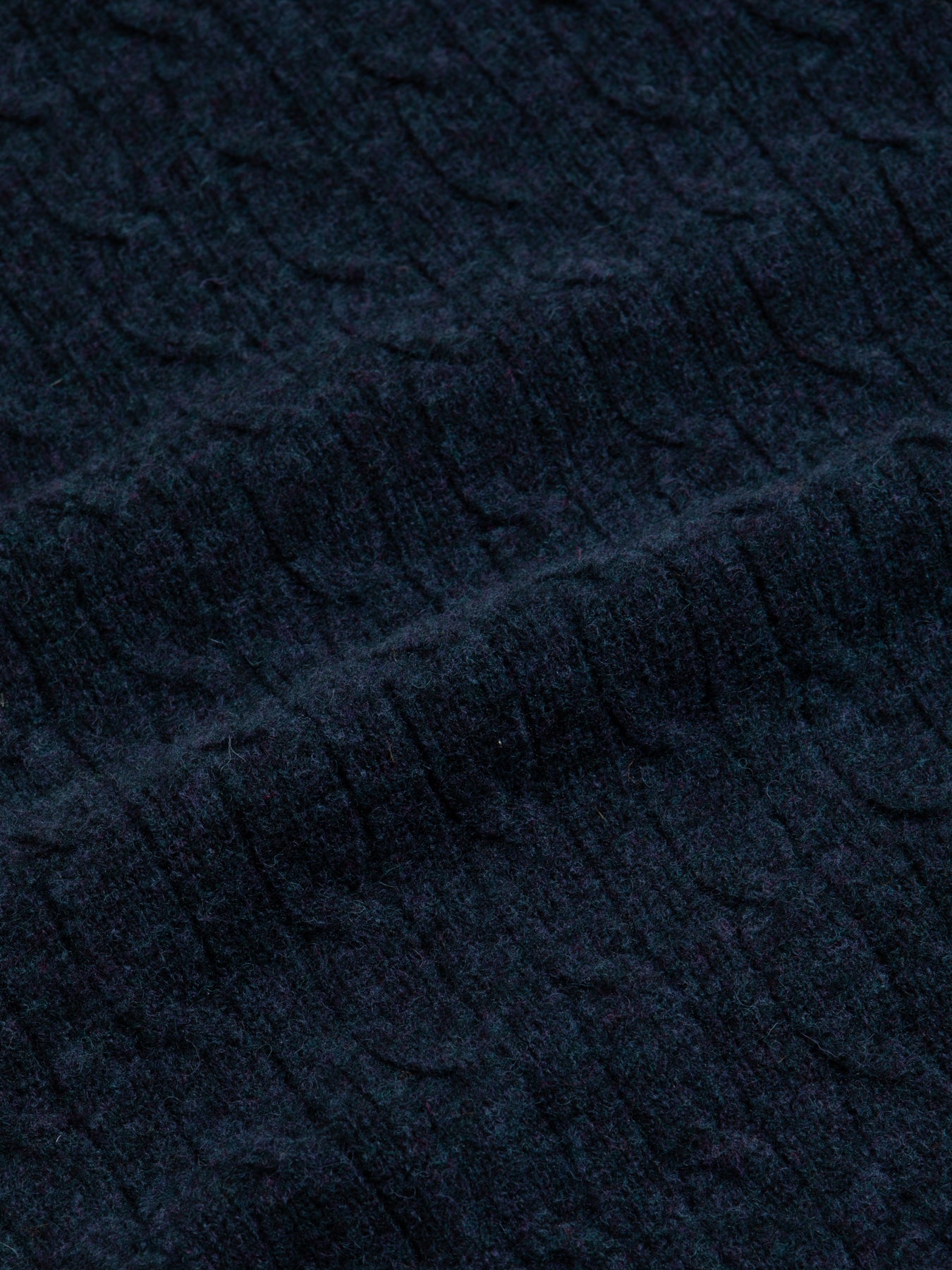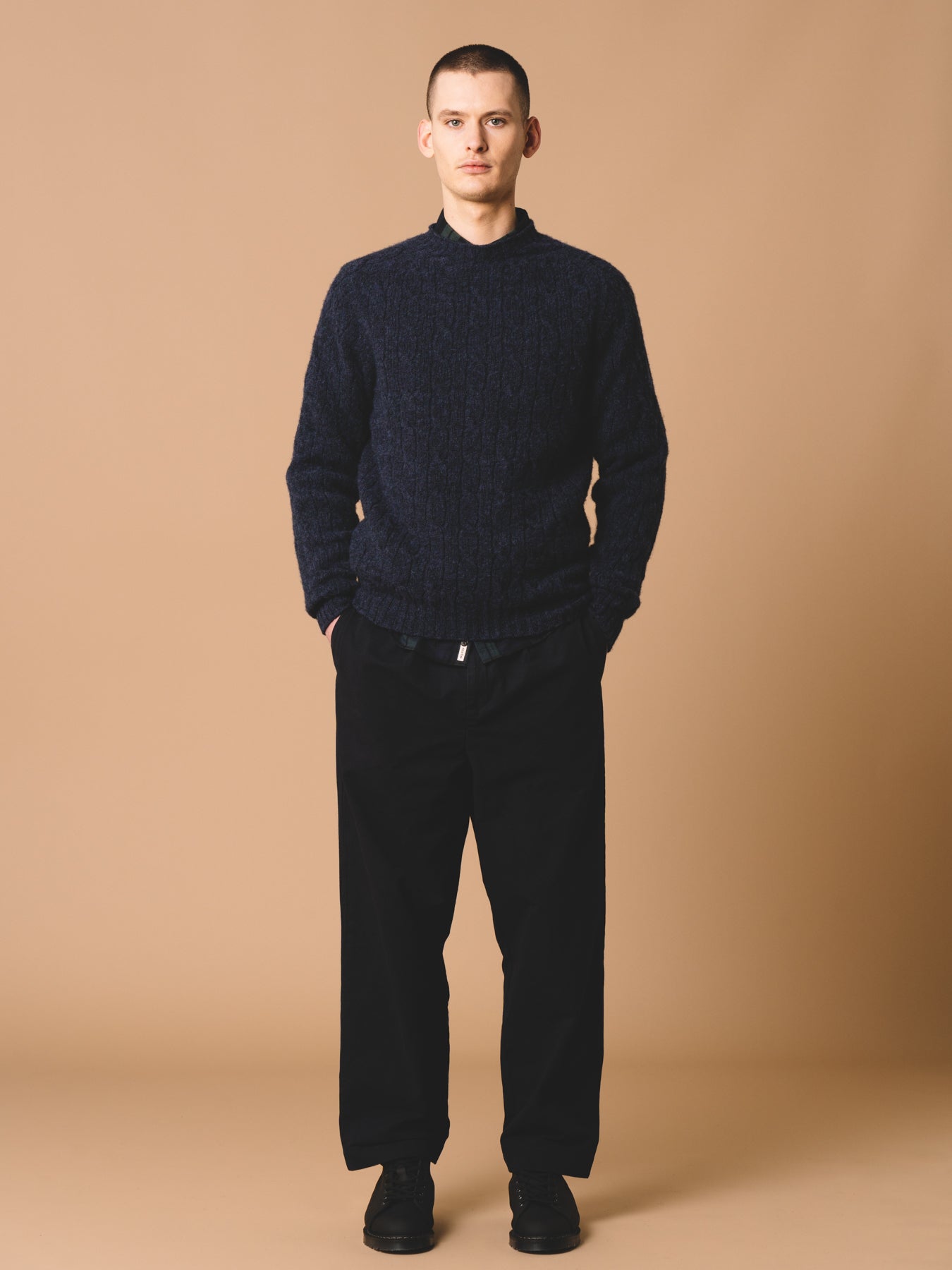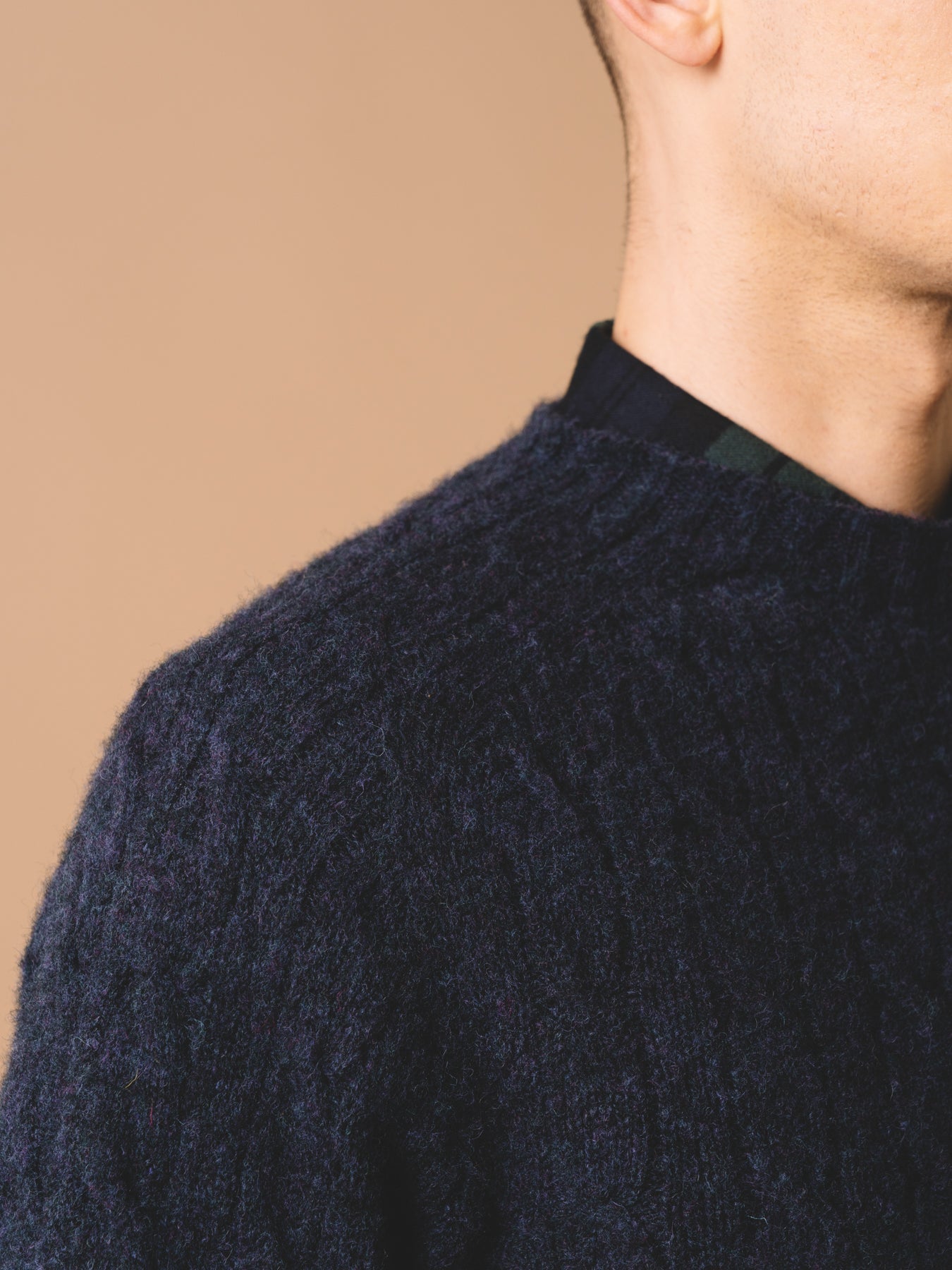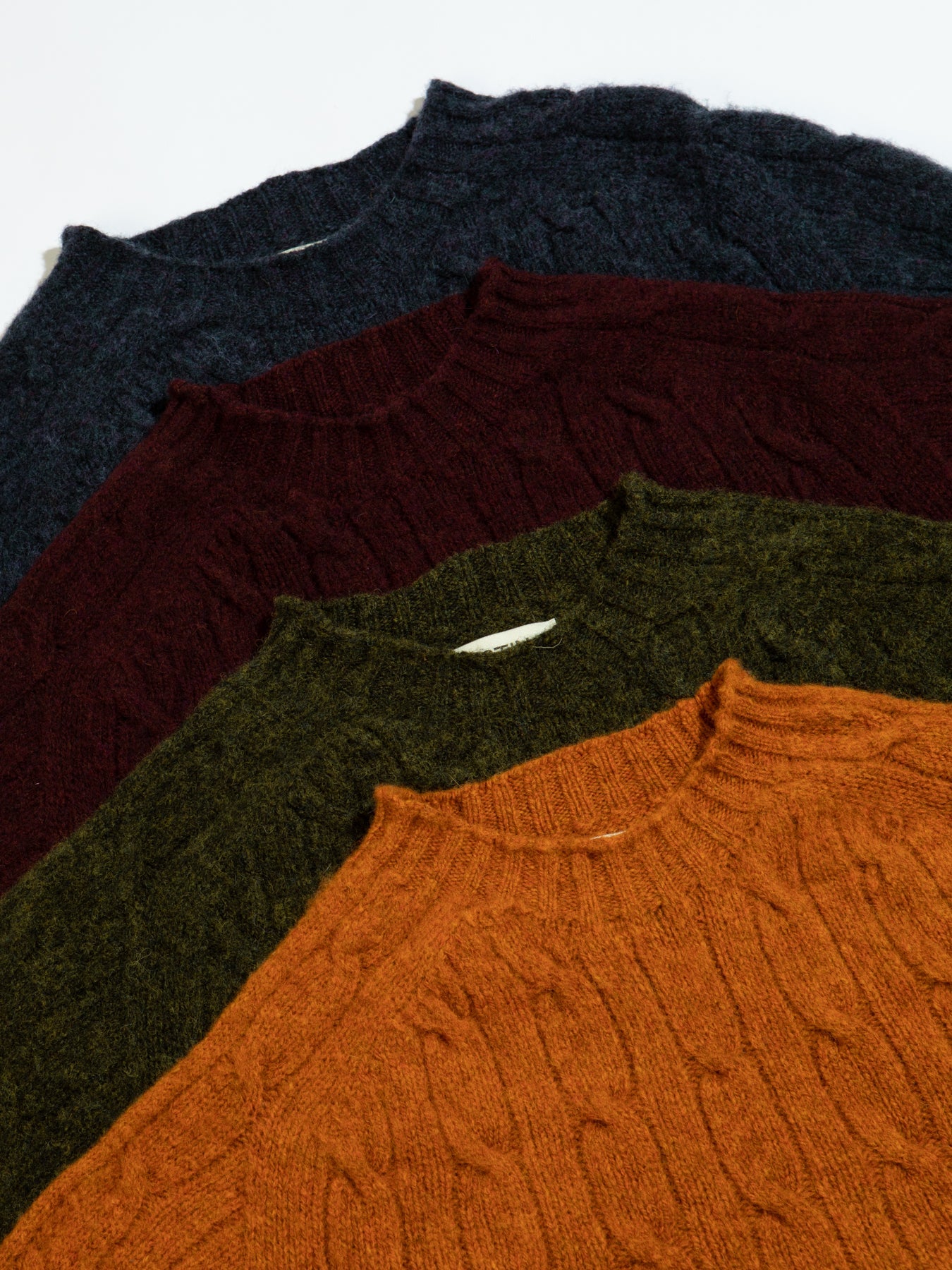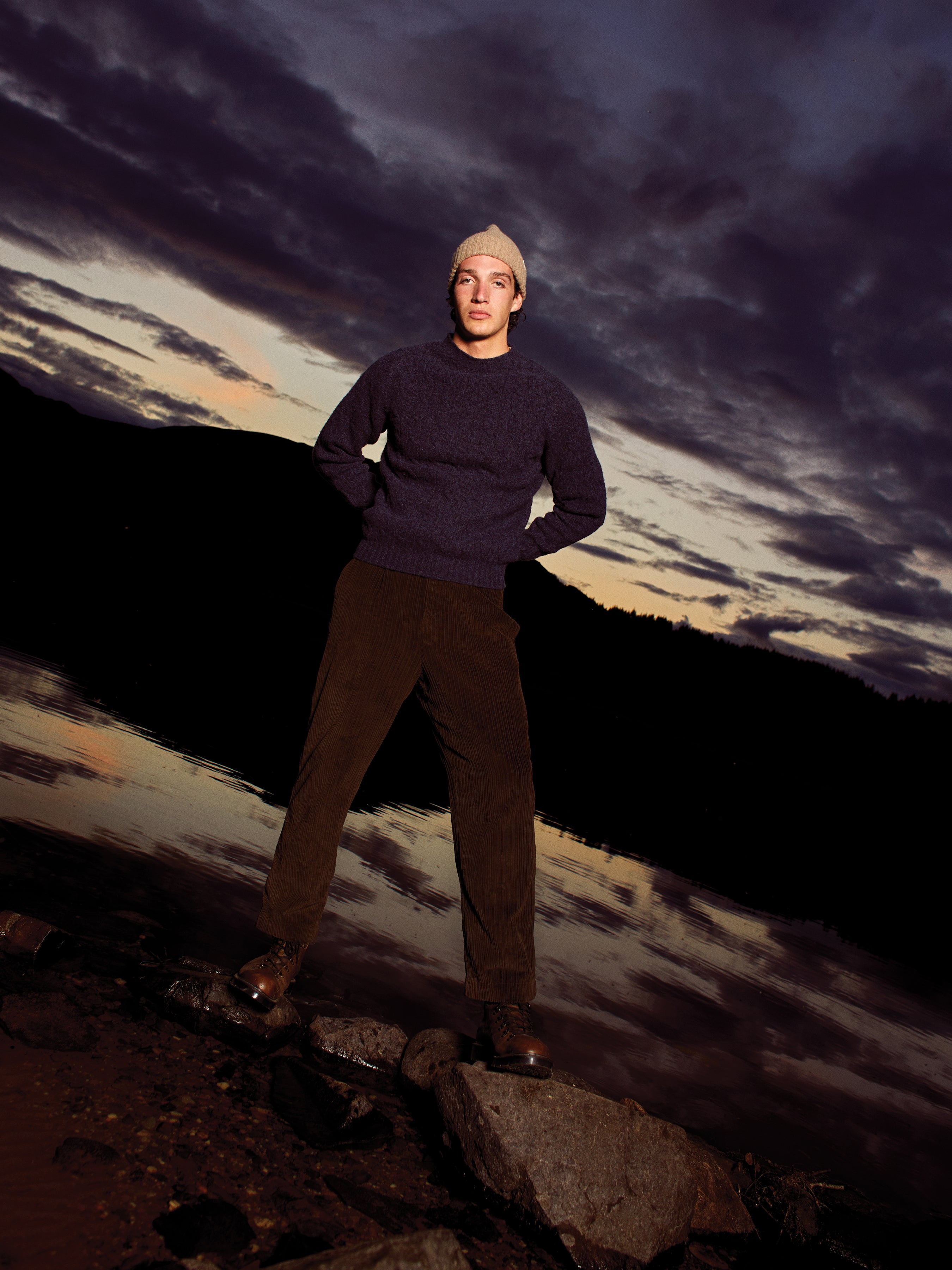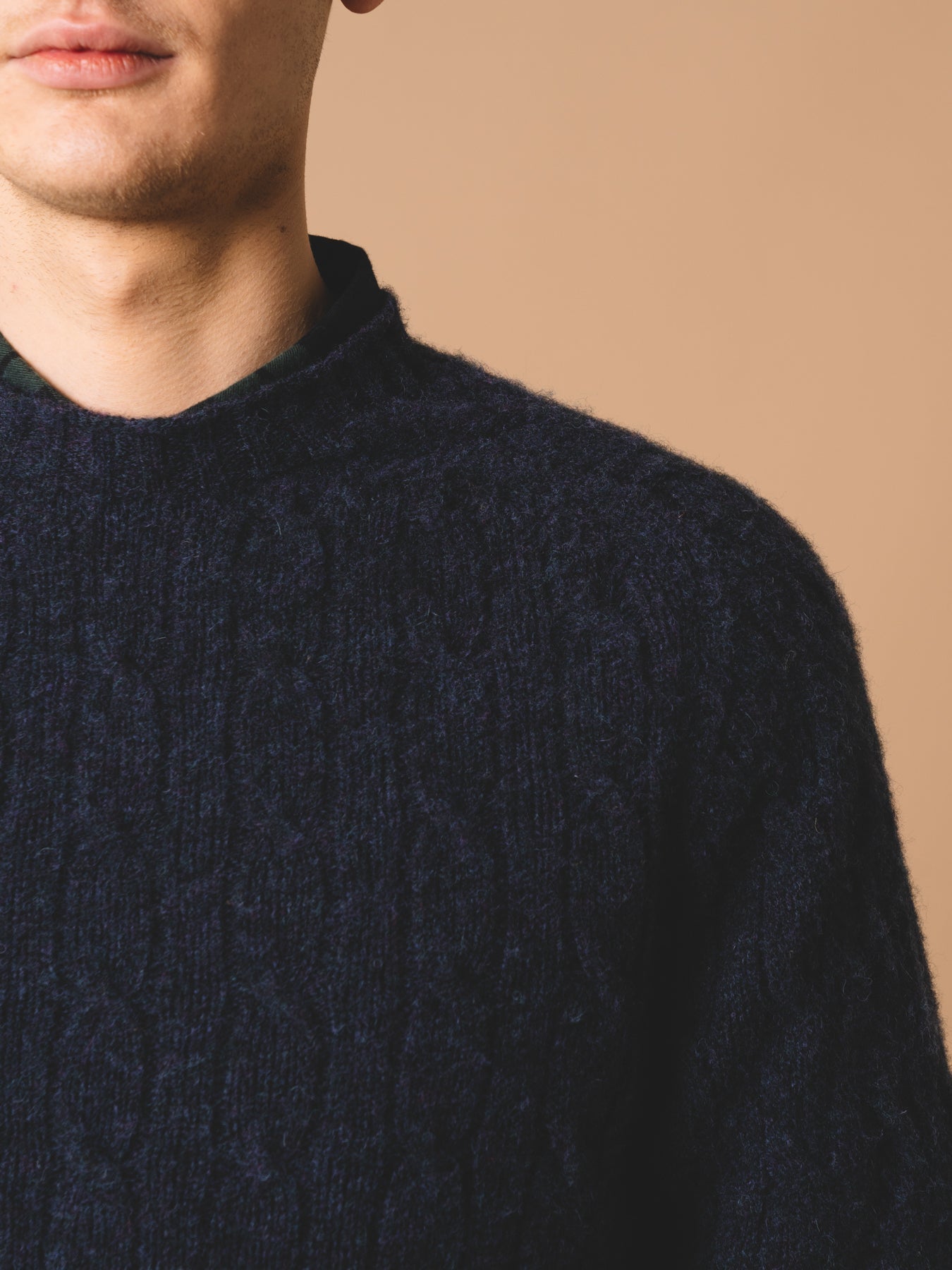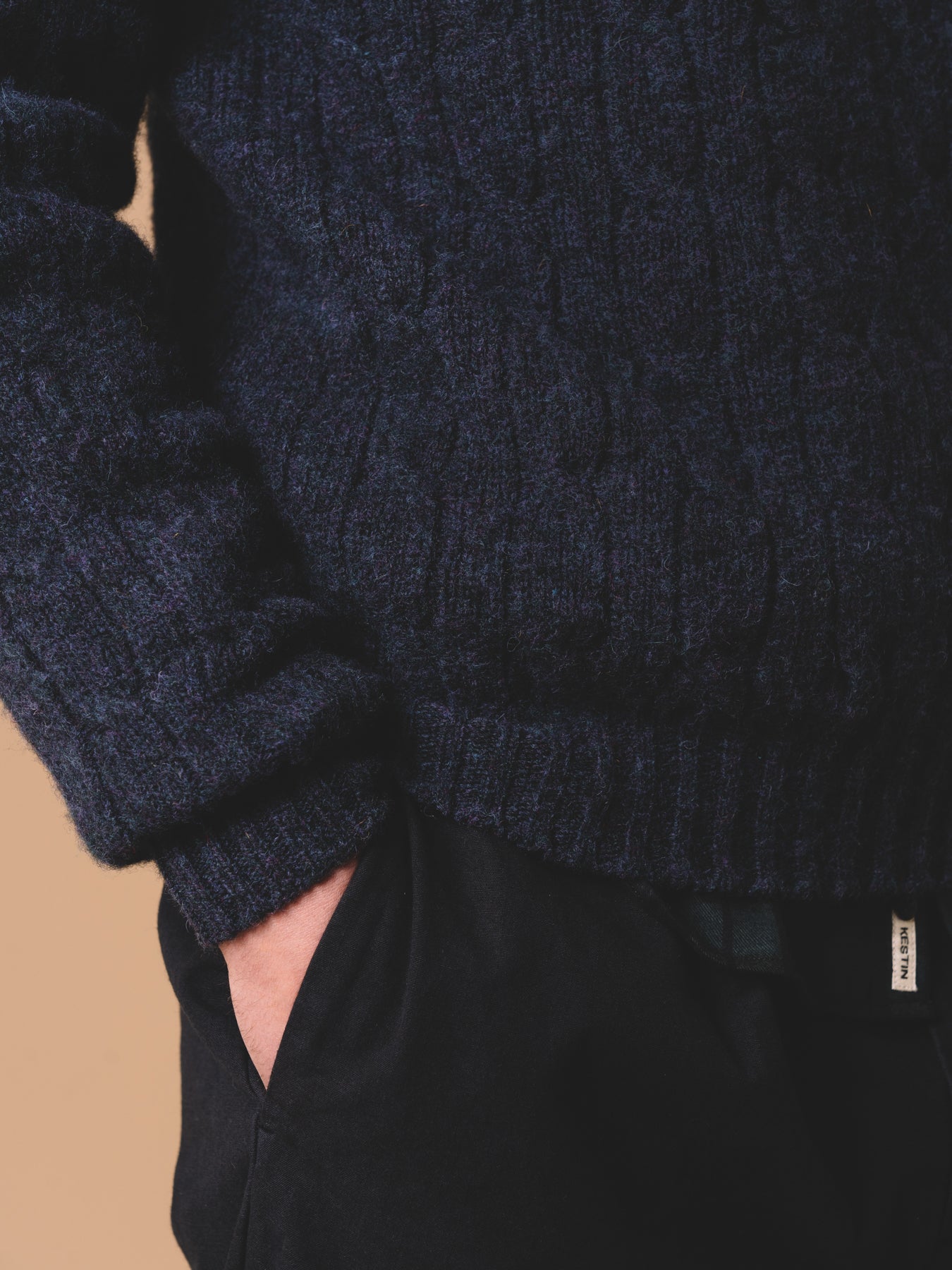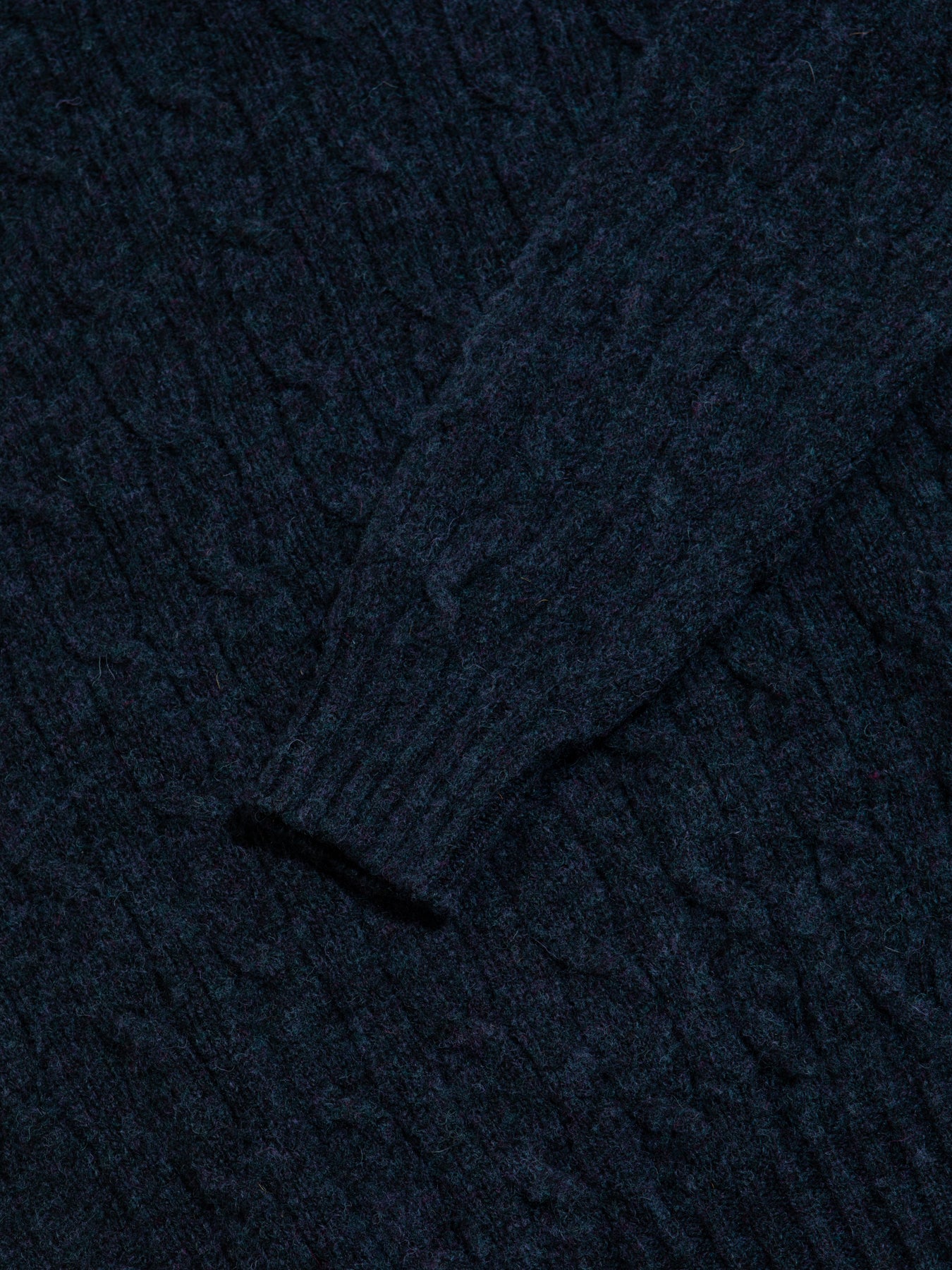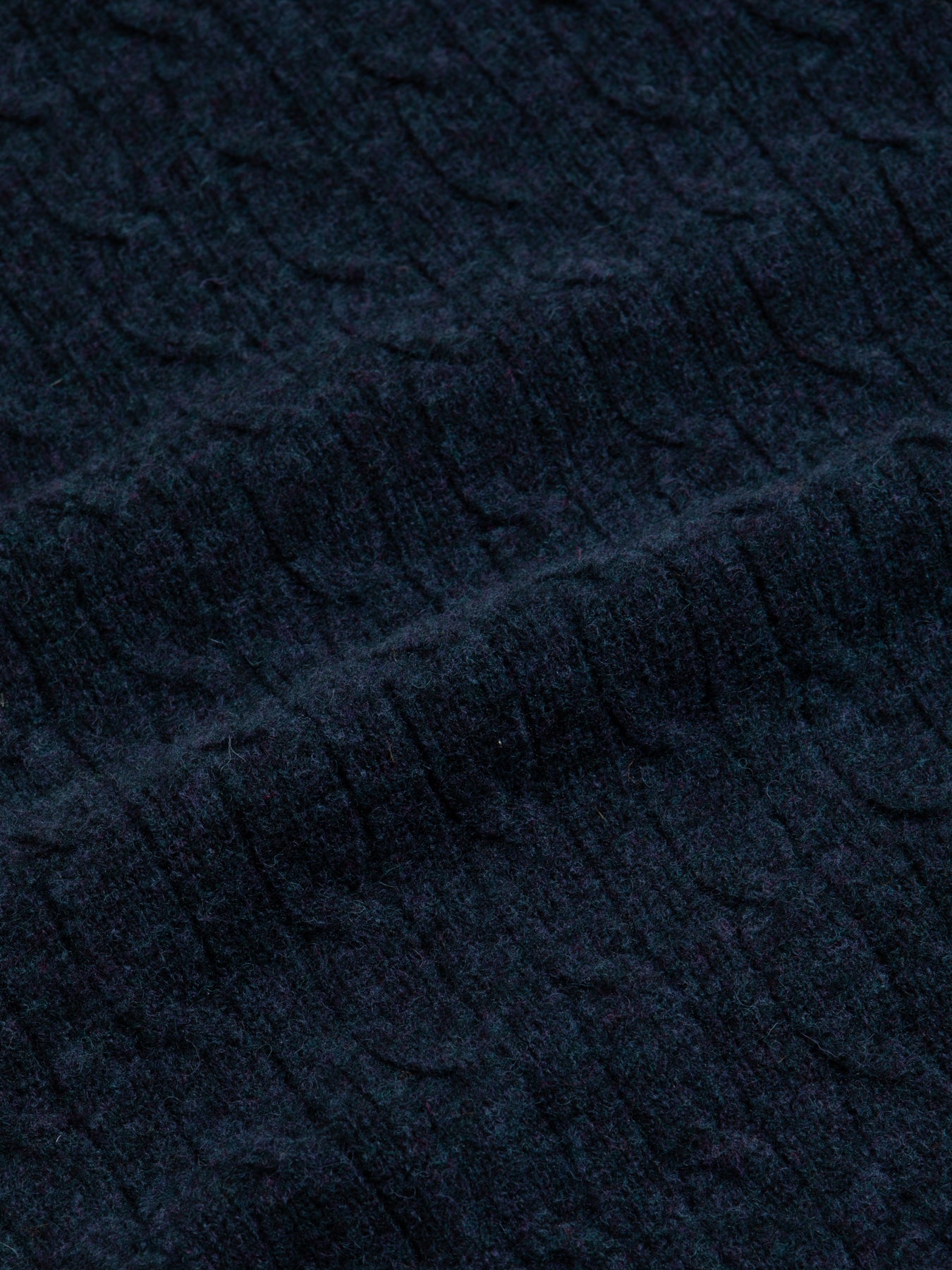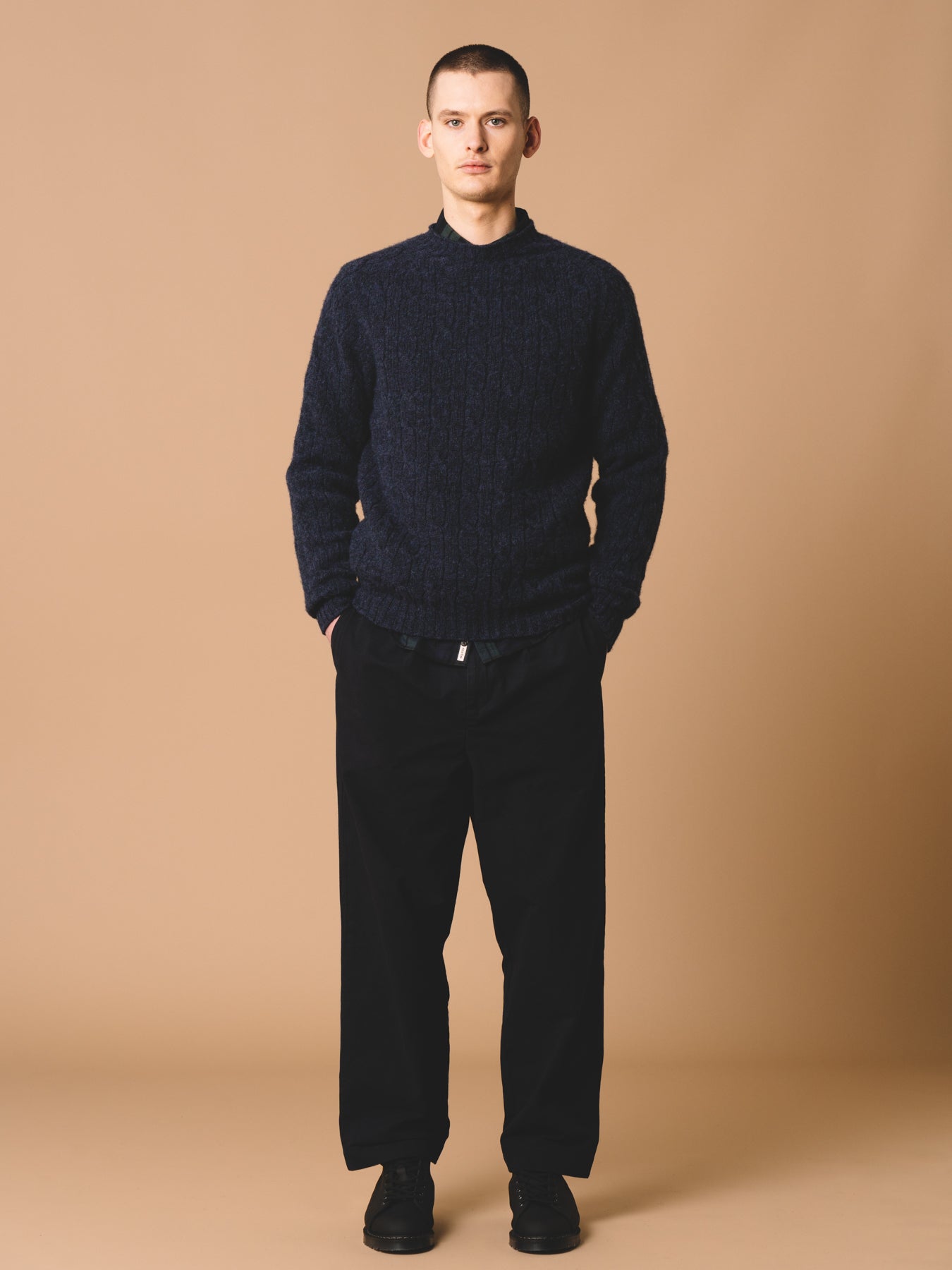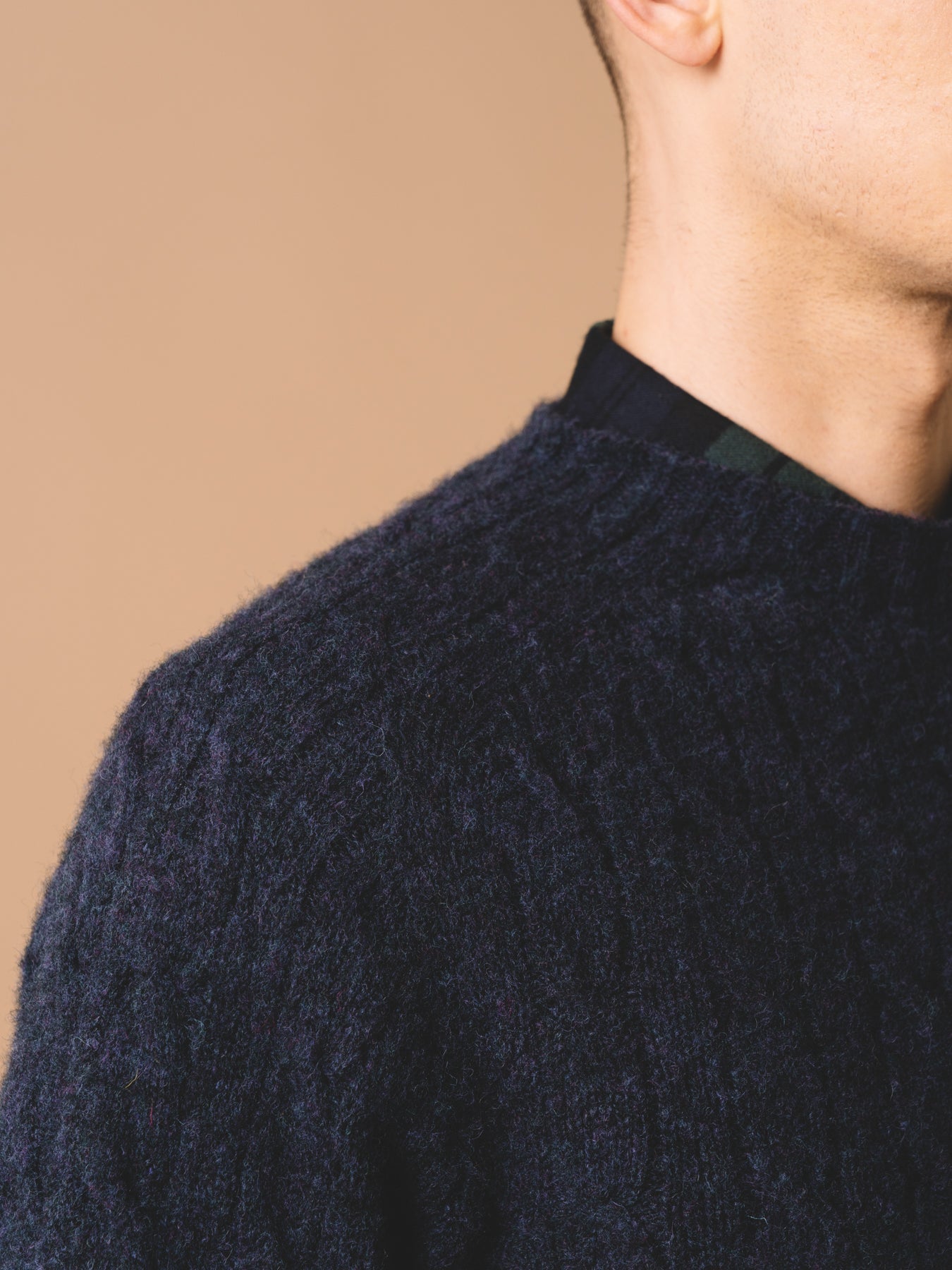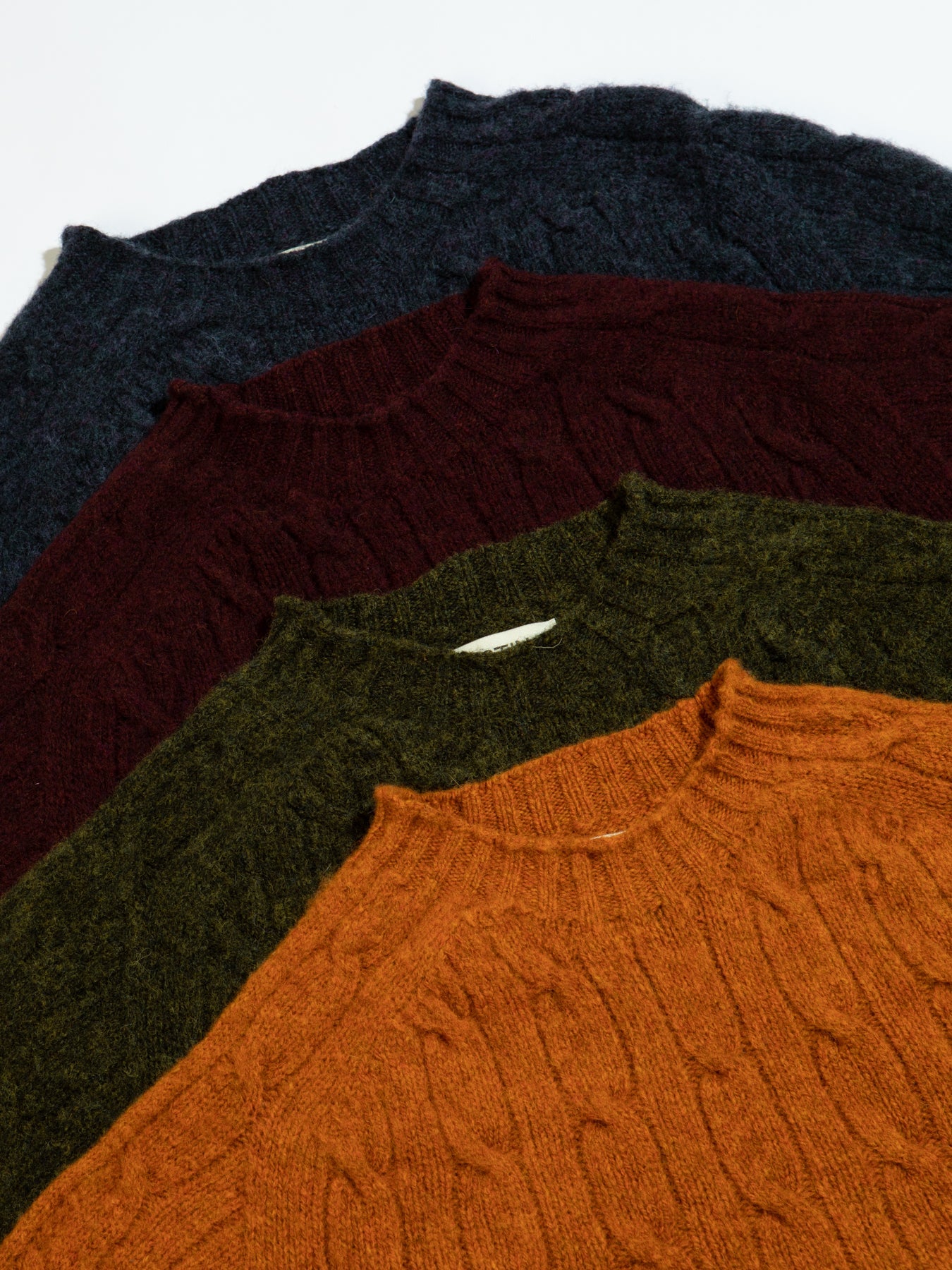 AIRFORCE
£169.00
FIFE GANSEY KNIT
The Fife Gansey is a staple from our Made In Scotland collection. The distinctive panelled style, blending different ribs and knits, is based on a vintage pattern from the area of Fife. Knitted on a 5-Gauge Machine, it's made from a premium 100% Virgin Merino wool, spun and dyed in Austria, chosen to provide the optimal blend of warmth and comfort, reducing the usual itch of wool whilst improving the insulation properties.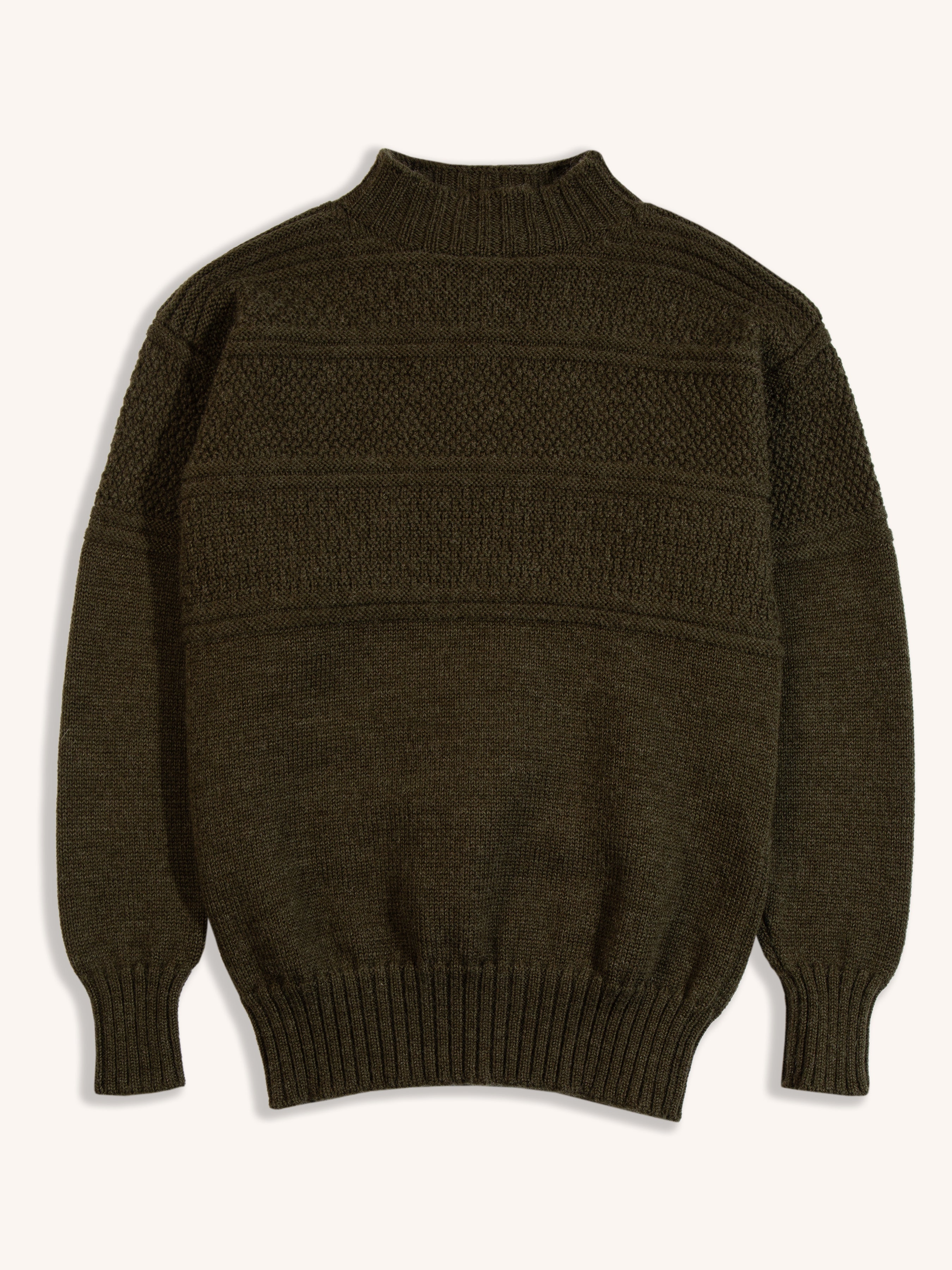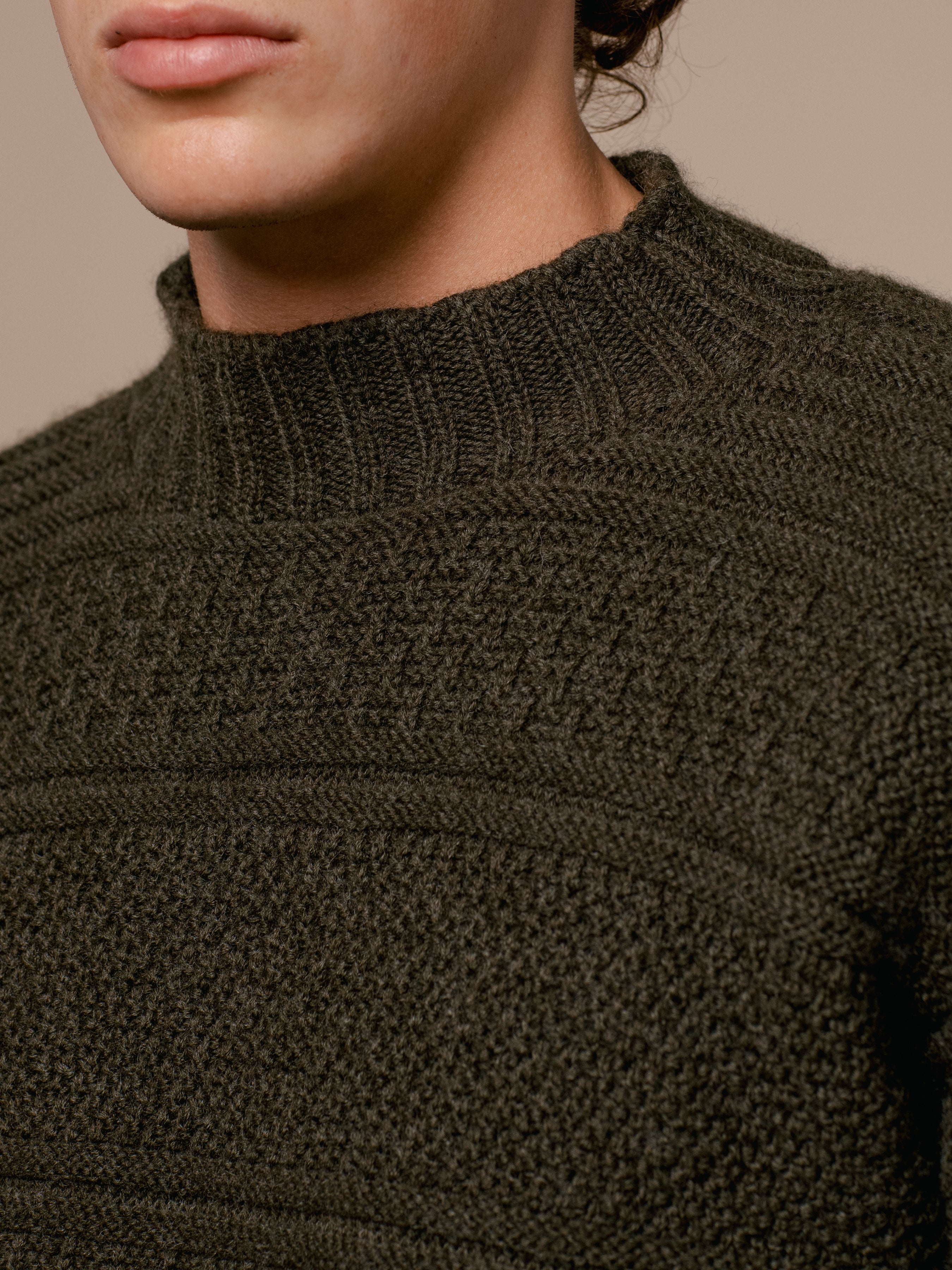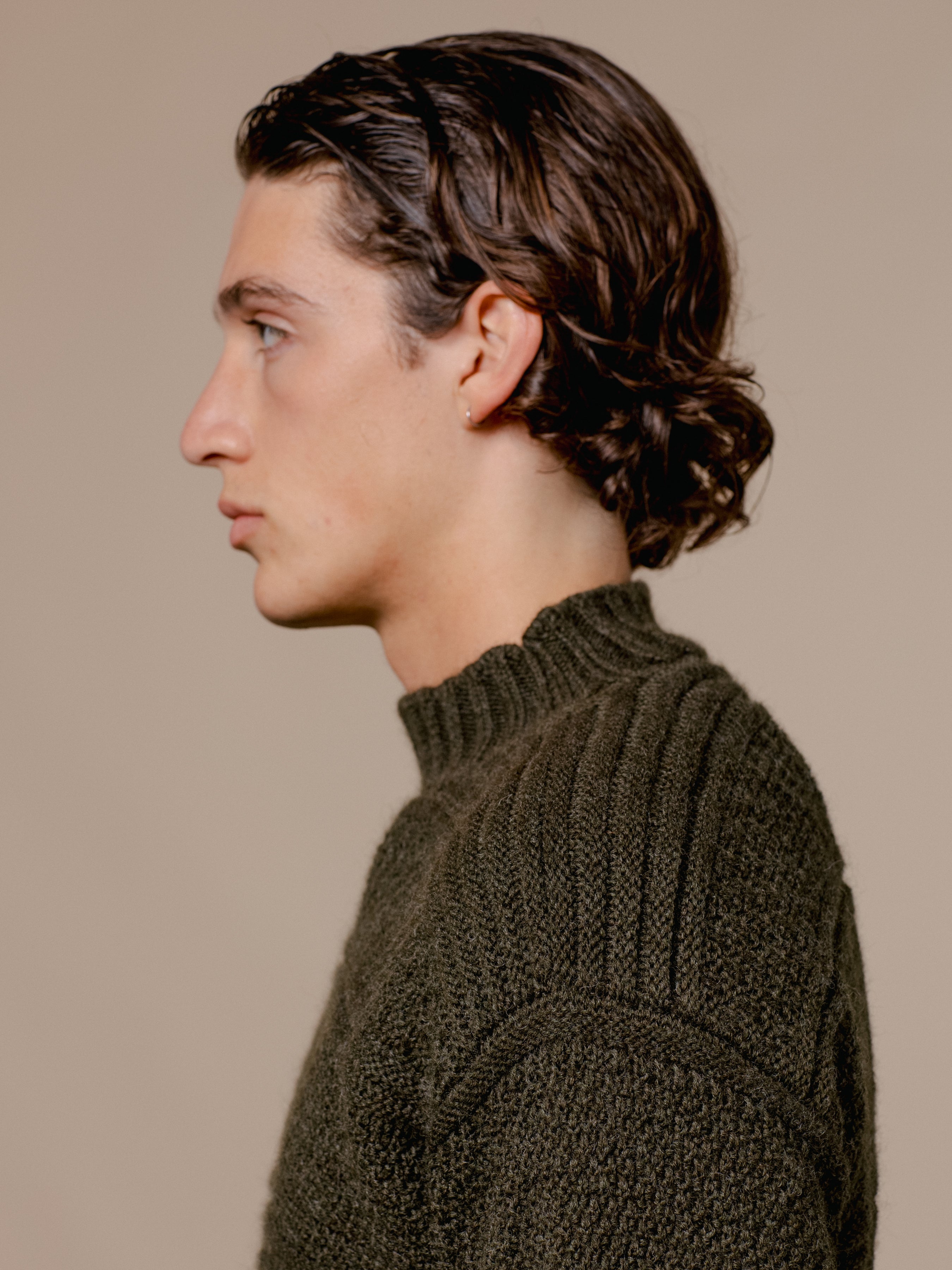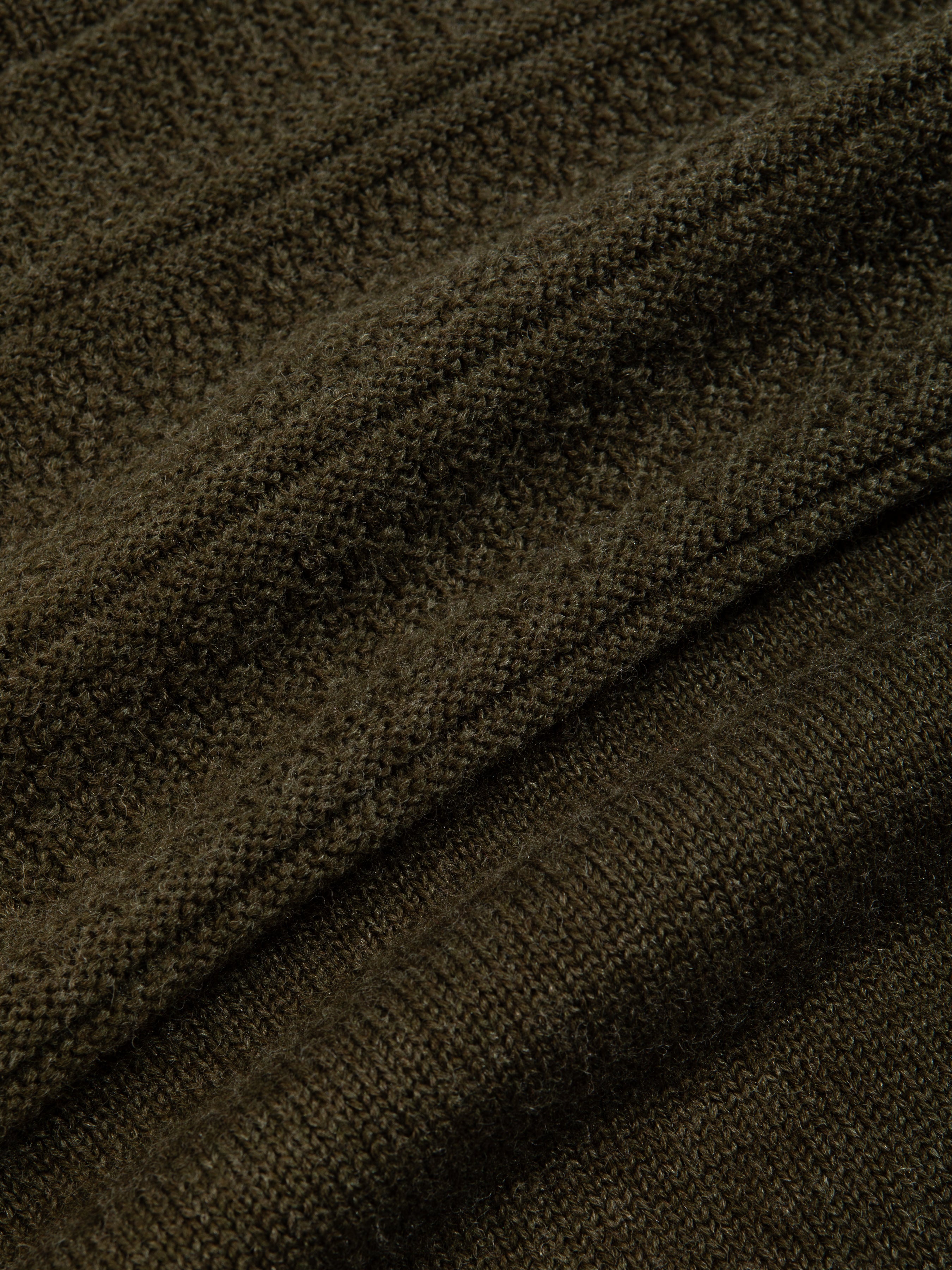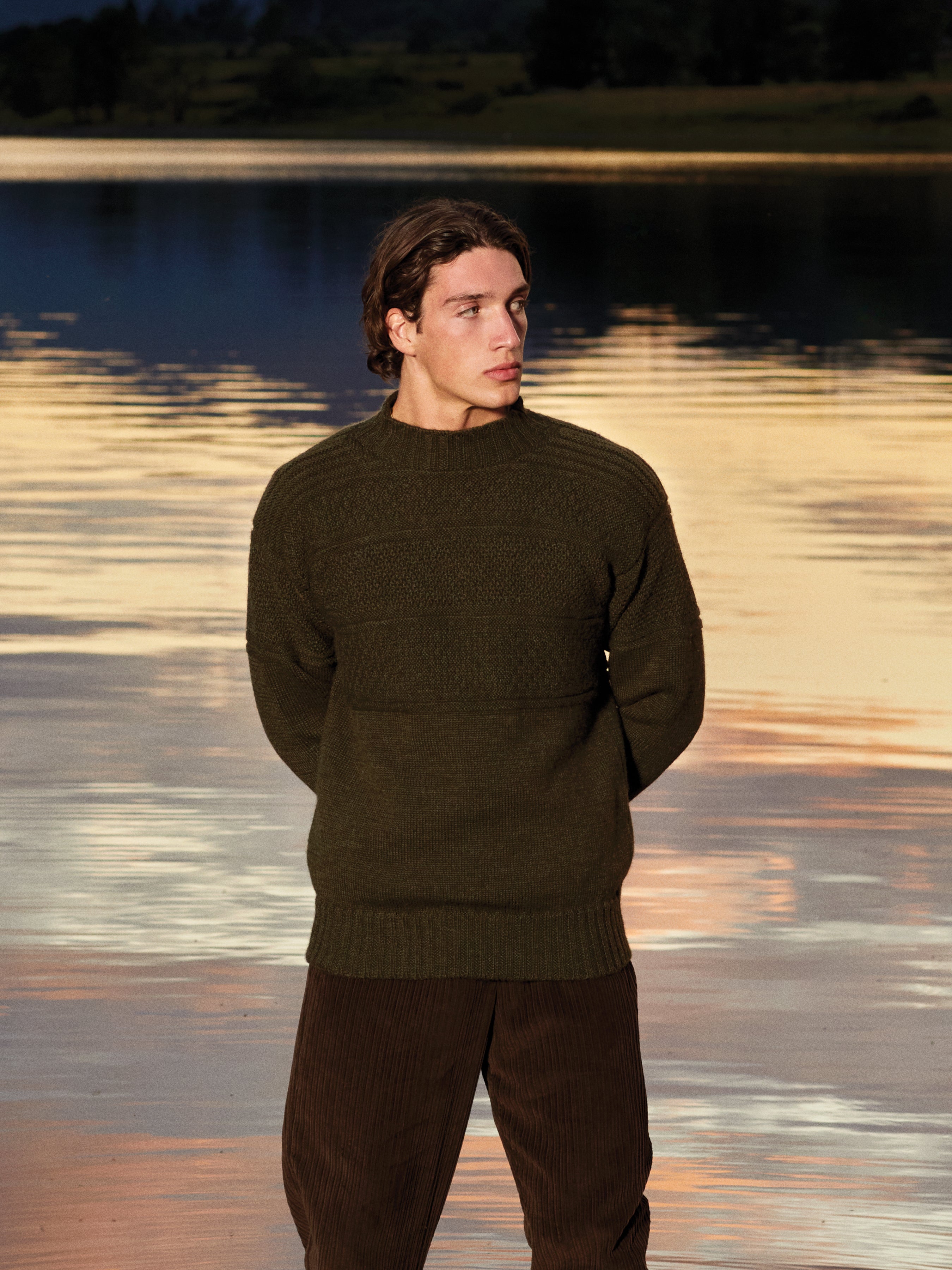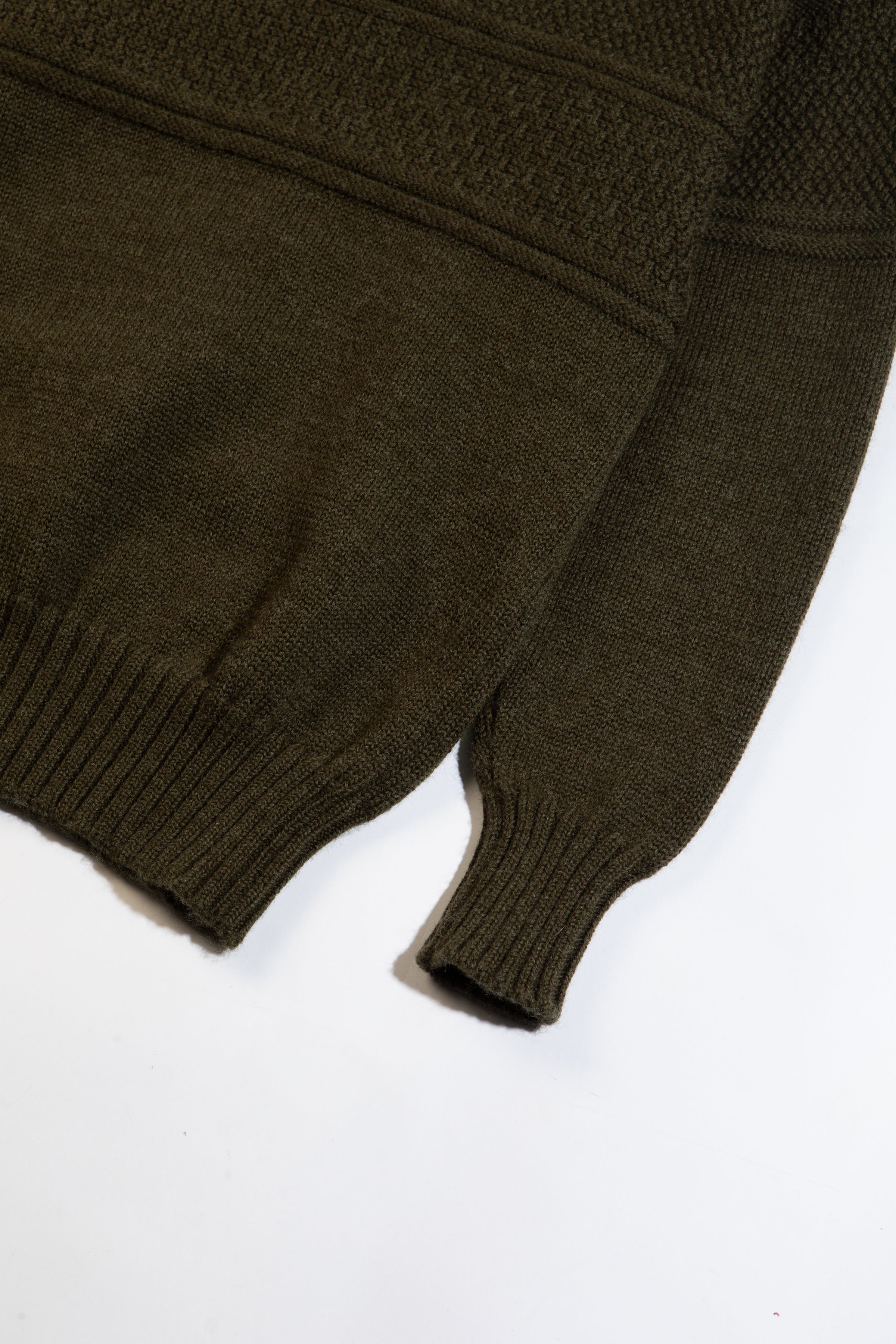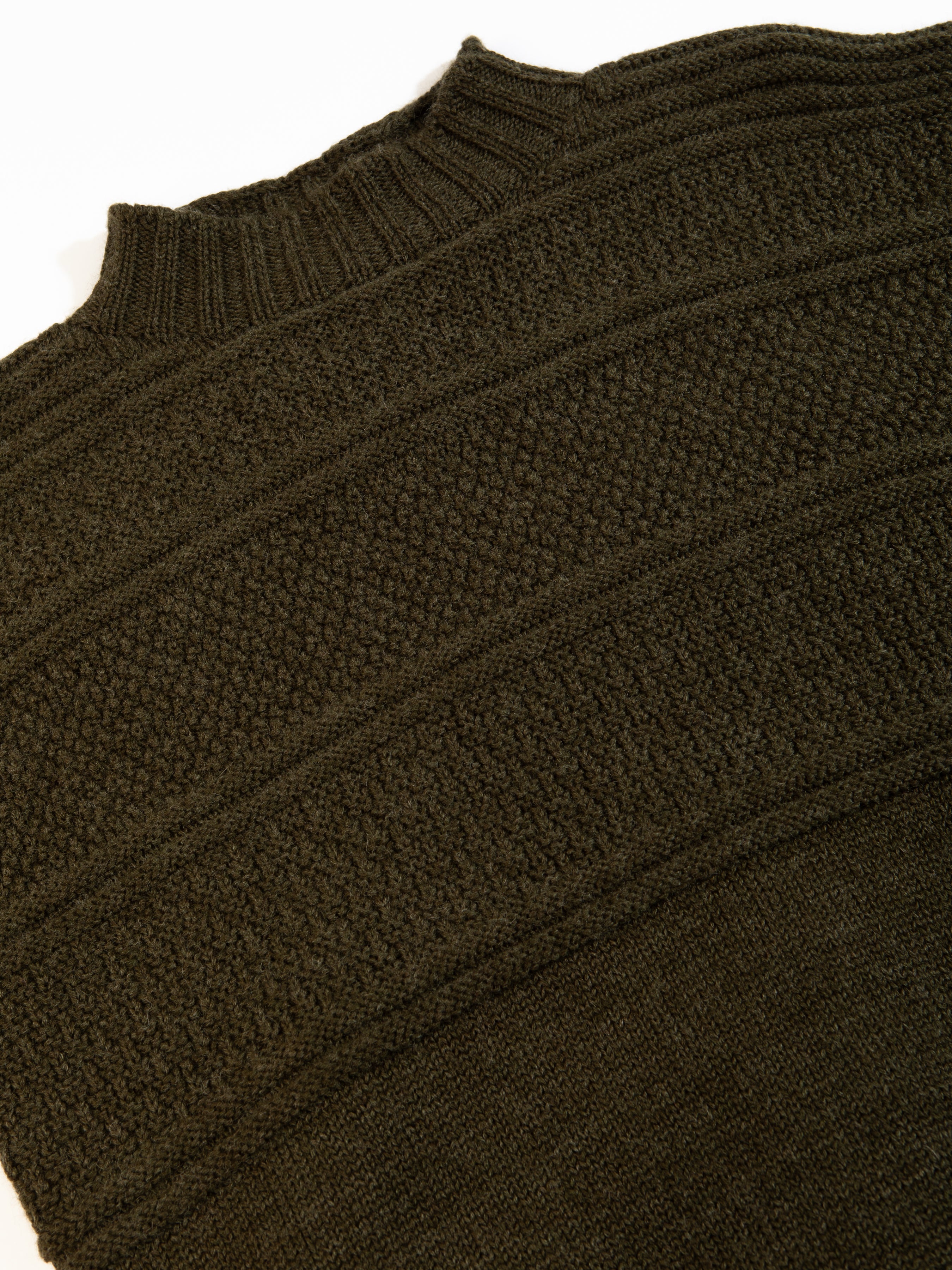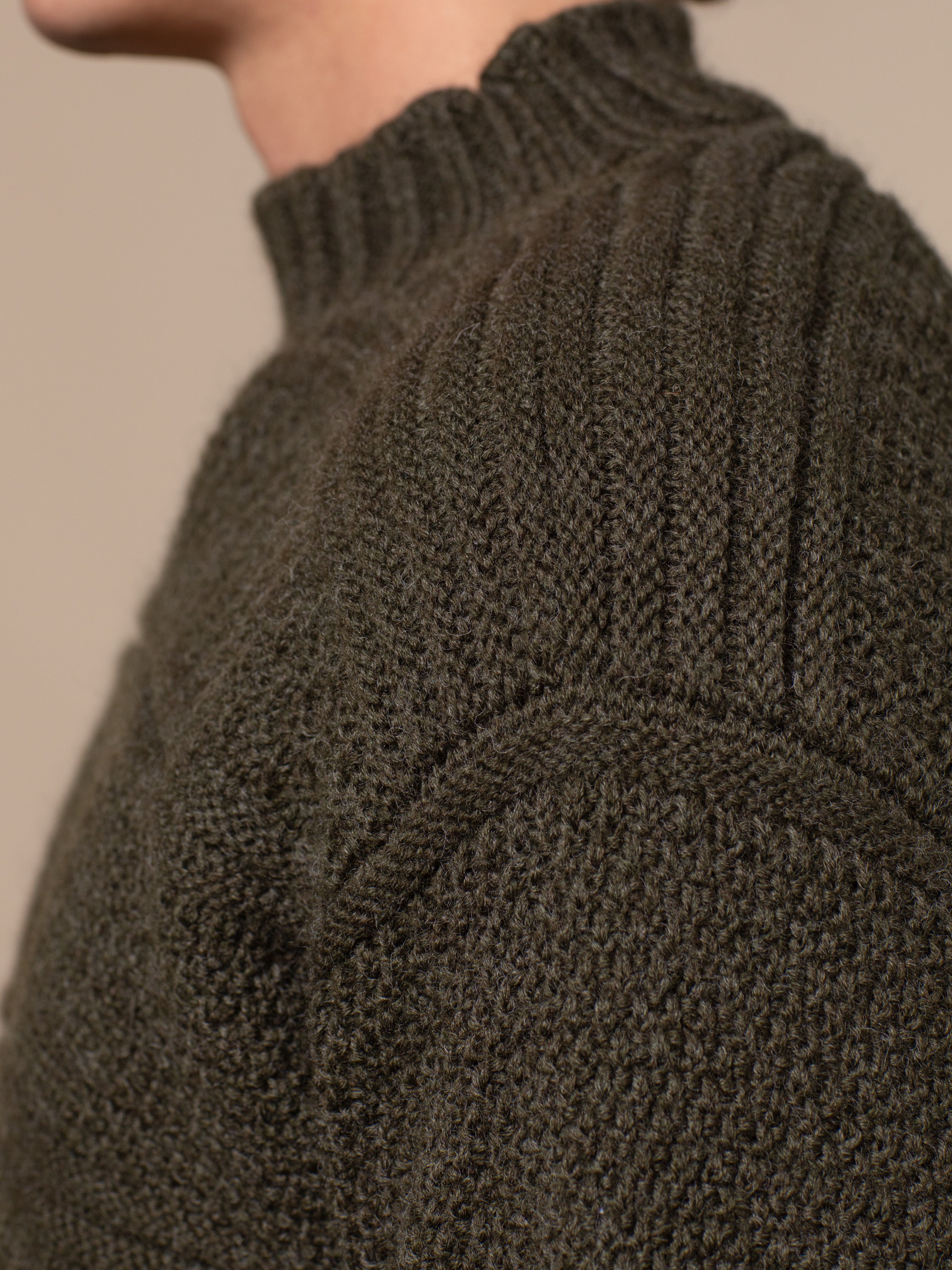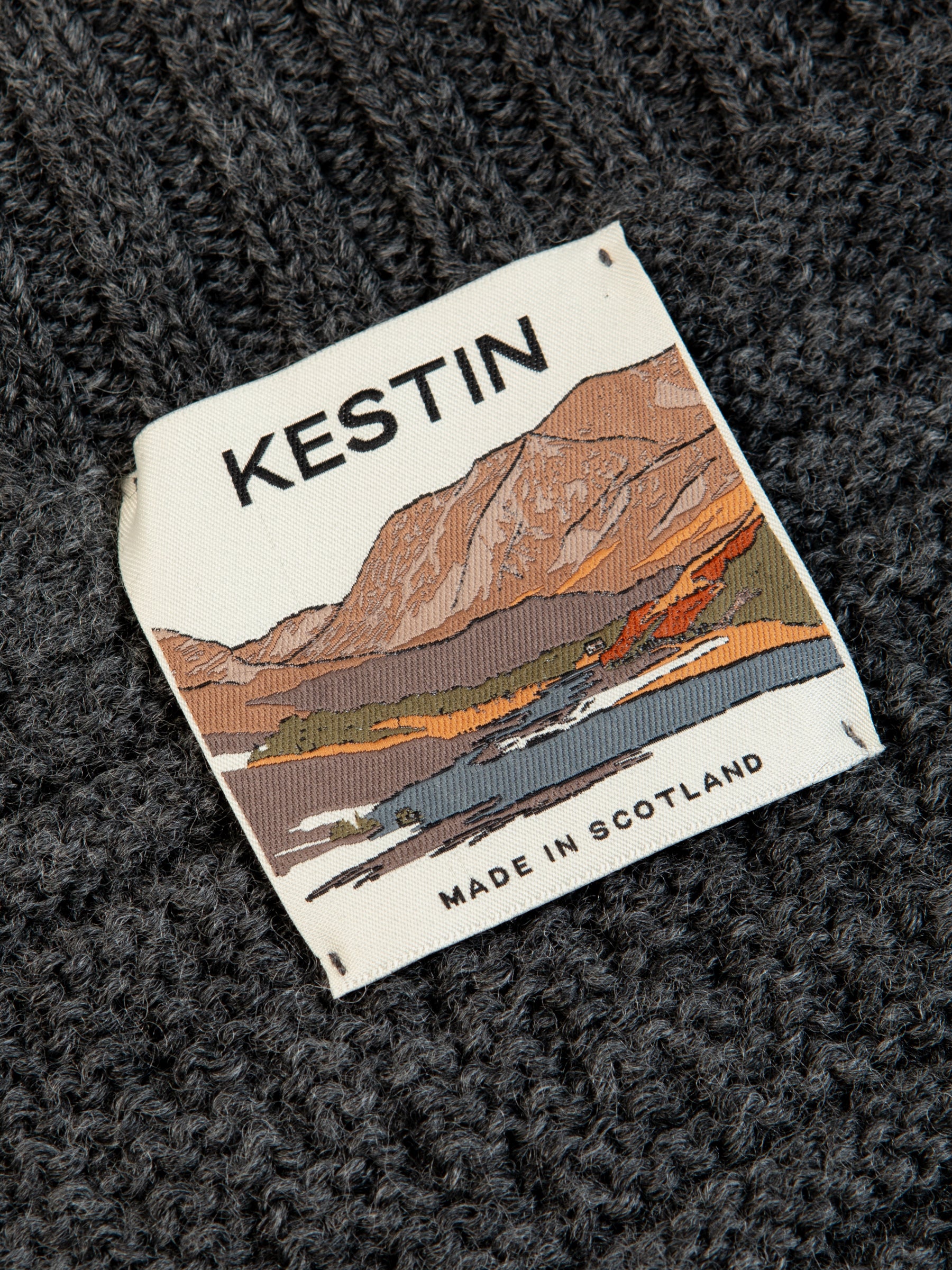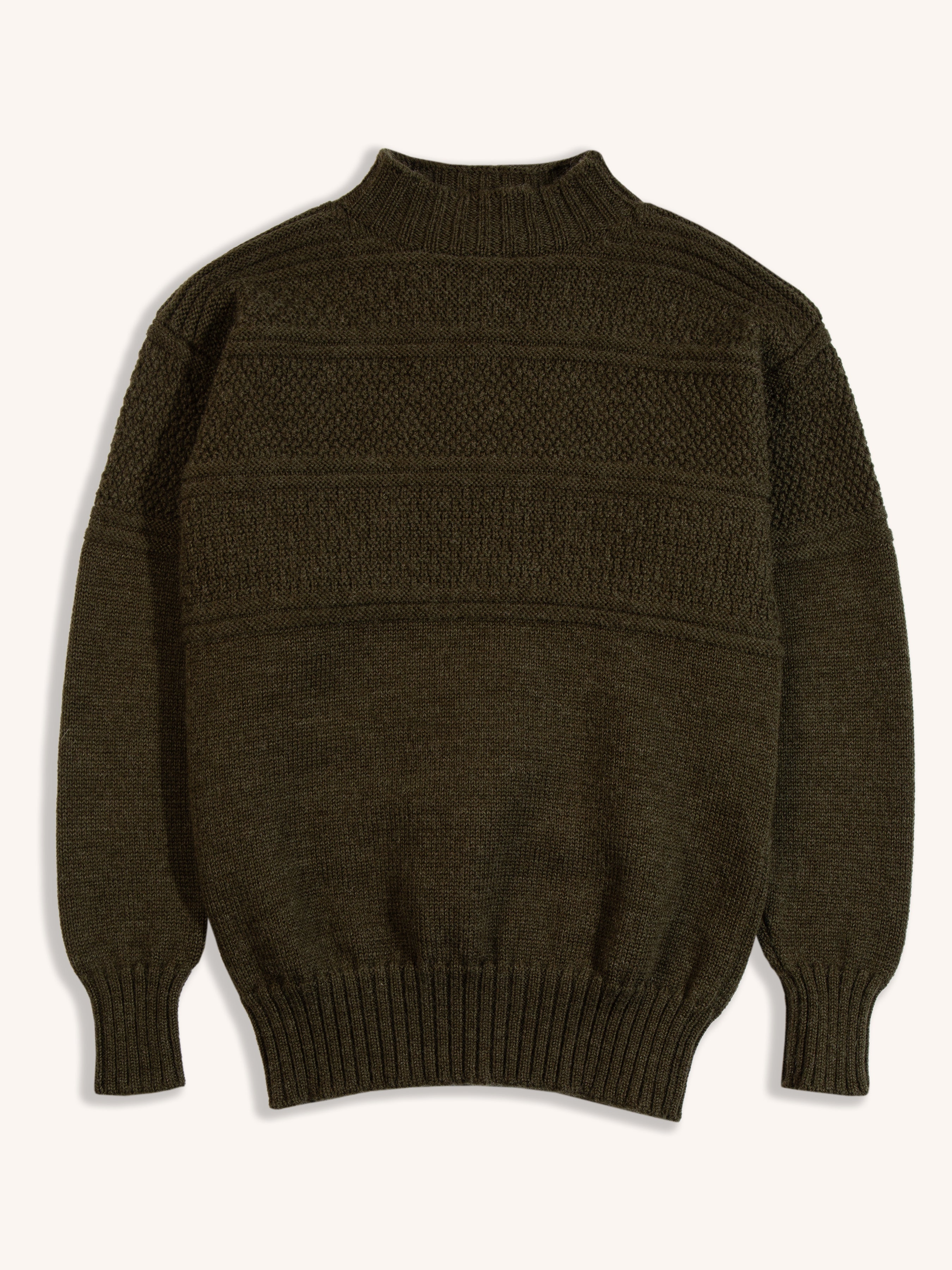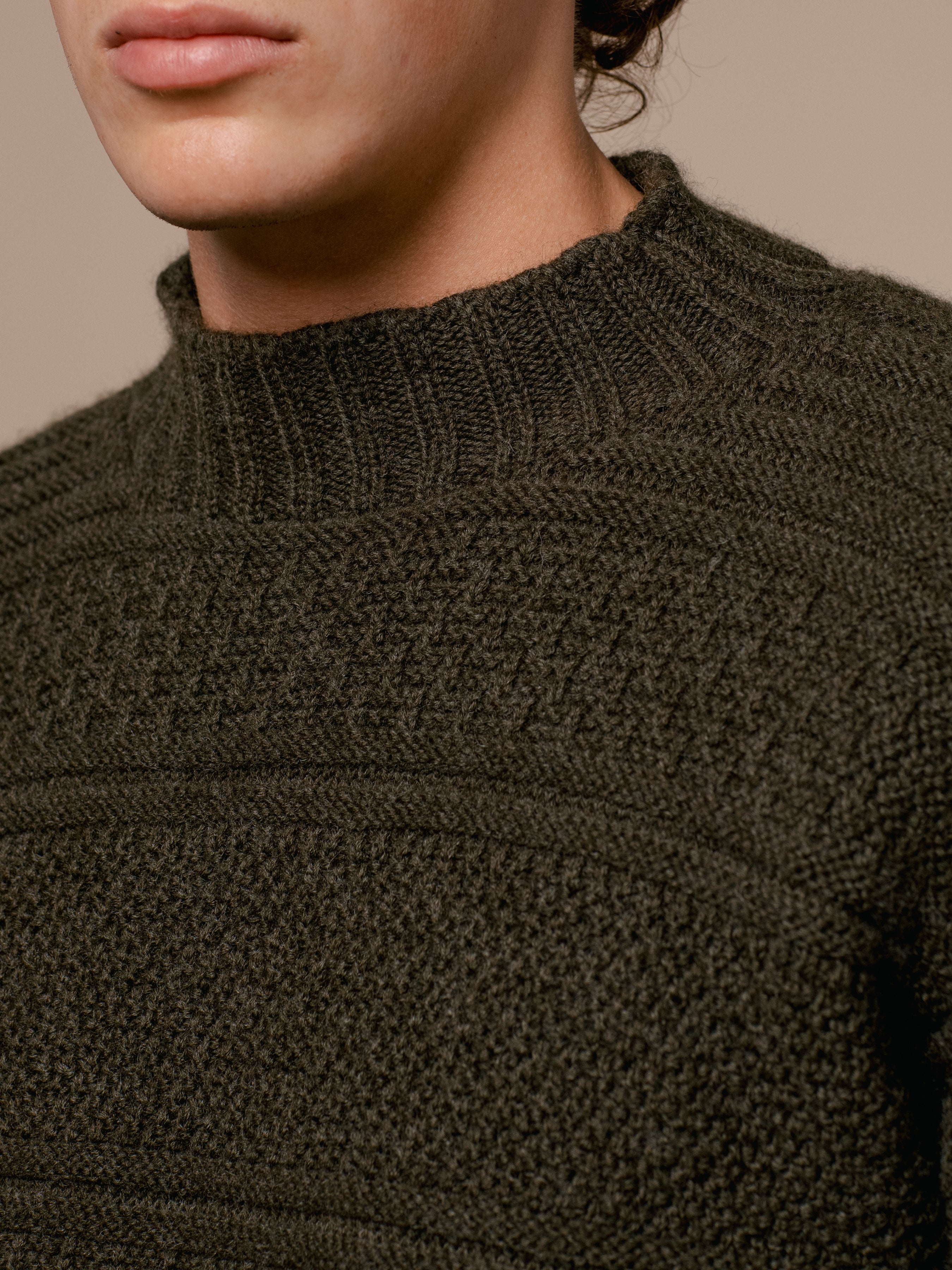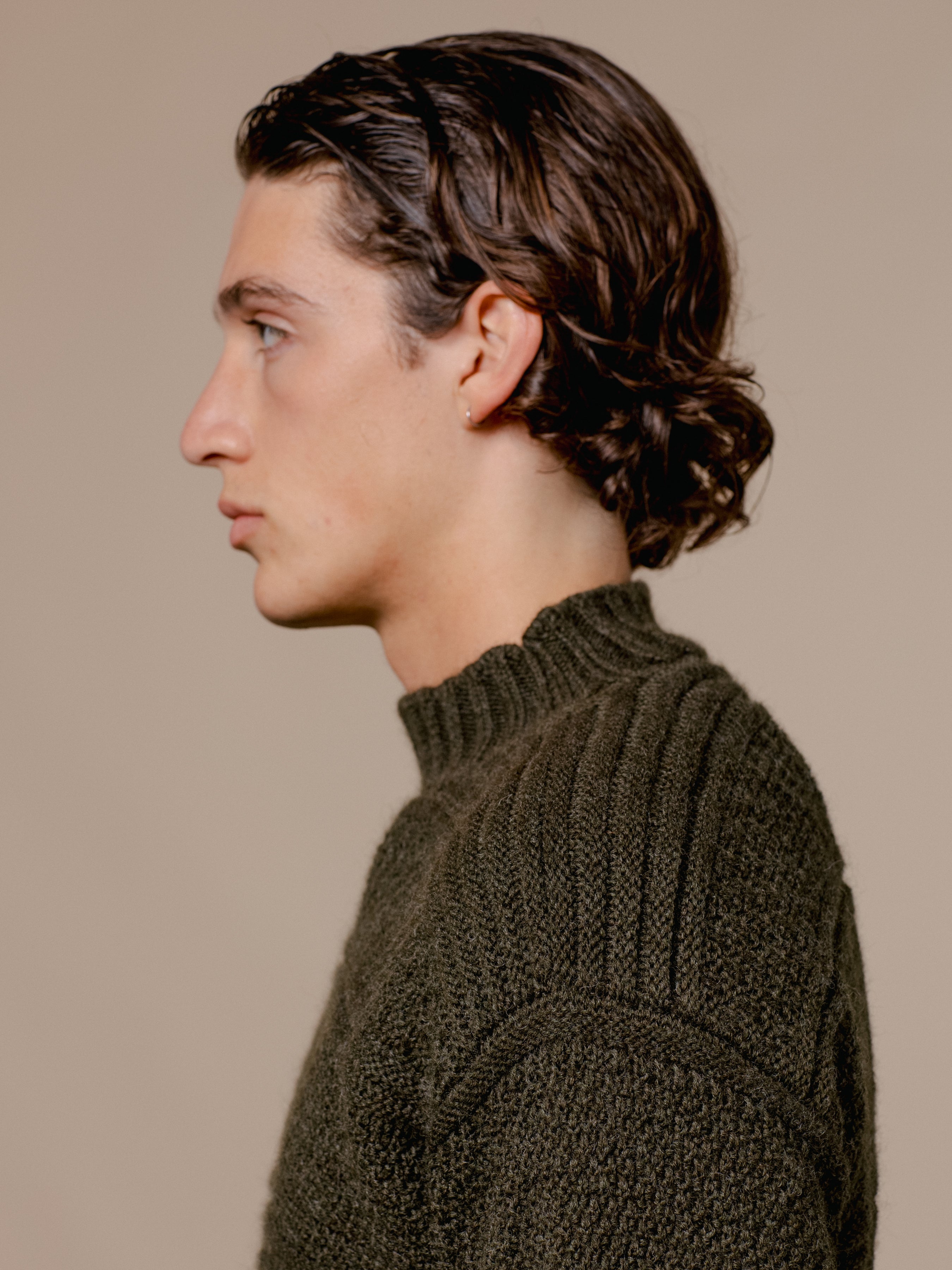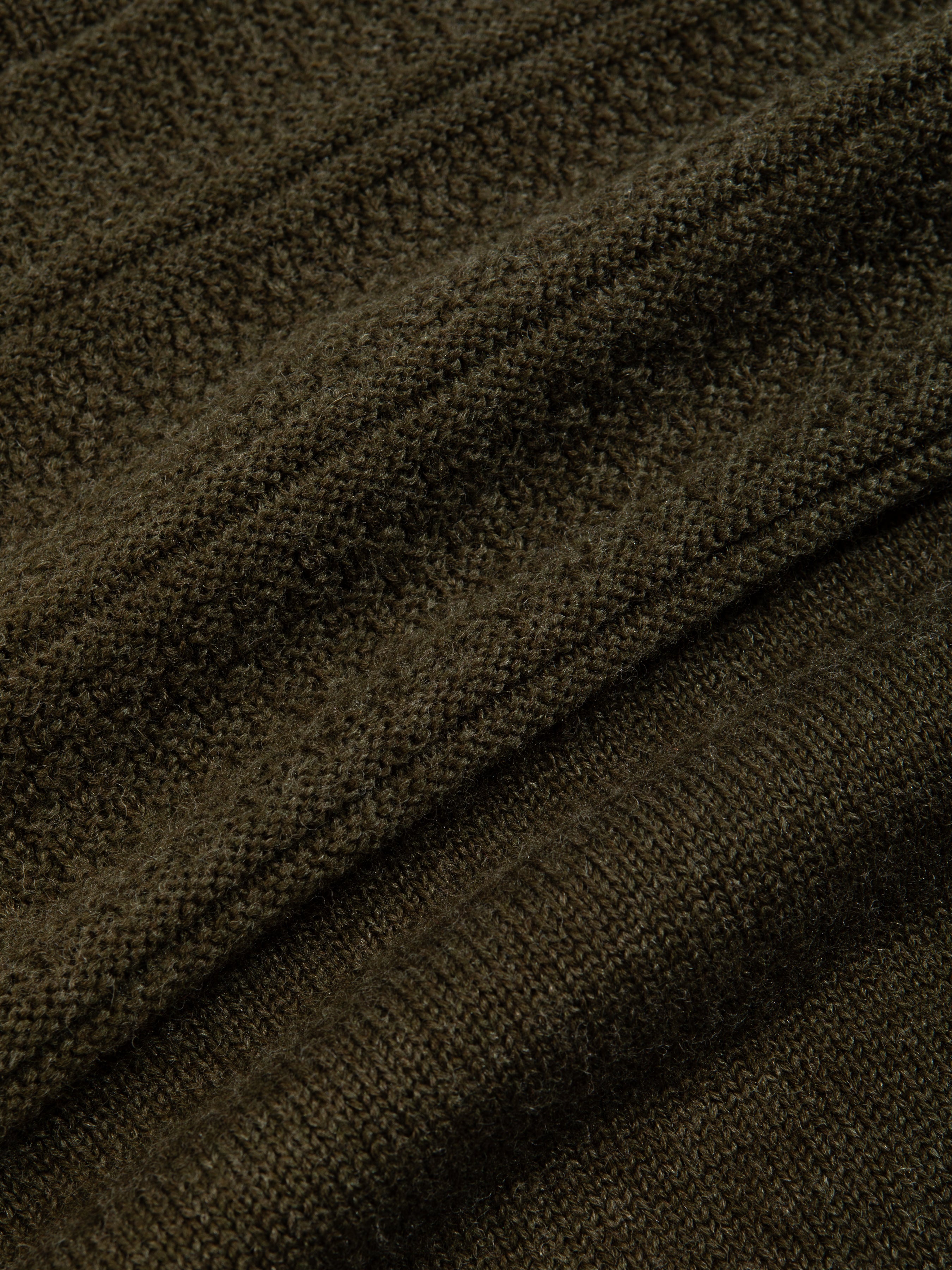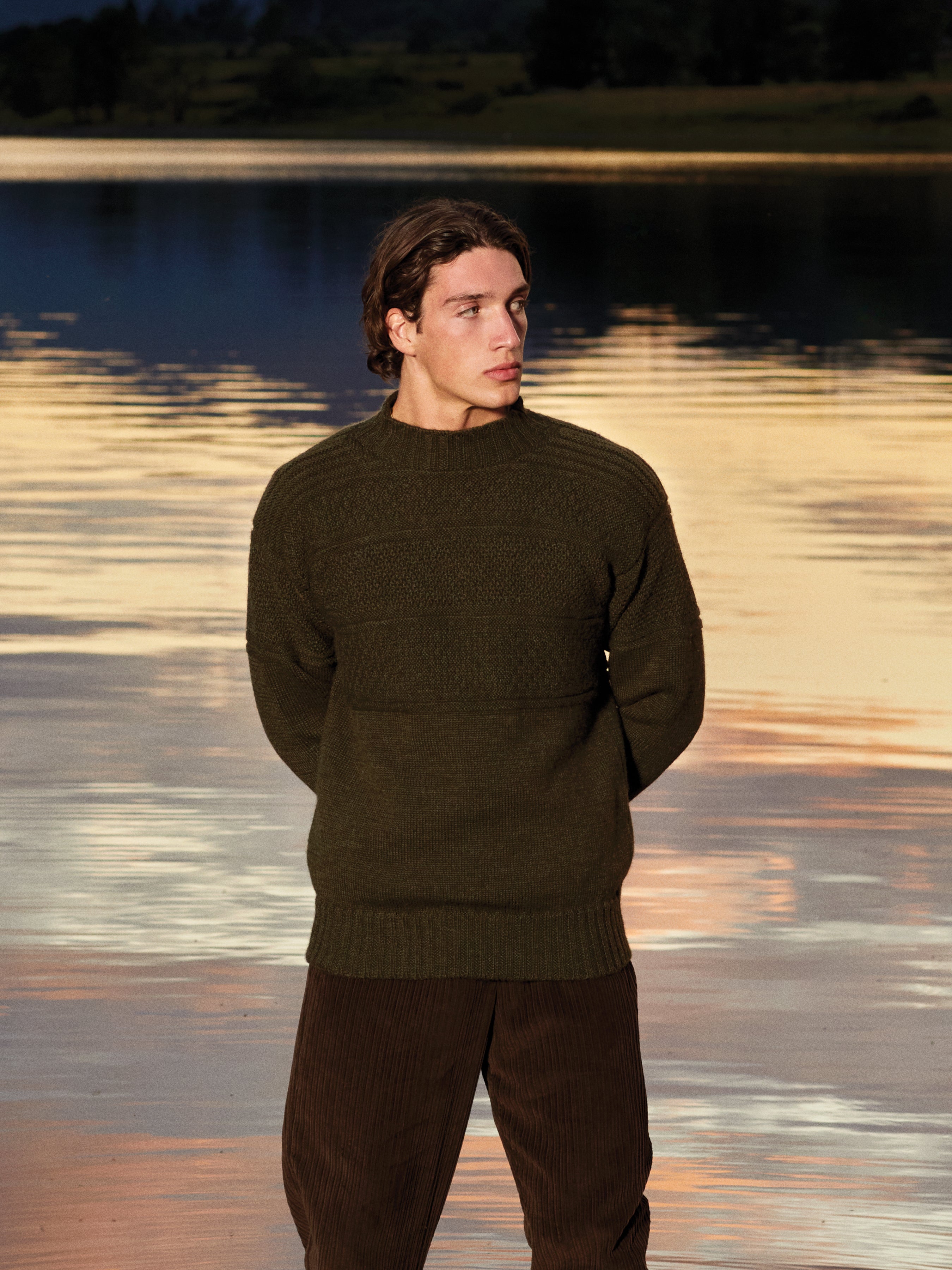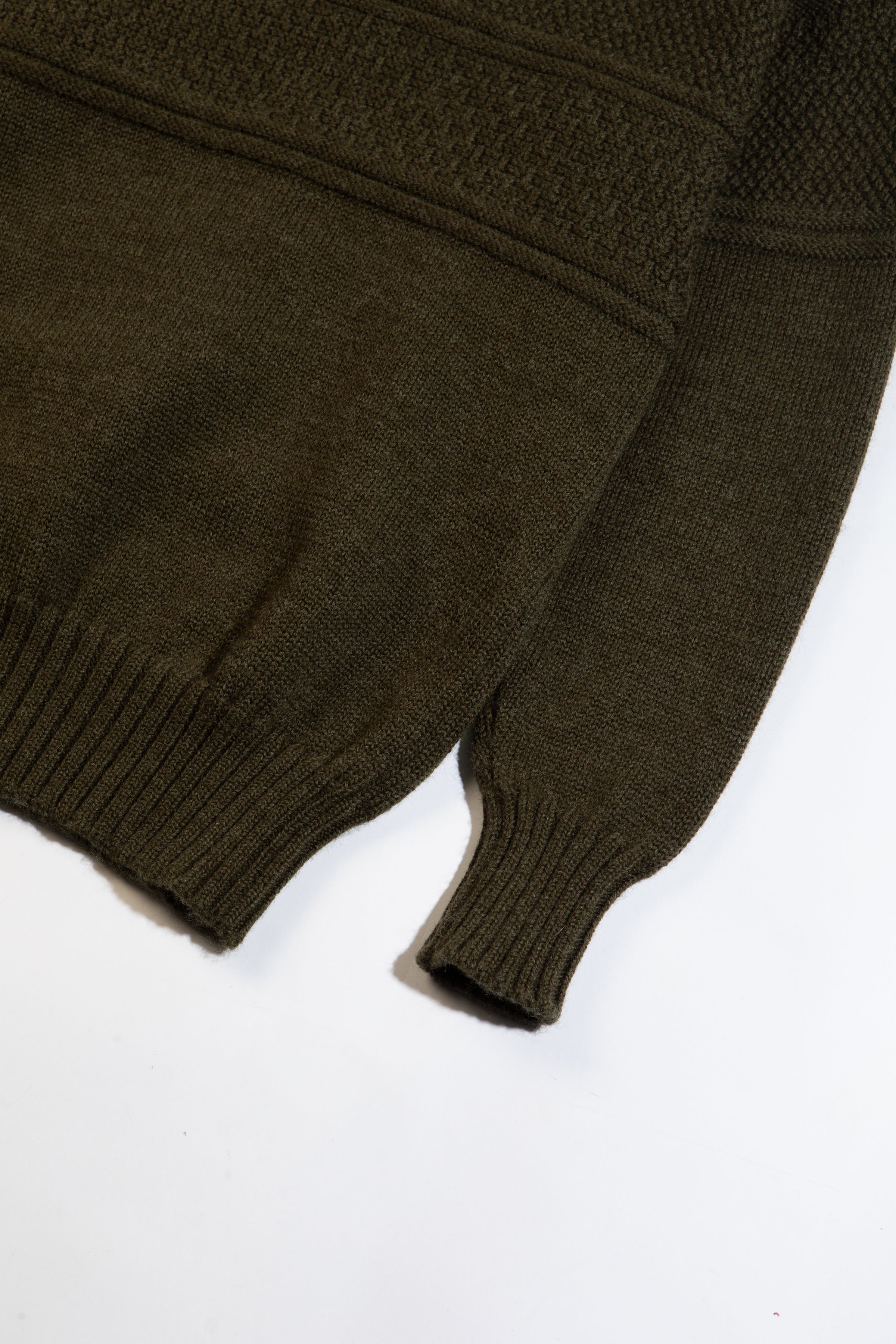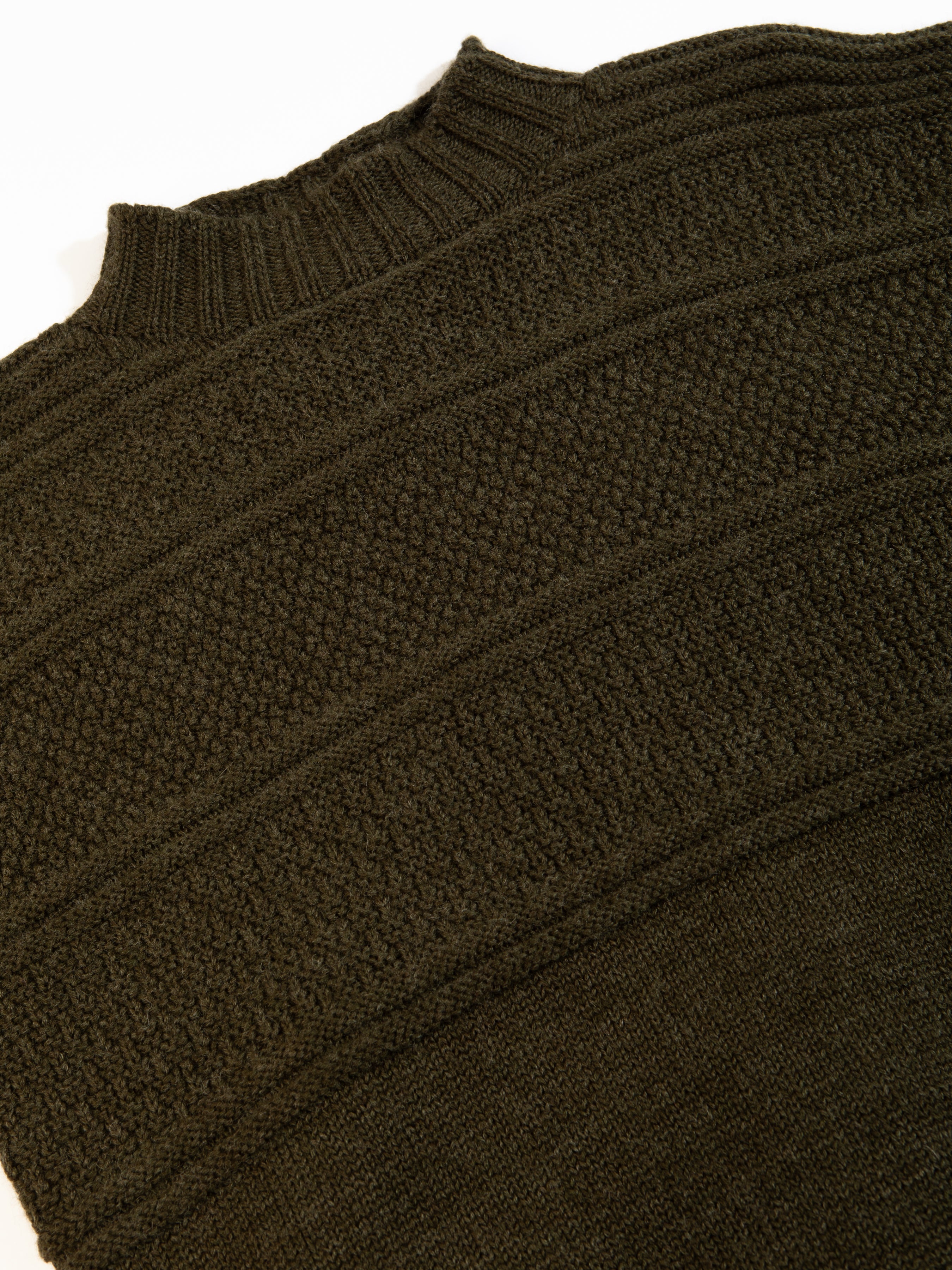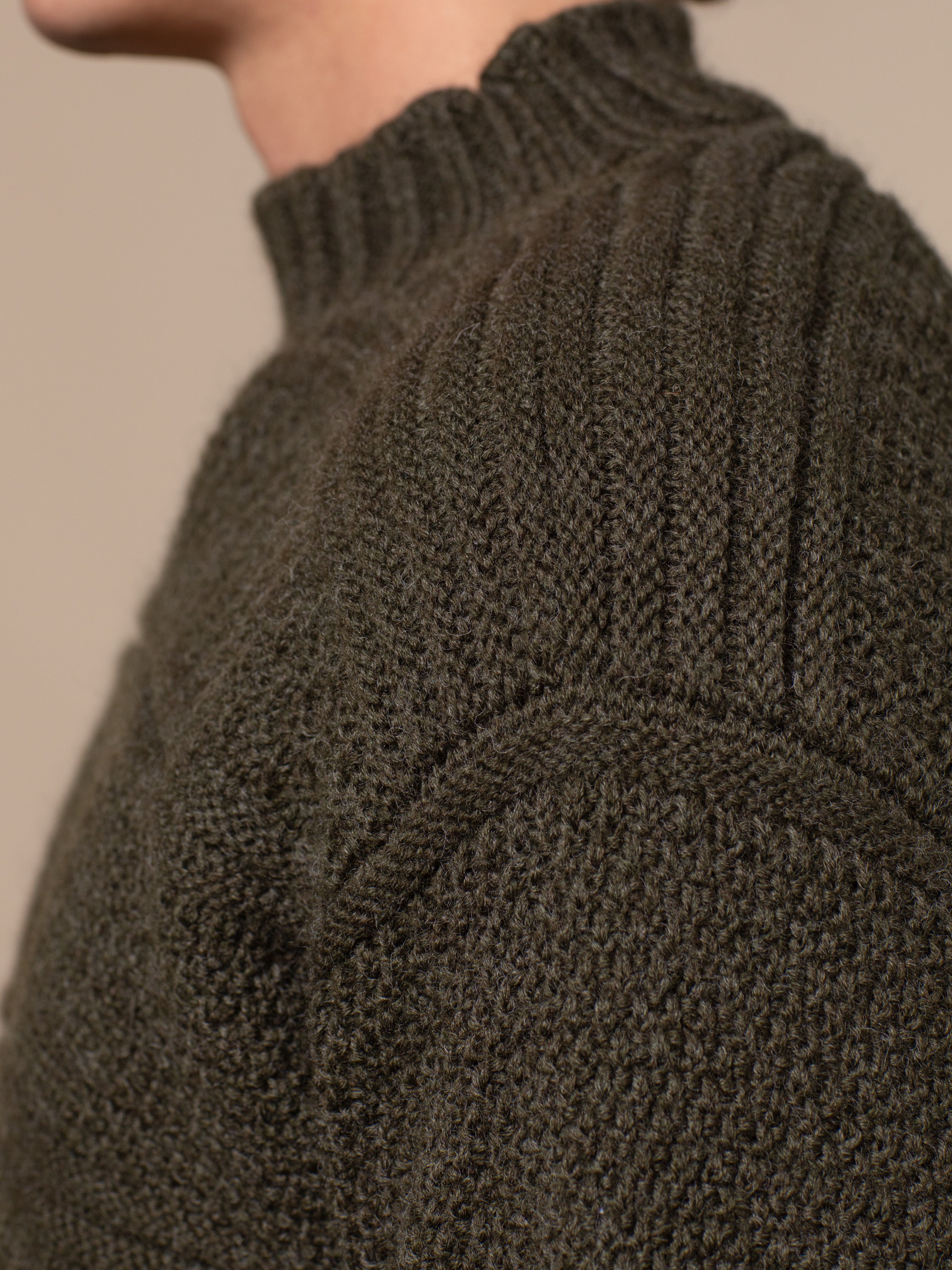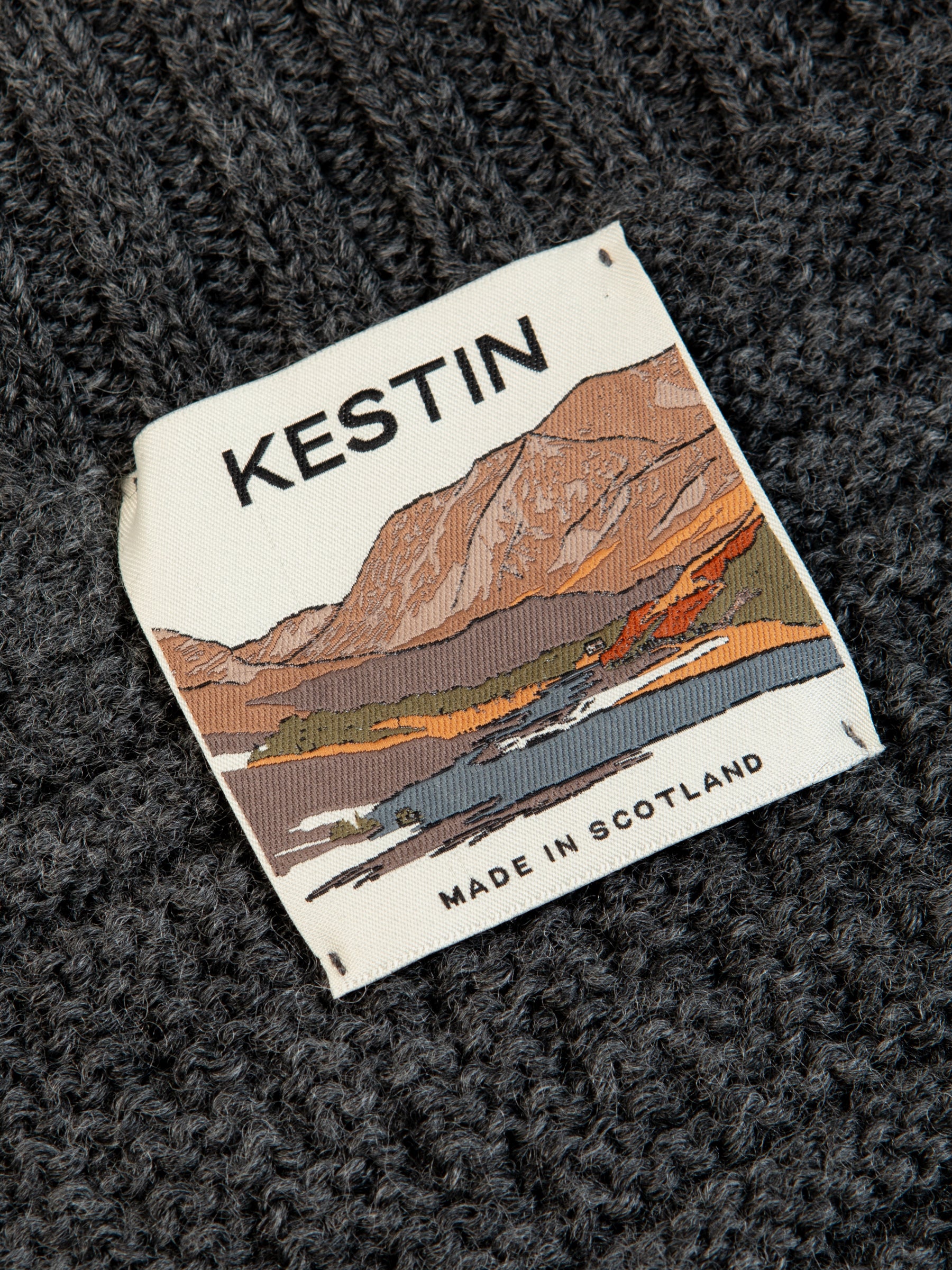 OLIVE
£195.00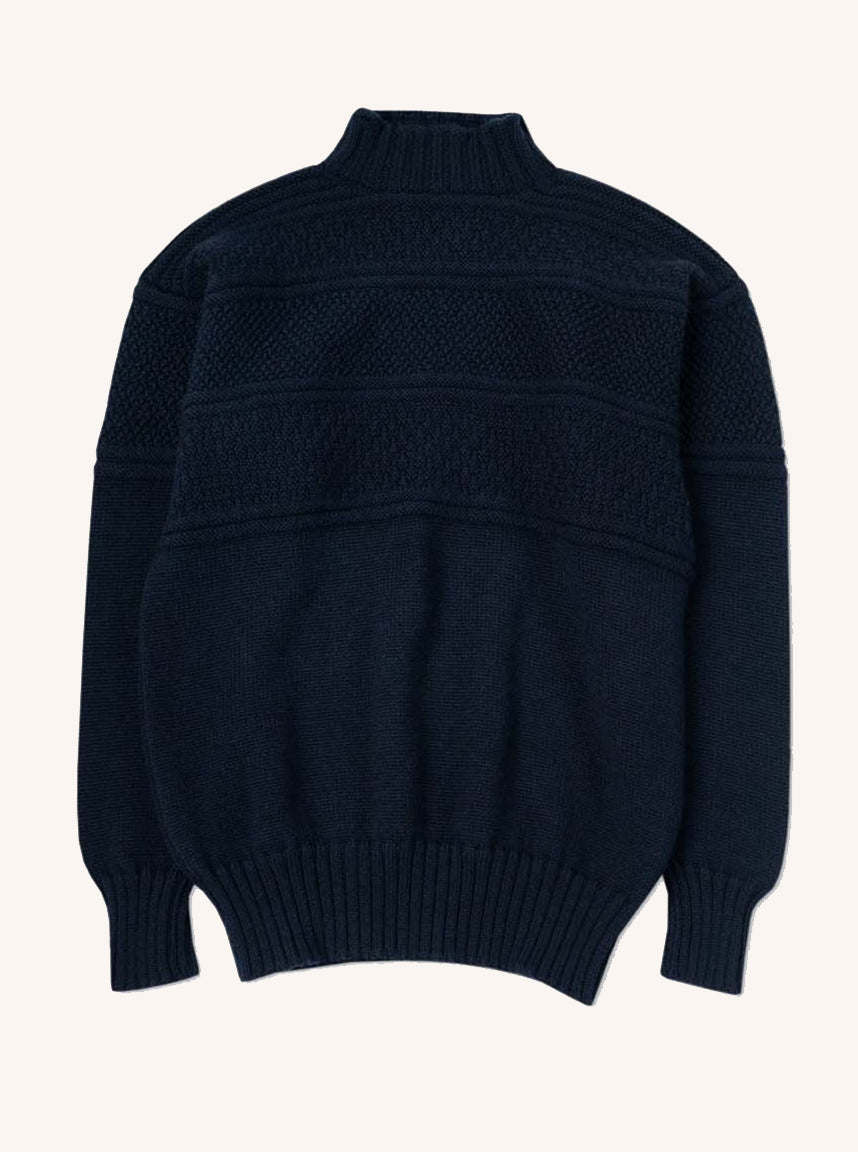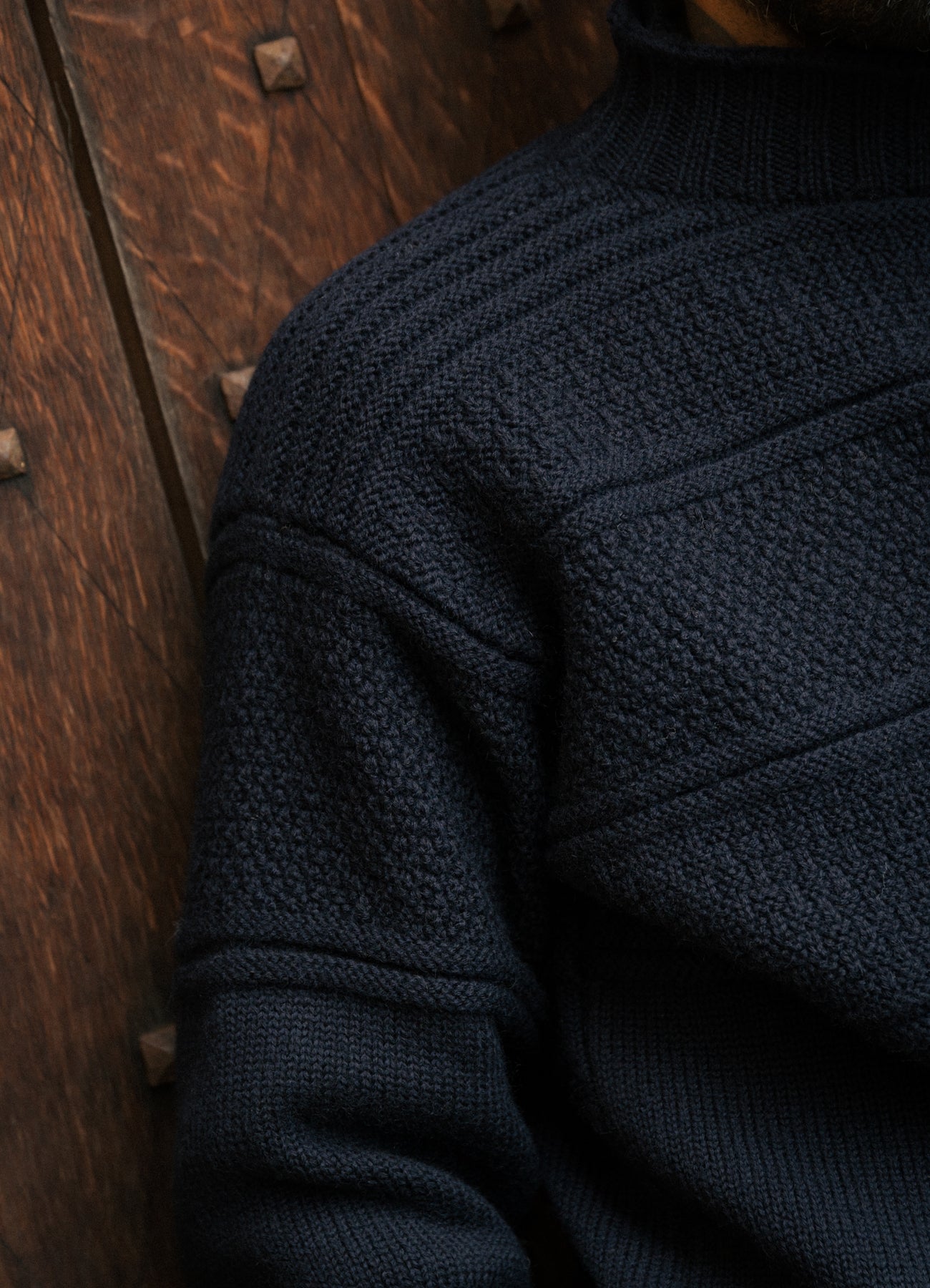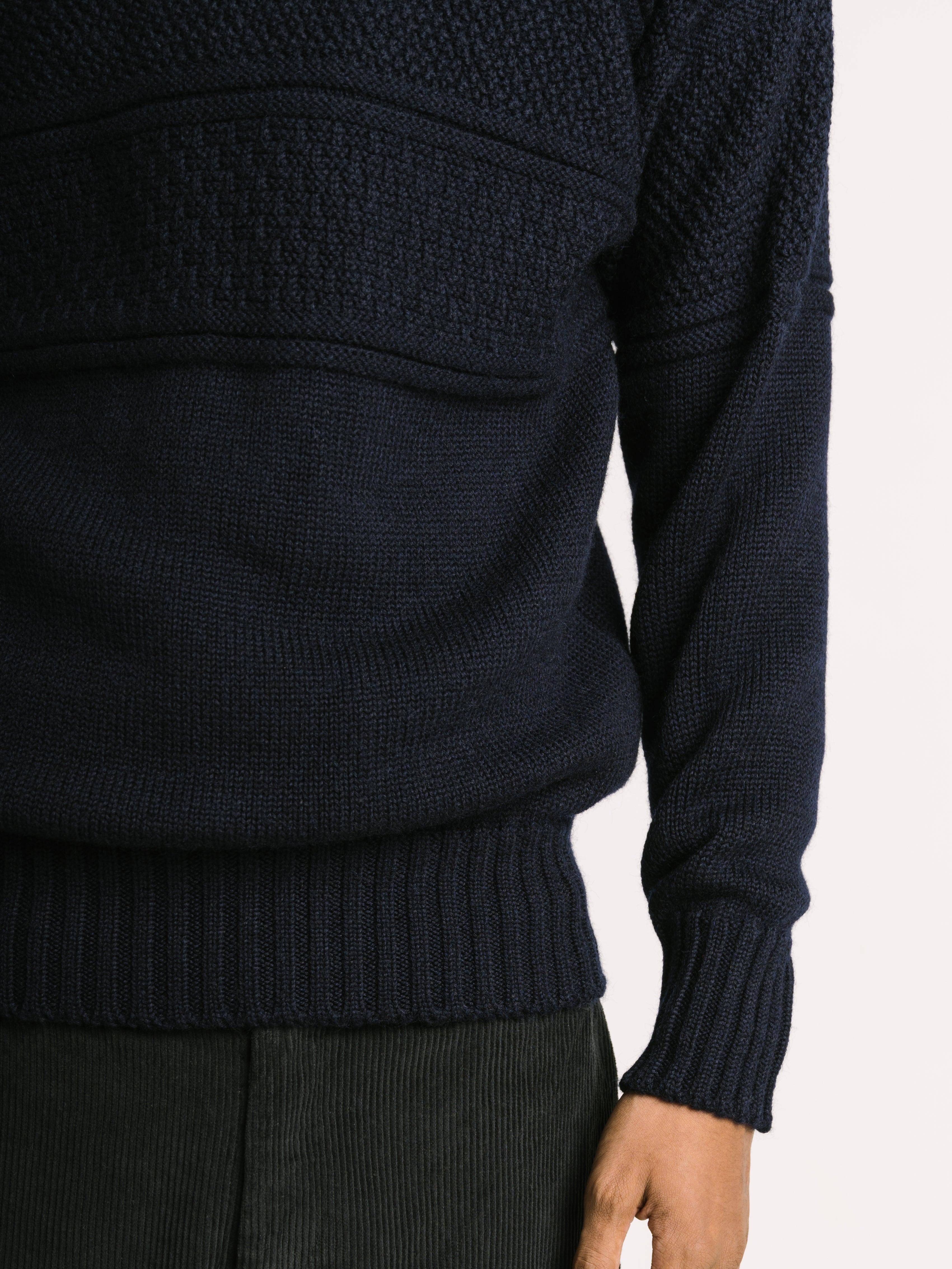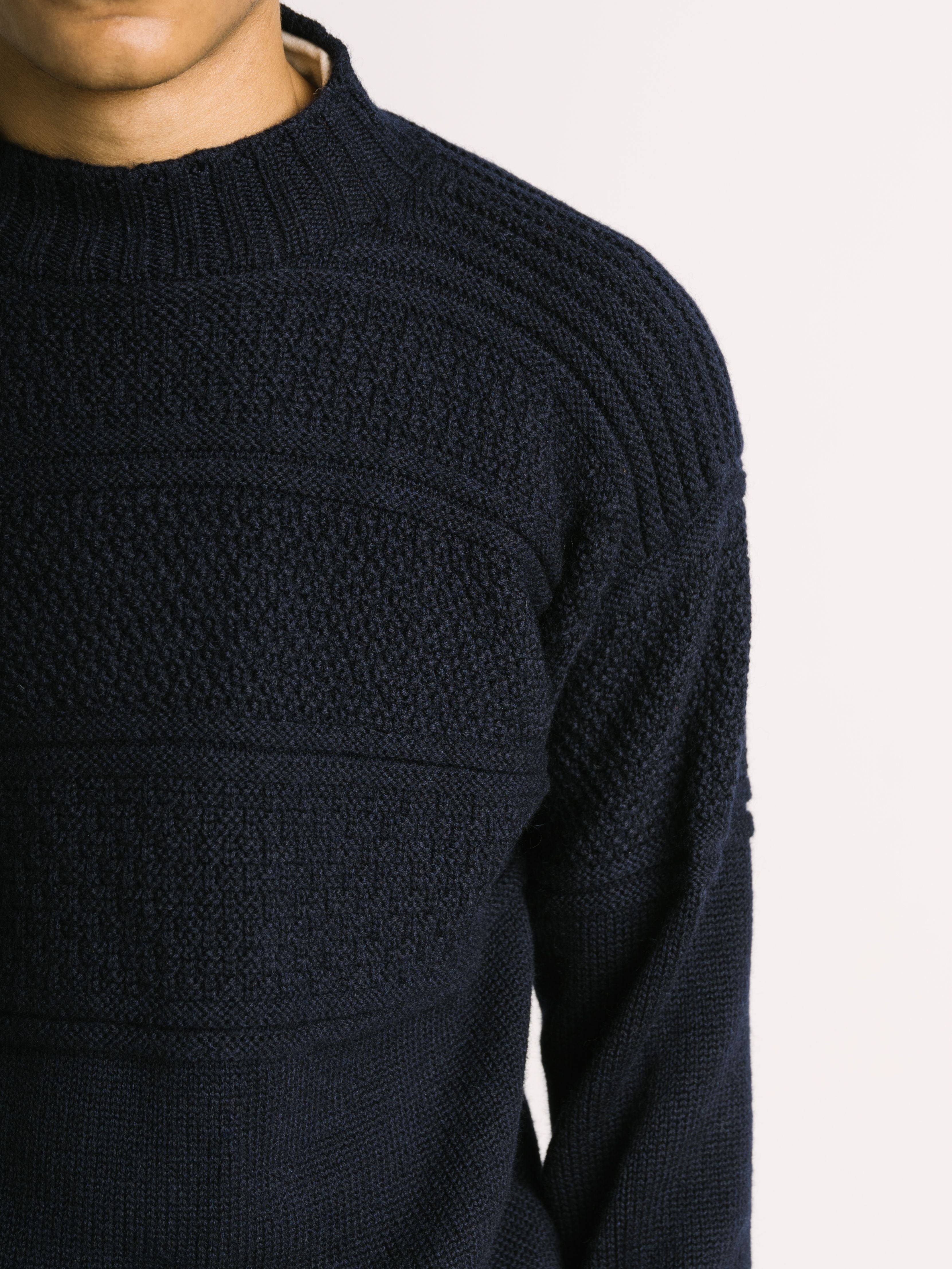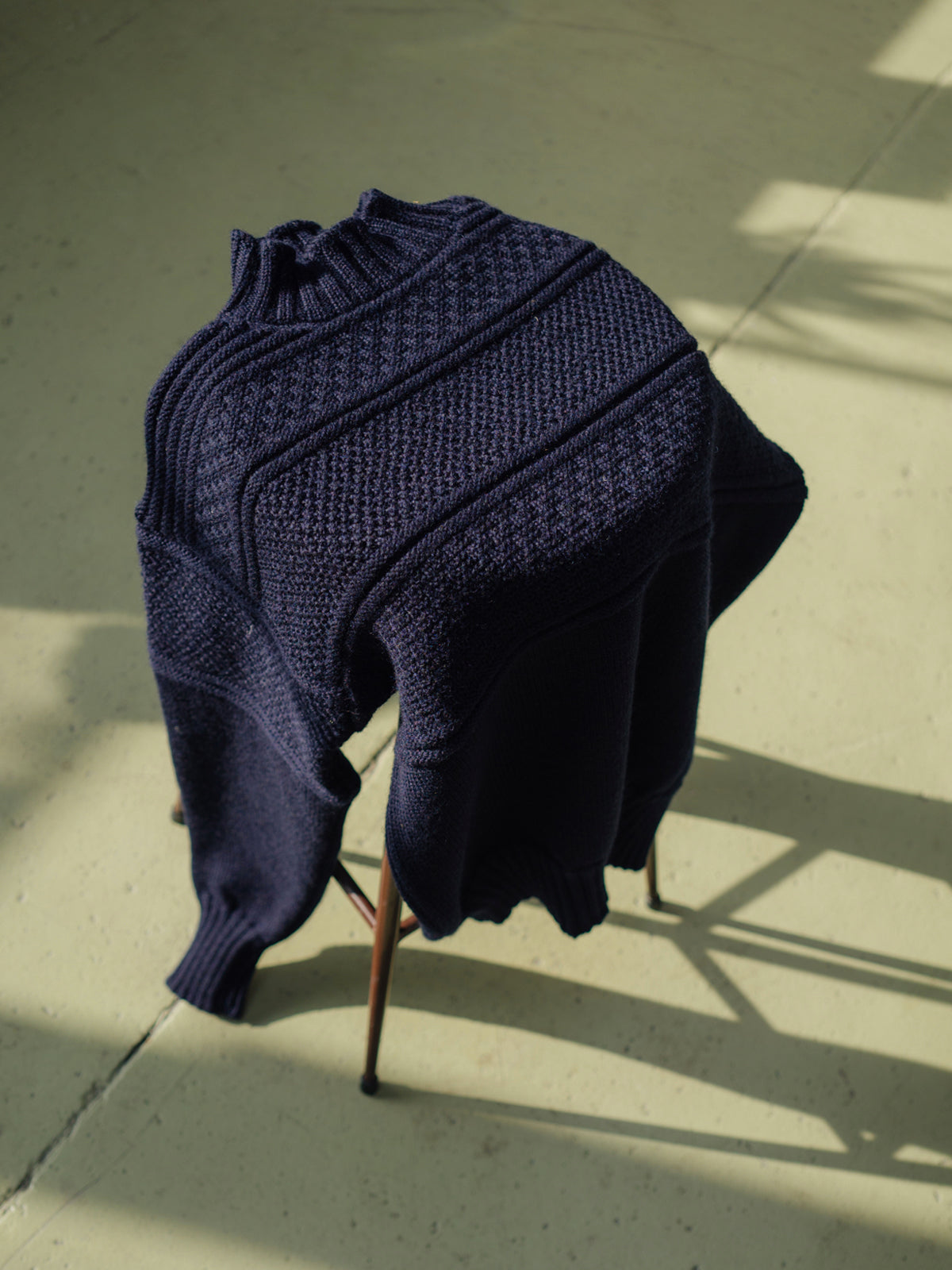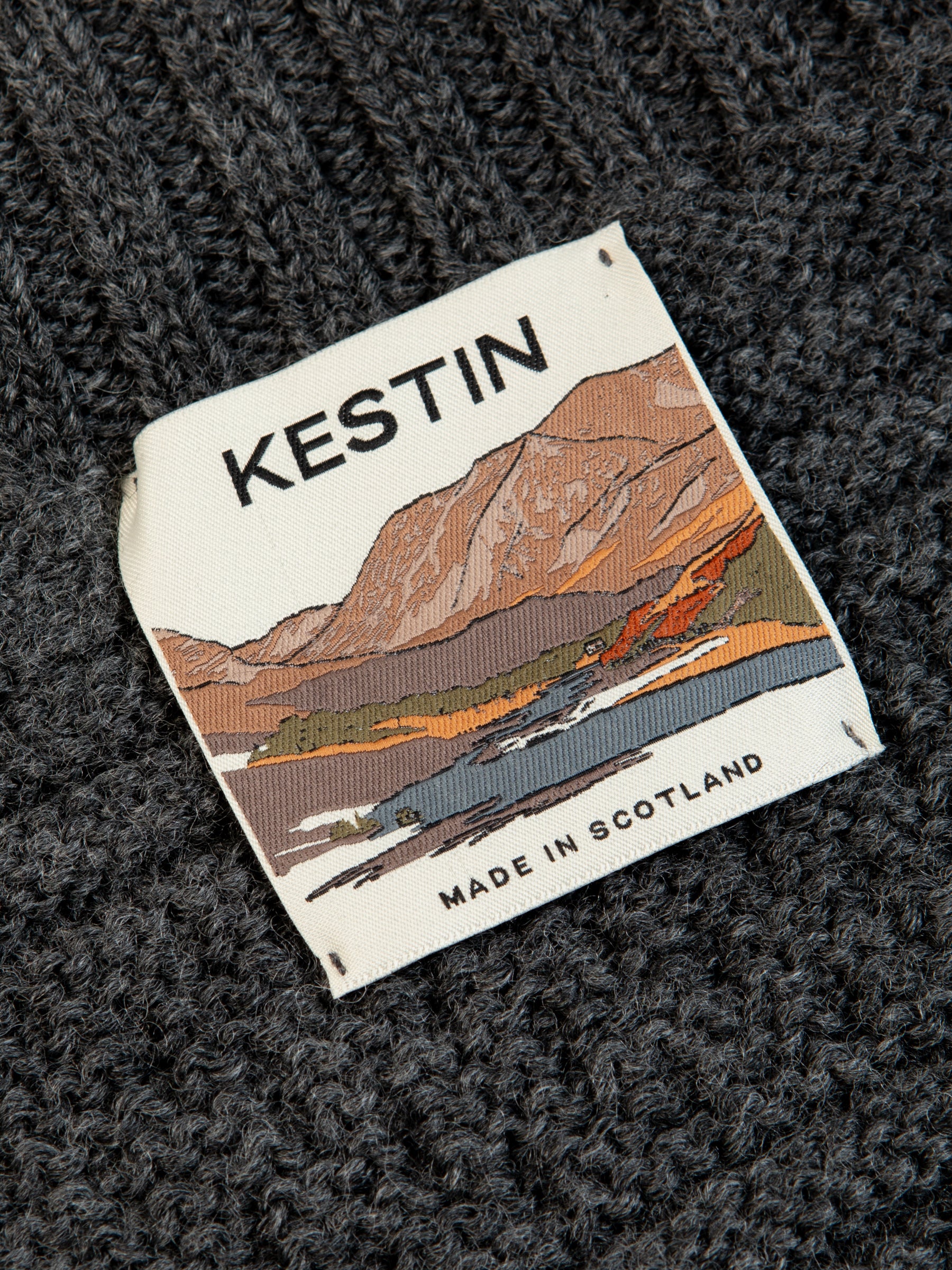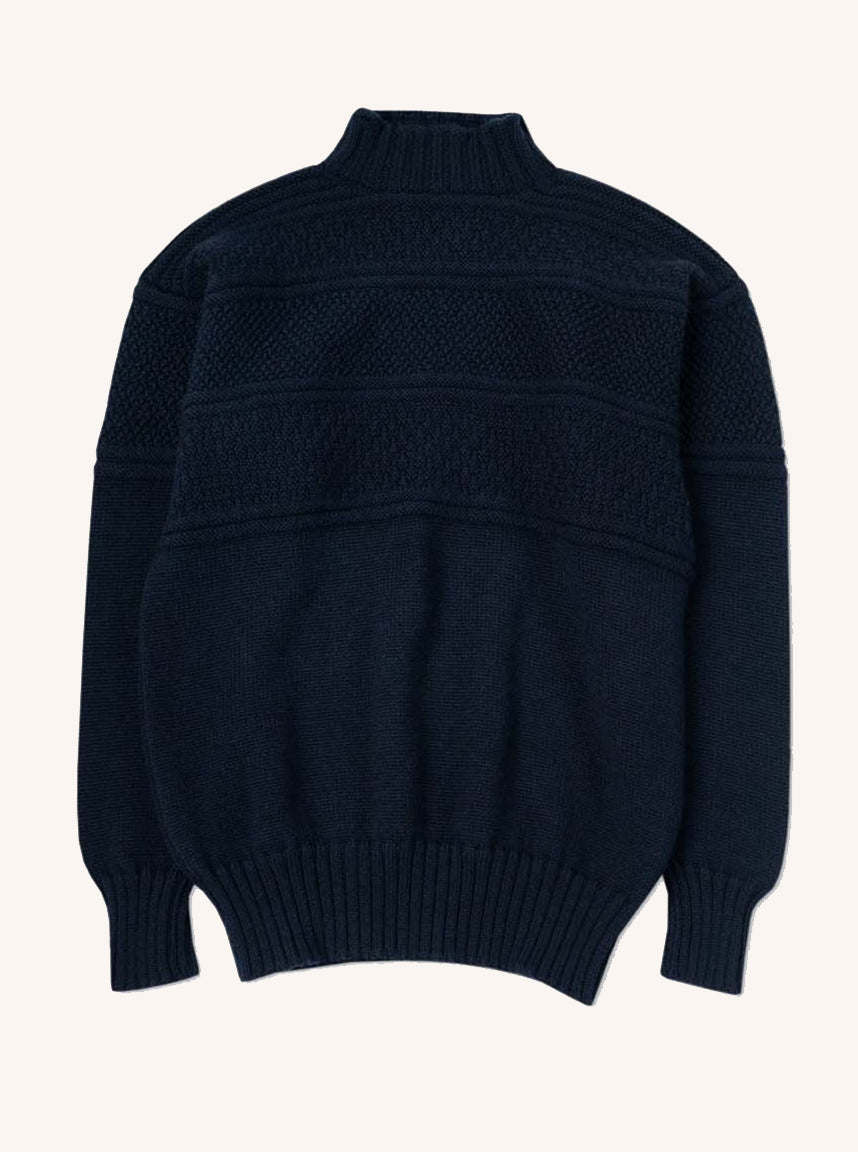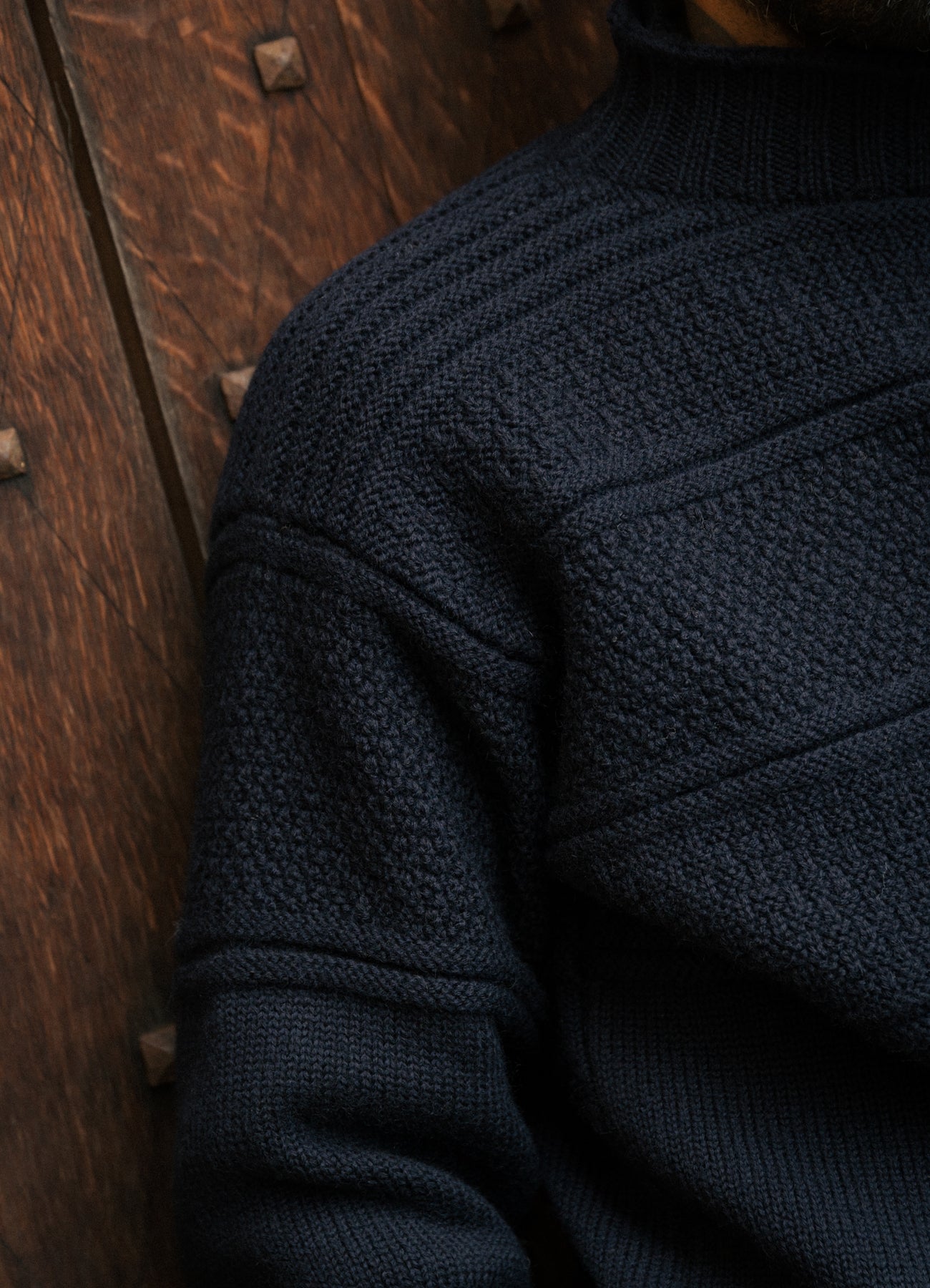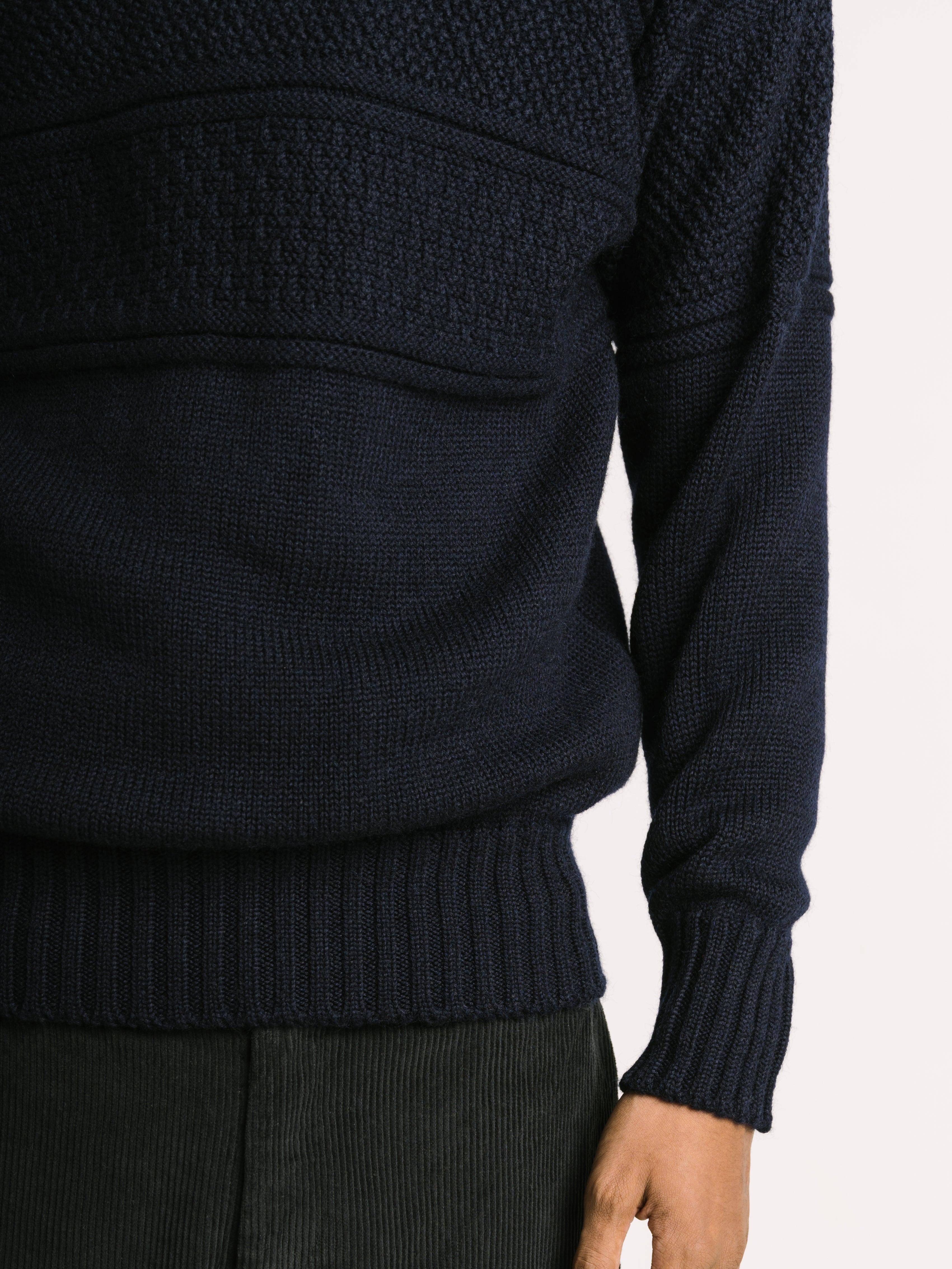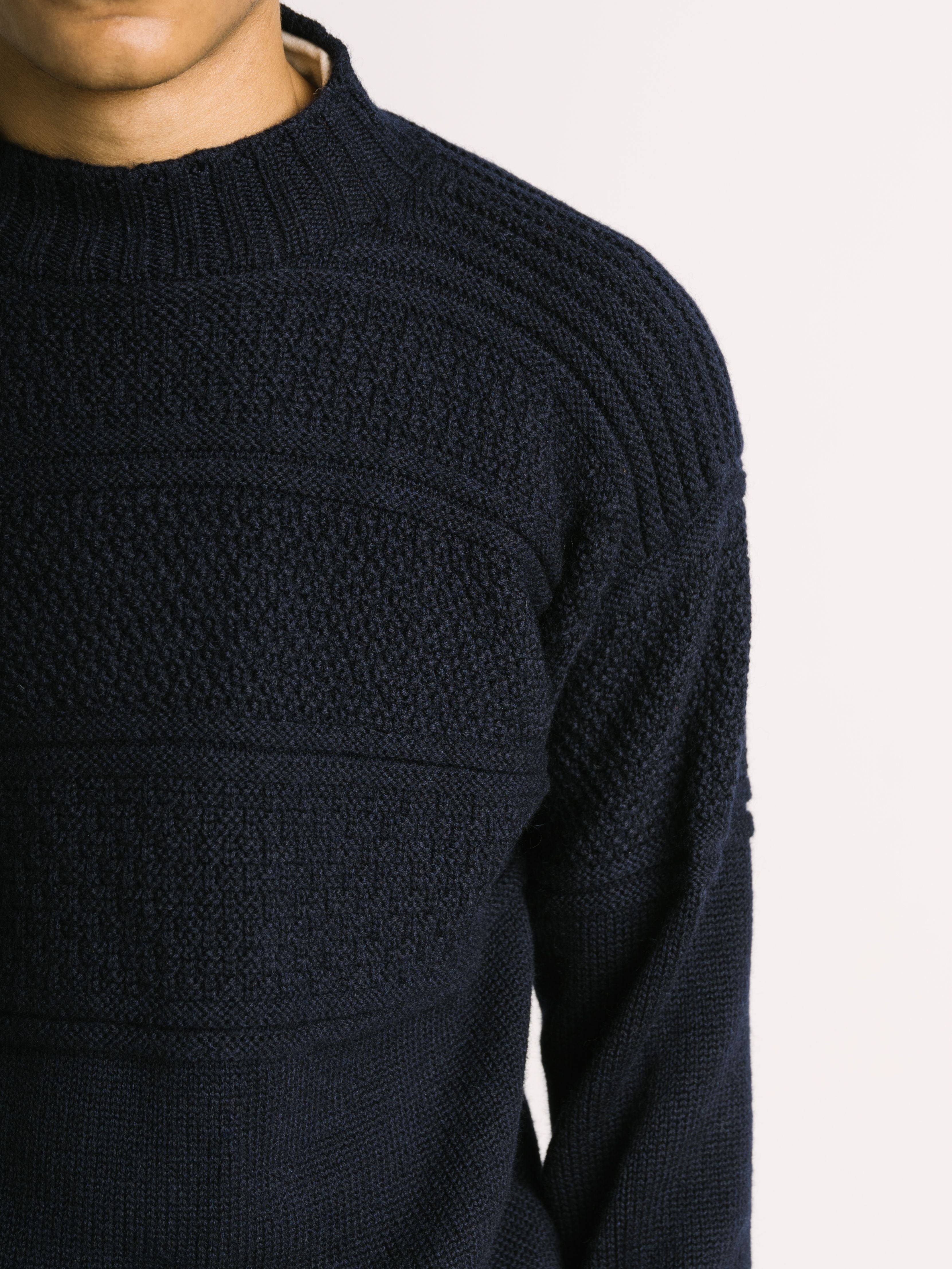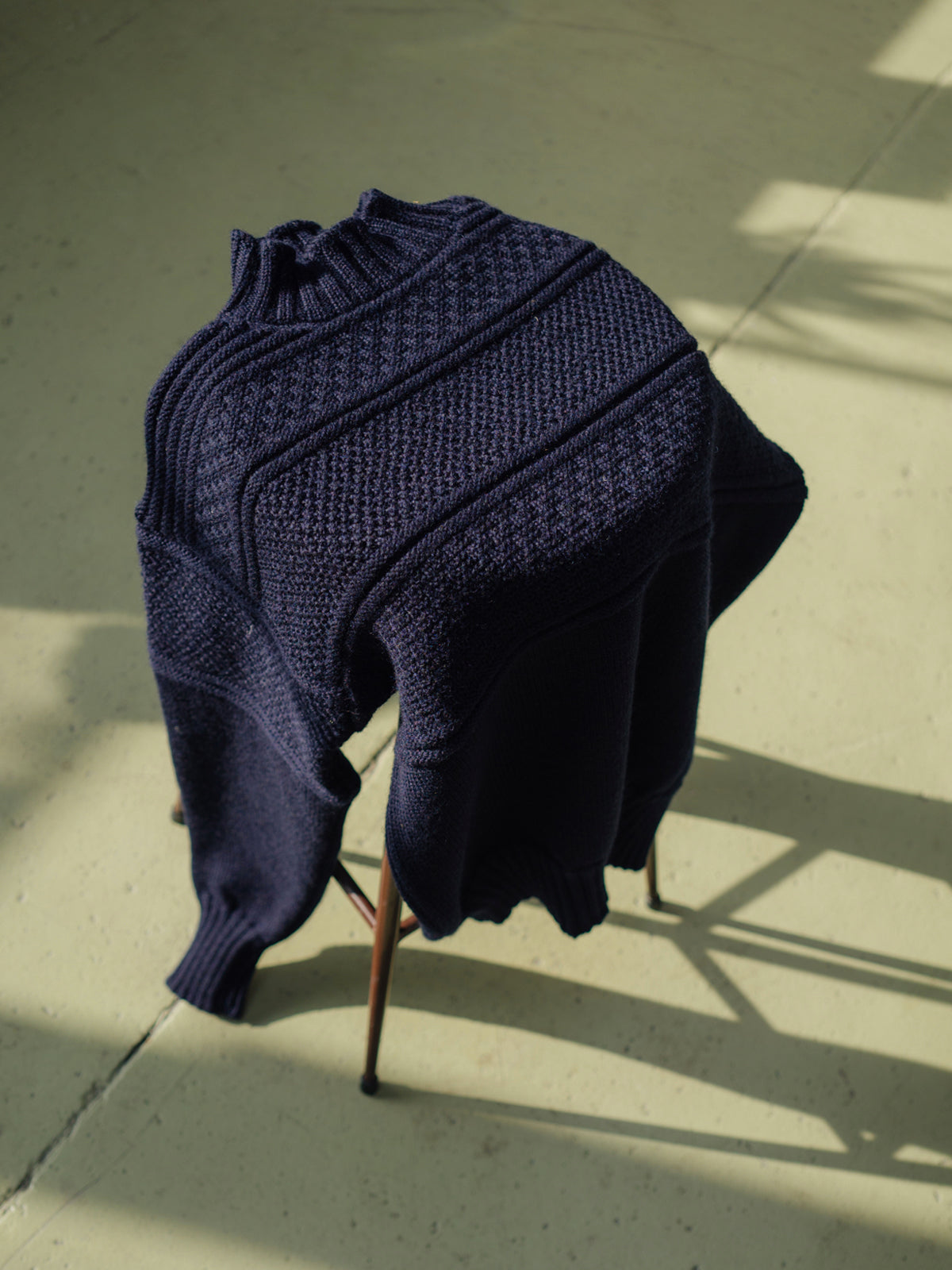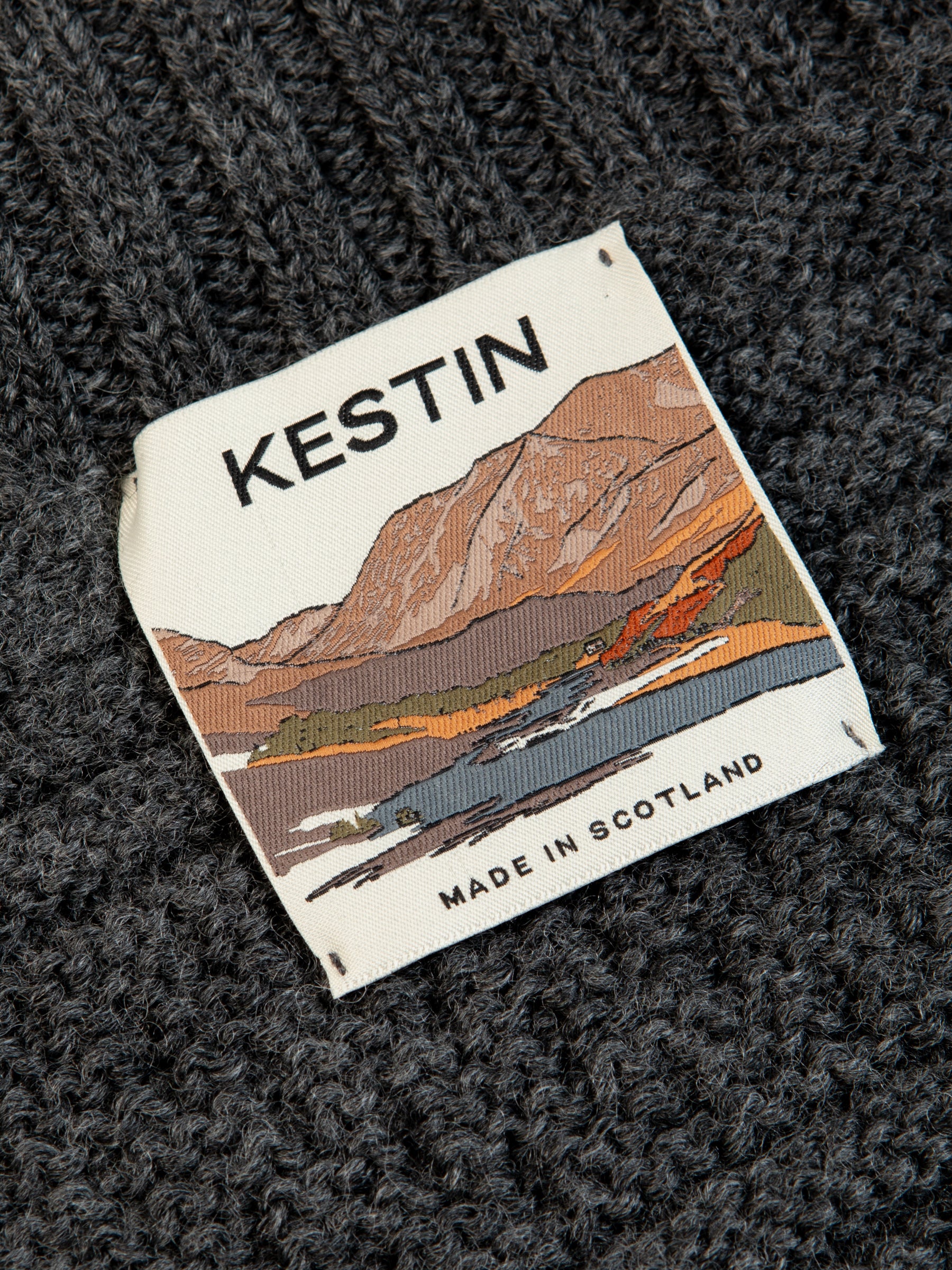 NAVY
£195.00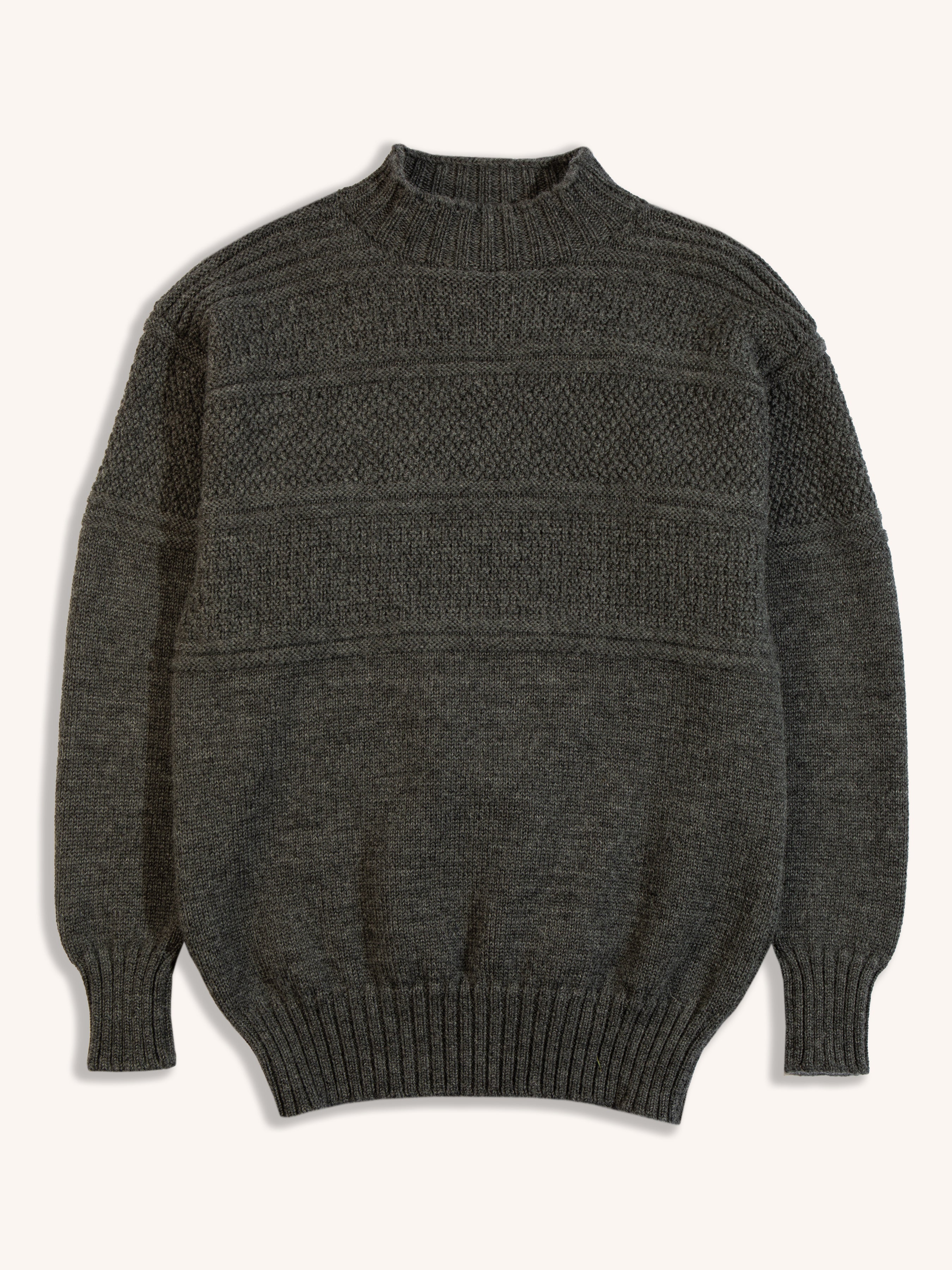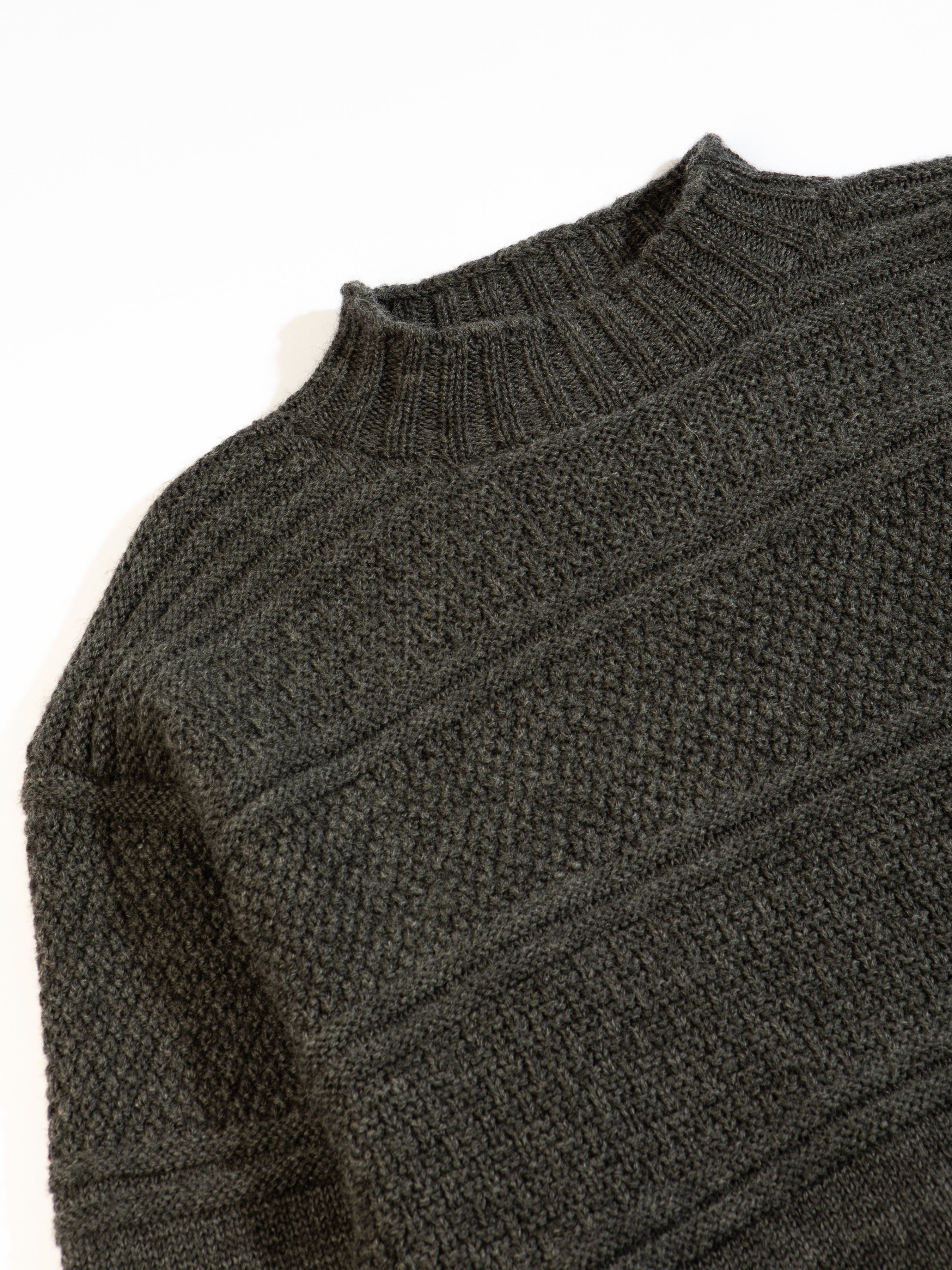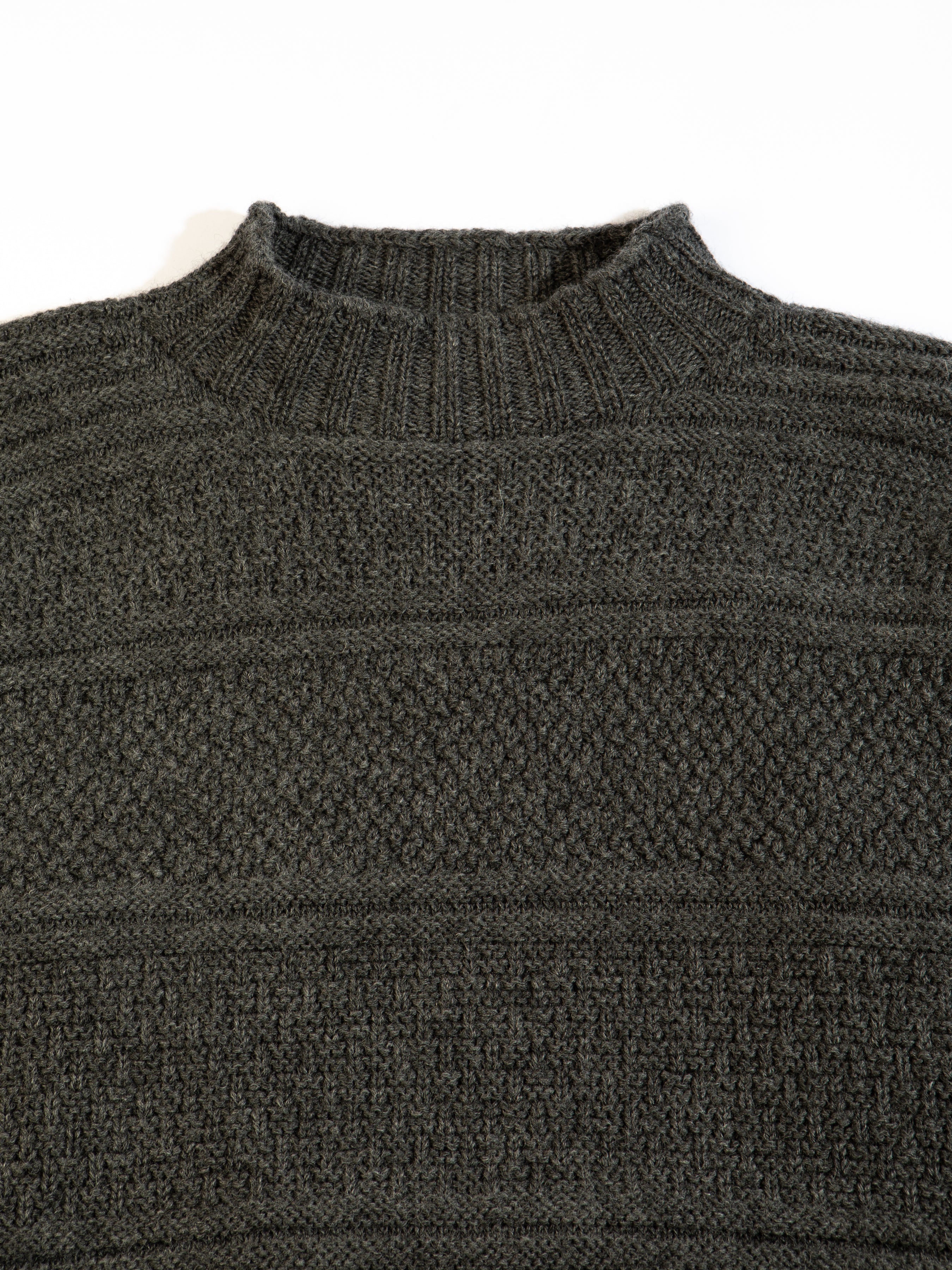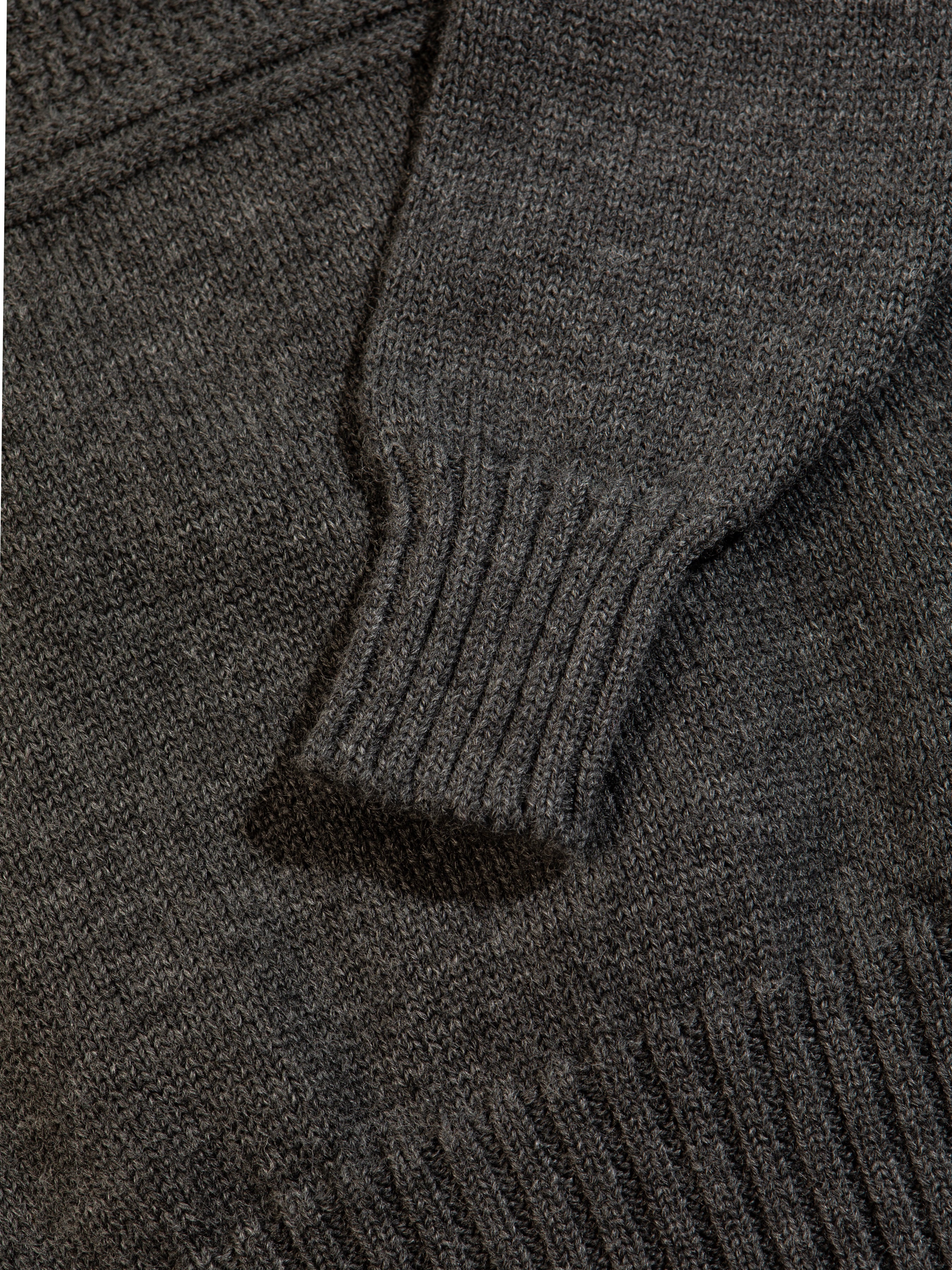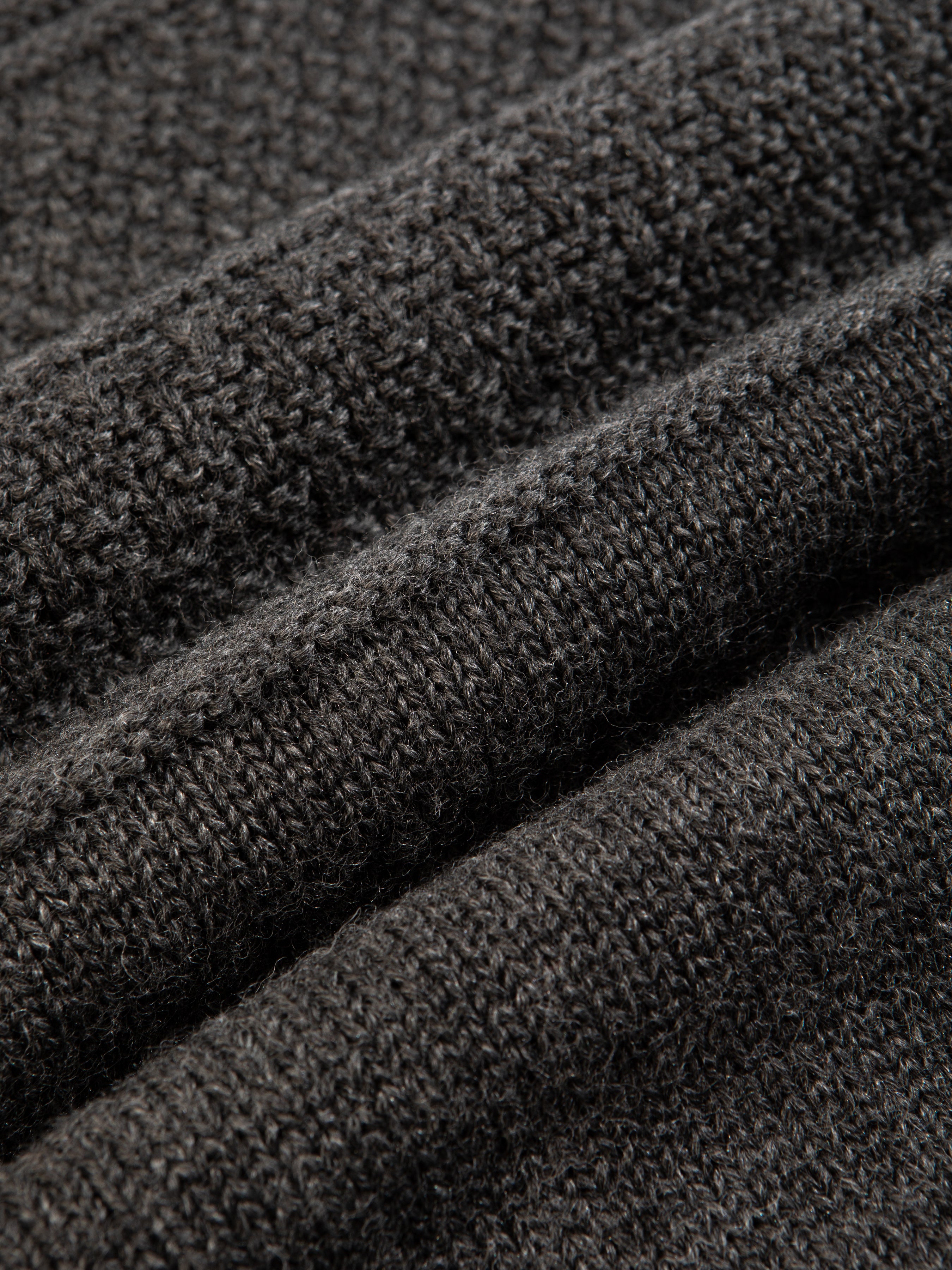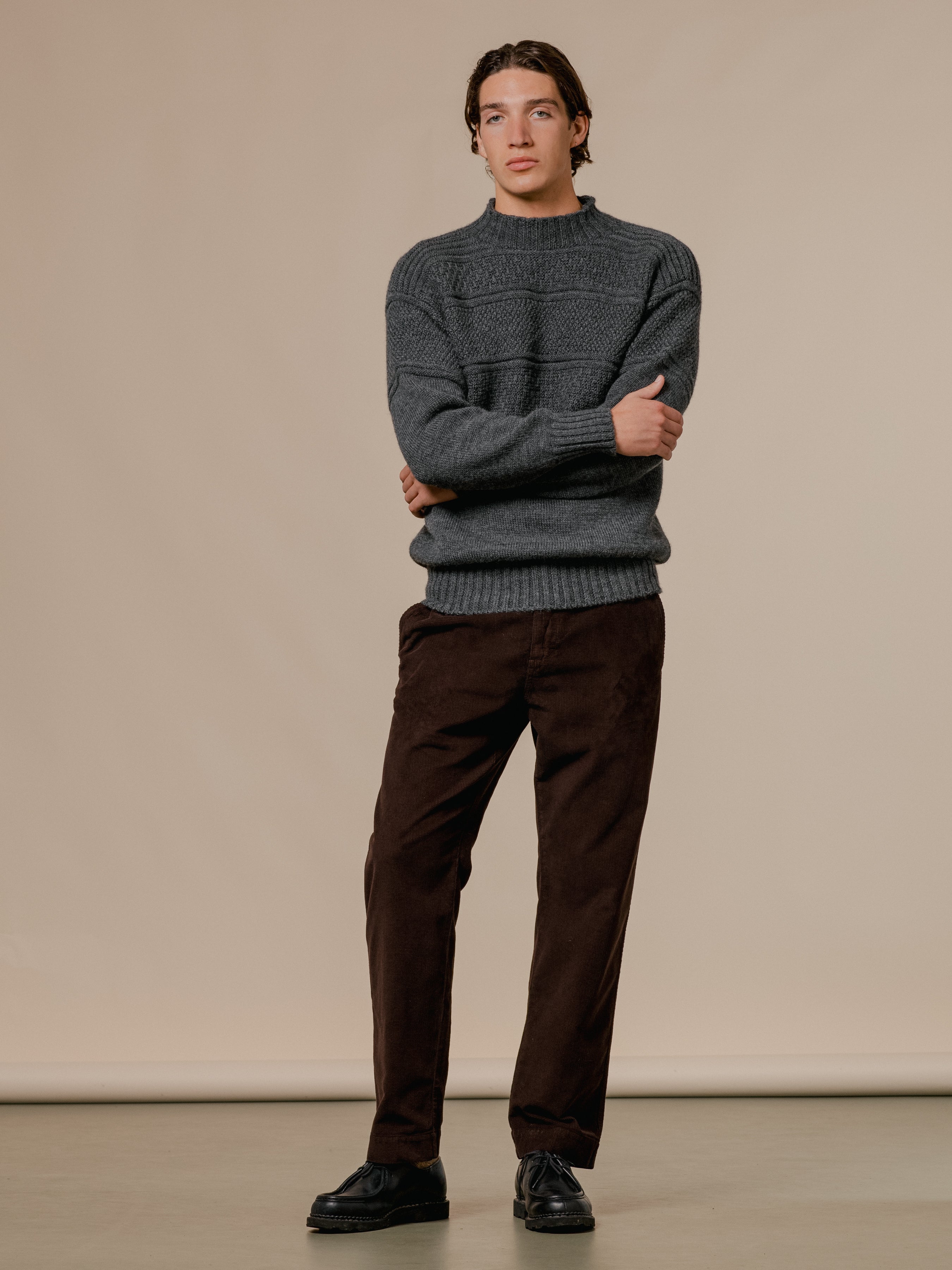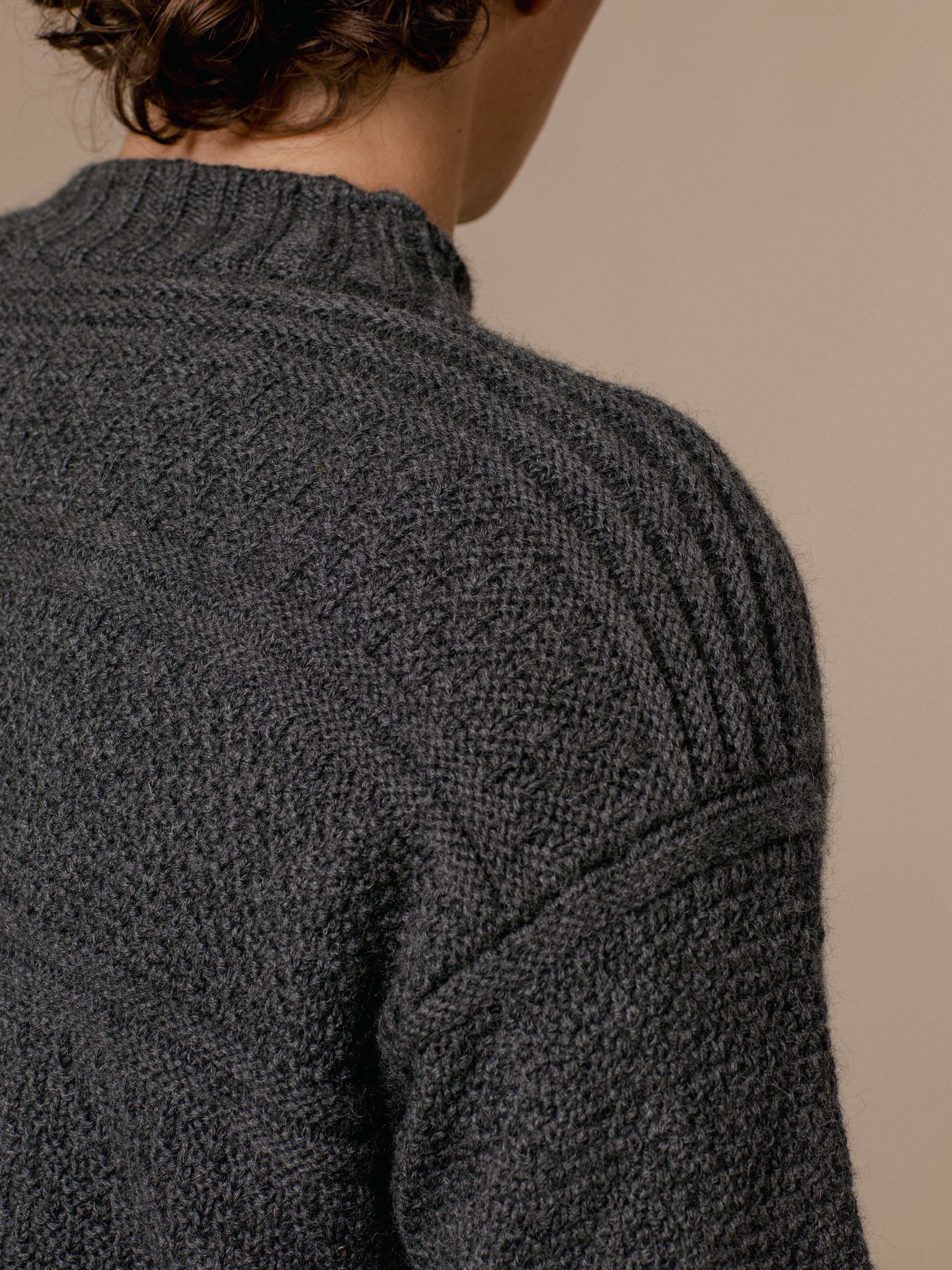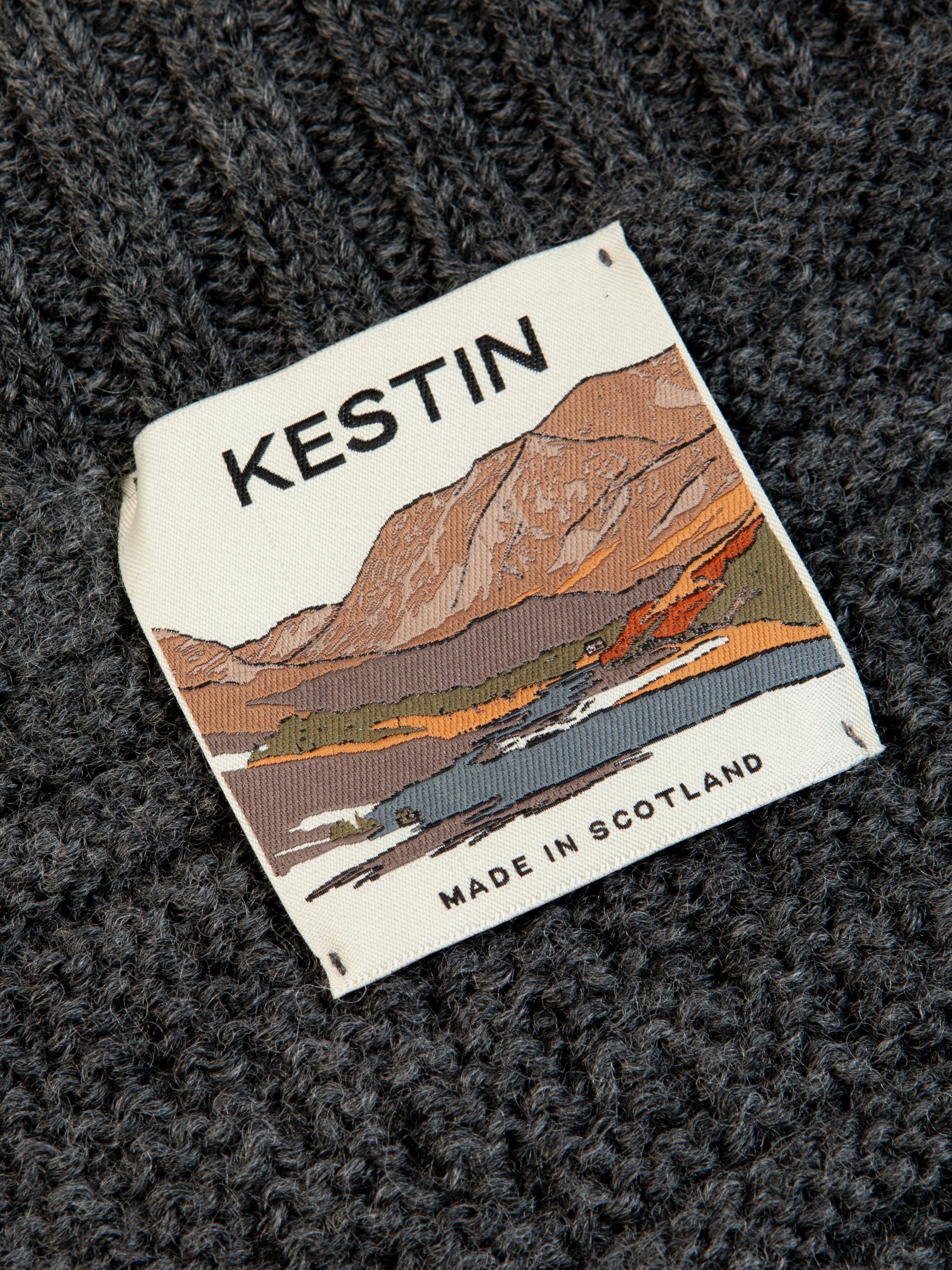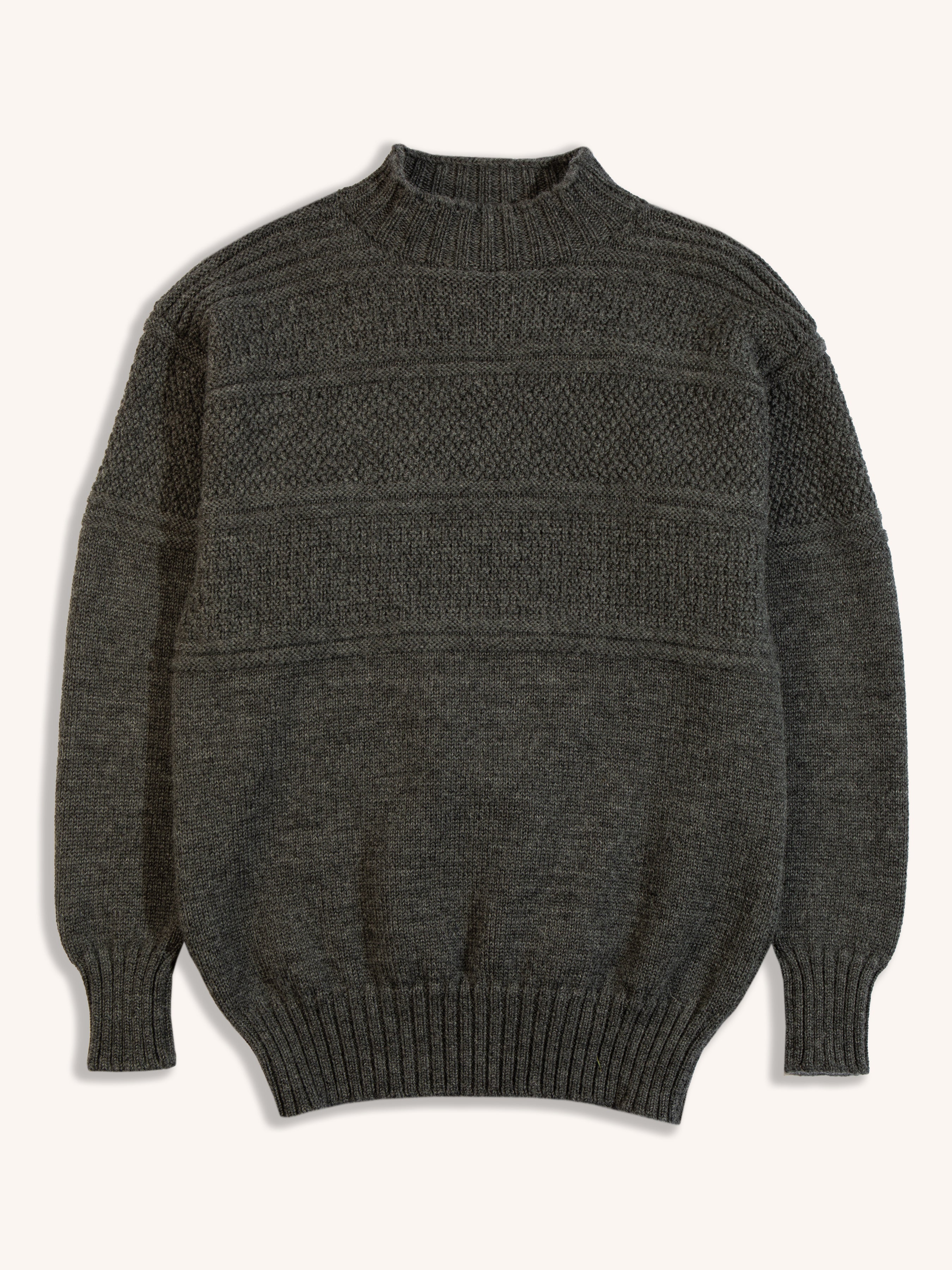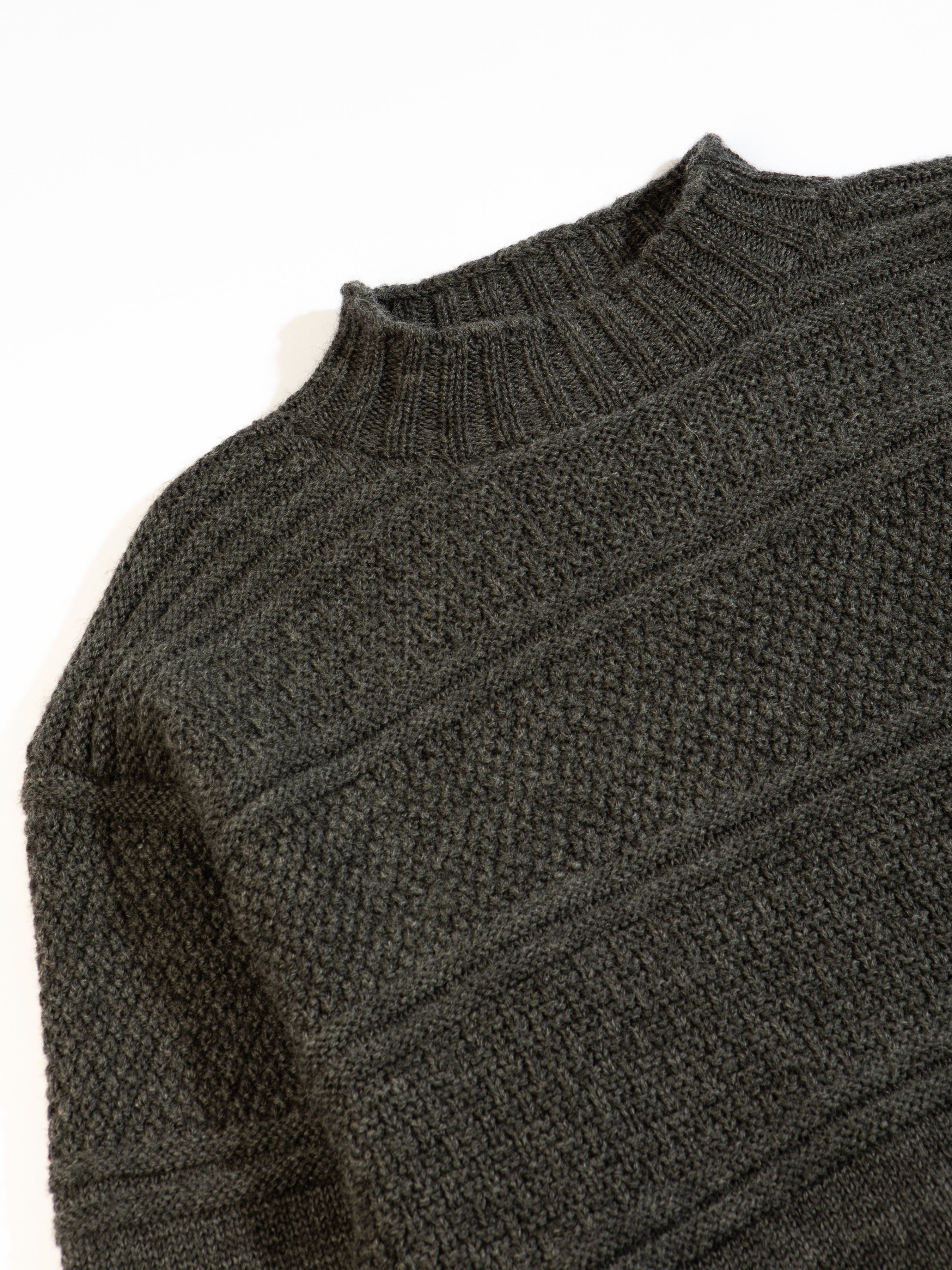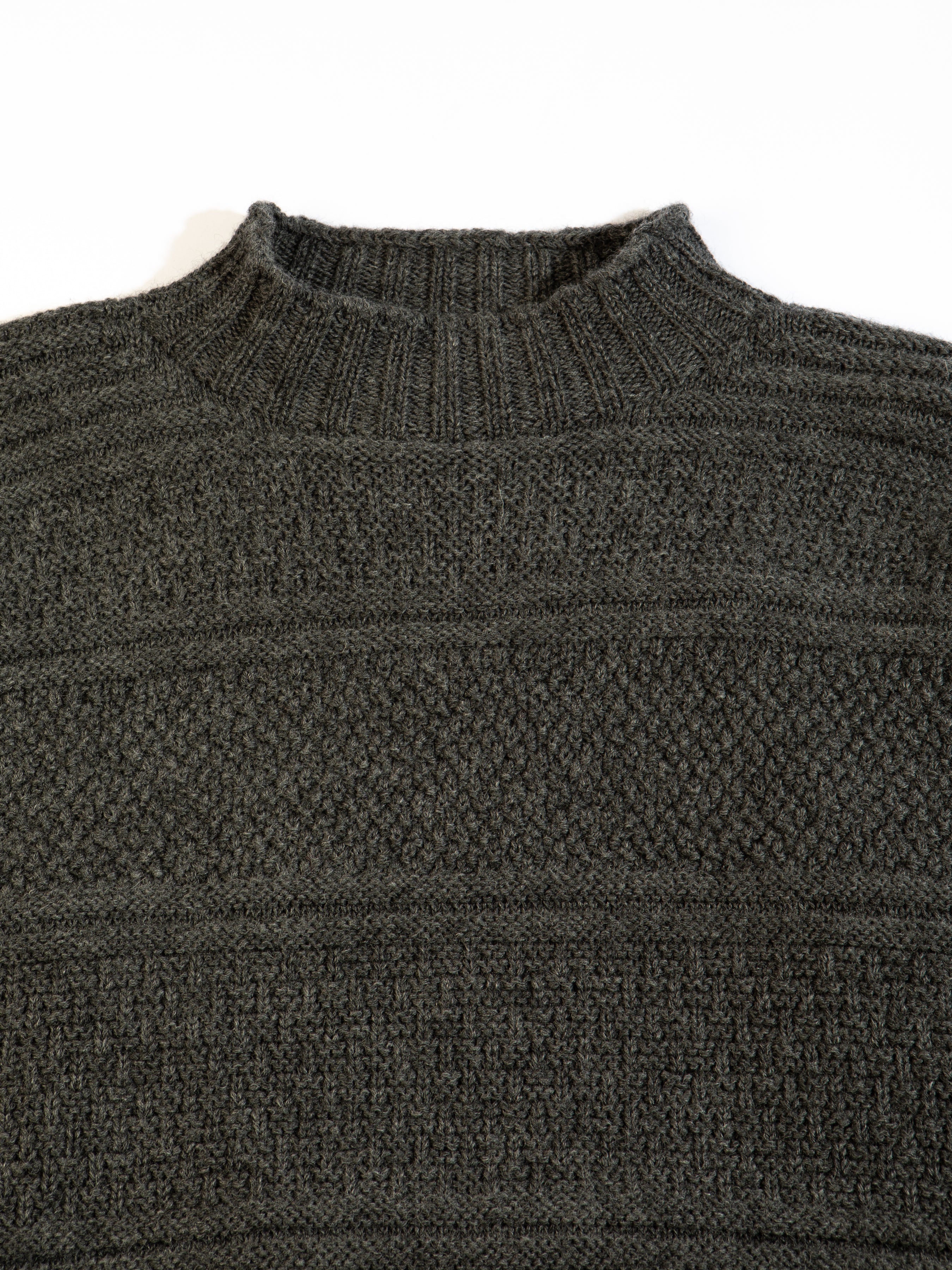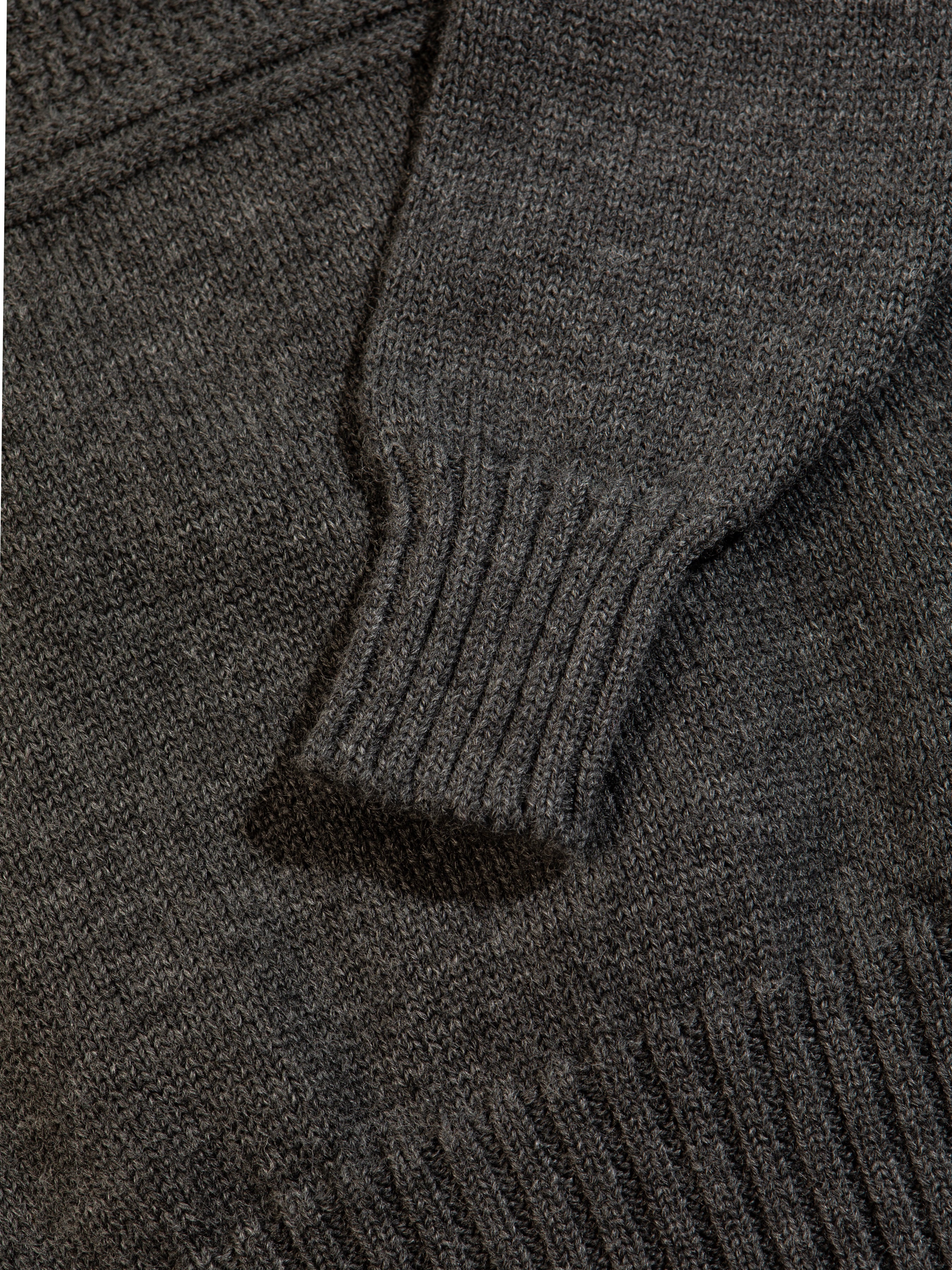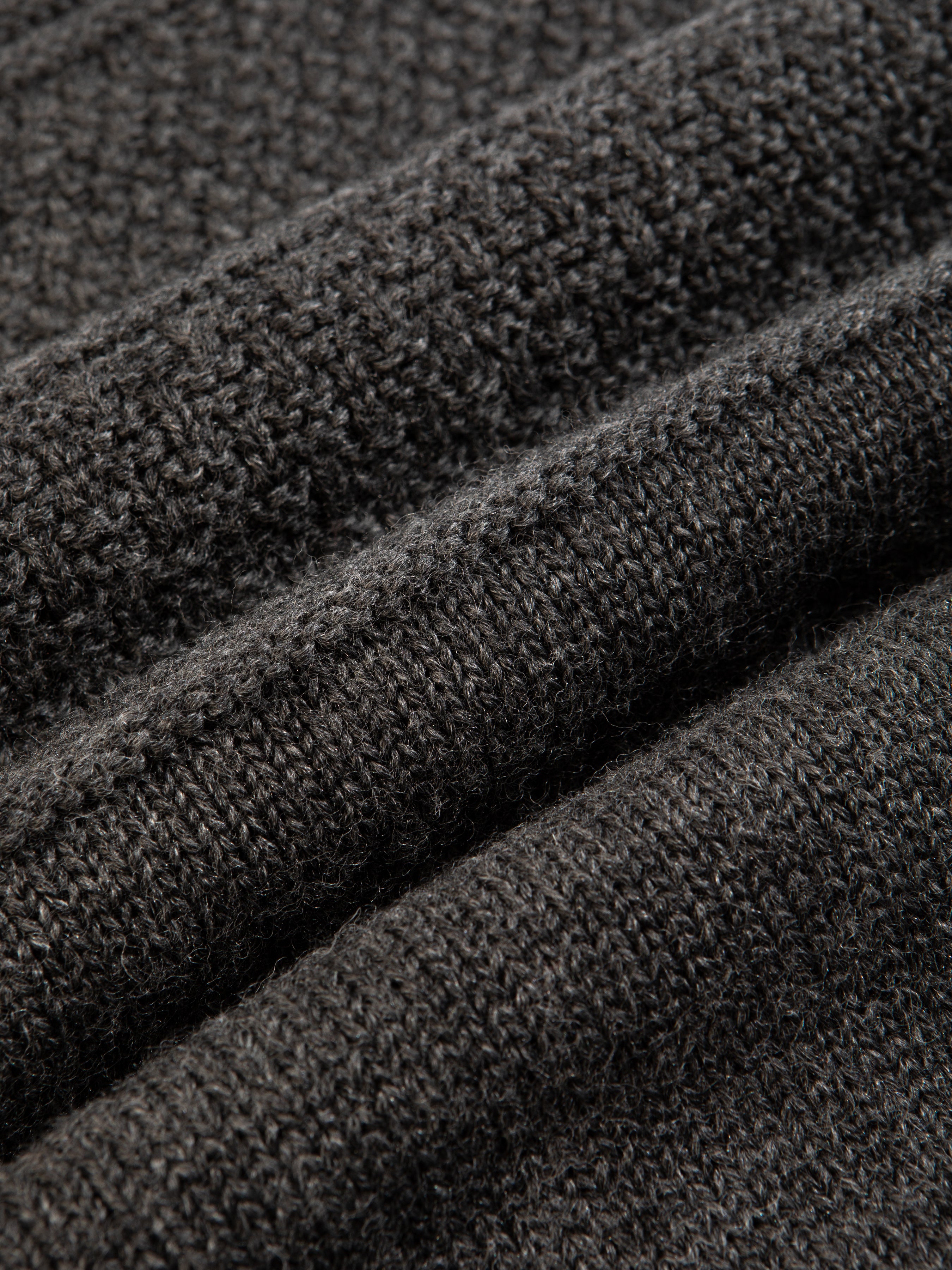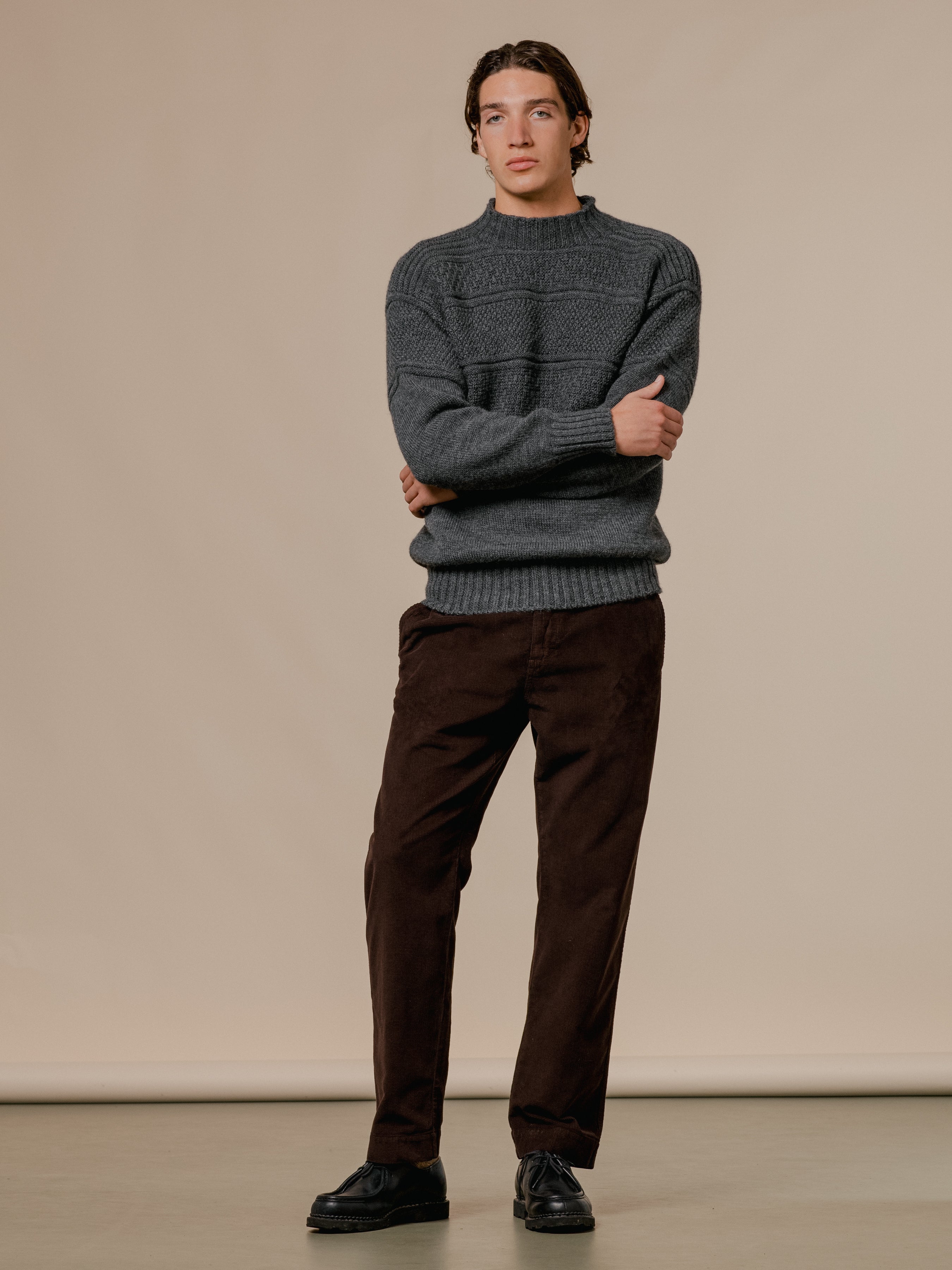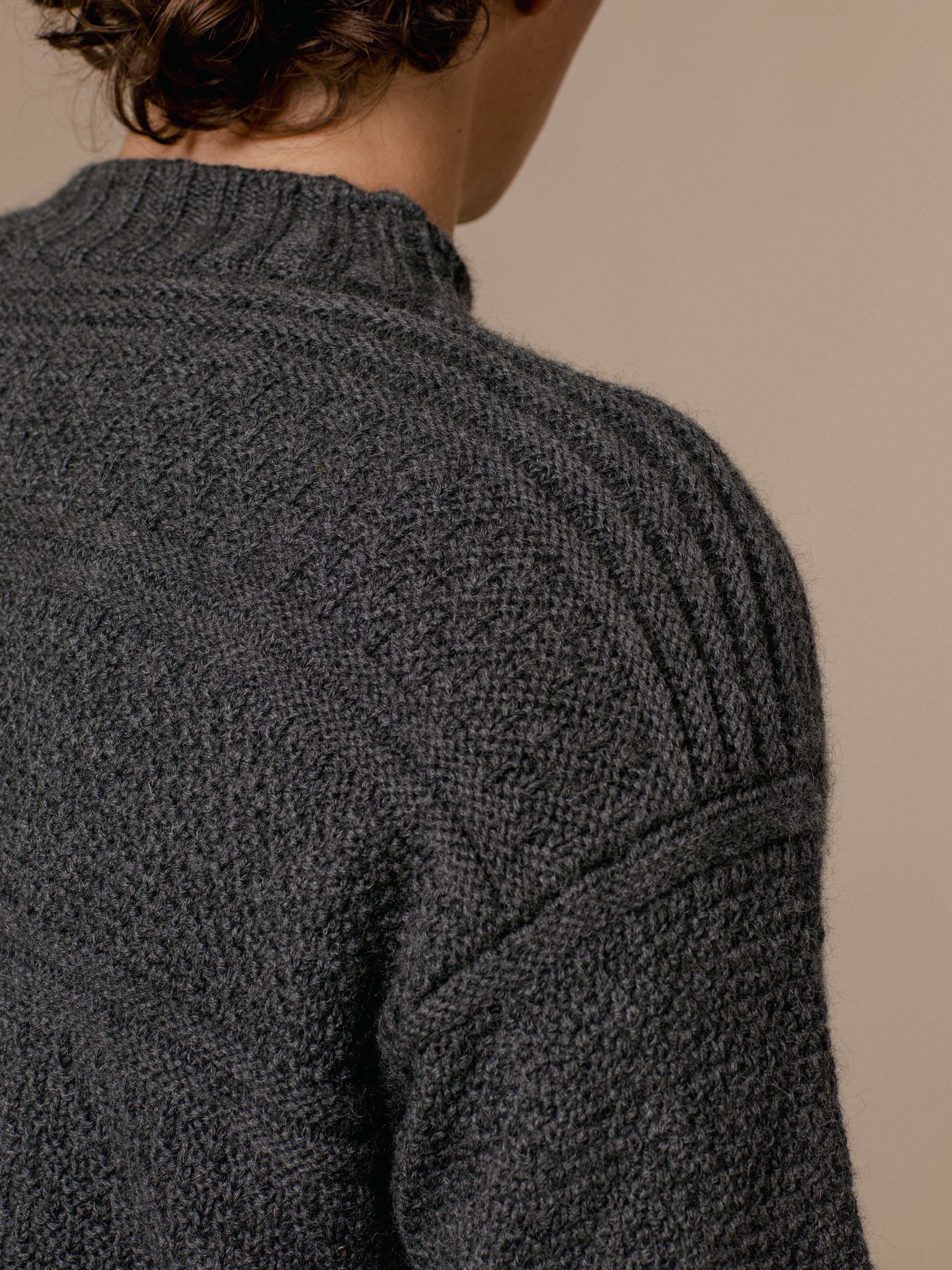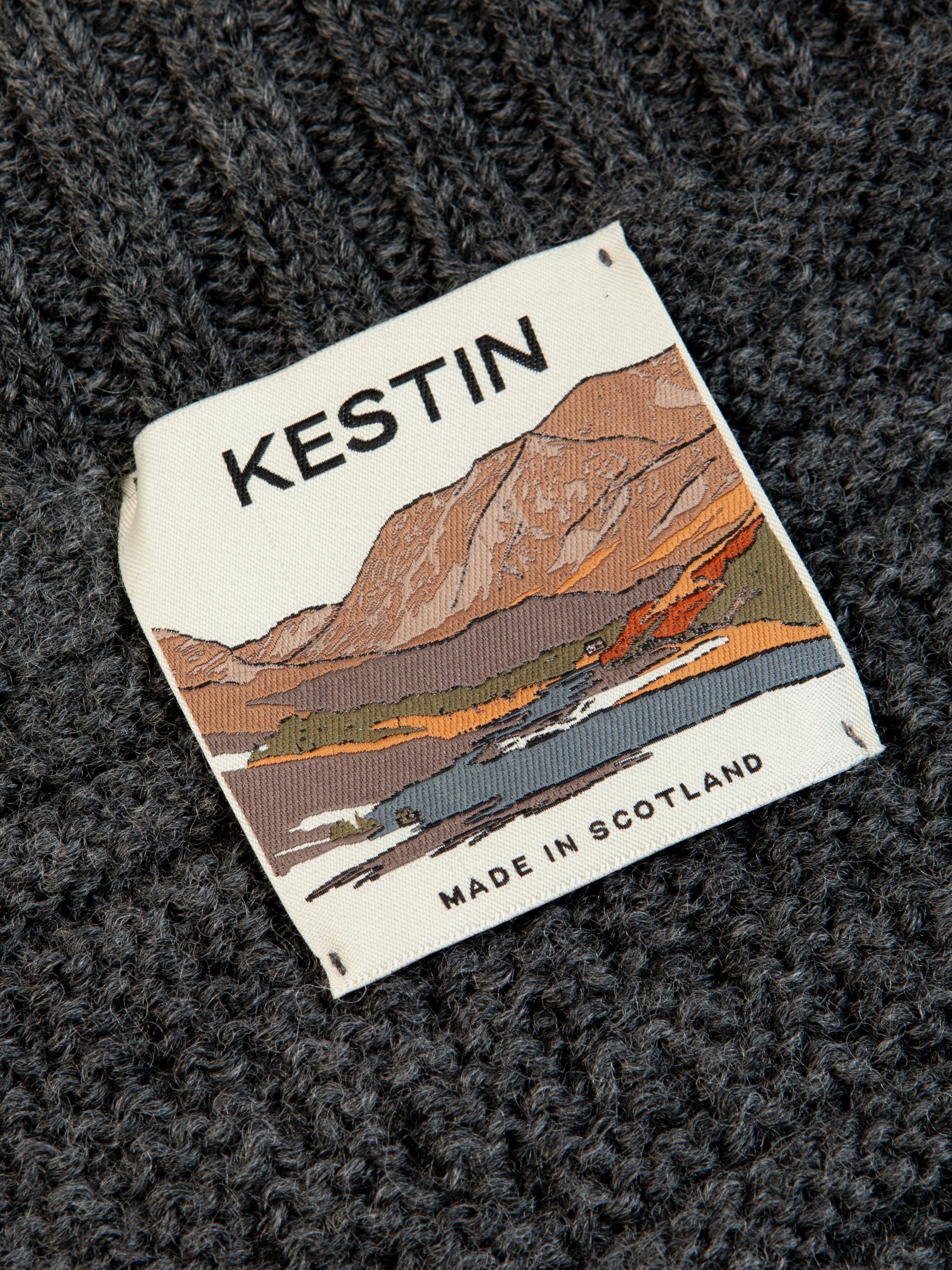 CHARCOAL
£195.00
BRUSHED SHETLAND CREW KNIT
The Brushed Shetland Crew is a timeless classic when it comes to knitwear. It's made from a Shetland-style wool yarn, spun and dyed in Aberdeenshire, and brushed for added softness, enhancing the comfort. The body has a rib-knit, with a chunky-ribbed trim to the hem, cuffs and double-linked crew neck. The silhouette also has saddles shoulders, which is a half-raglan cut designed to reduce bulk and provide a wider range of motion.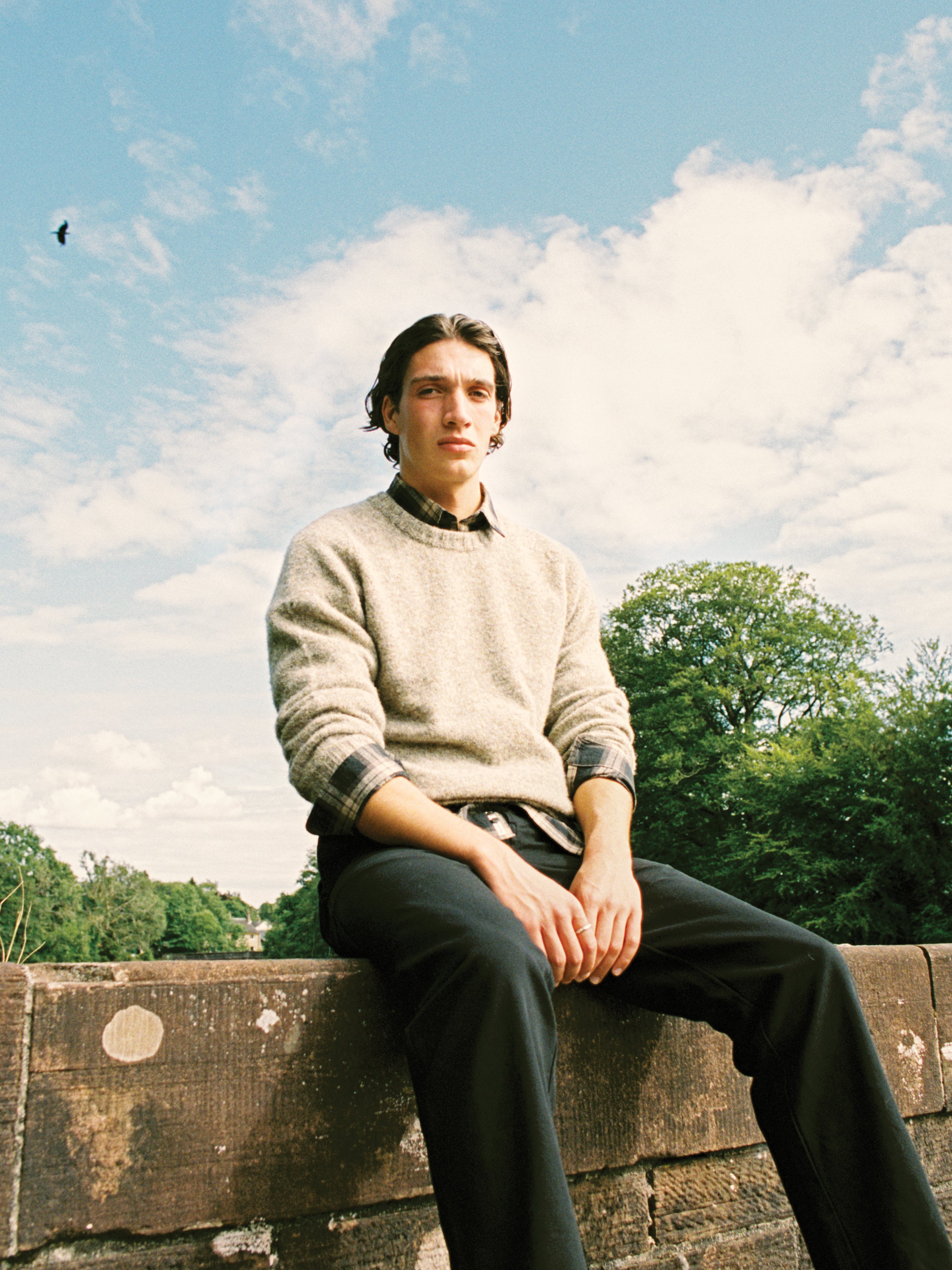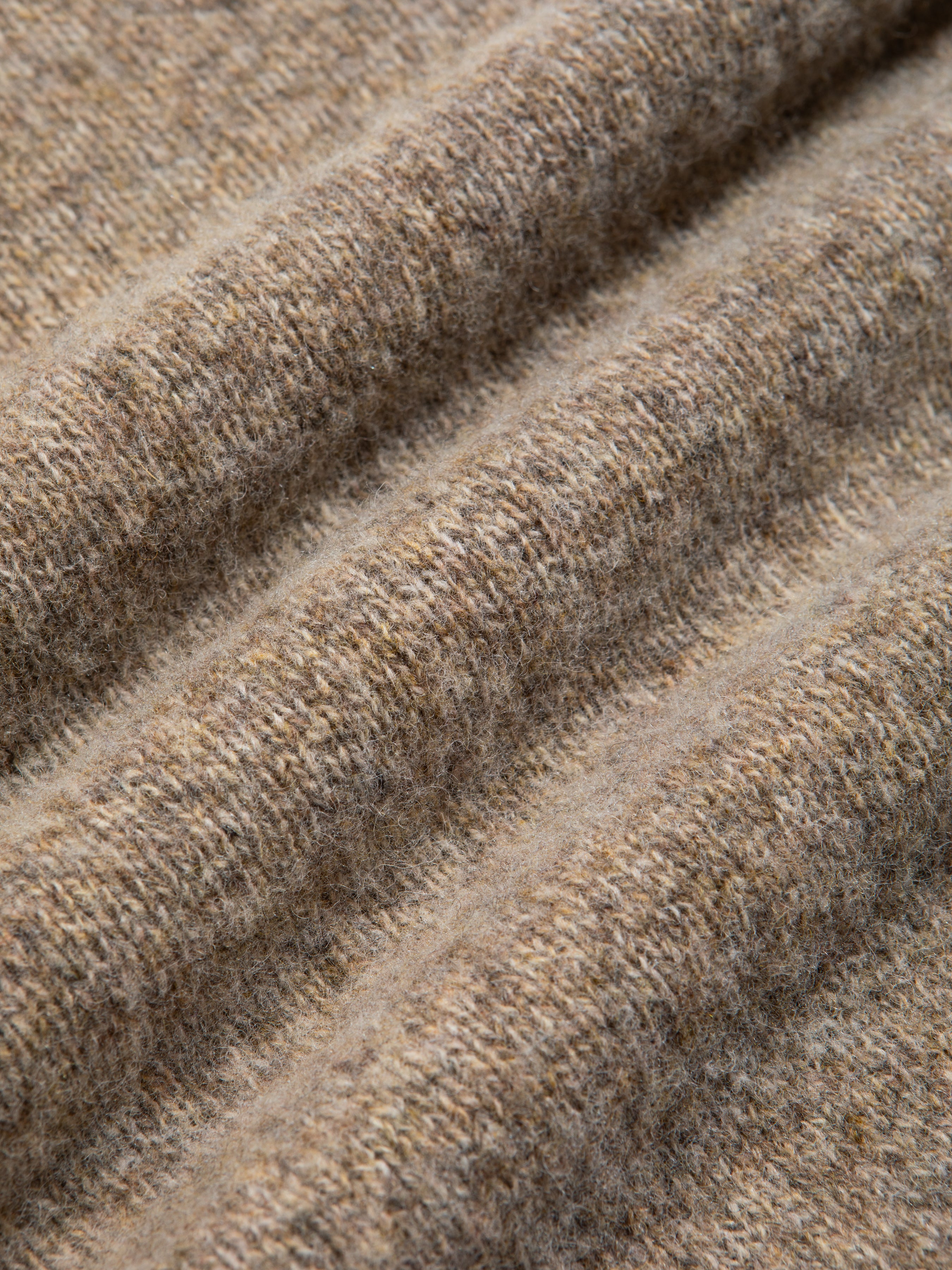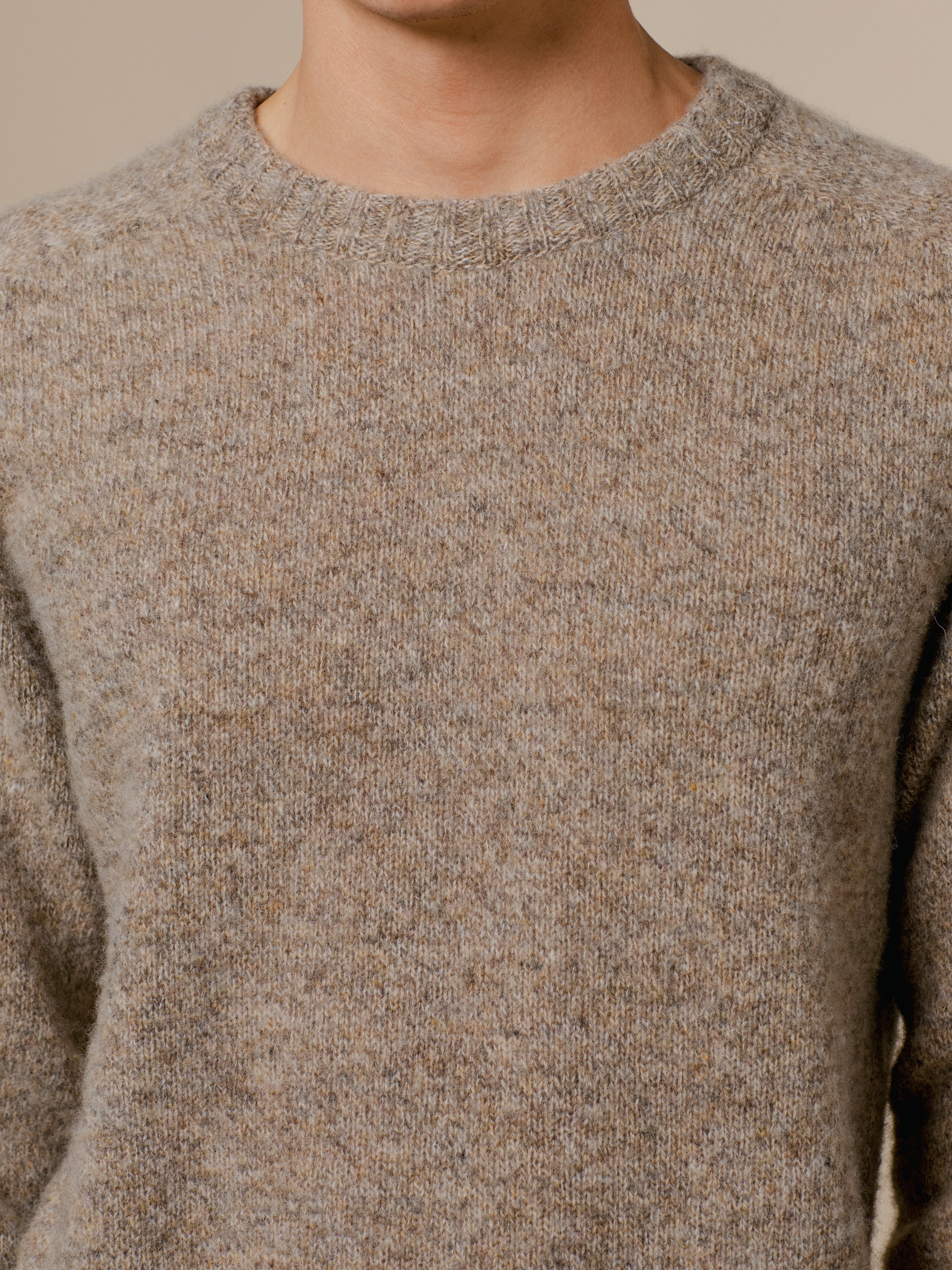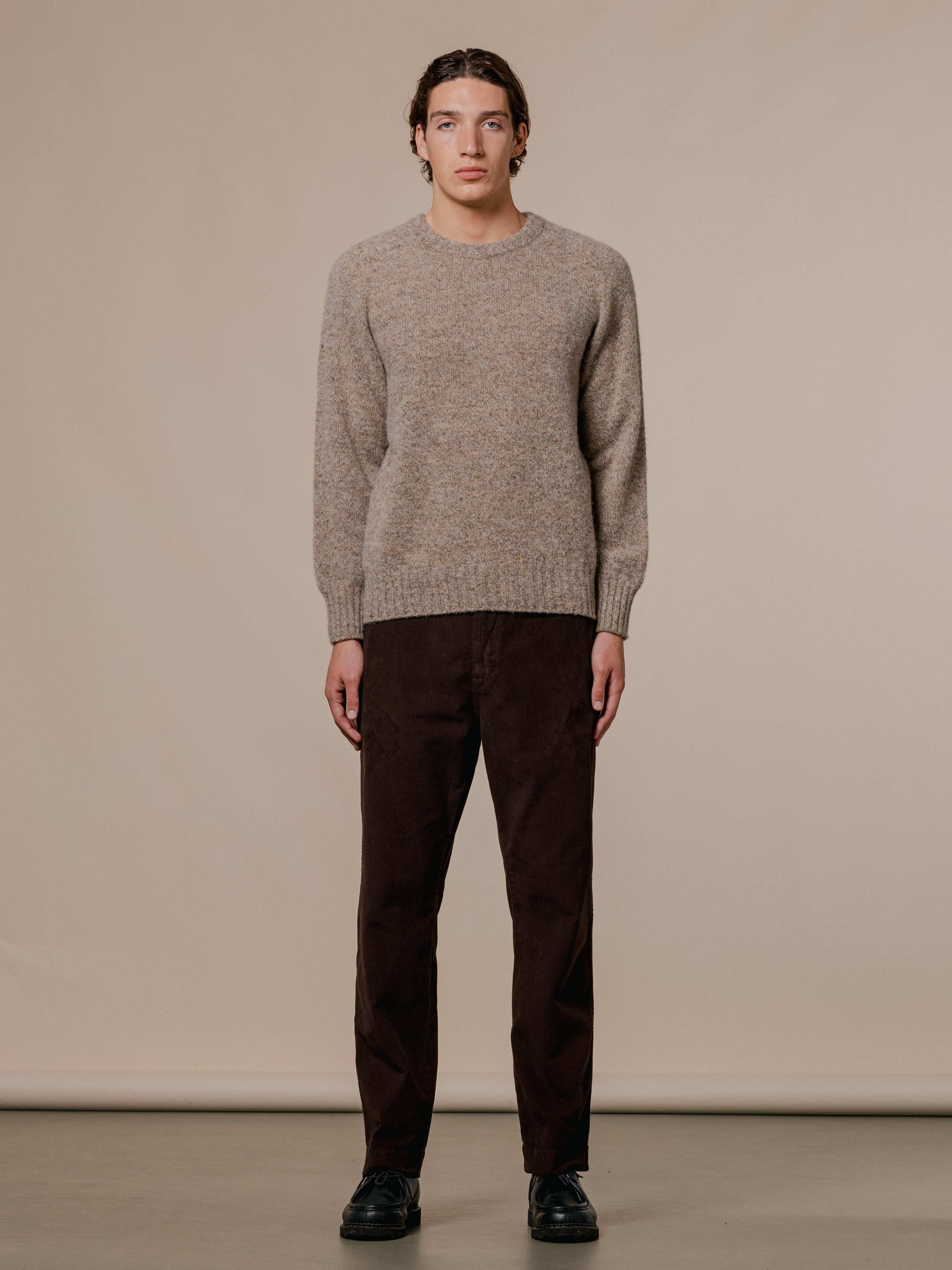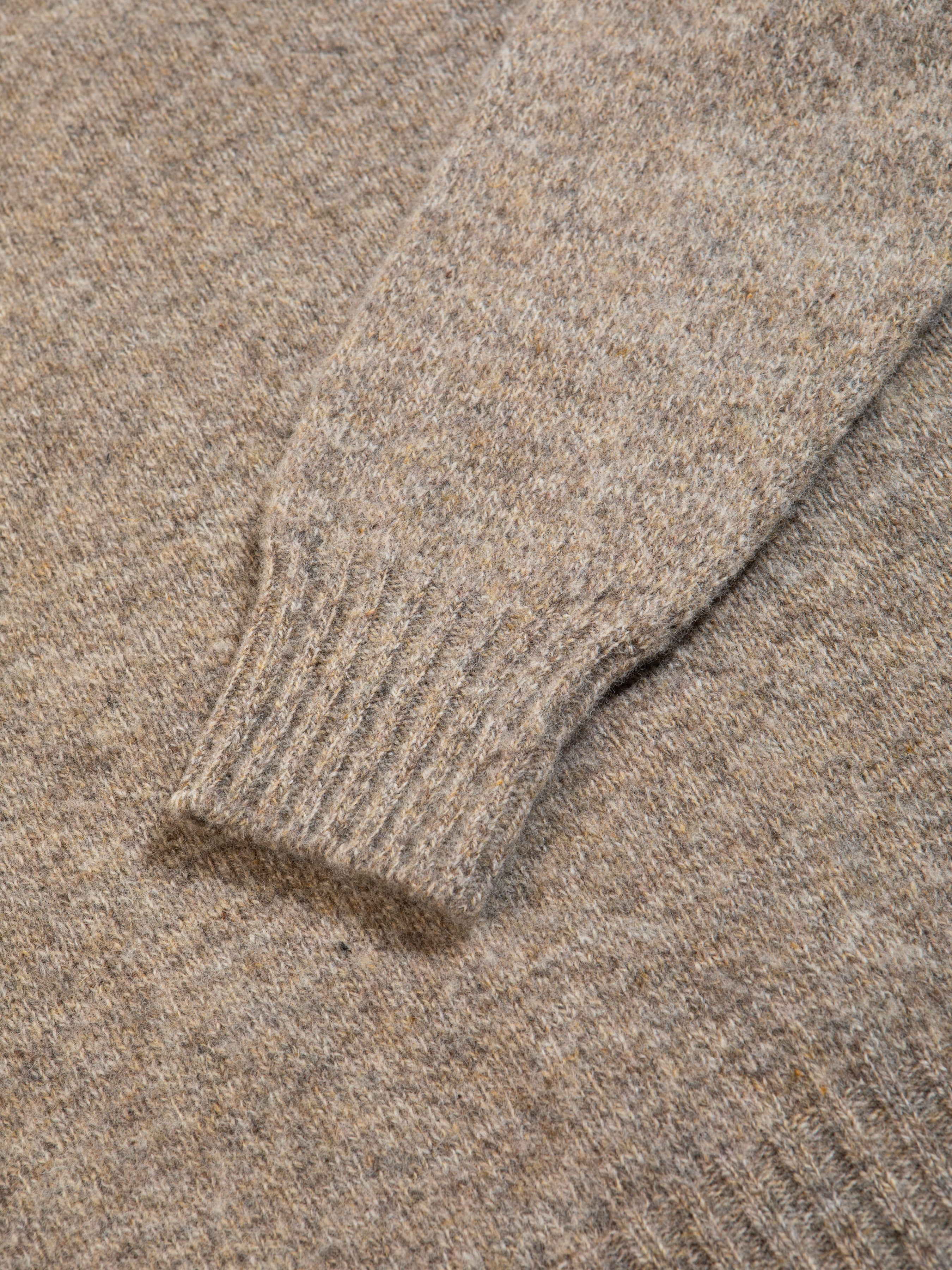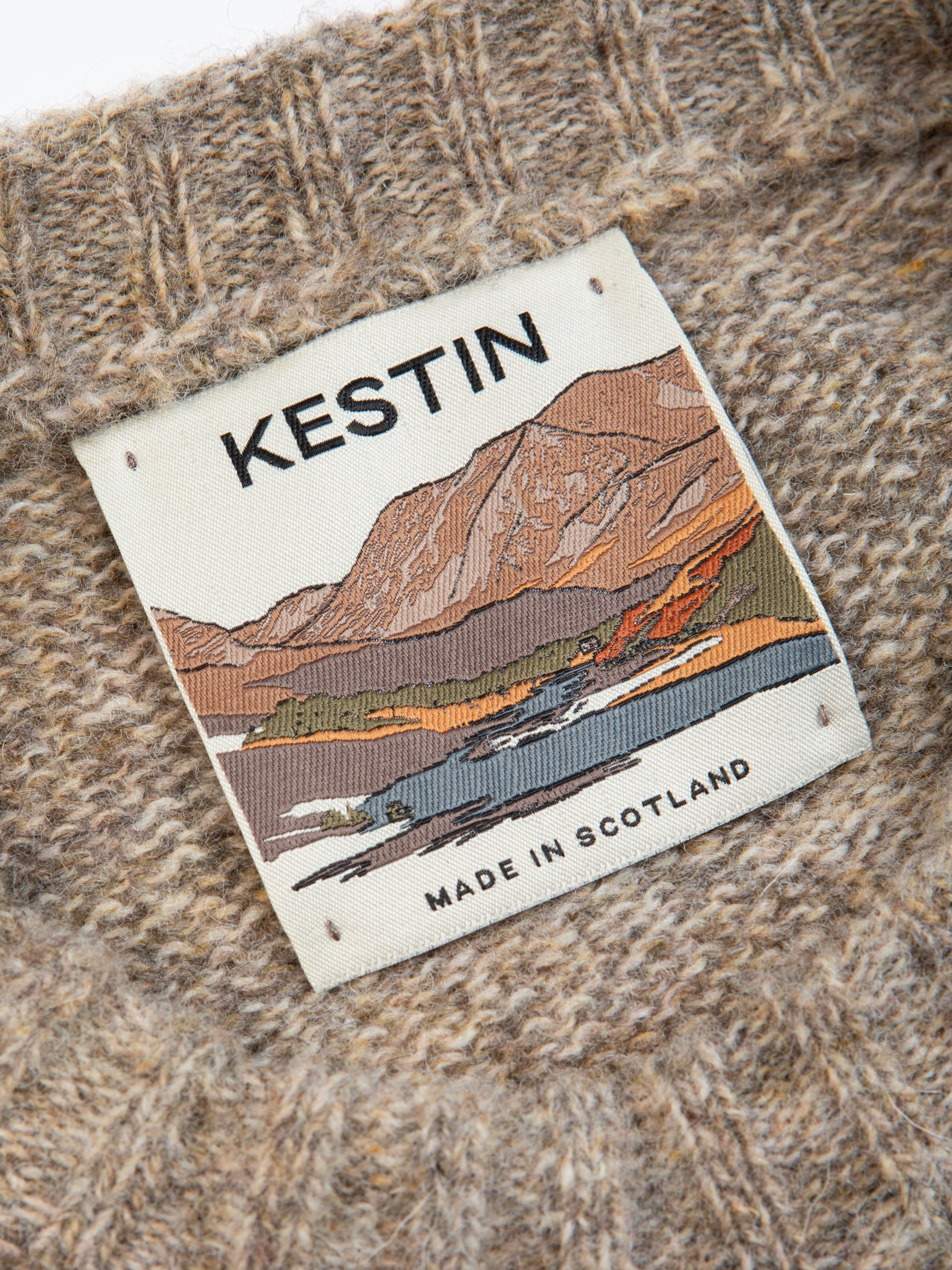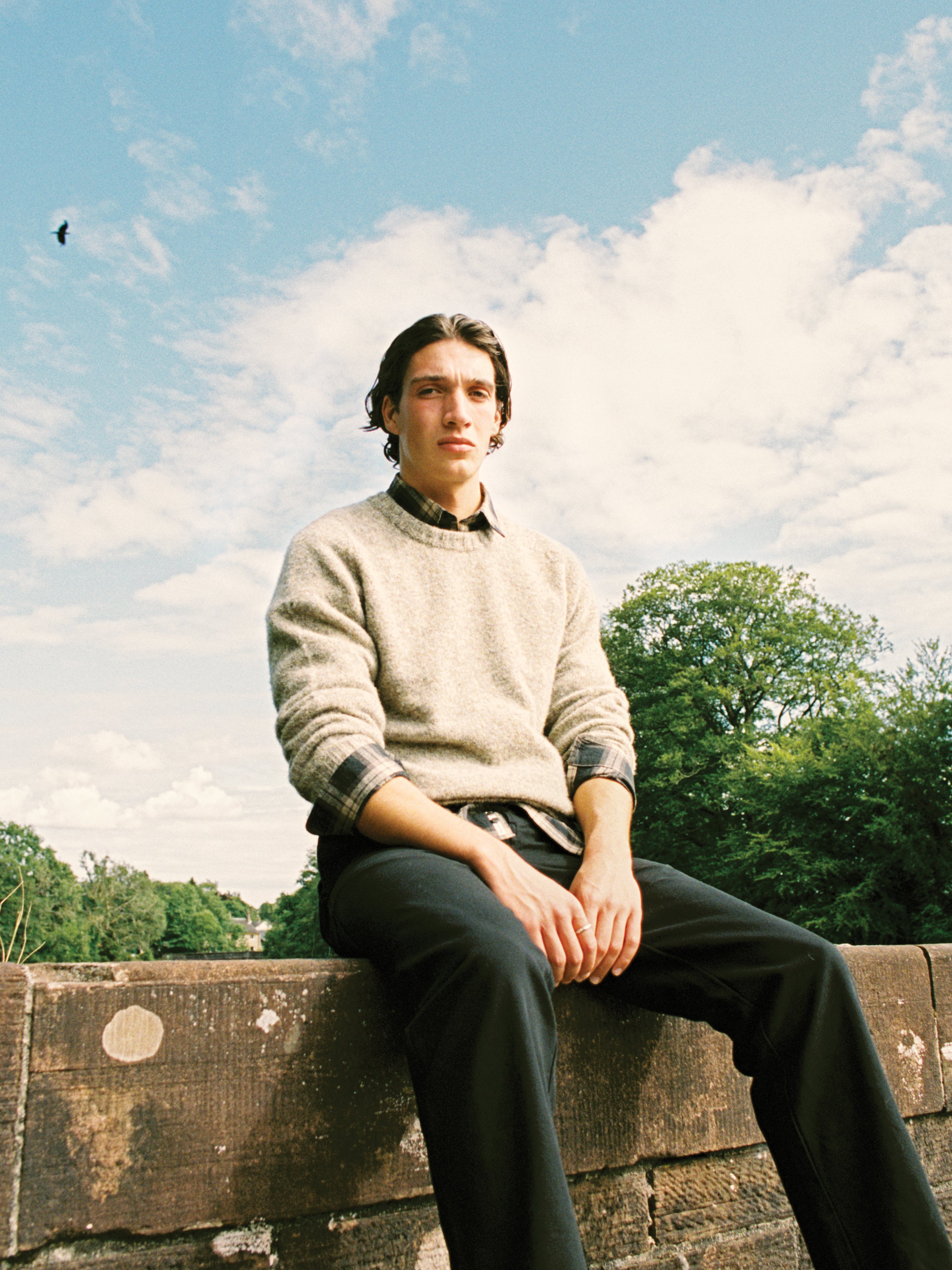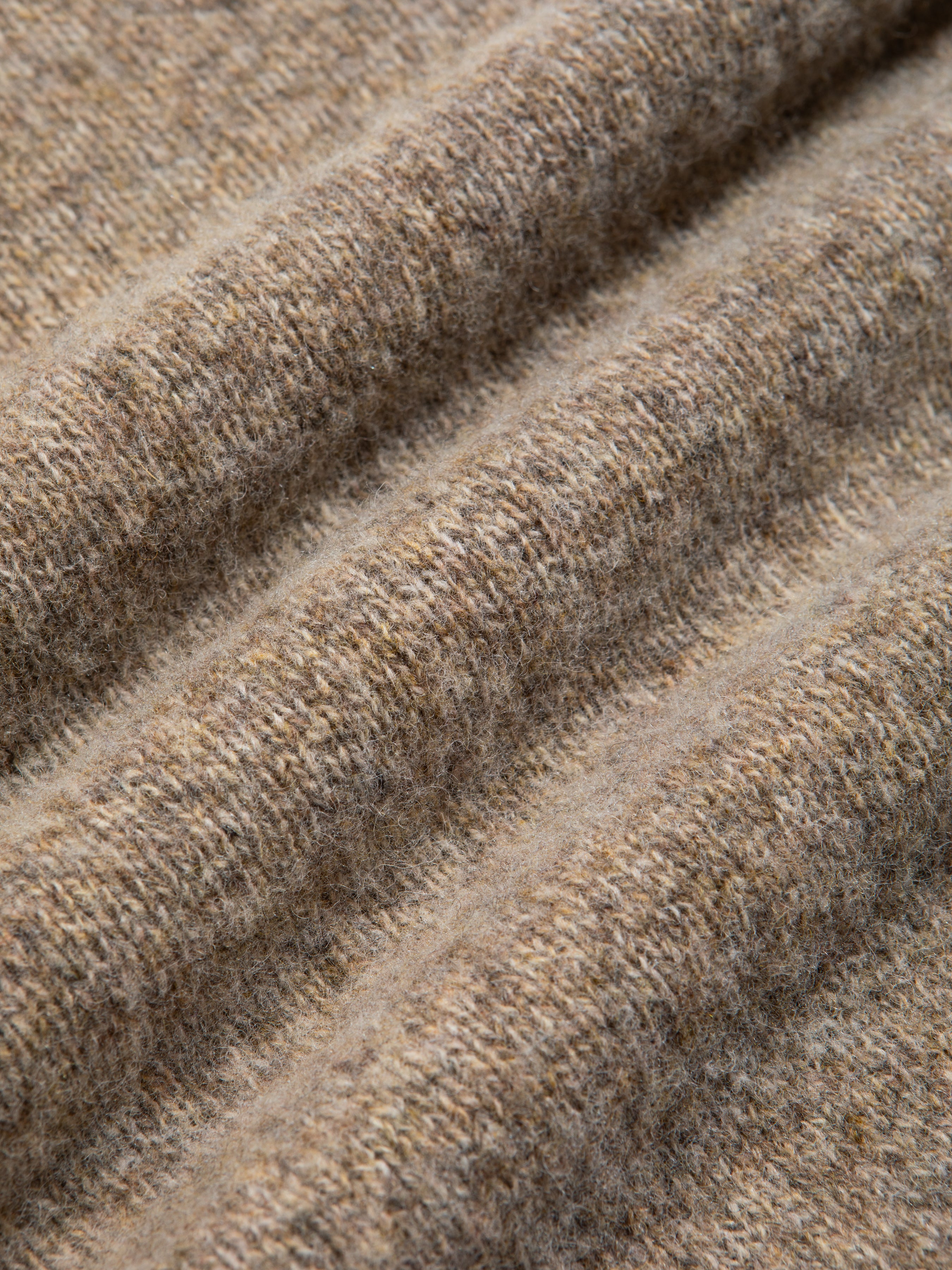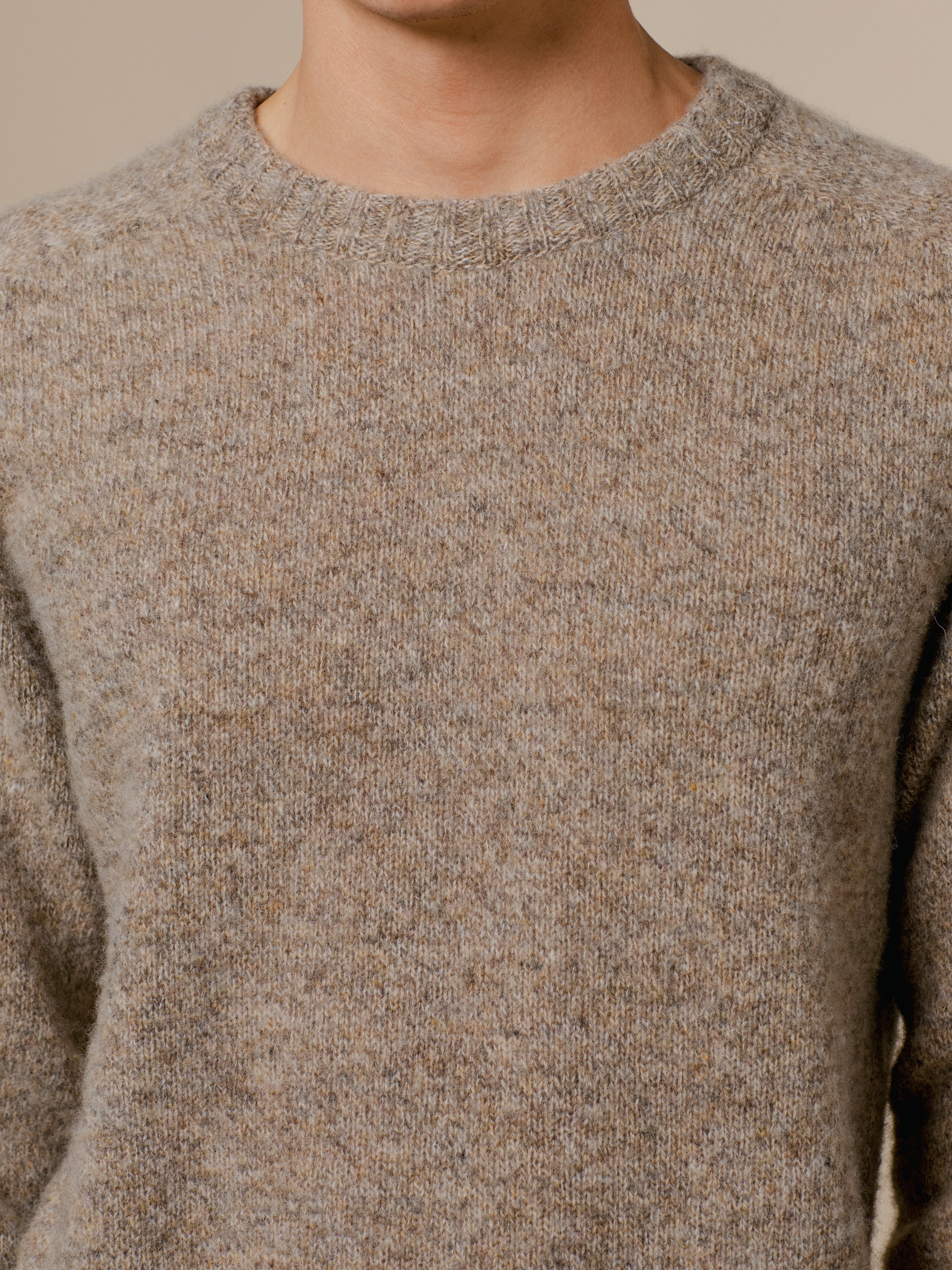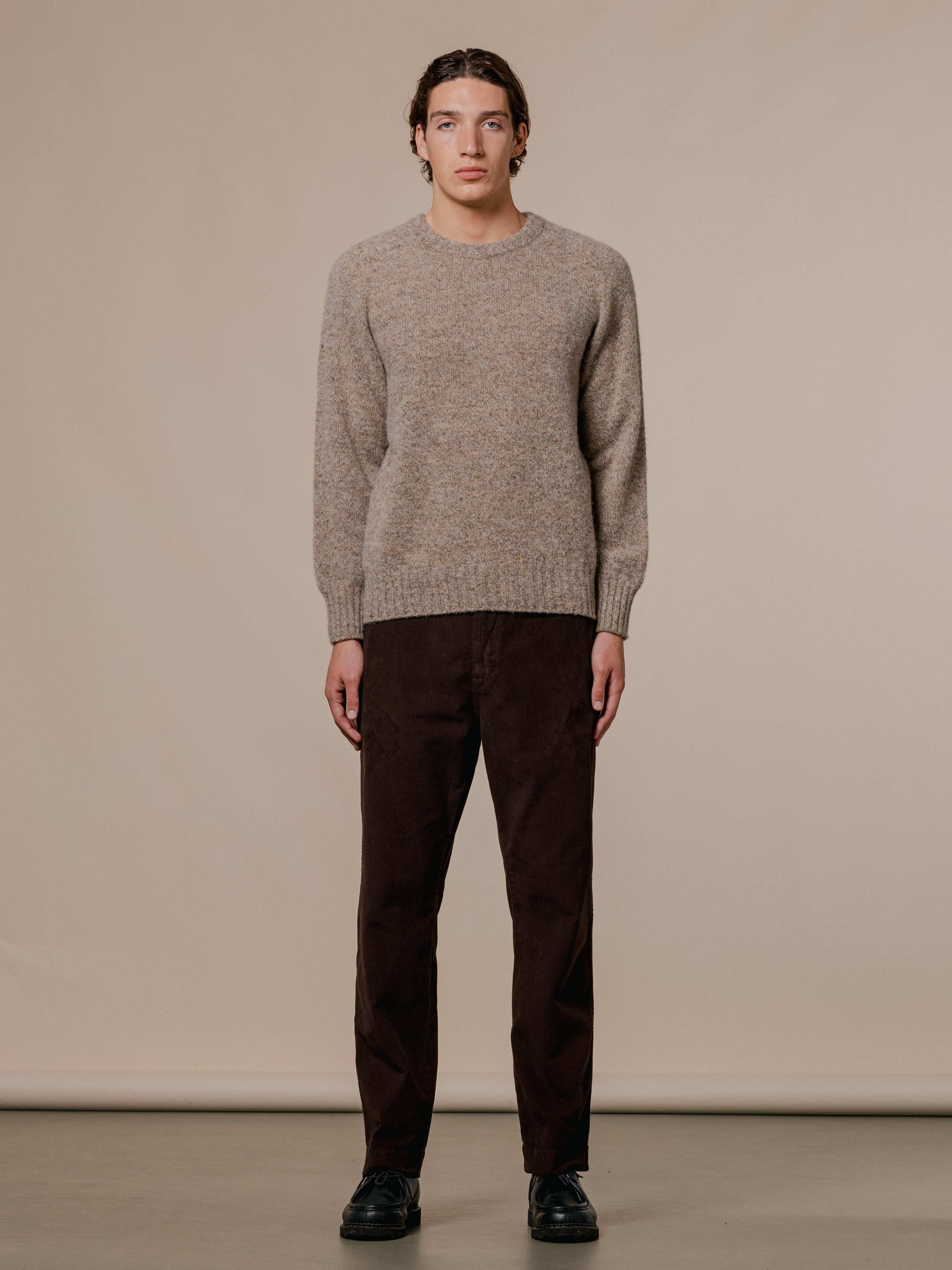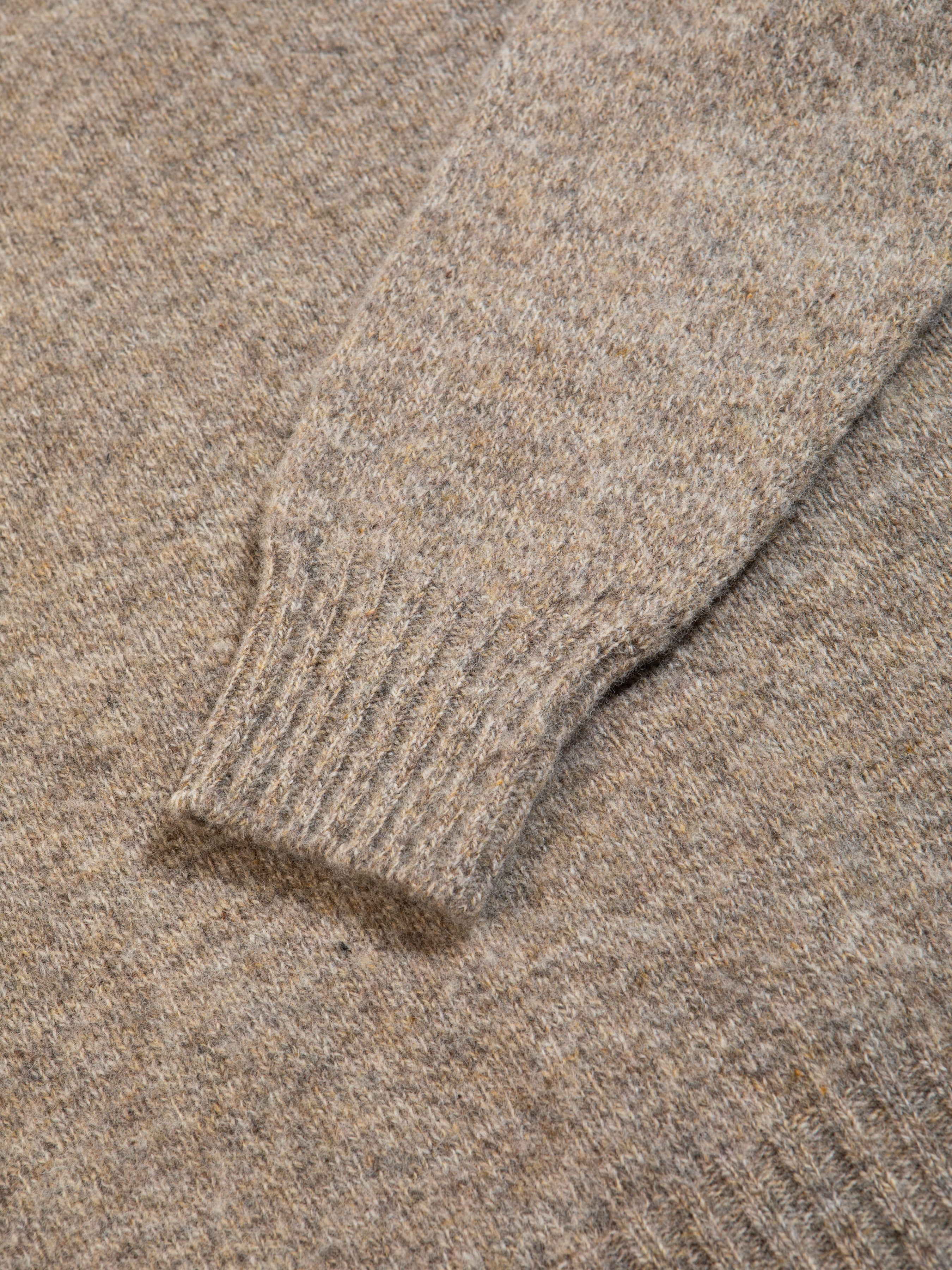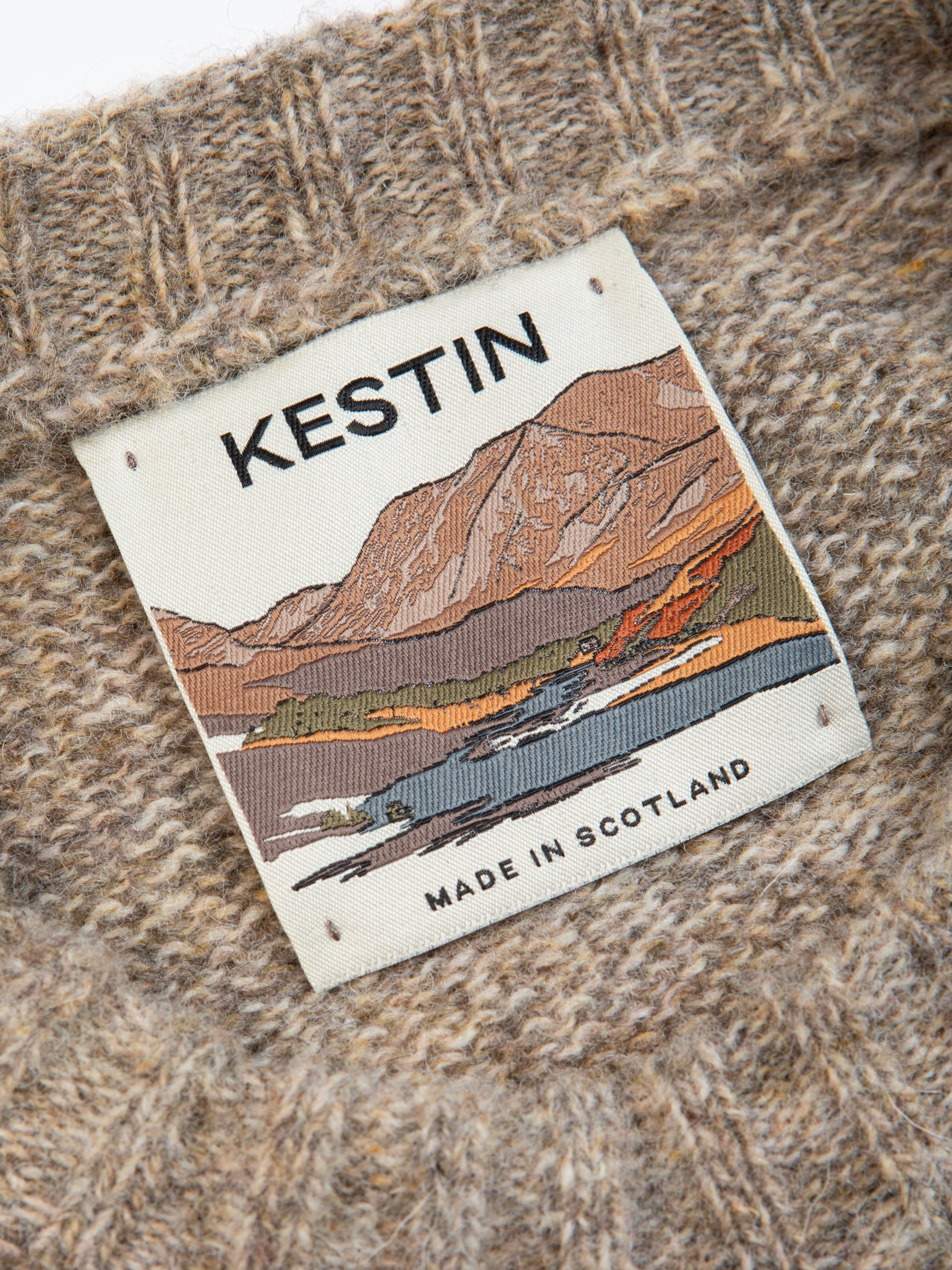 MUSHROOM
£120.00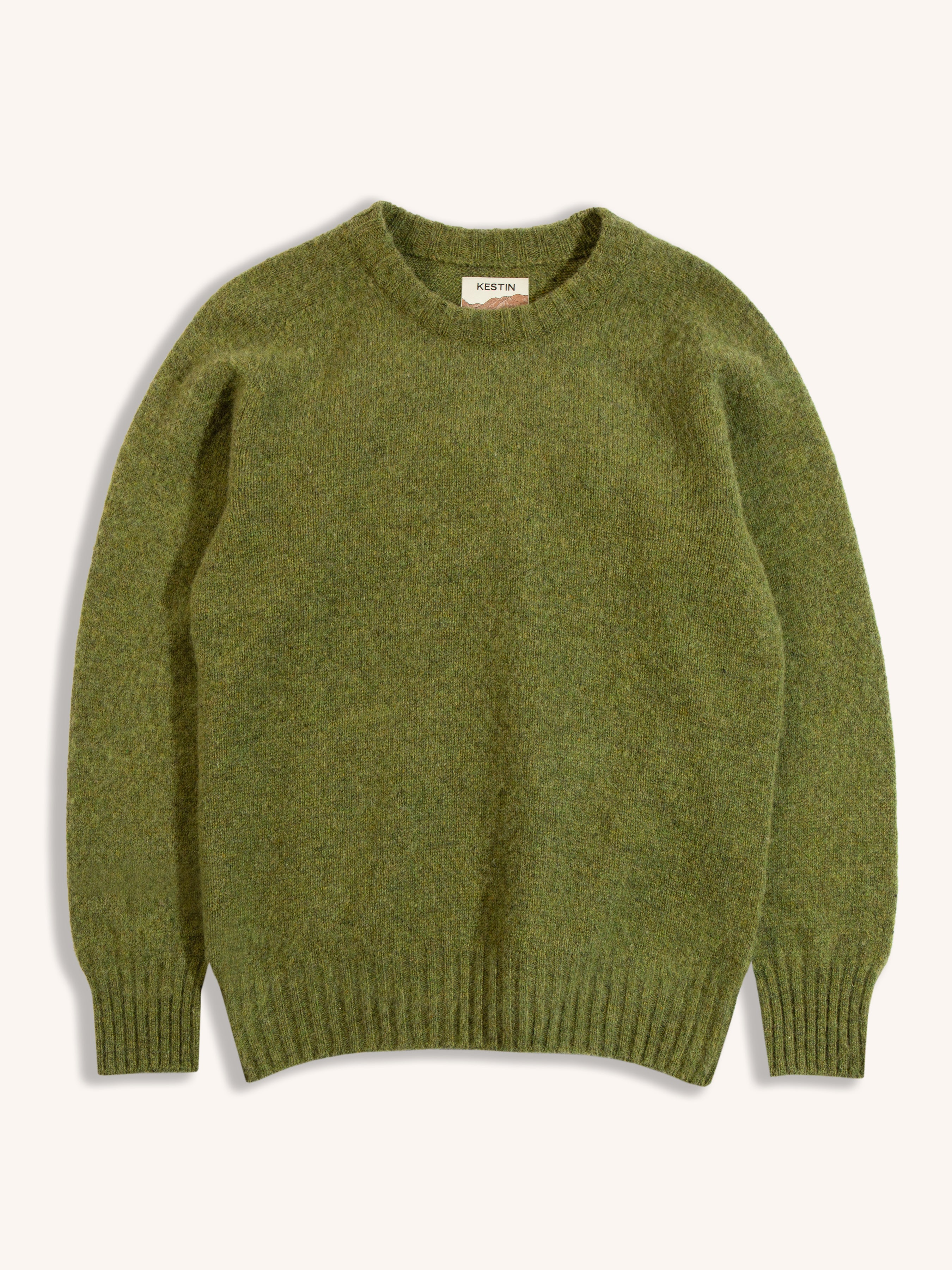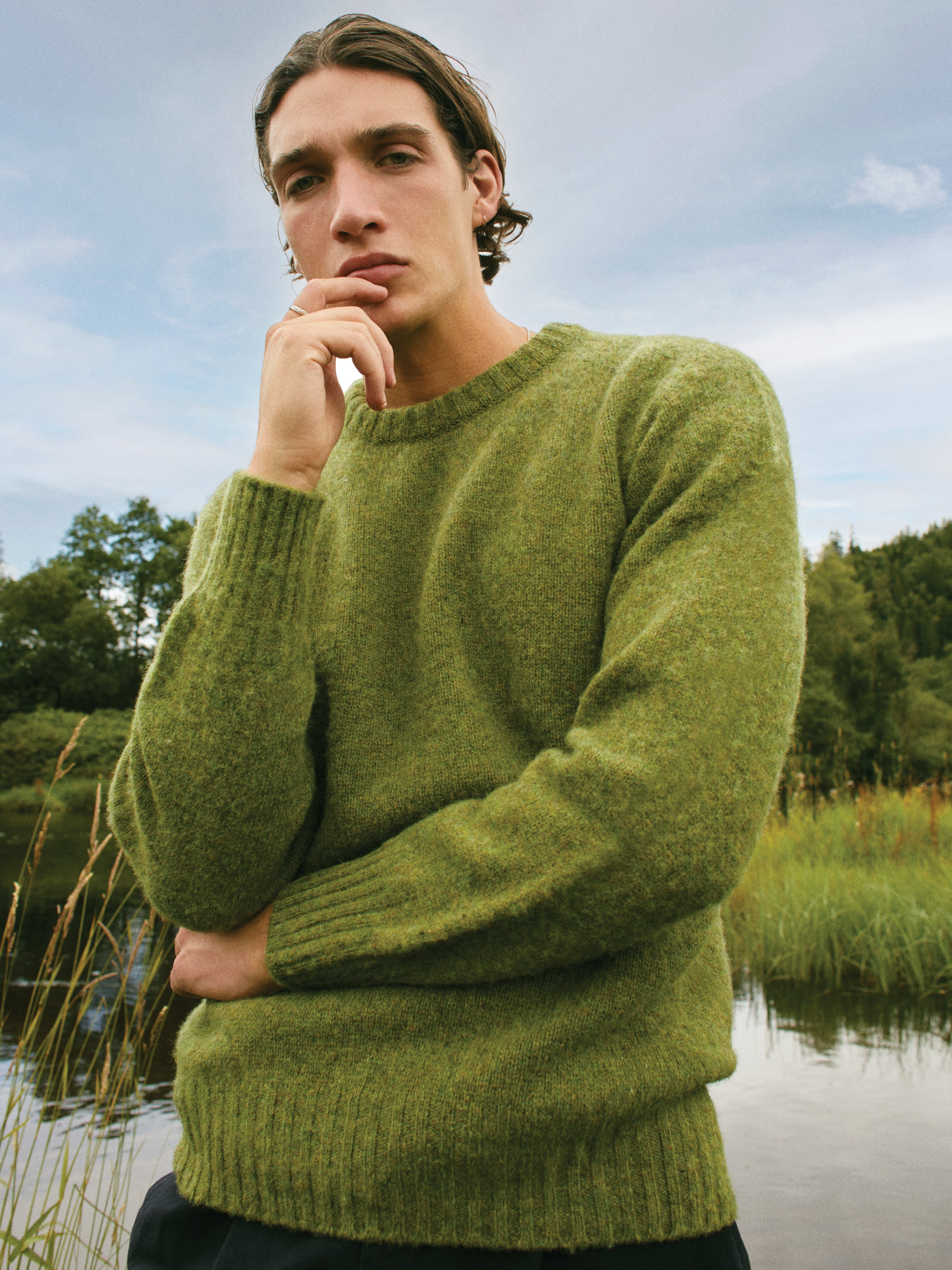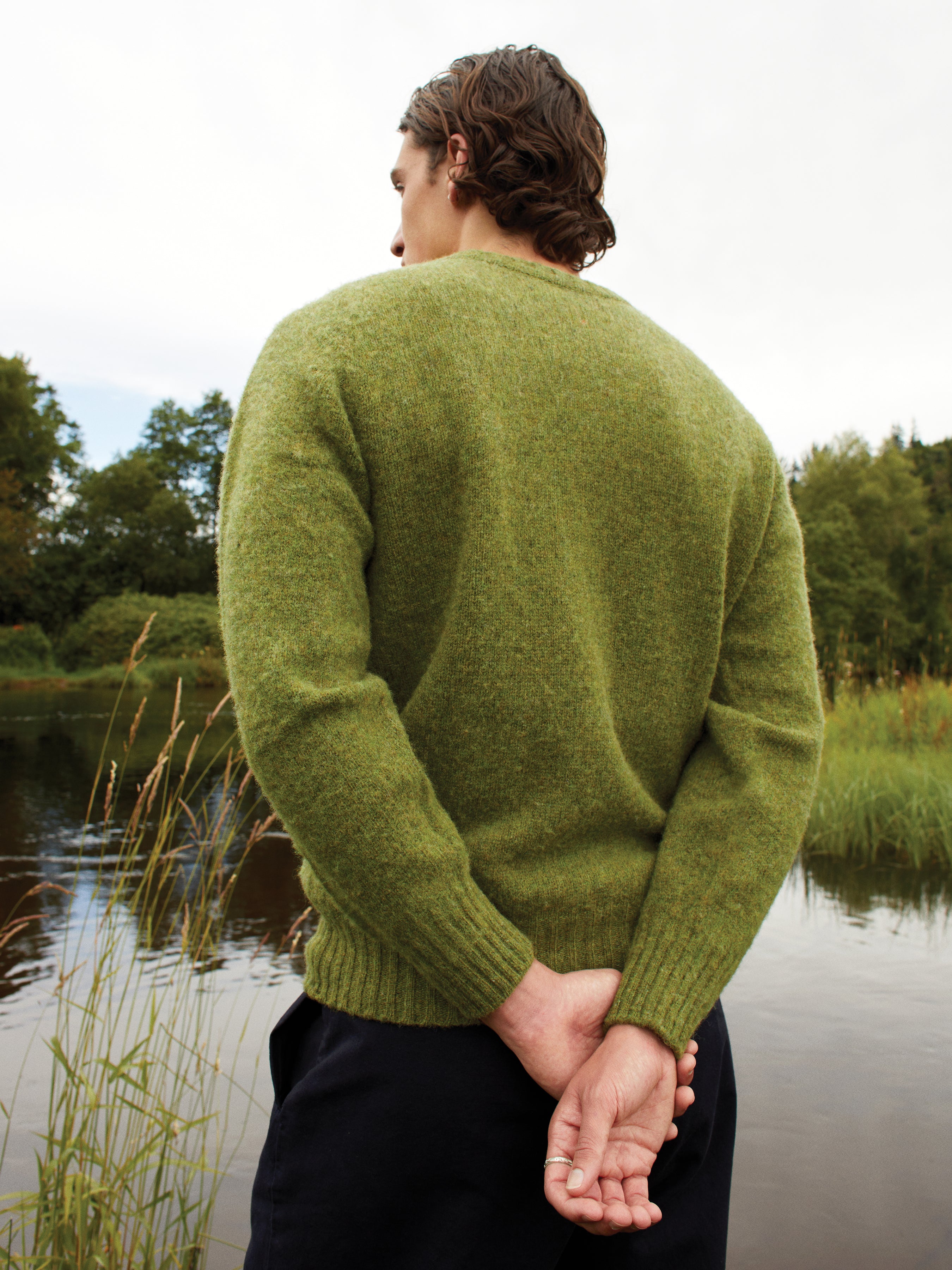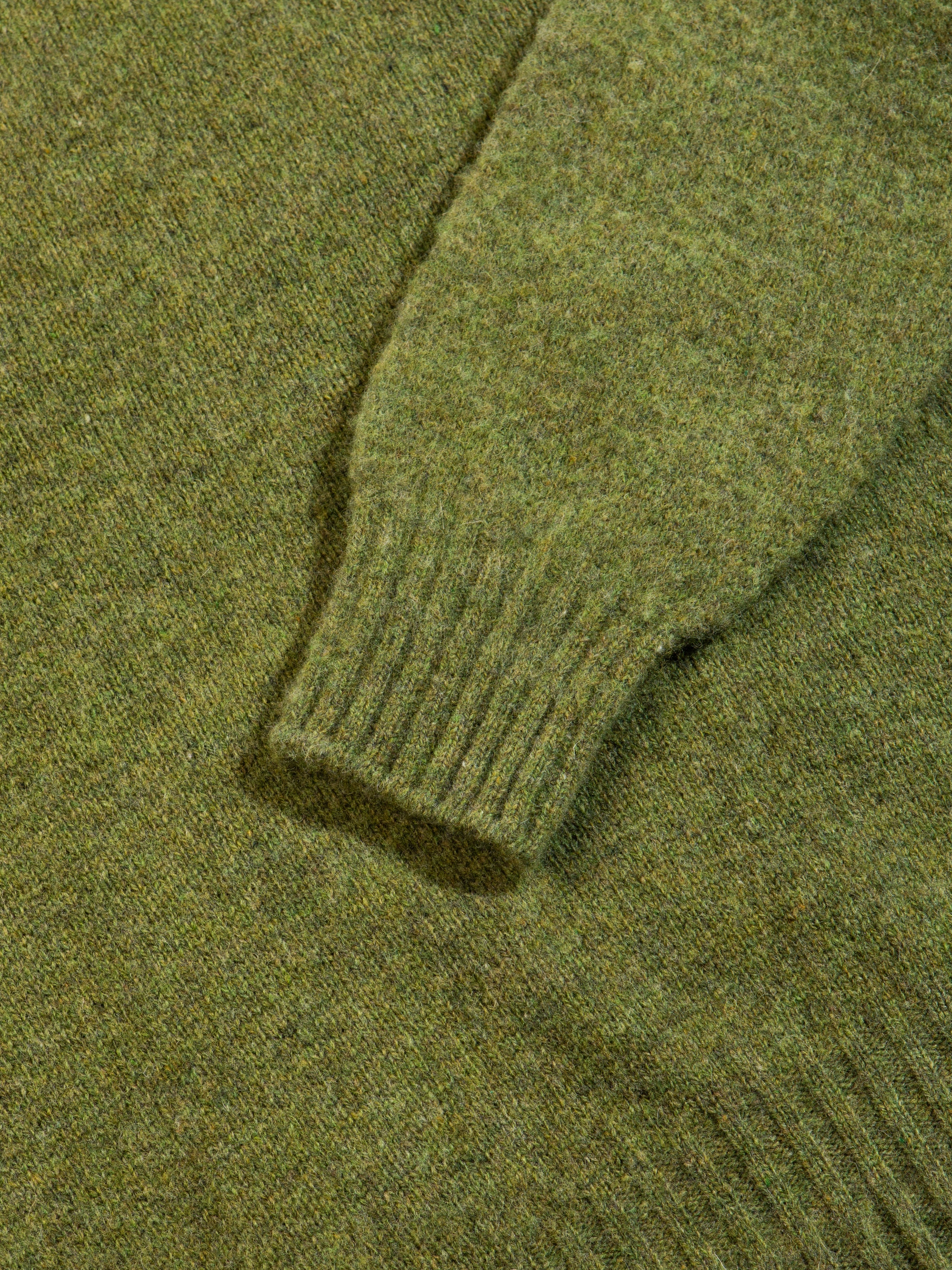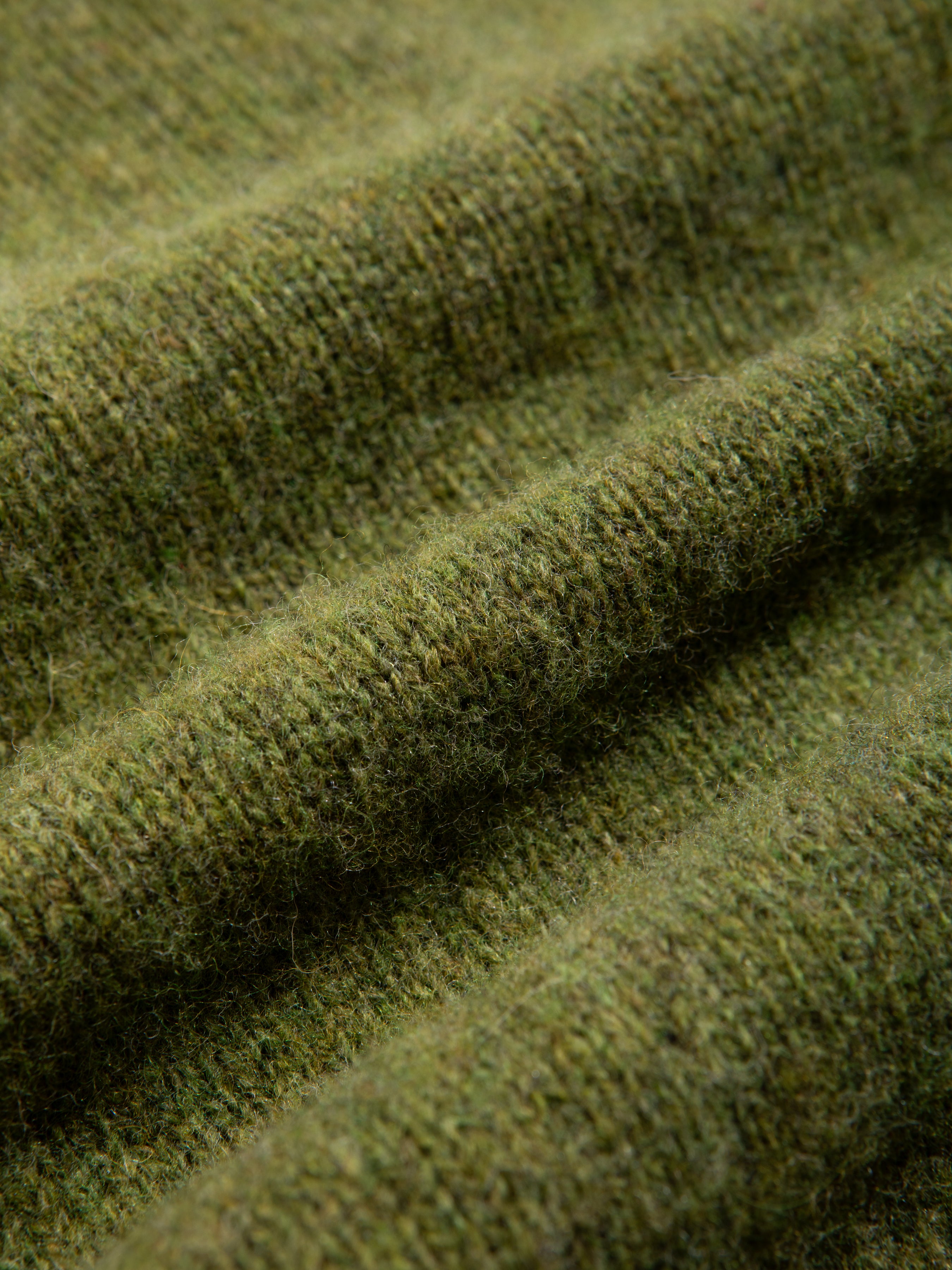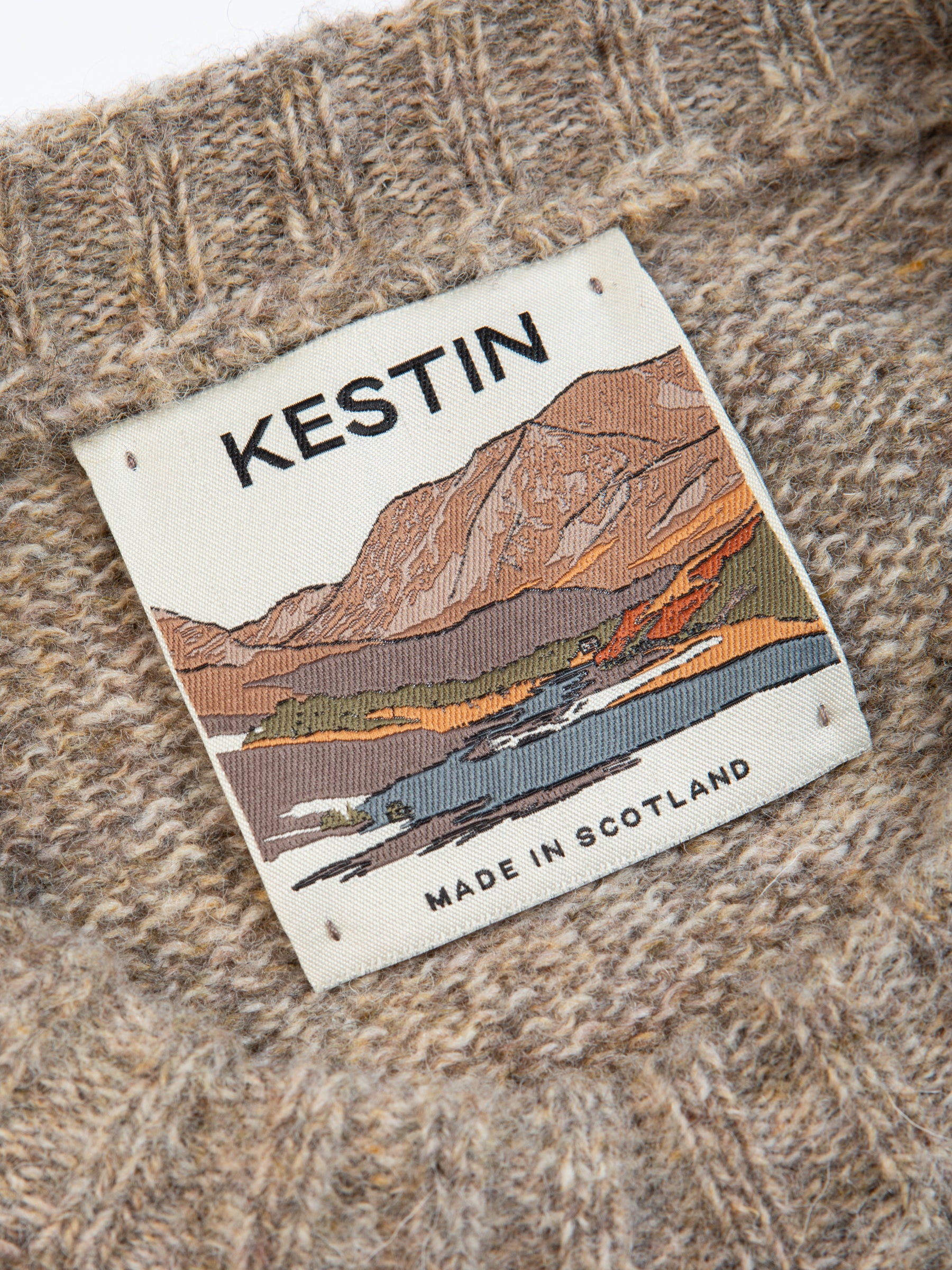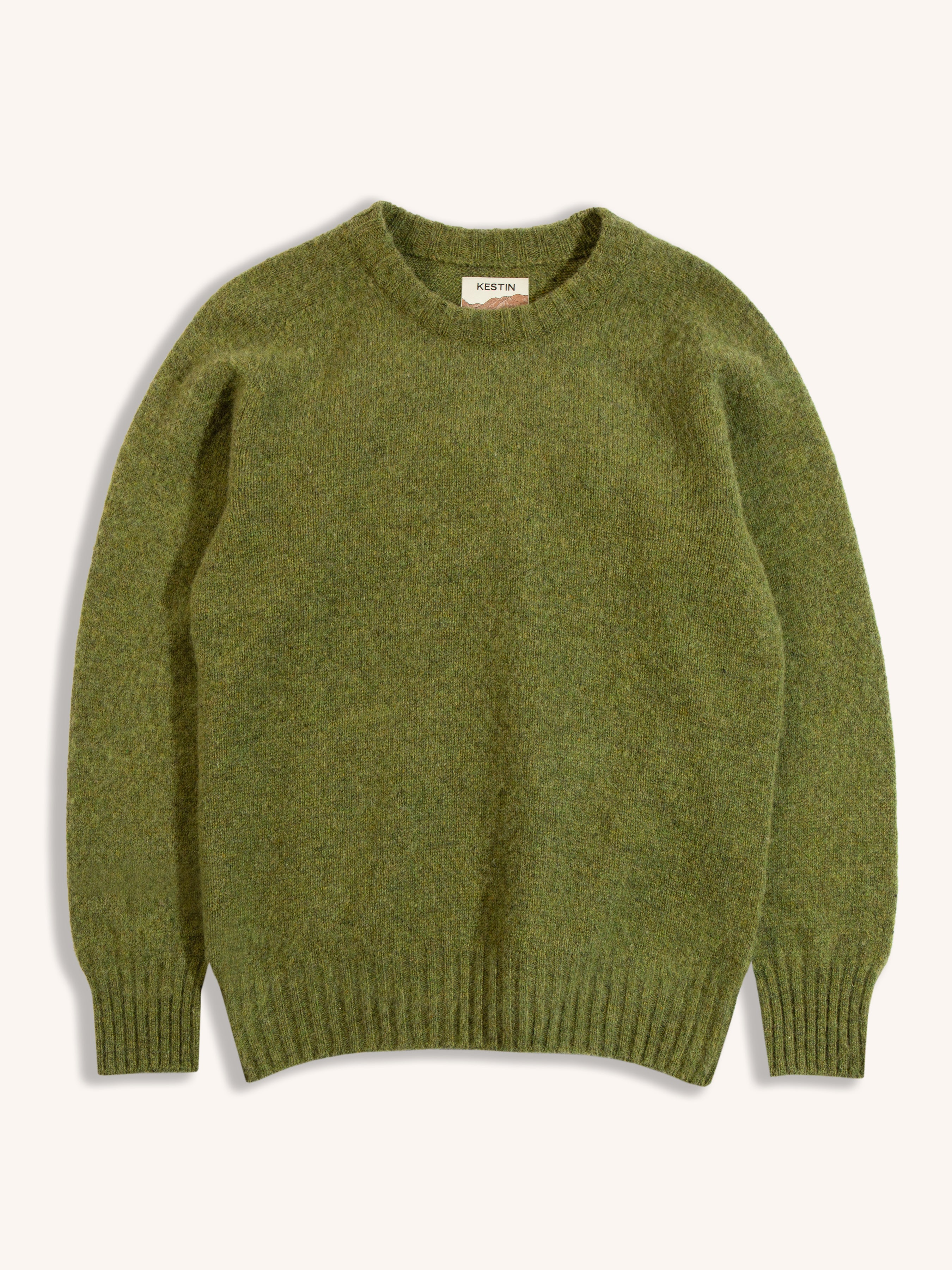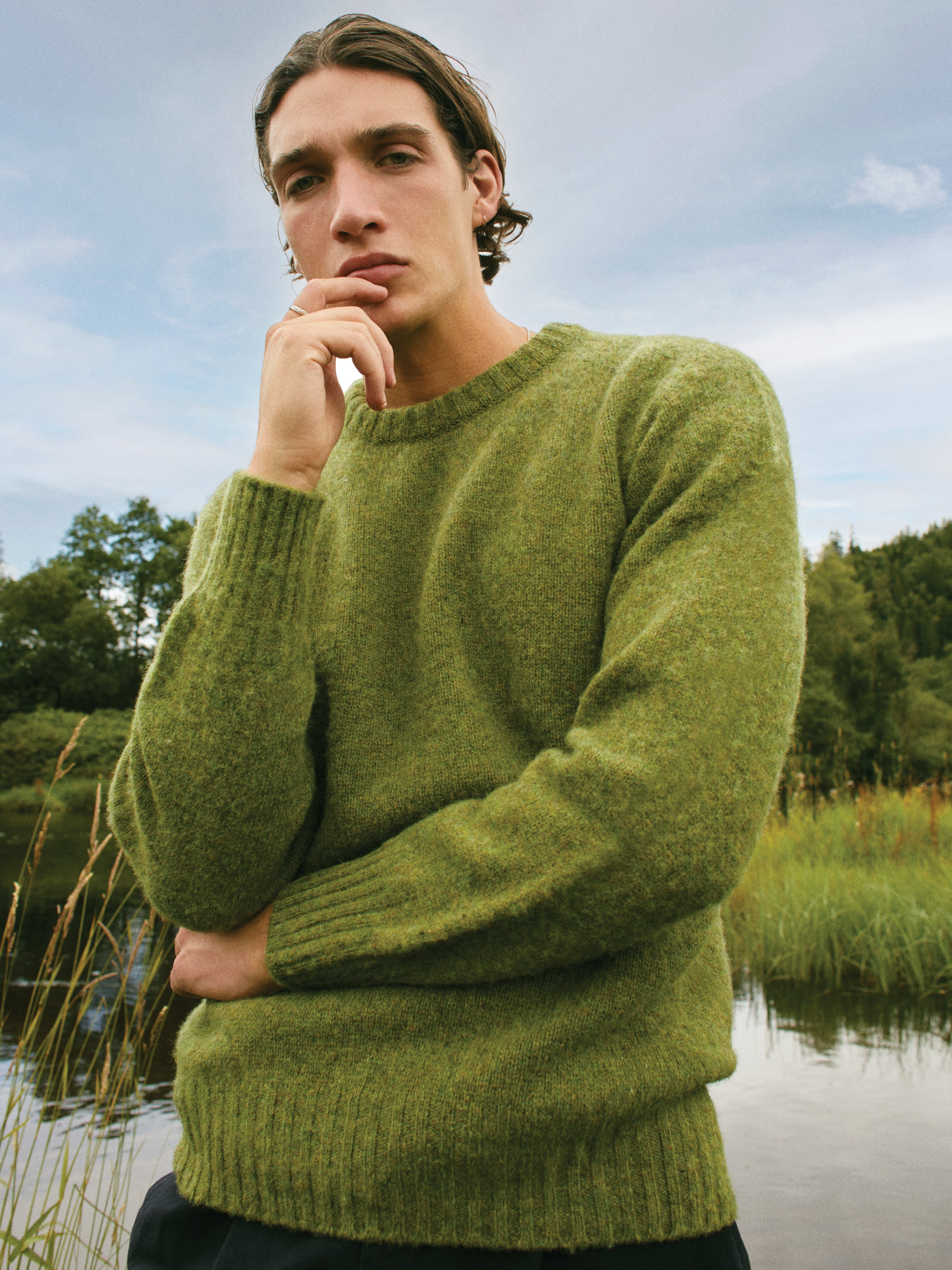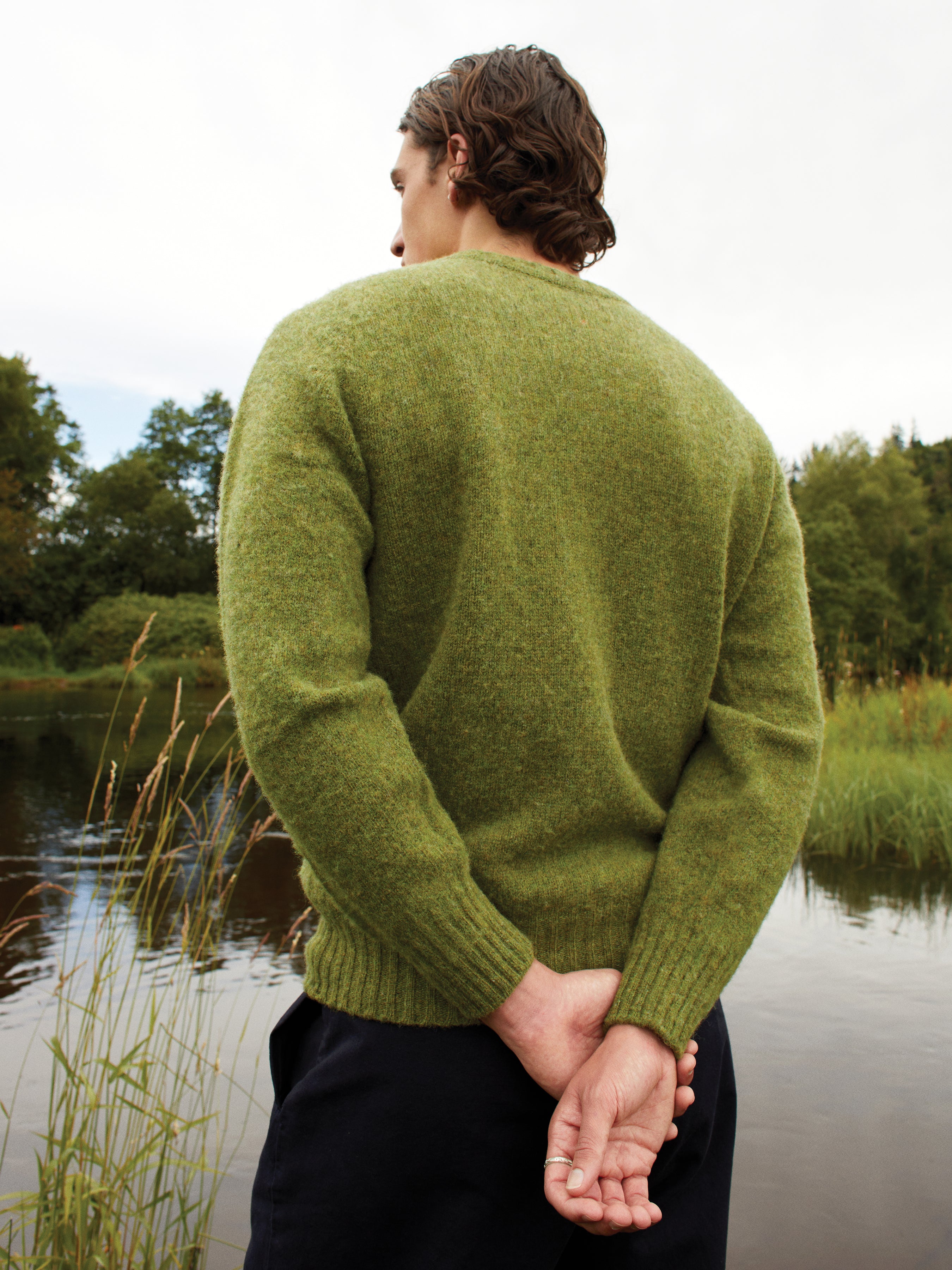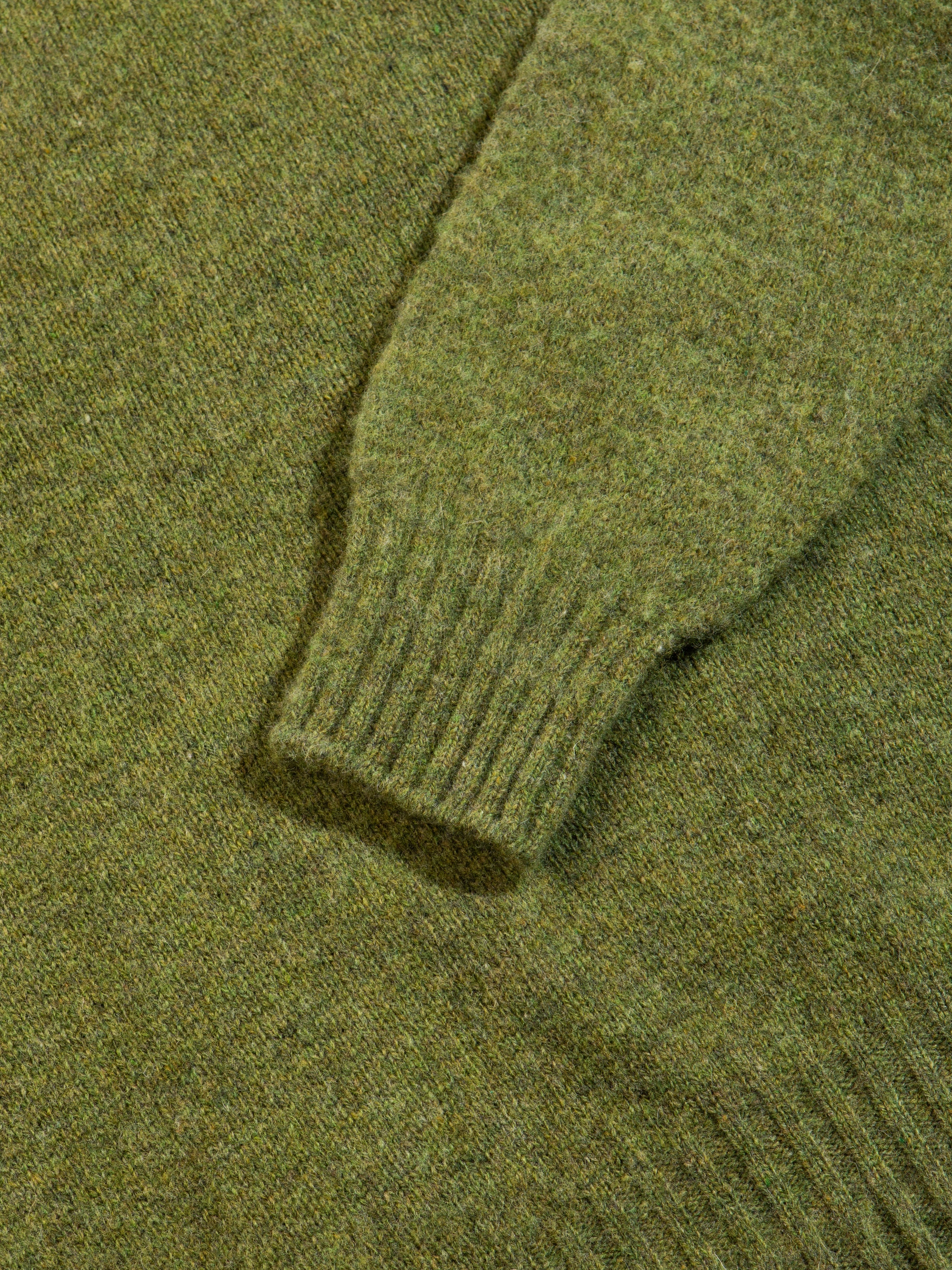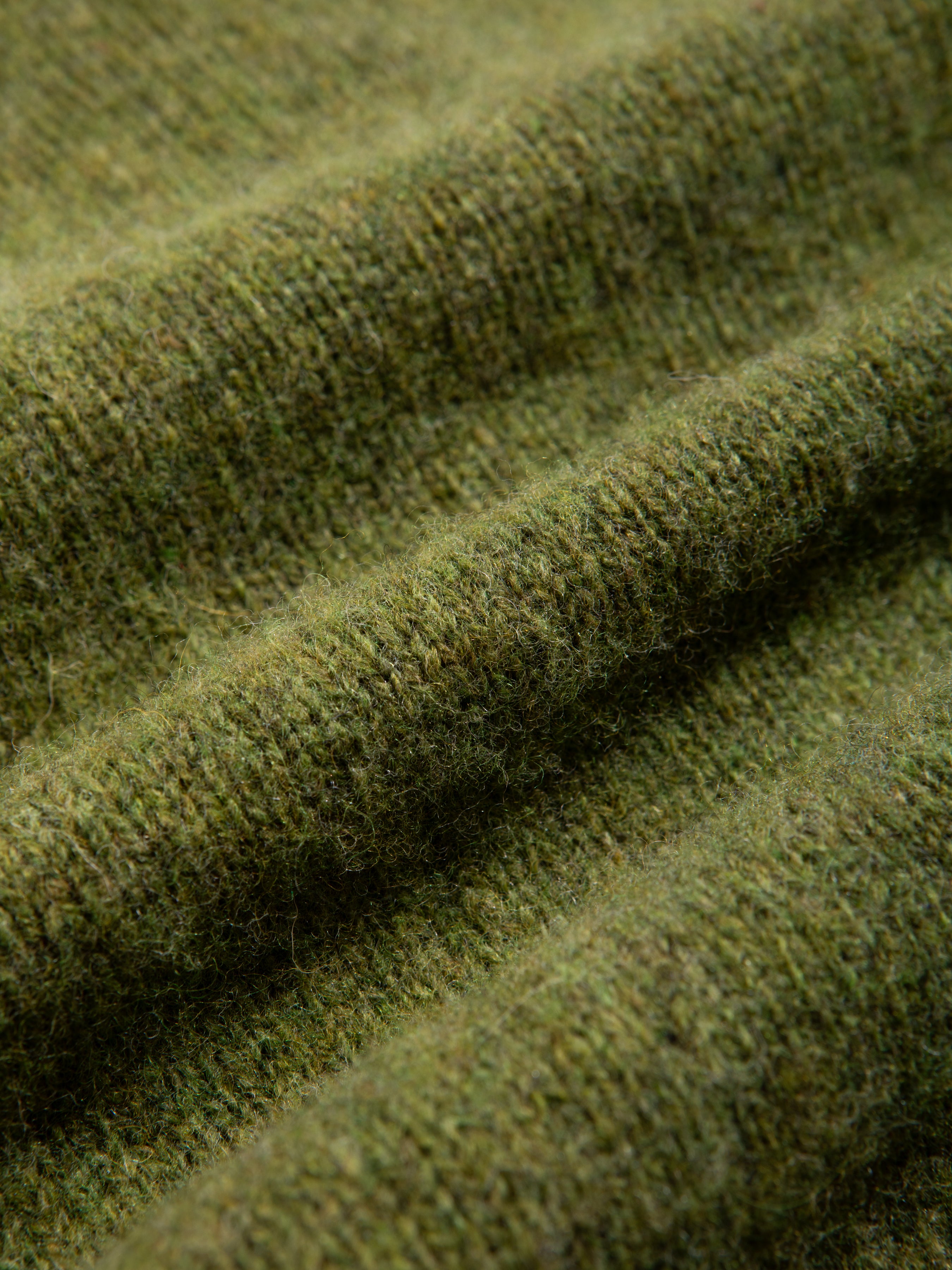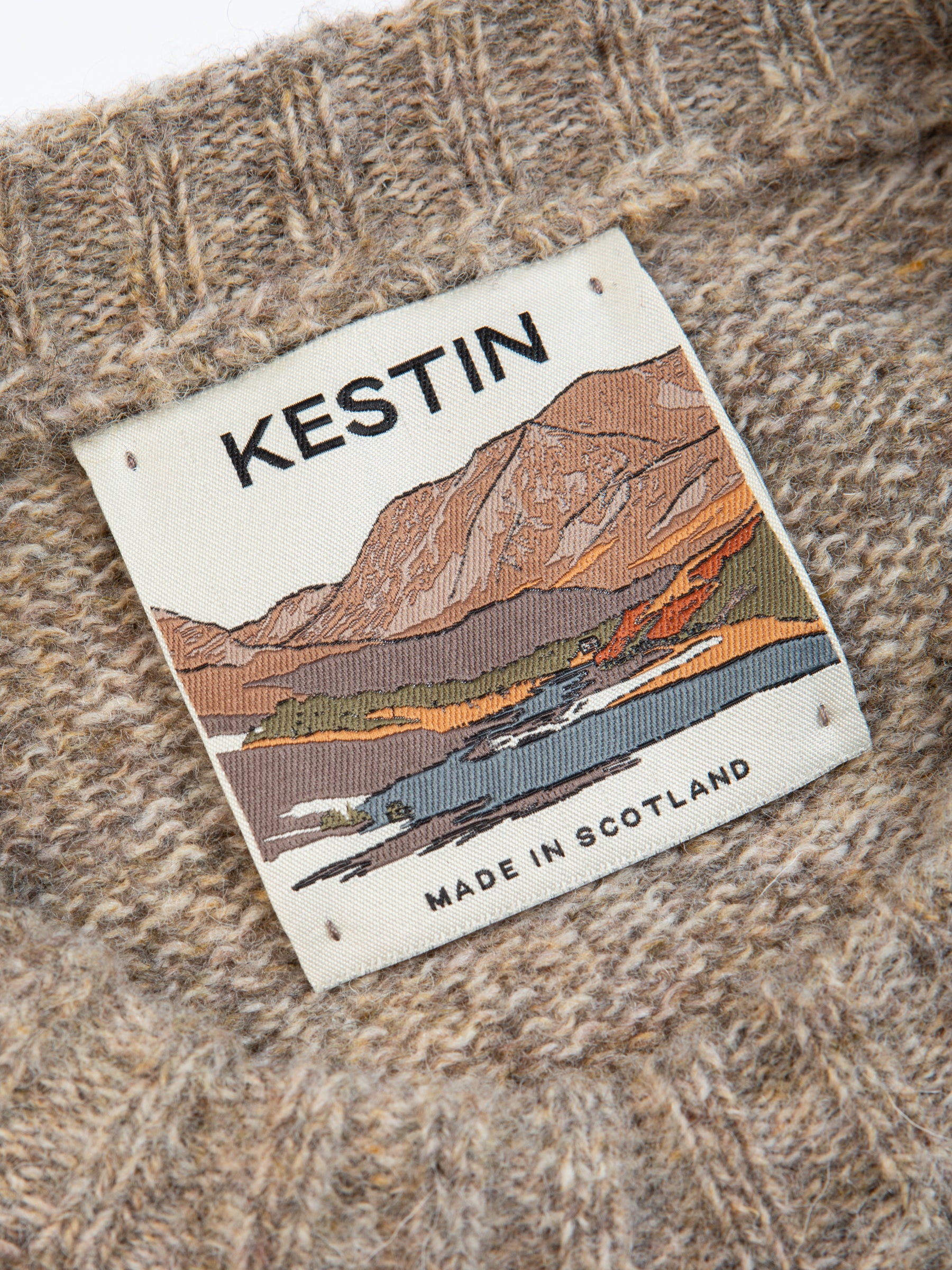 OLIVE
£120.00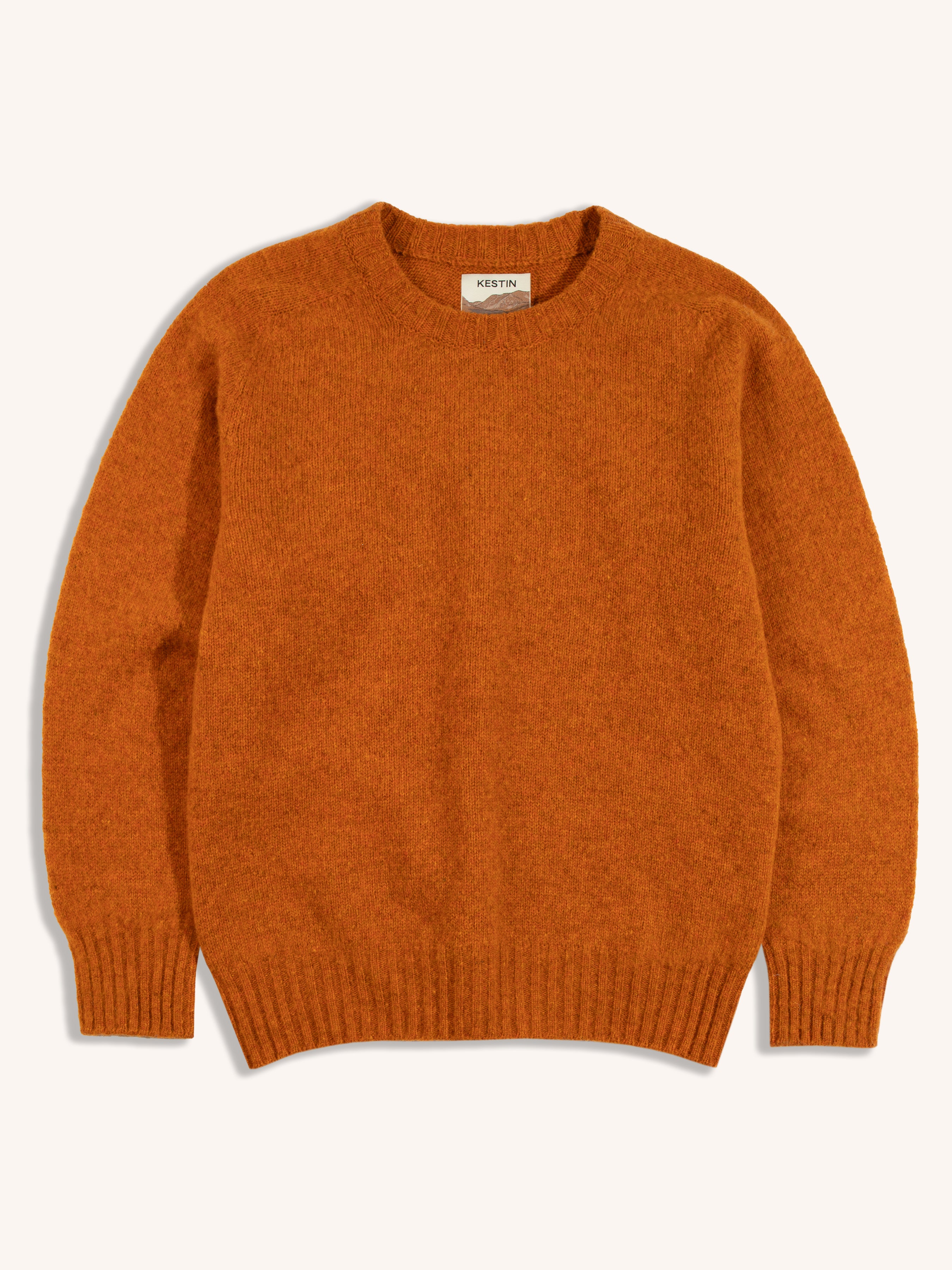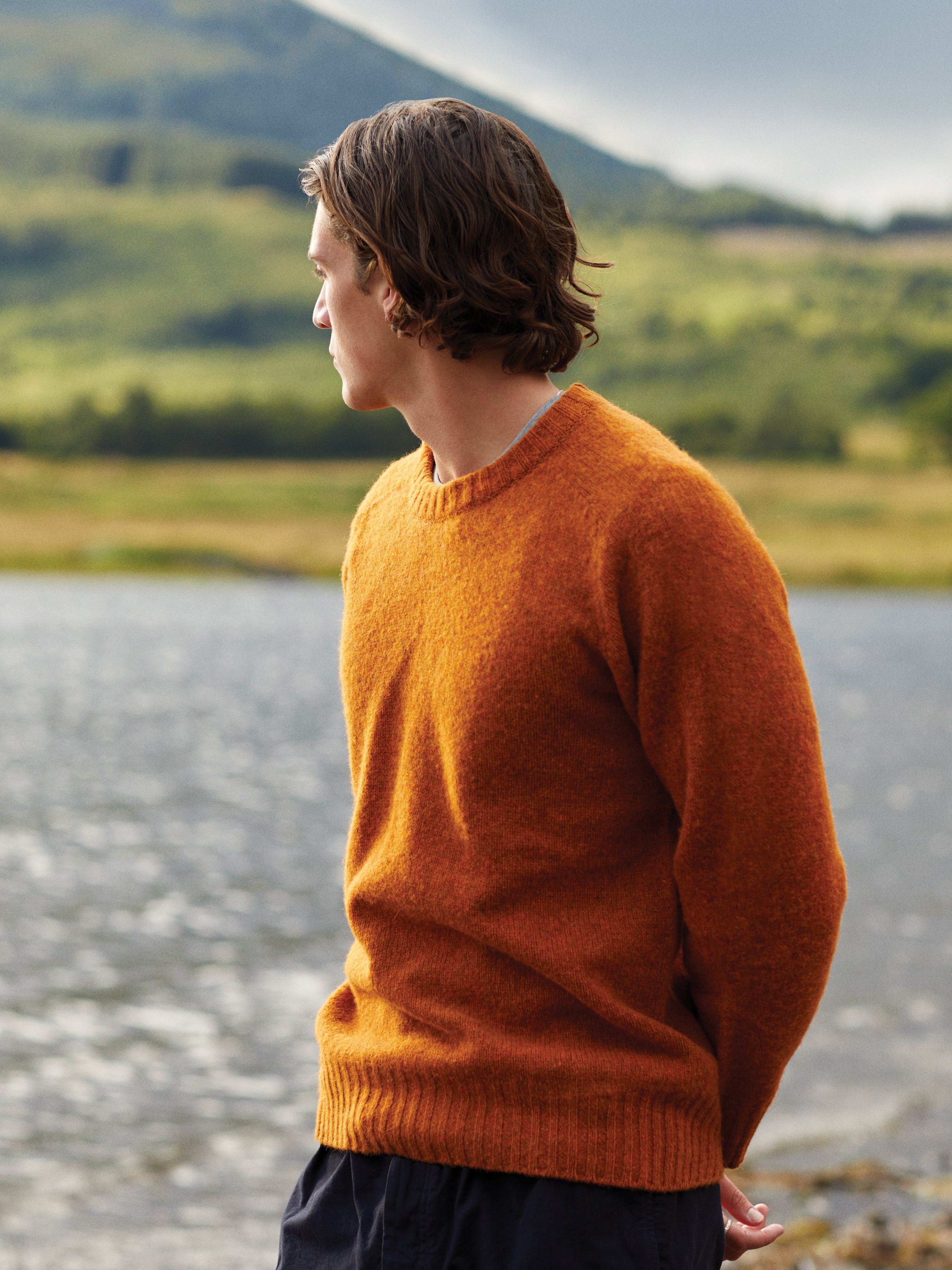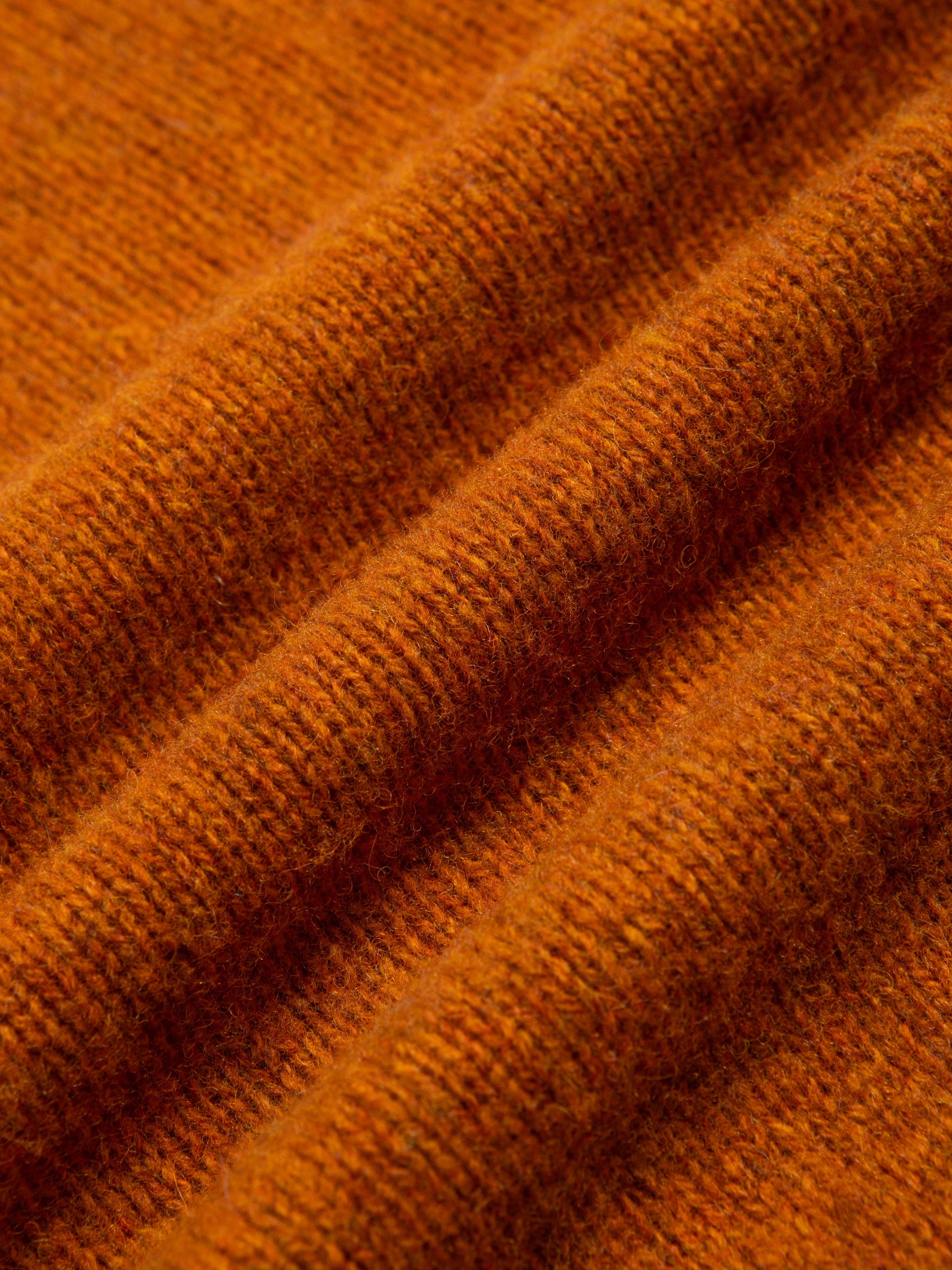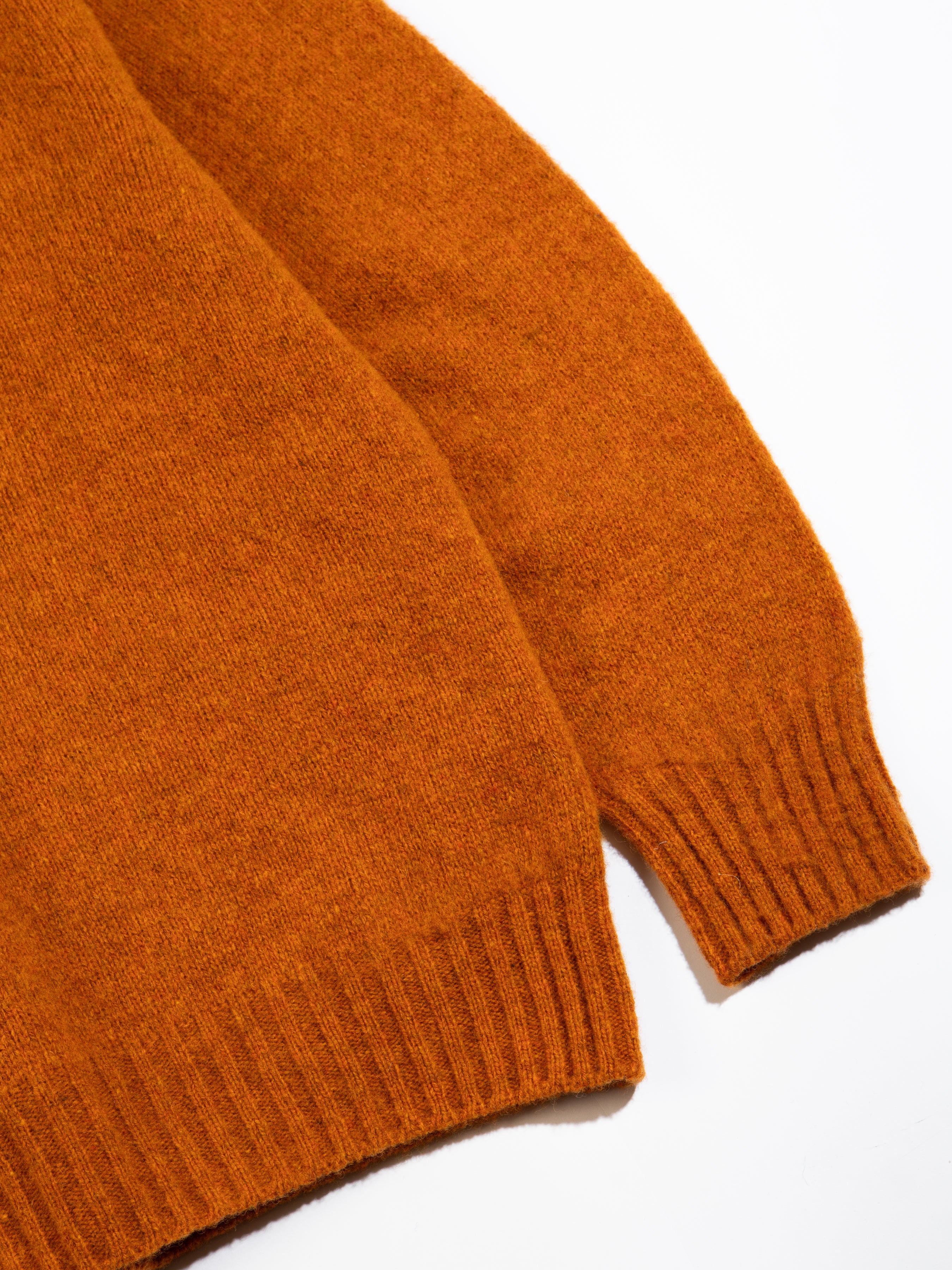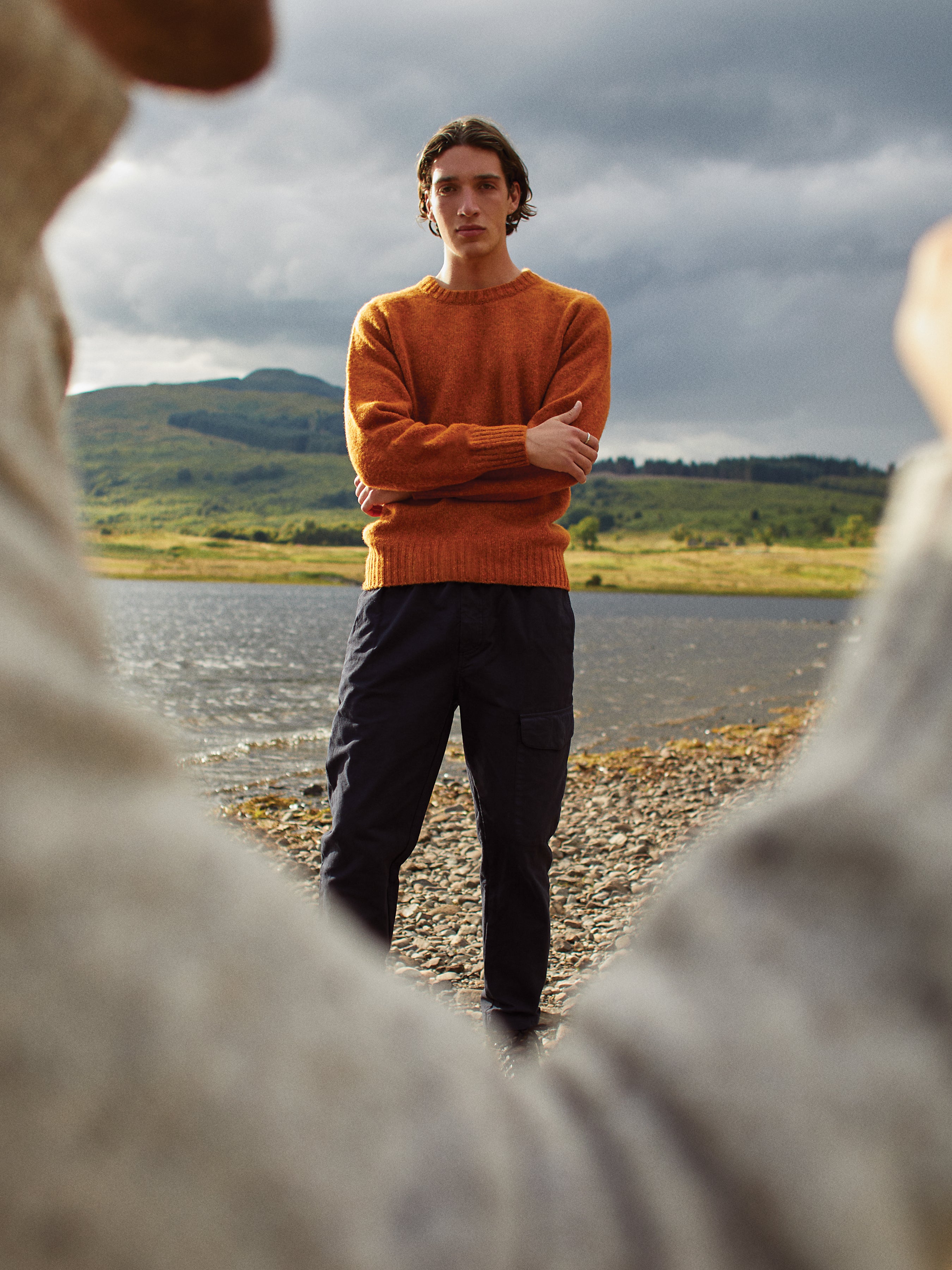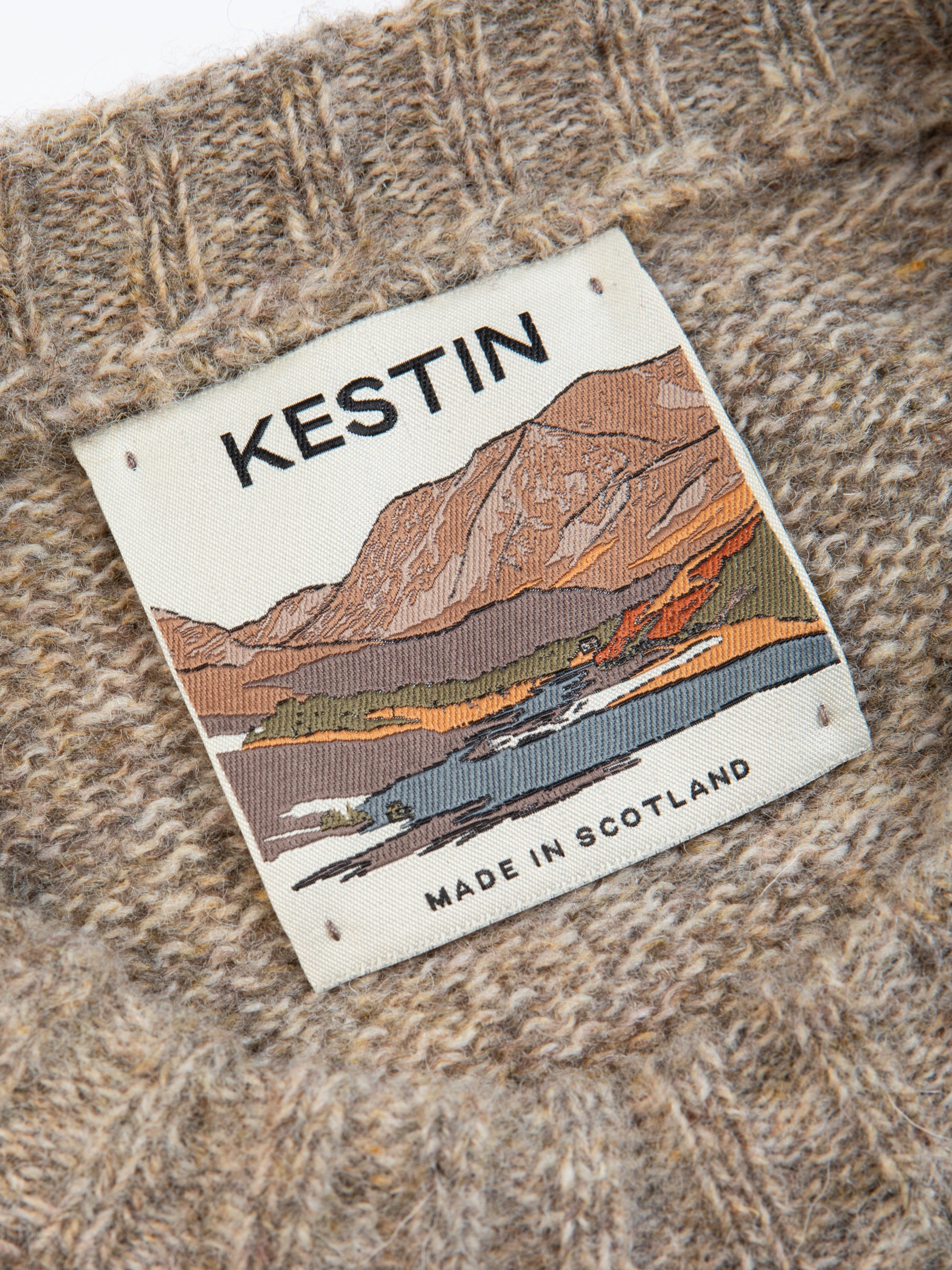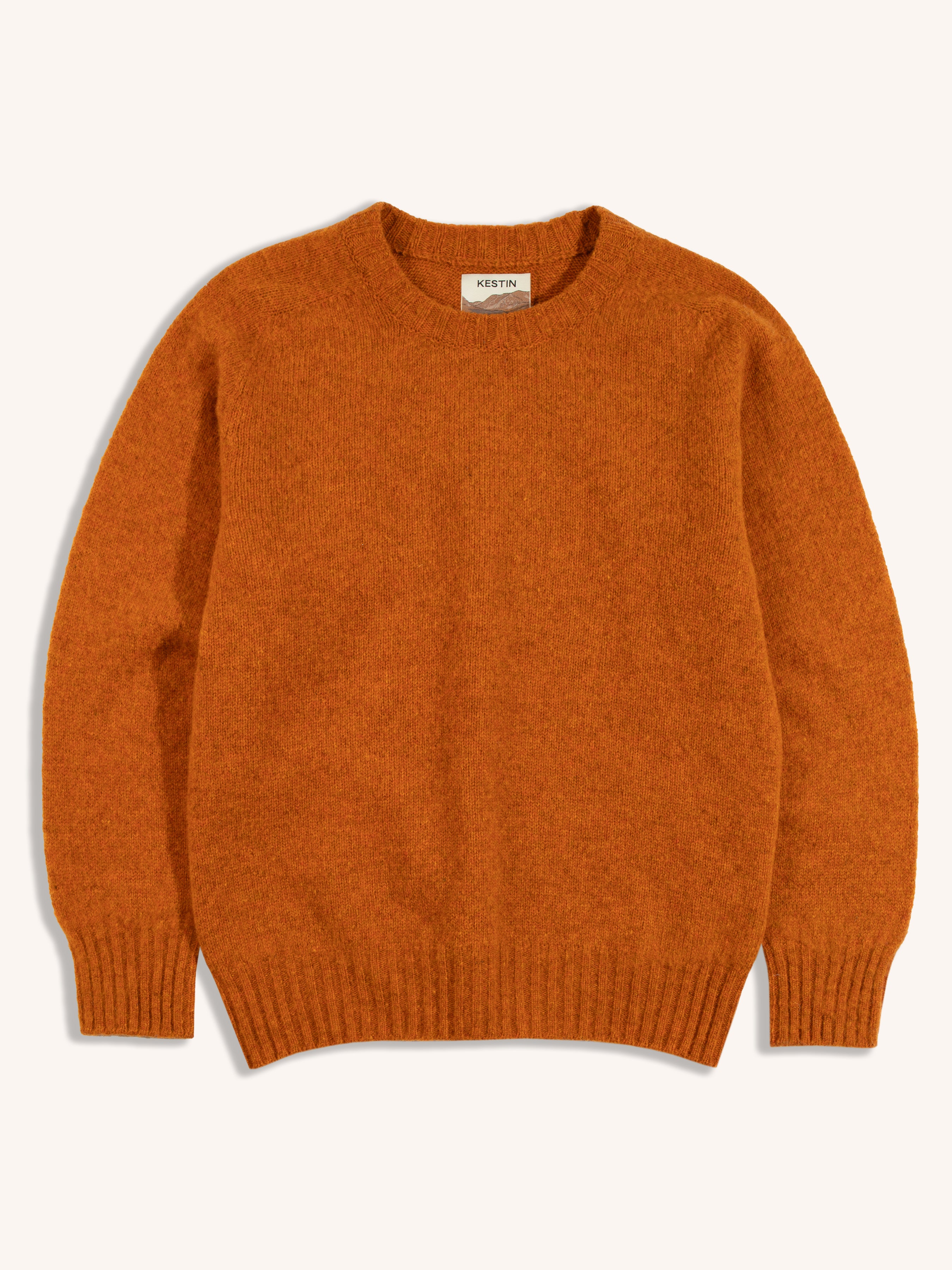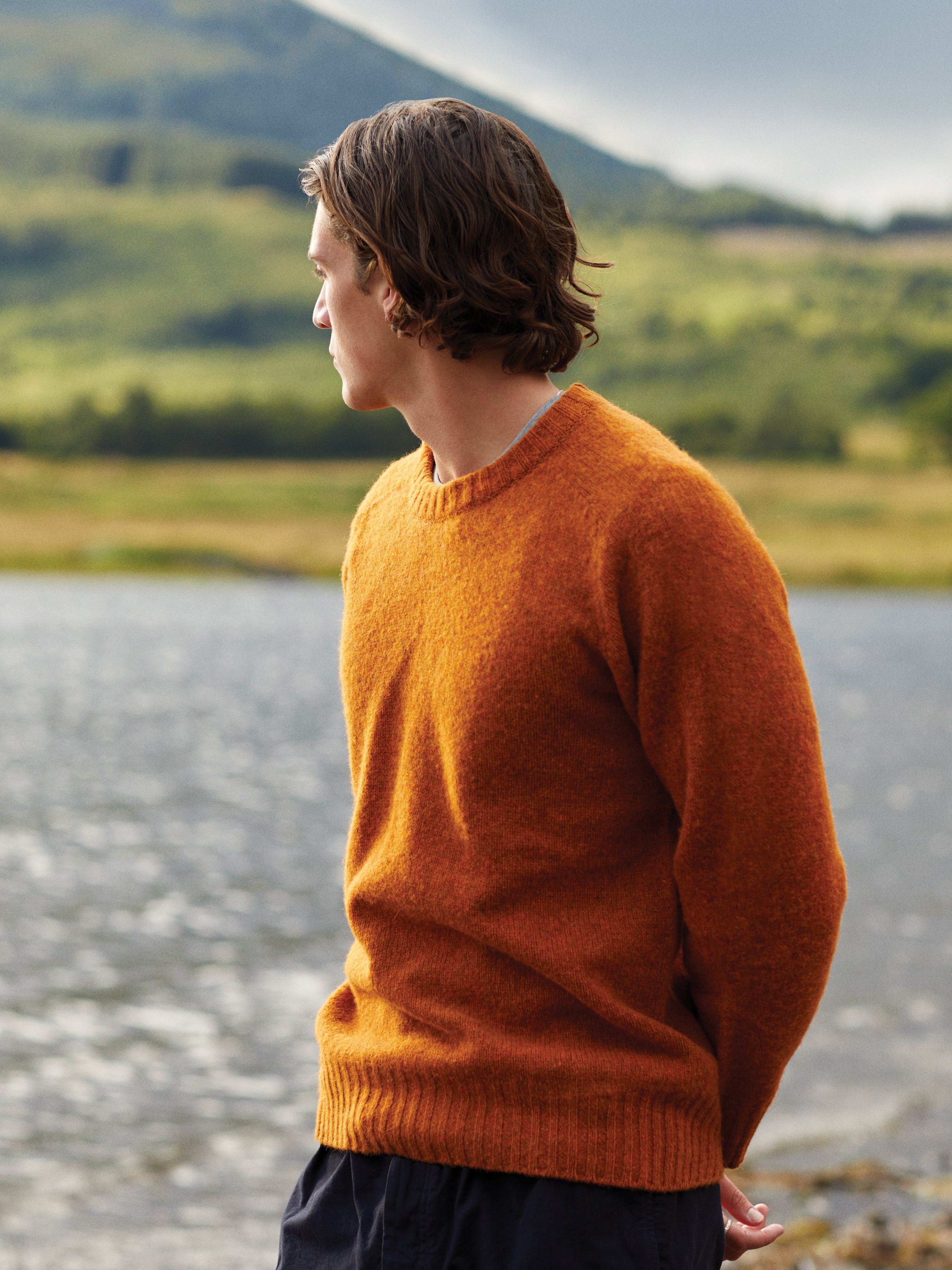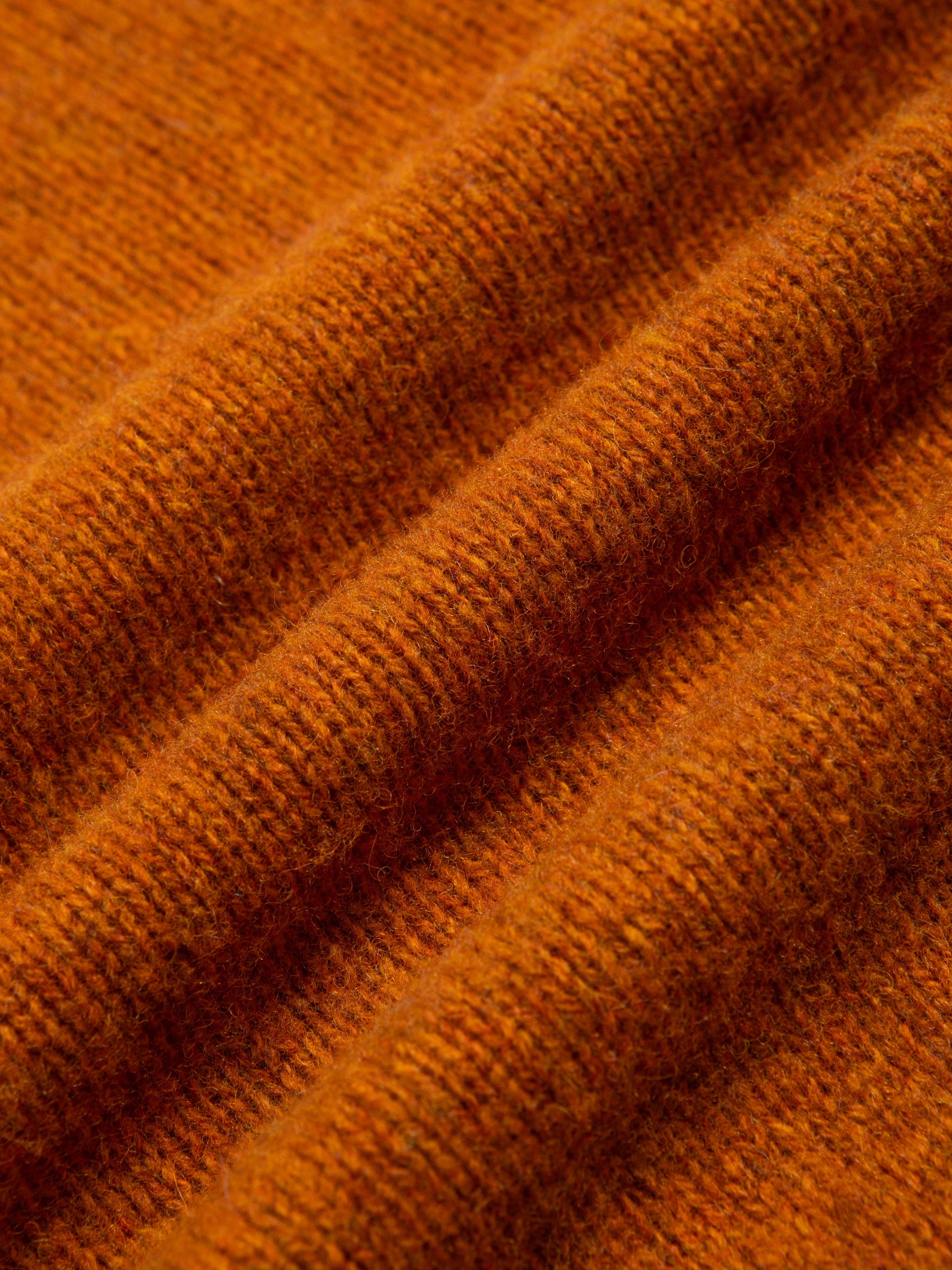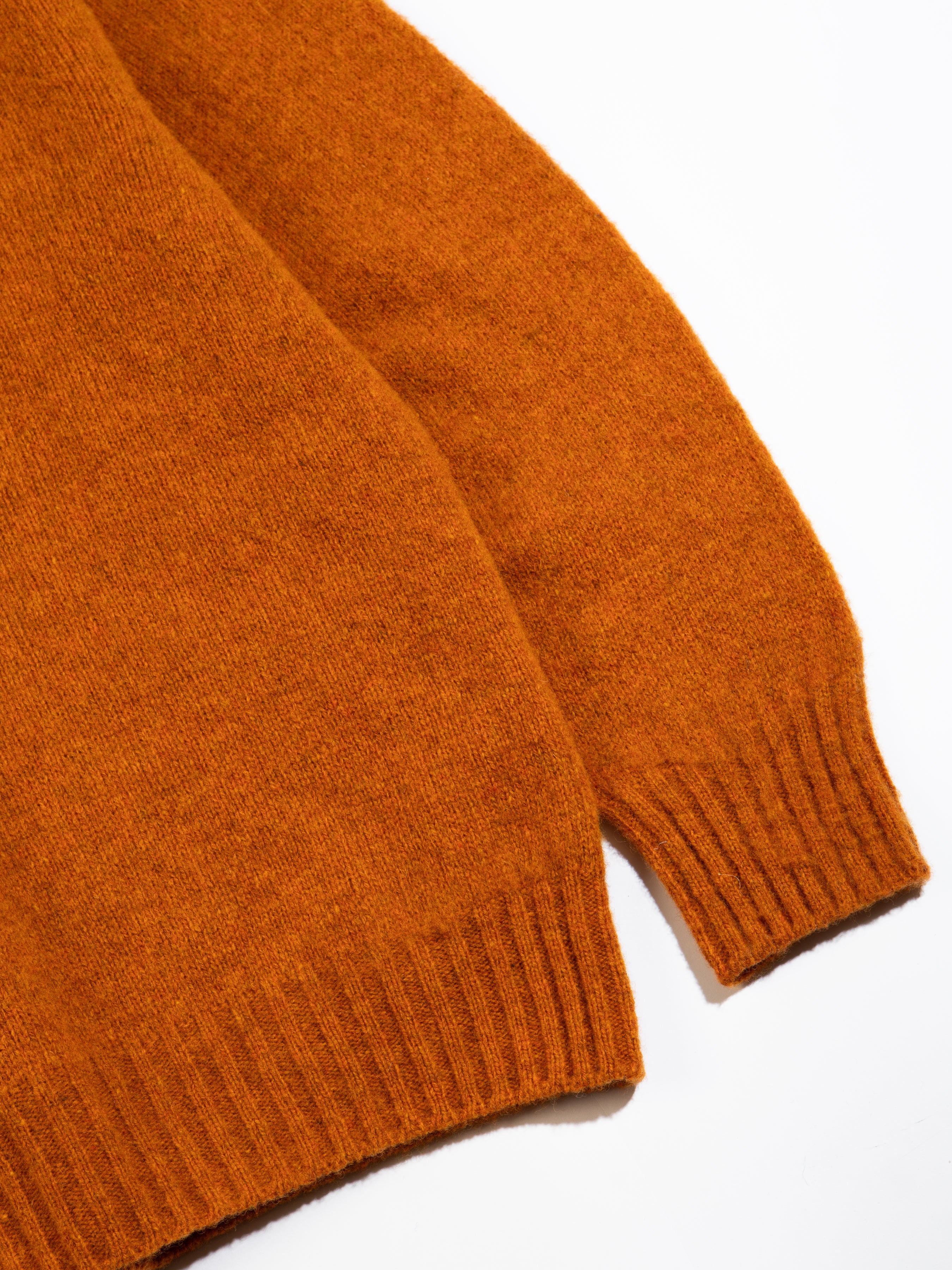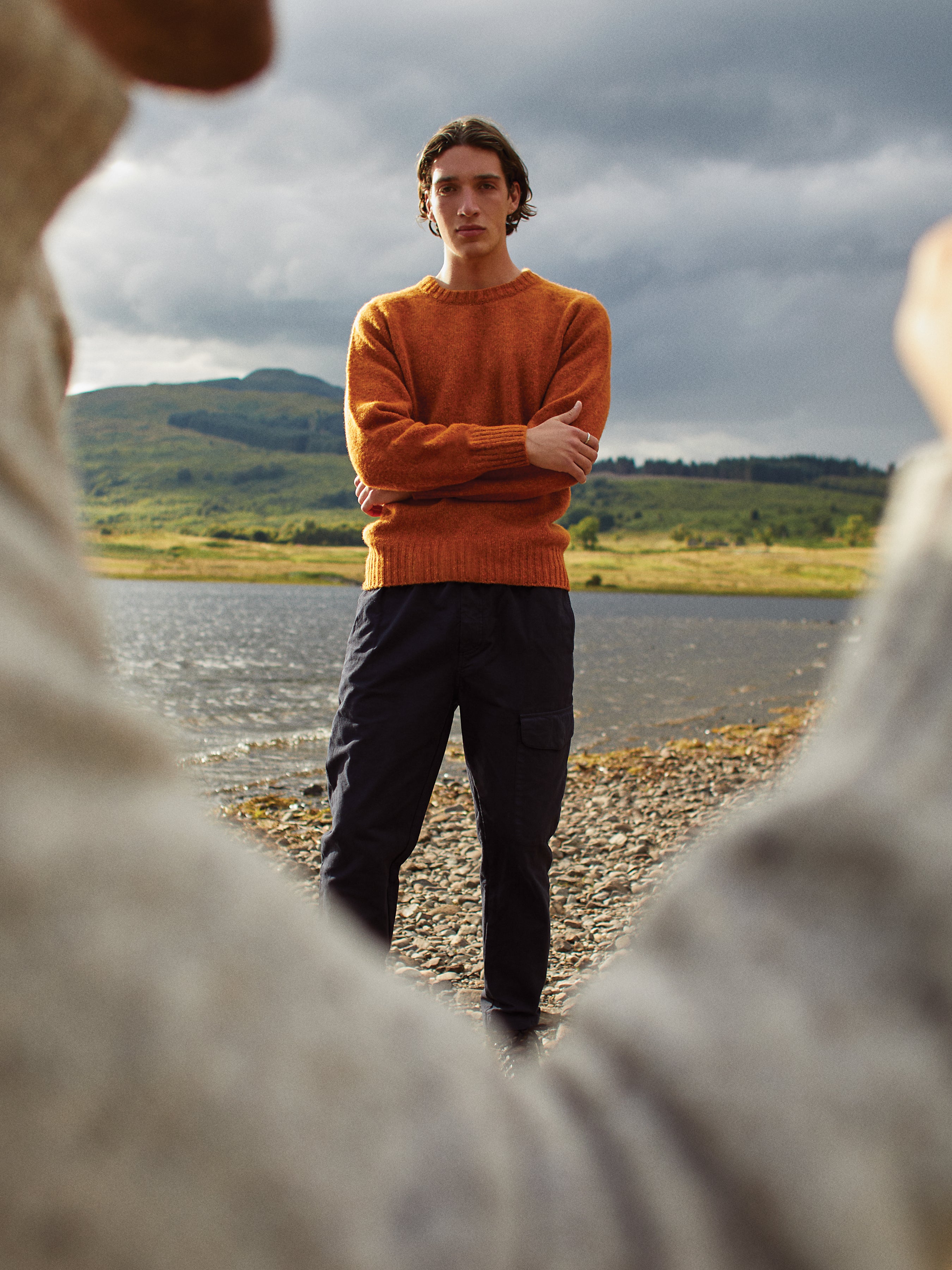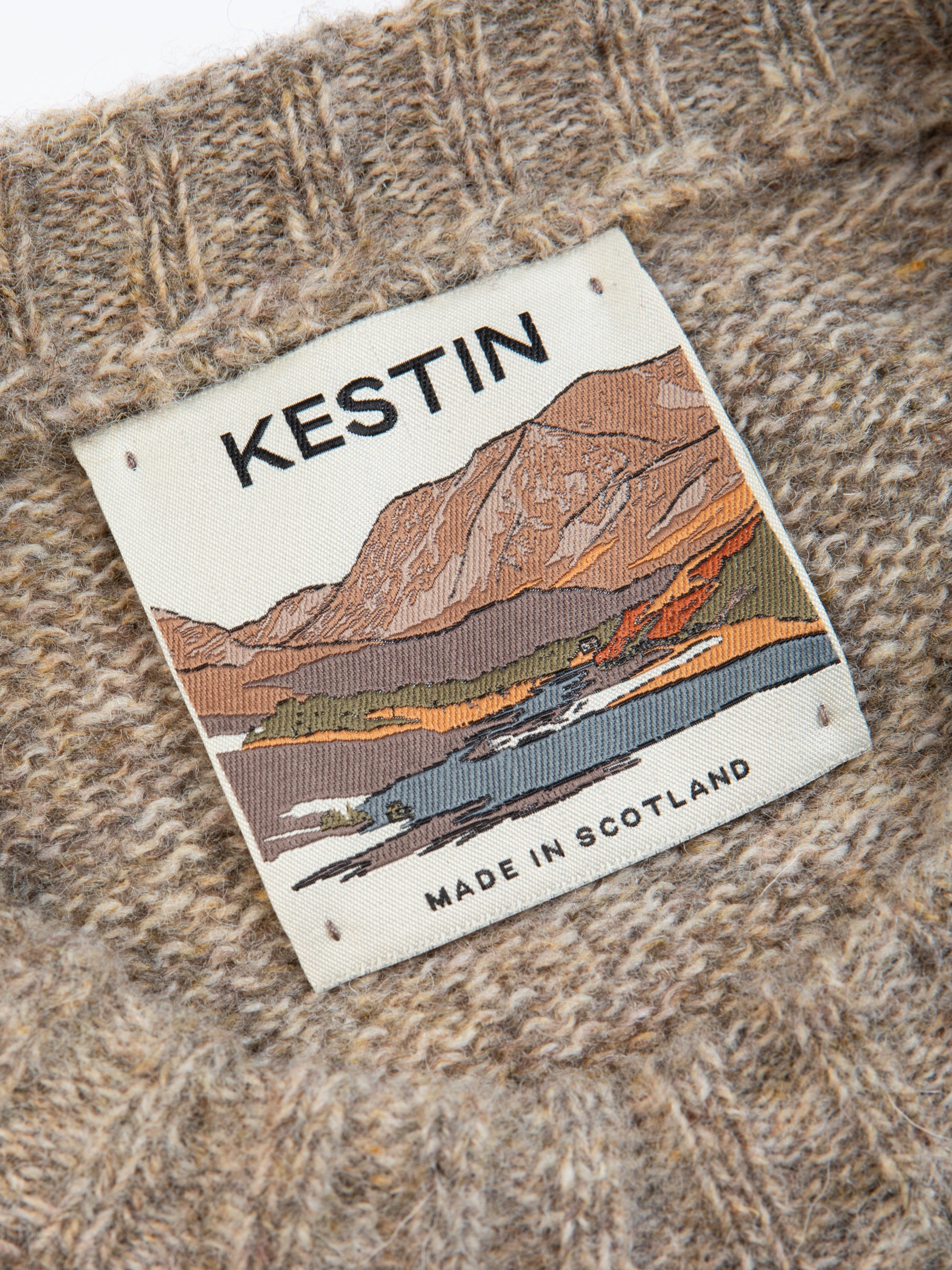 RUST
£120.00
DONEGAL ROLL NECK
The Donegal Roll Neck is a new addition to our Made In Scotland collection, made from 100% Pure Merino wool, spun and dyed in the last remaining spinner in County Donegal, Ireland with classic nep flecks in the weave. It has a rib-knit construction with a chunky-rib to the hem, cuffs and roll neck, and saddle shoulders, which is a semi-raglan design which reduces on bulk and provides a wider range of motion.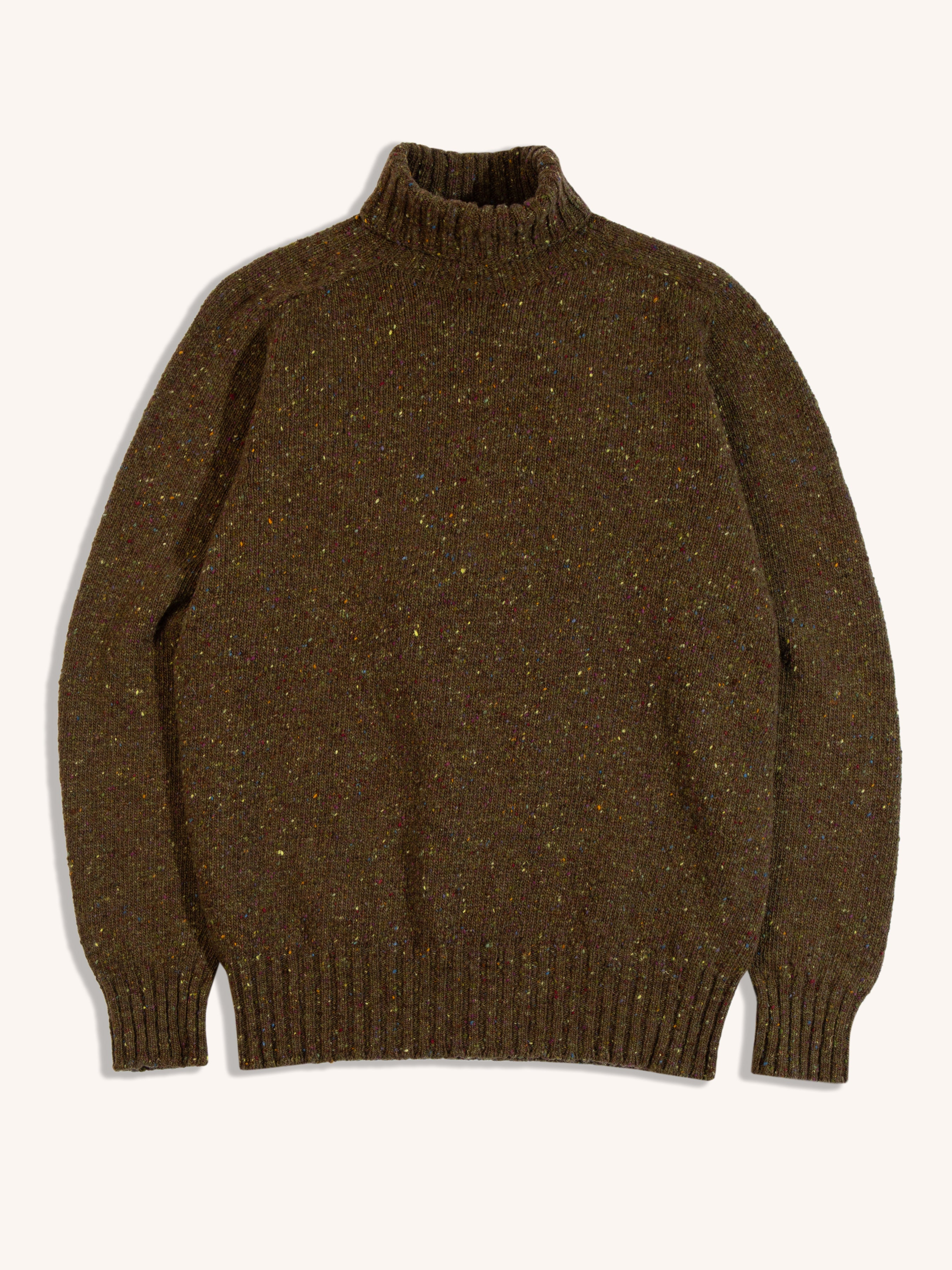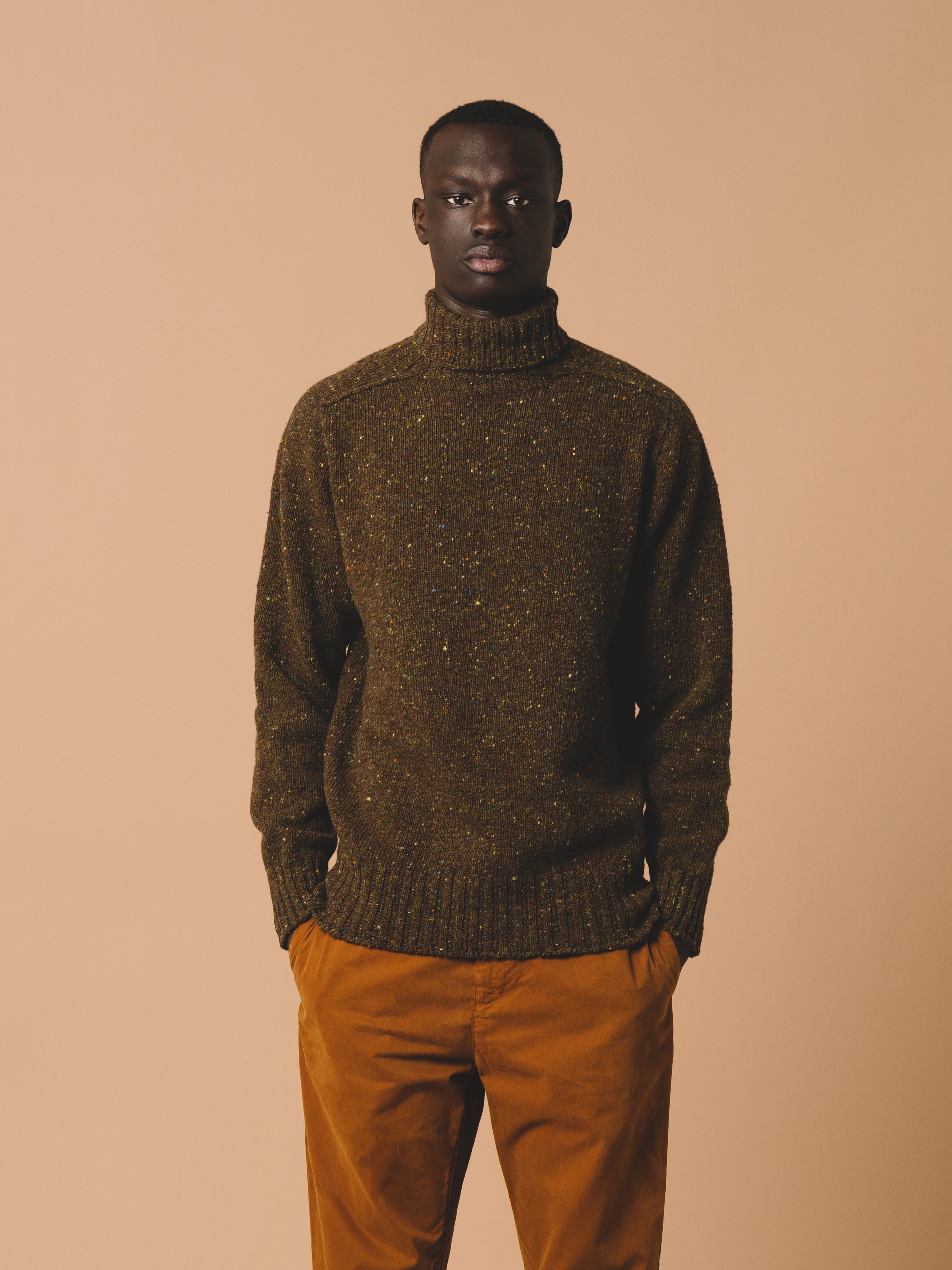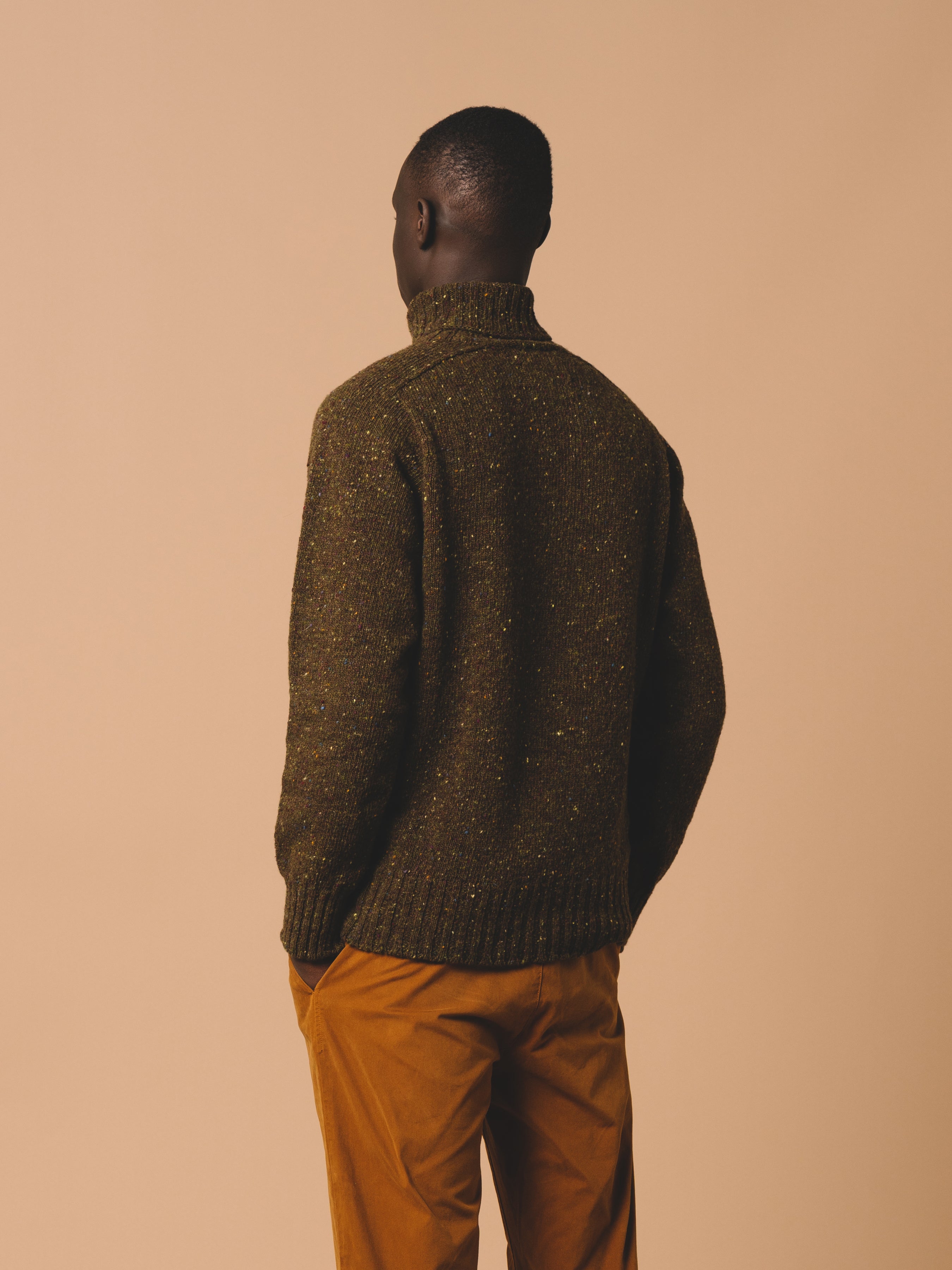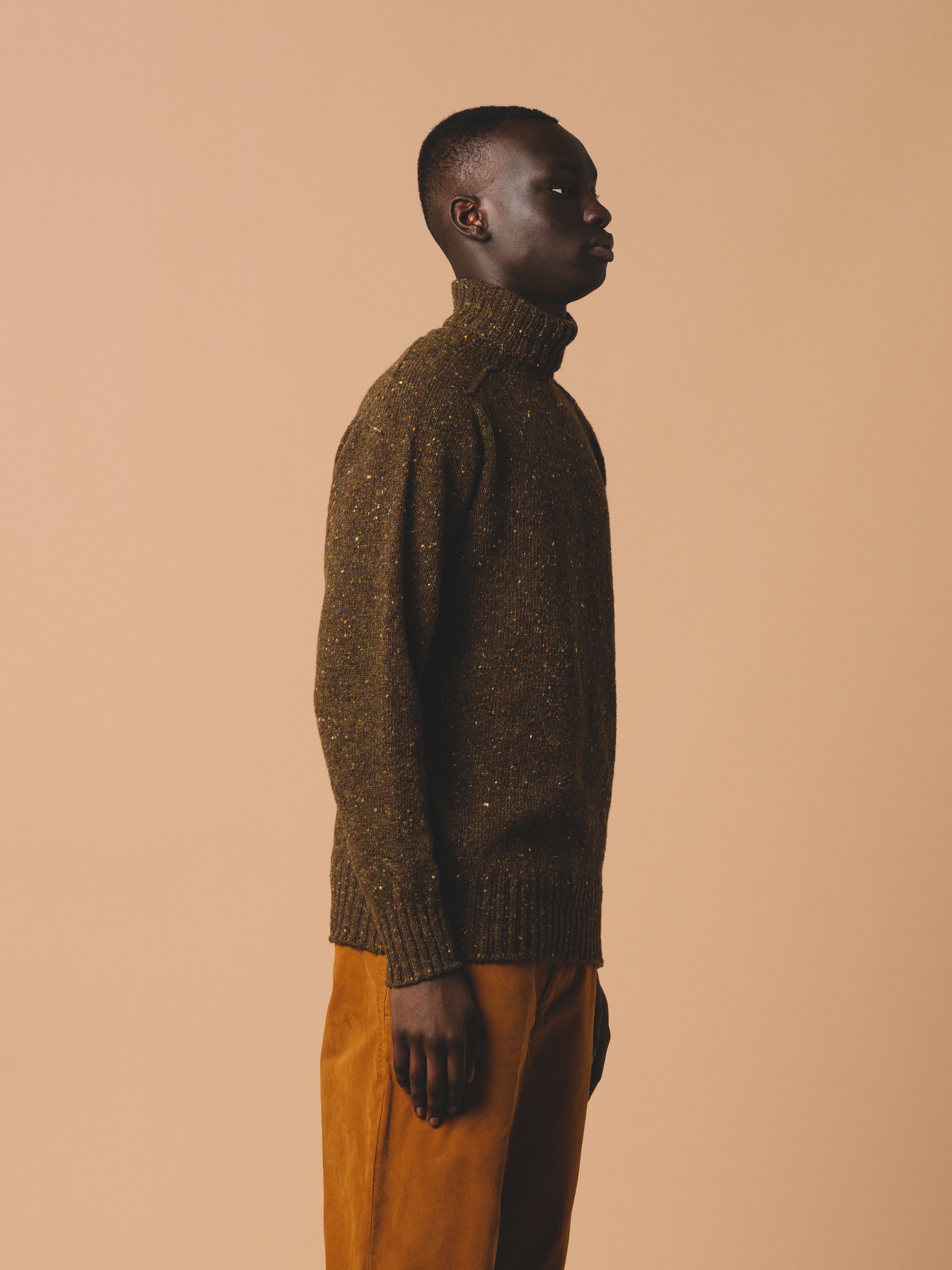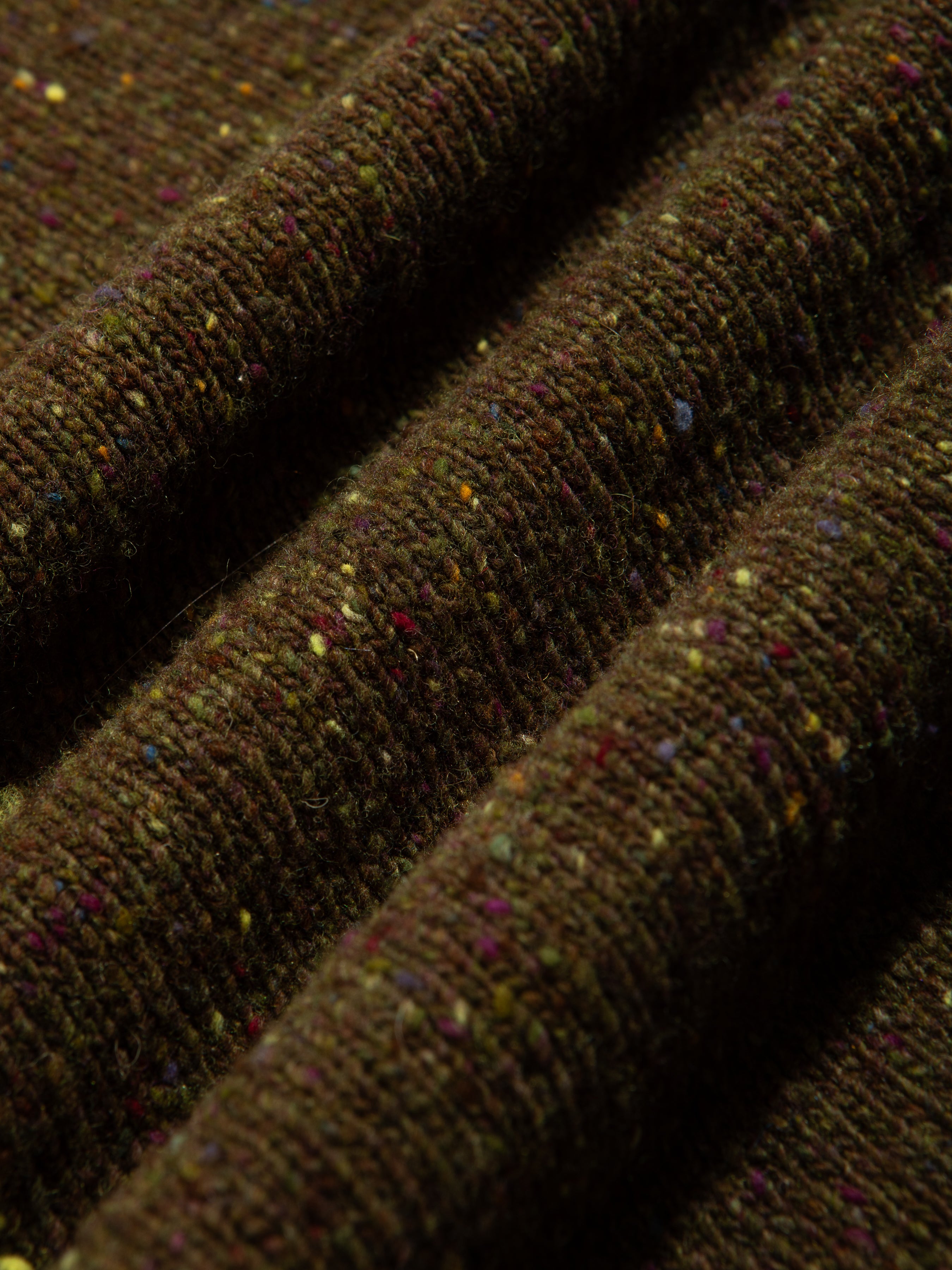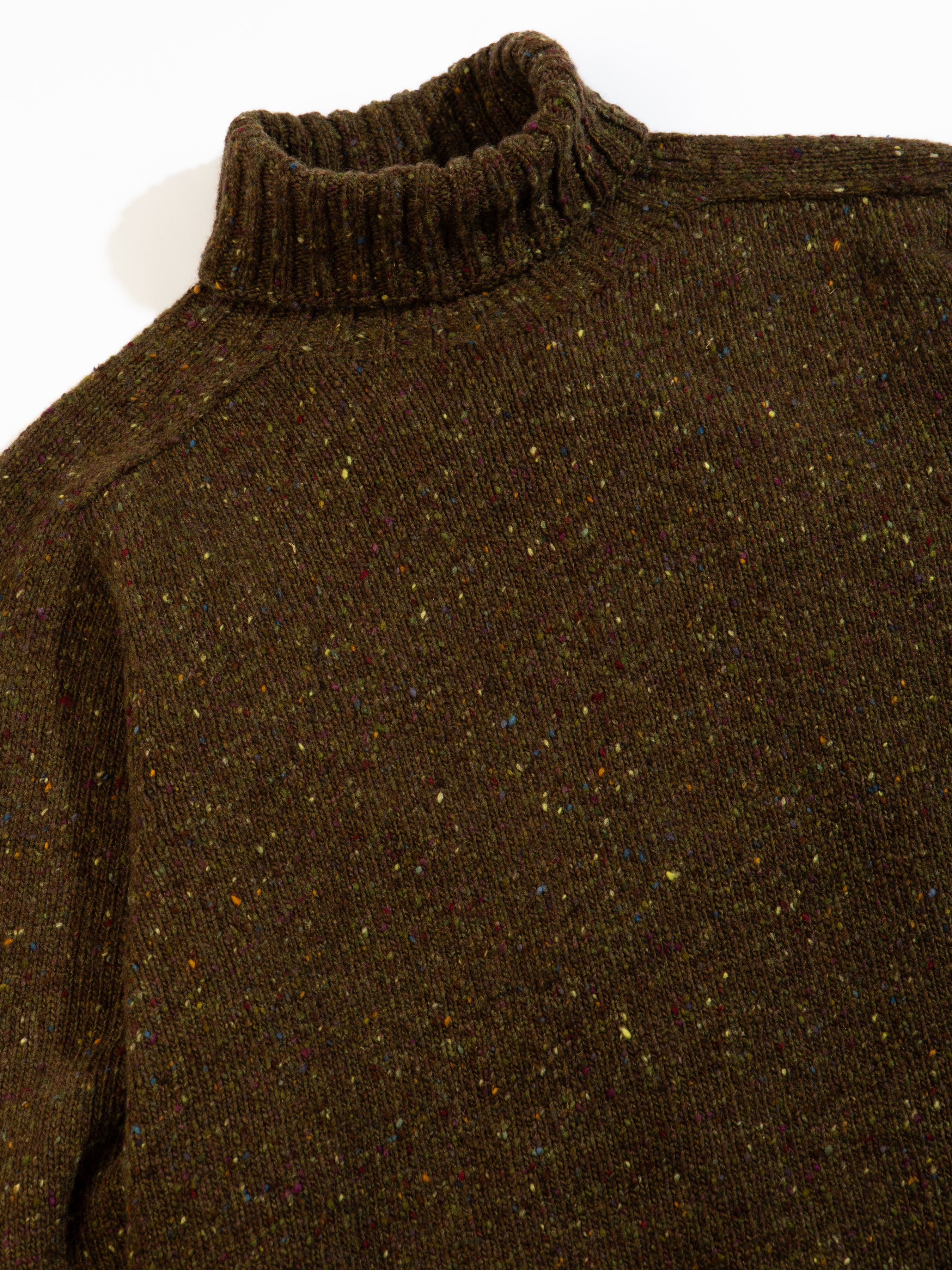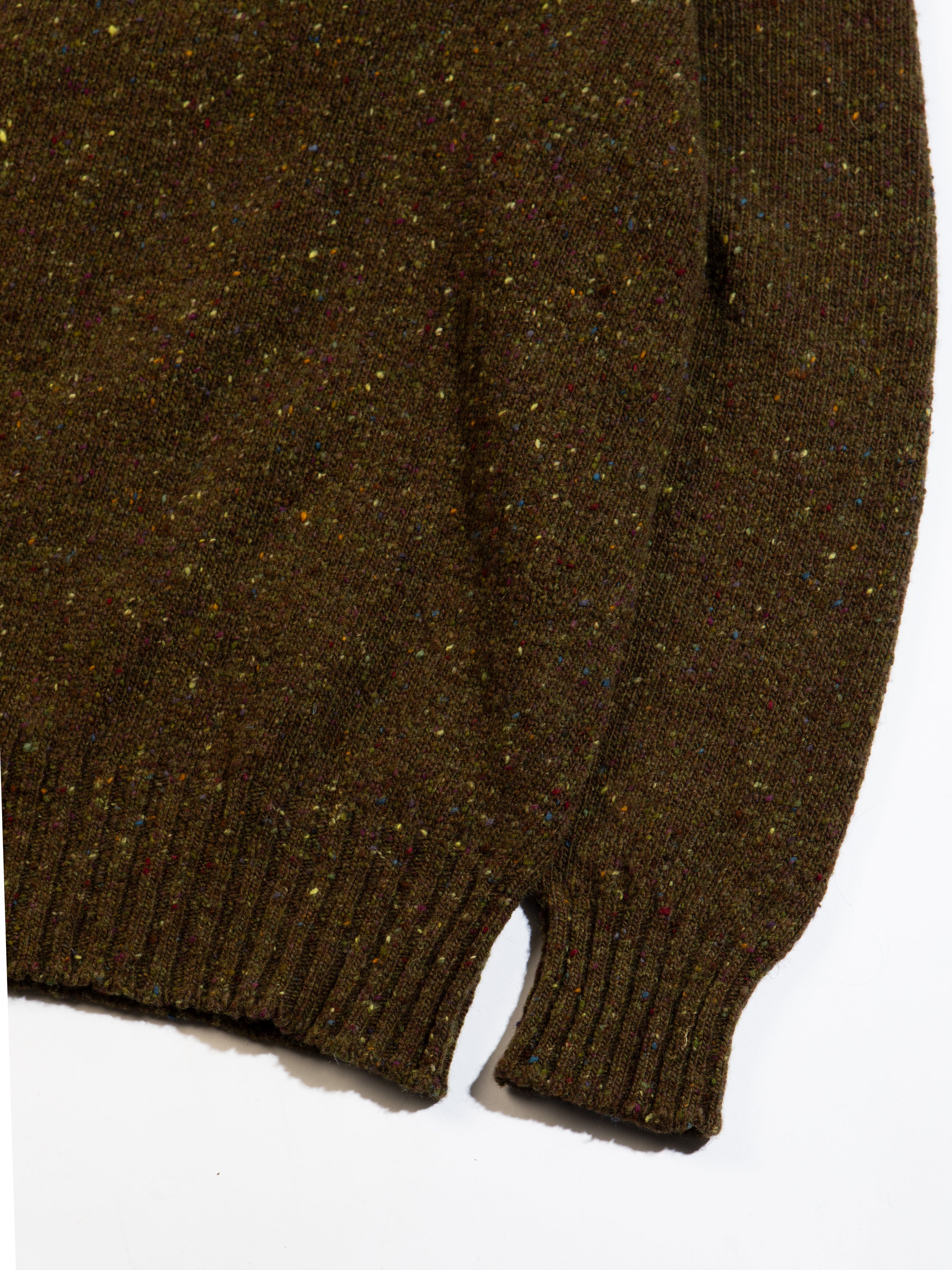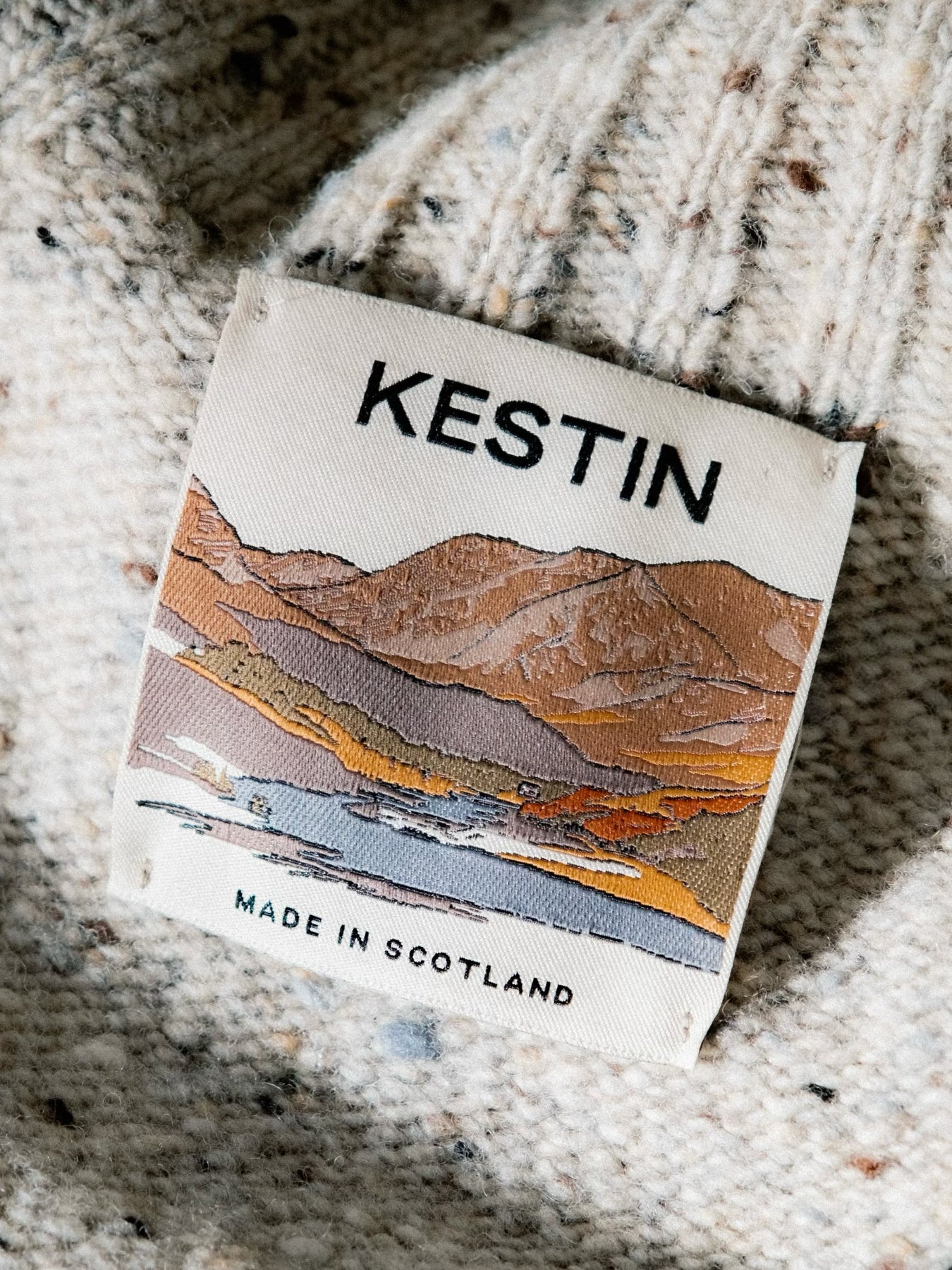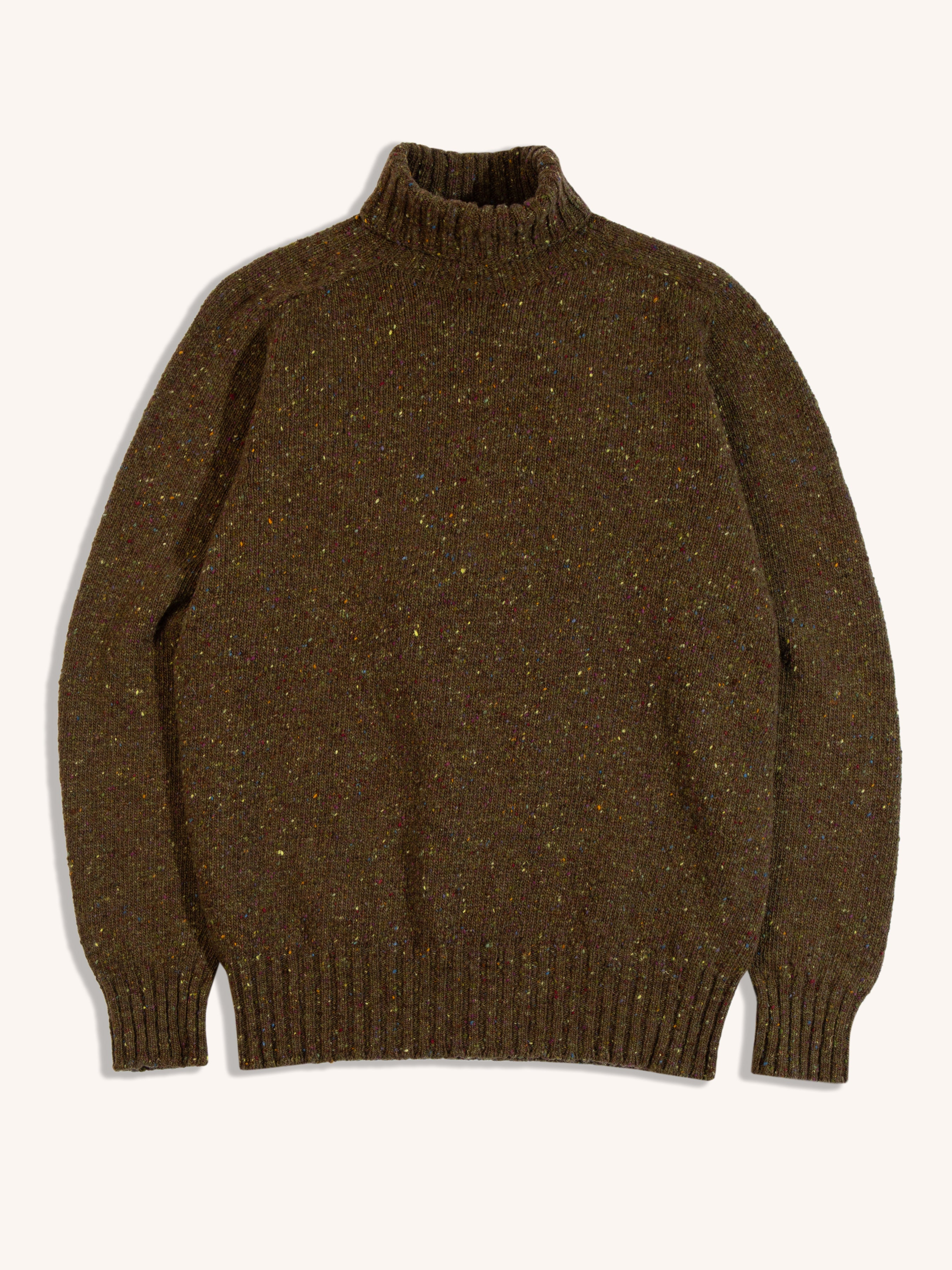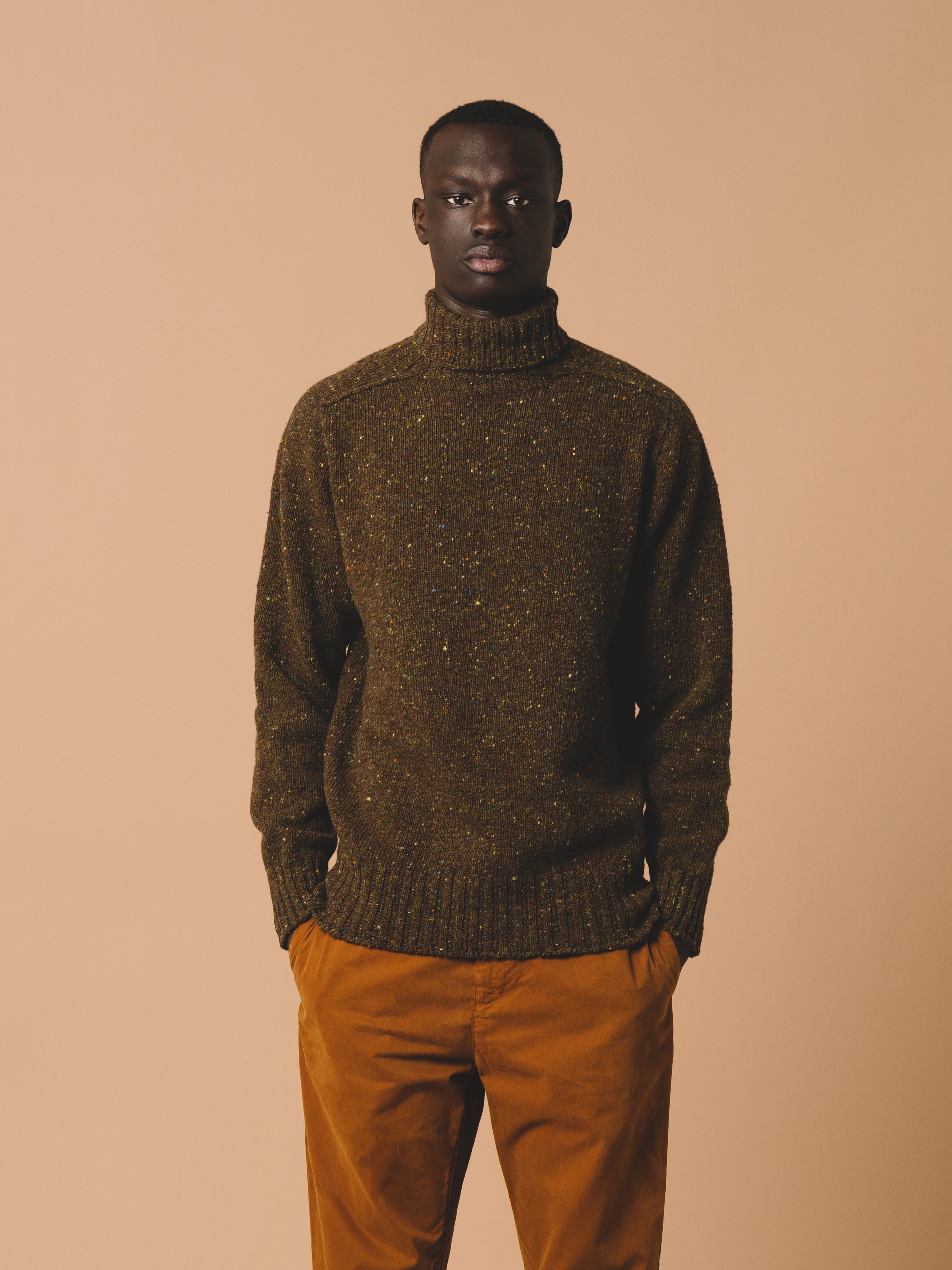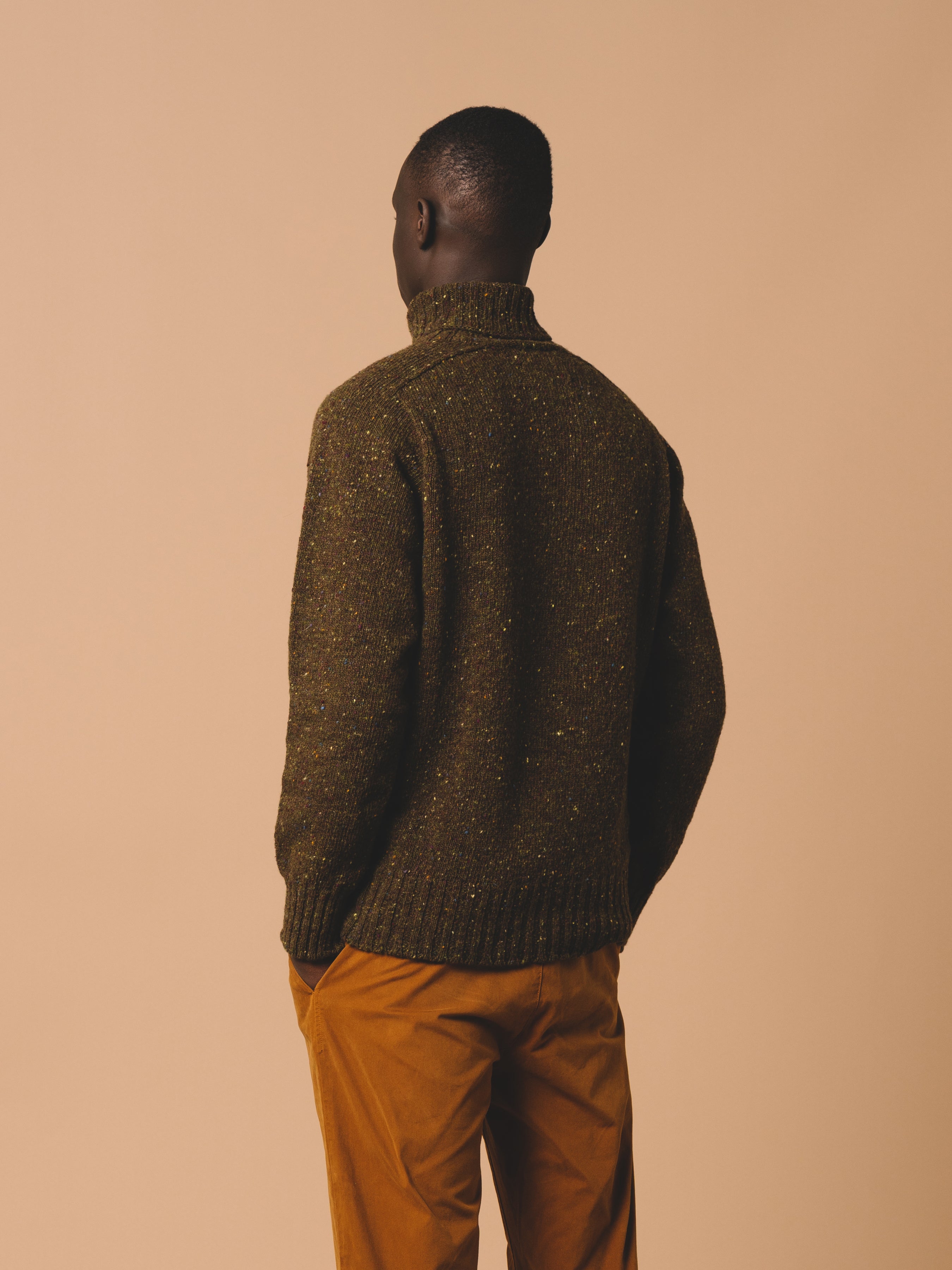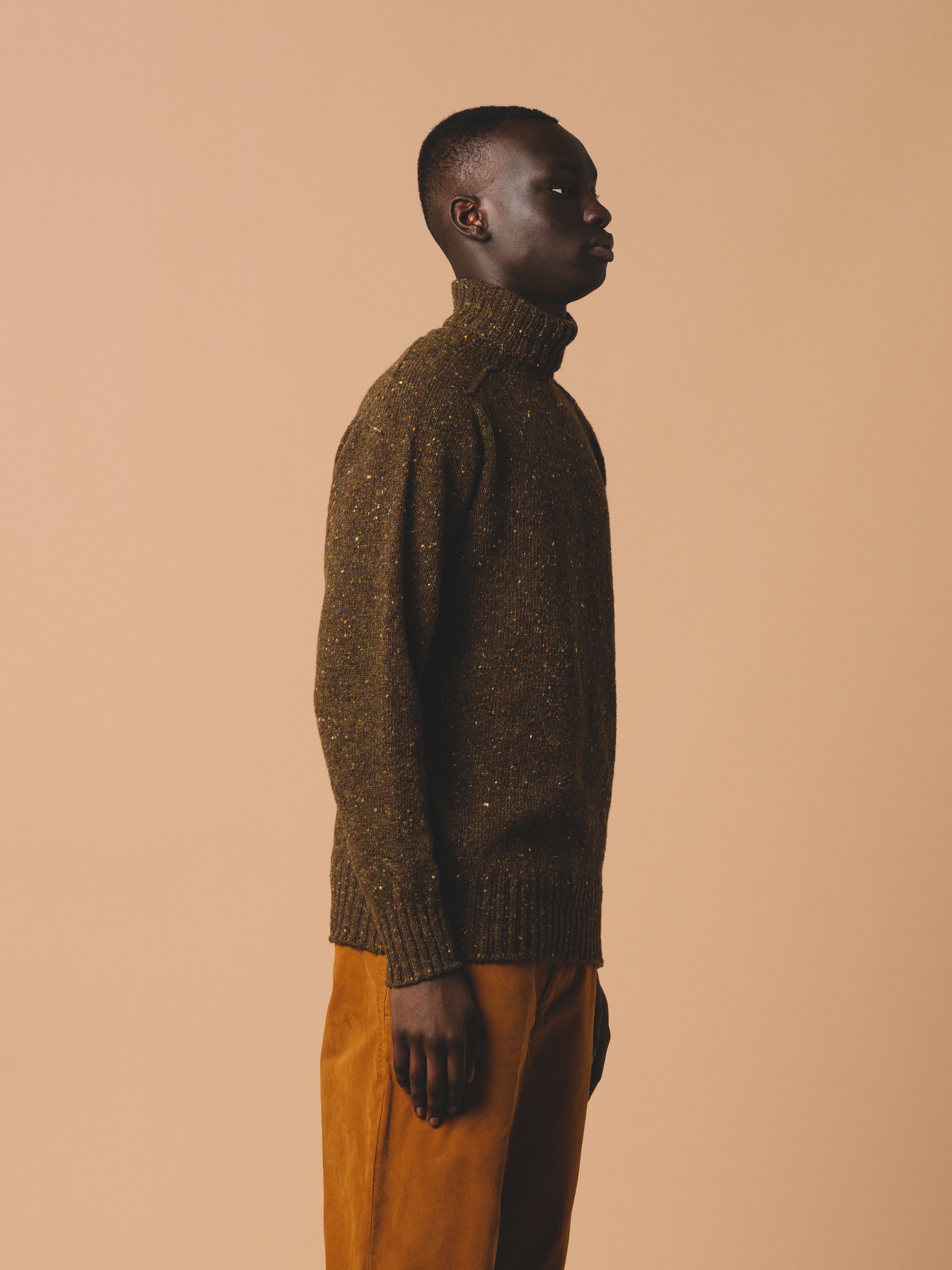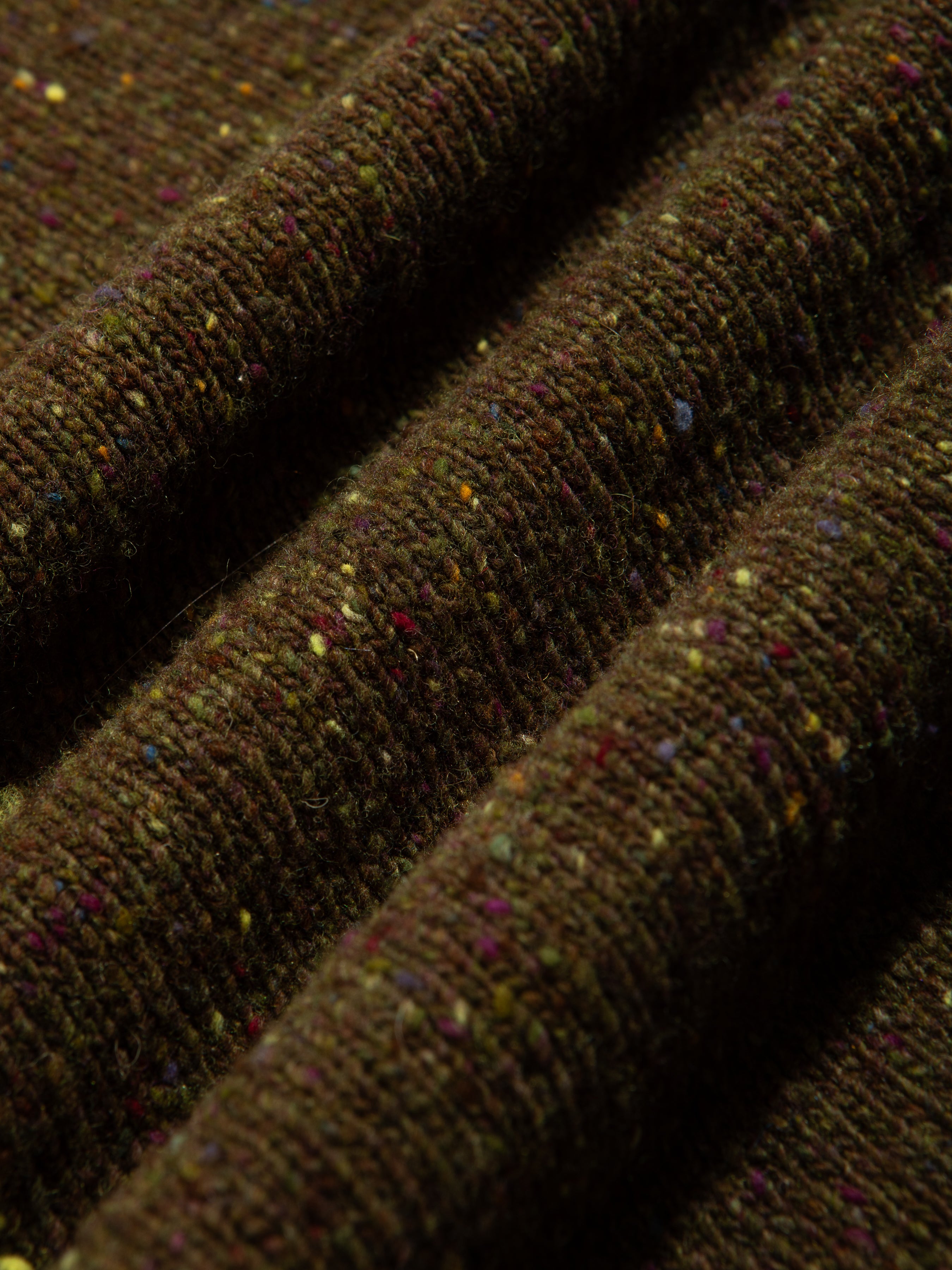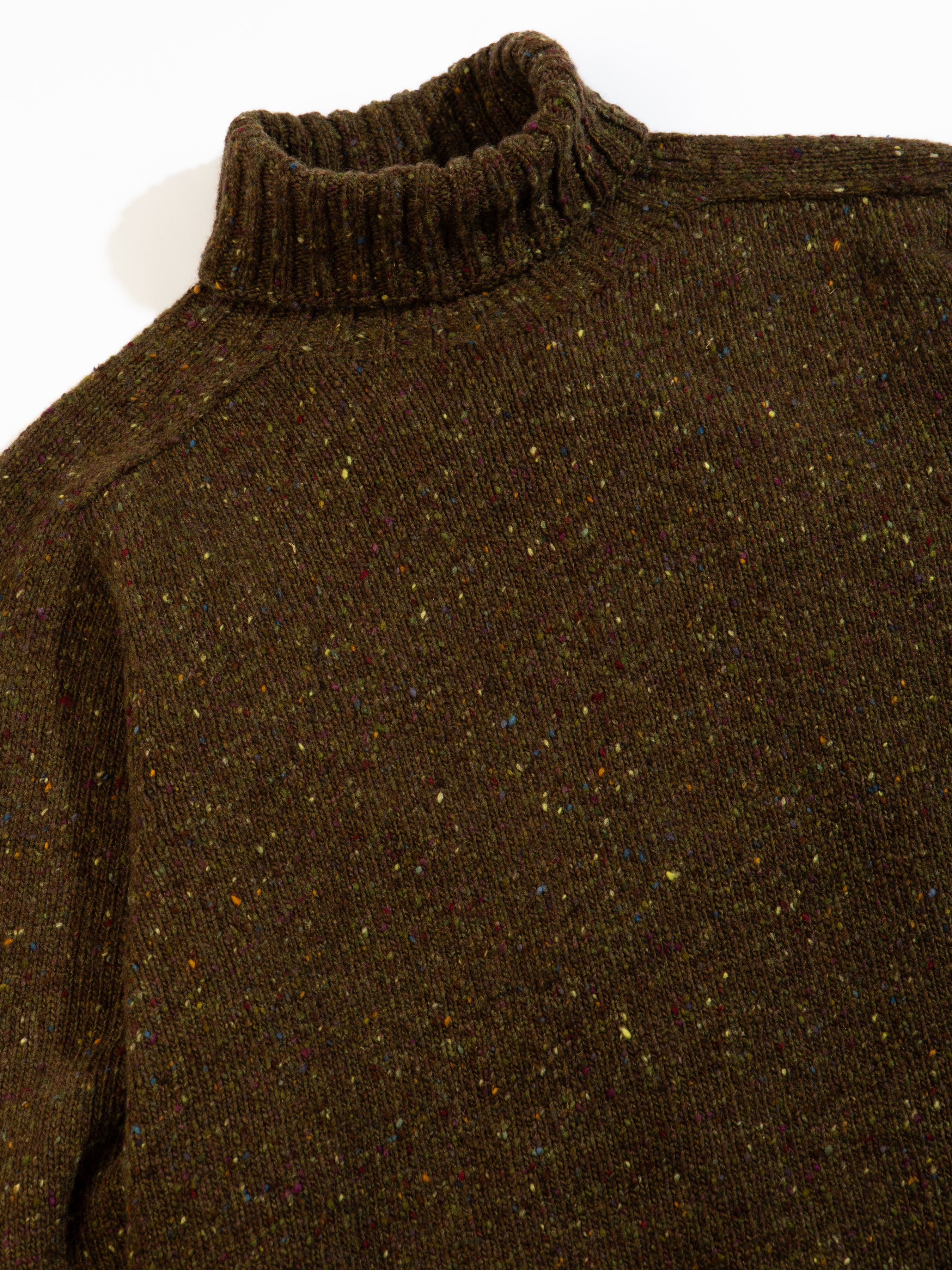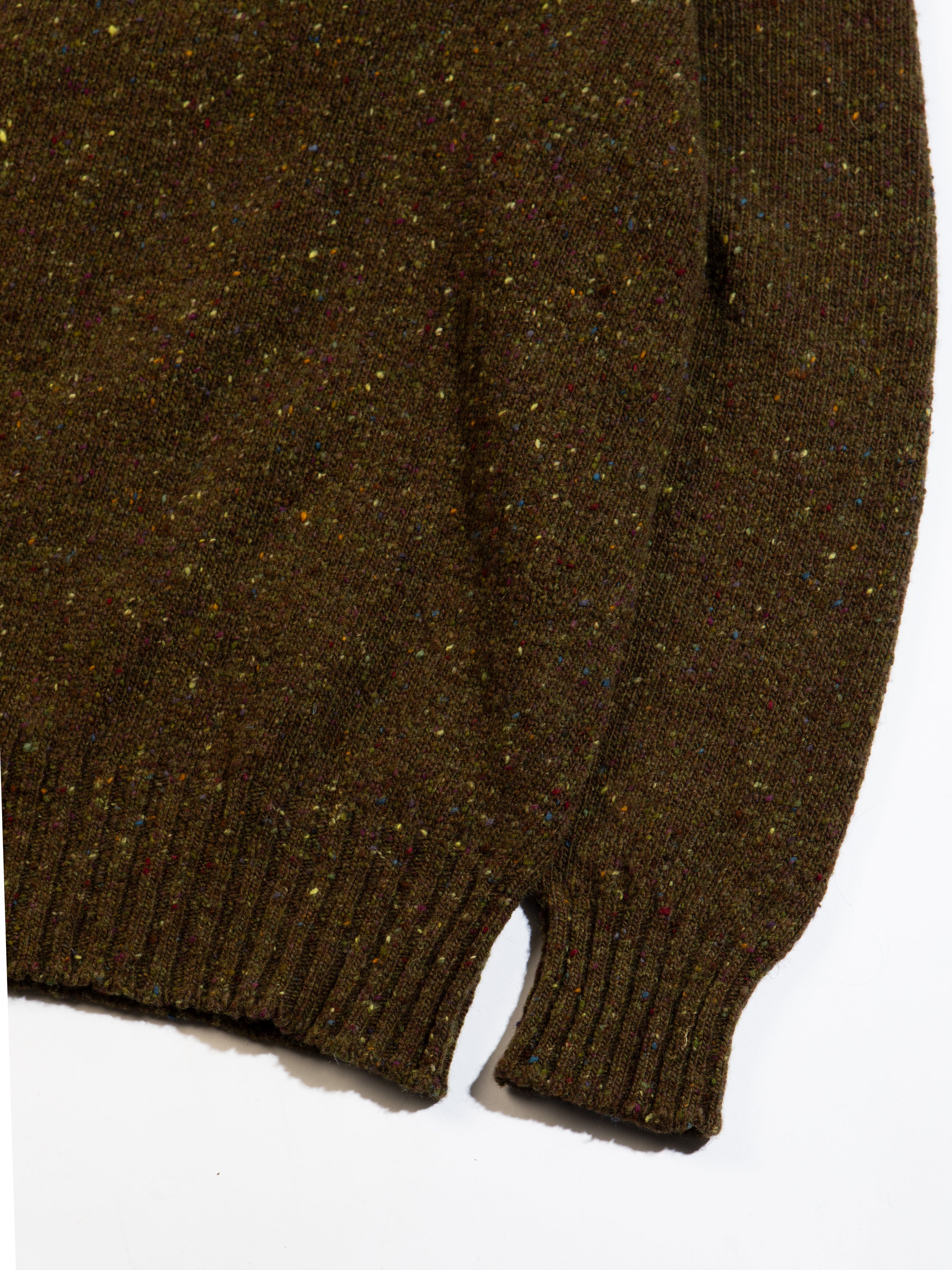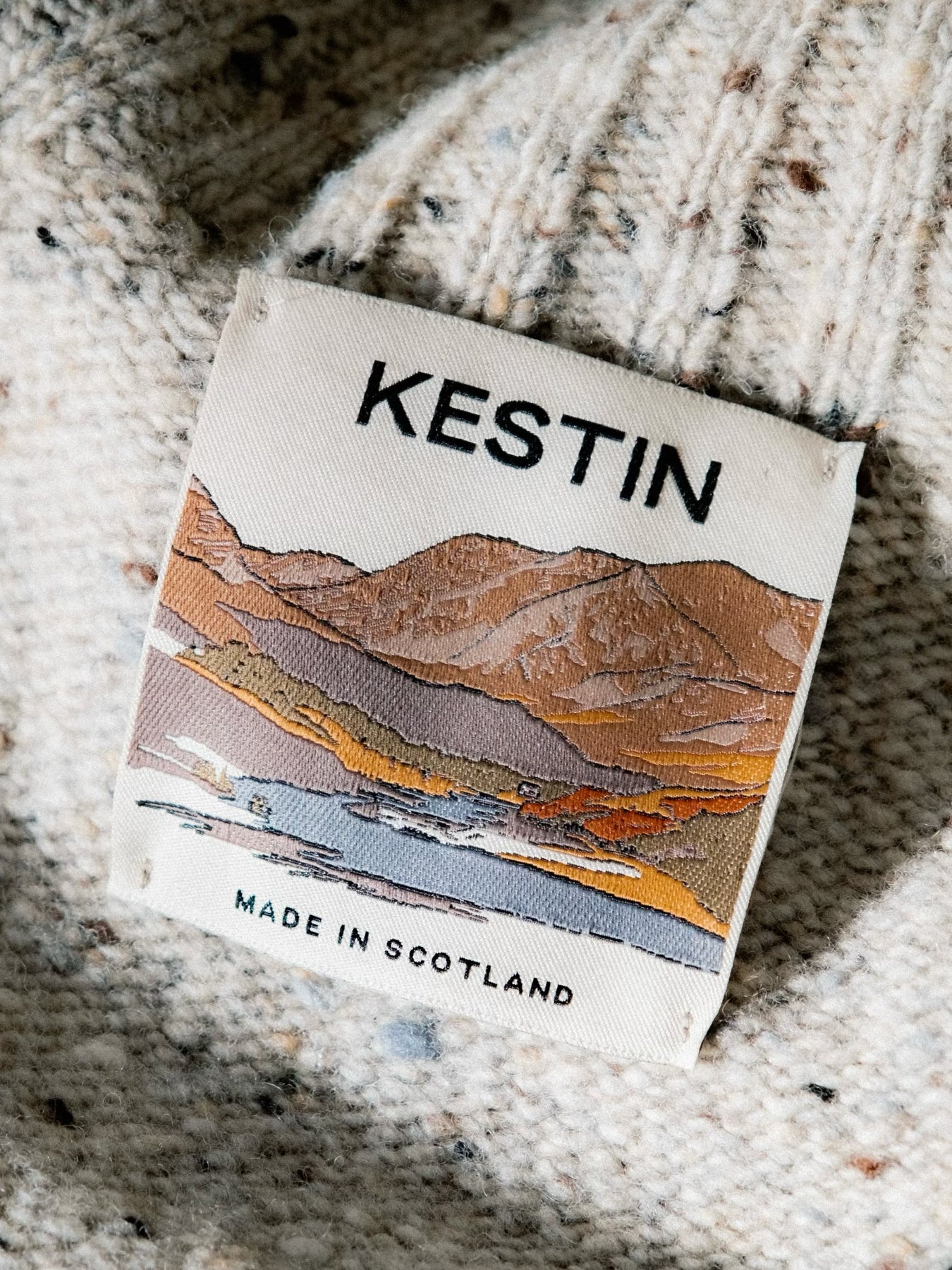 OLIVE
£175.00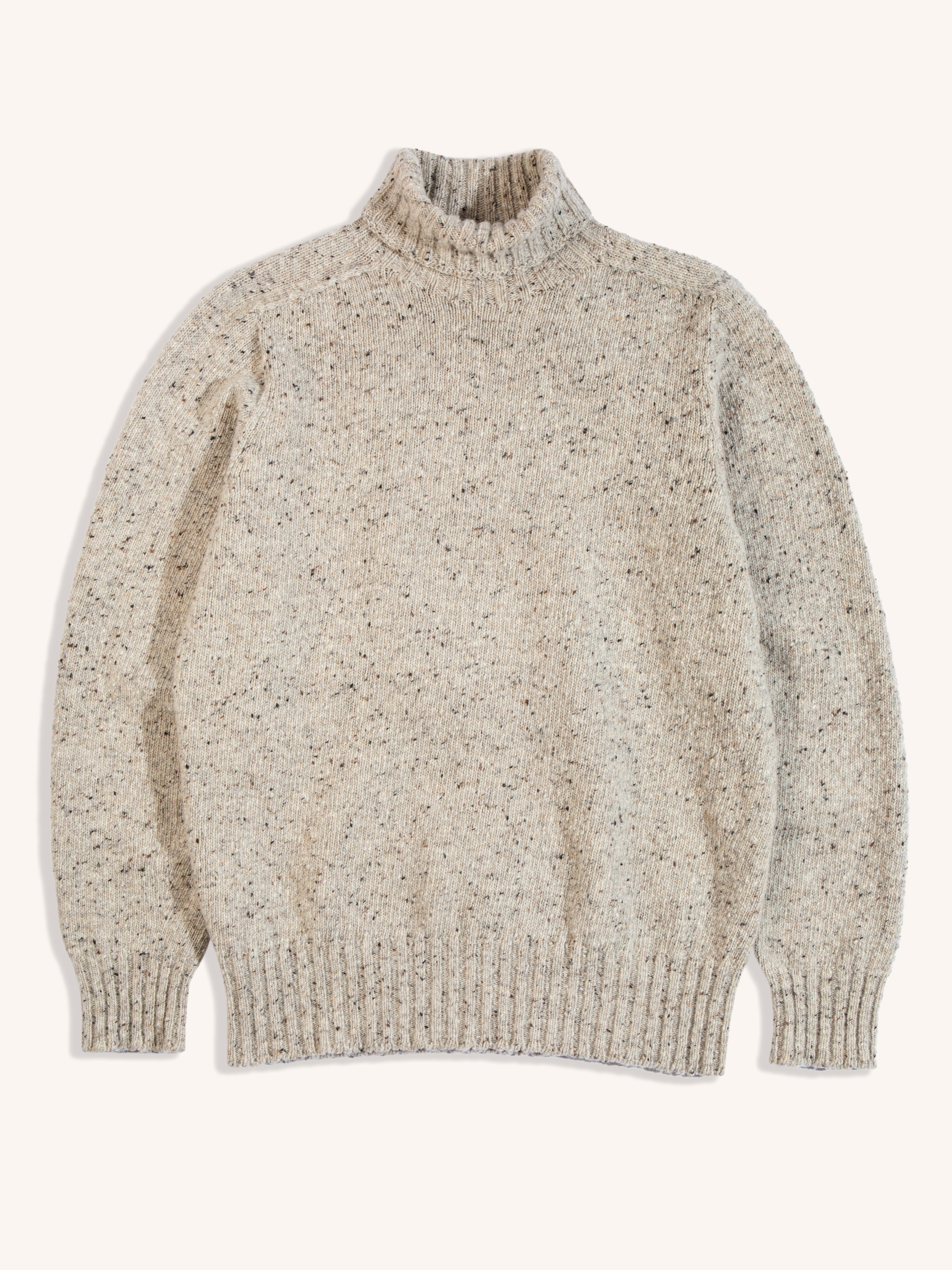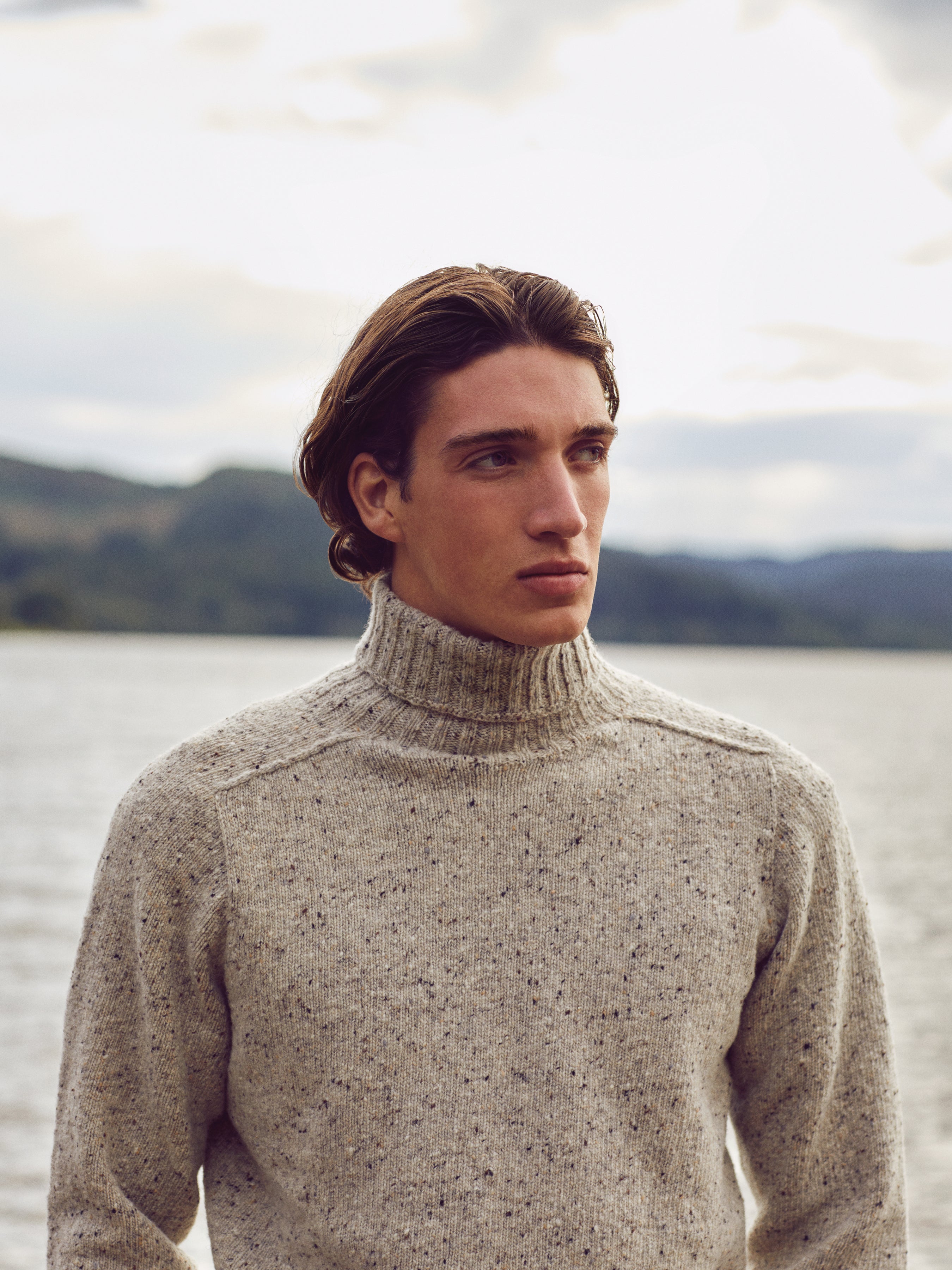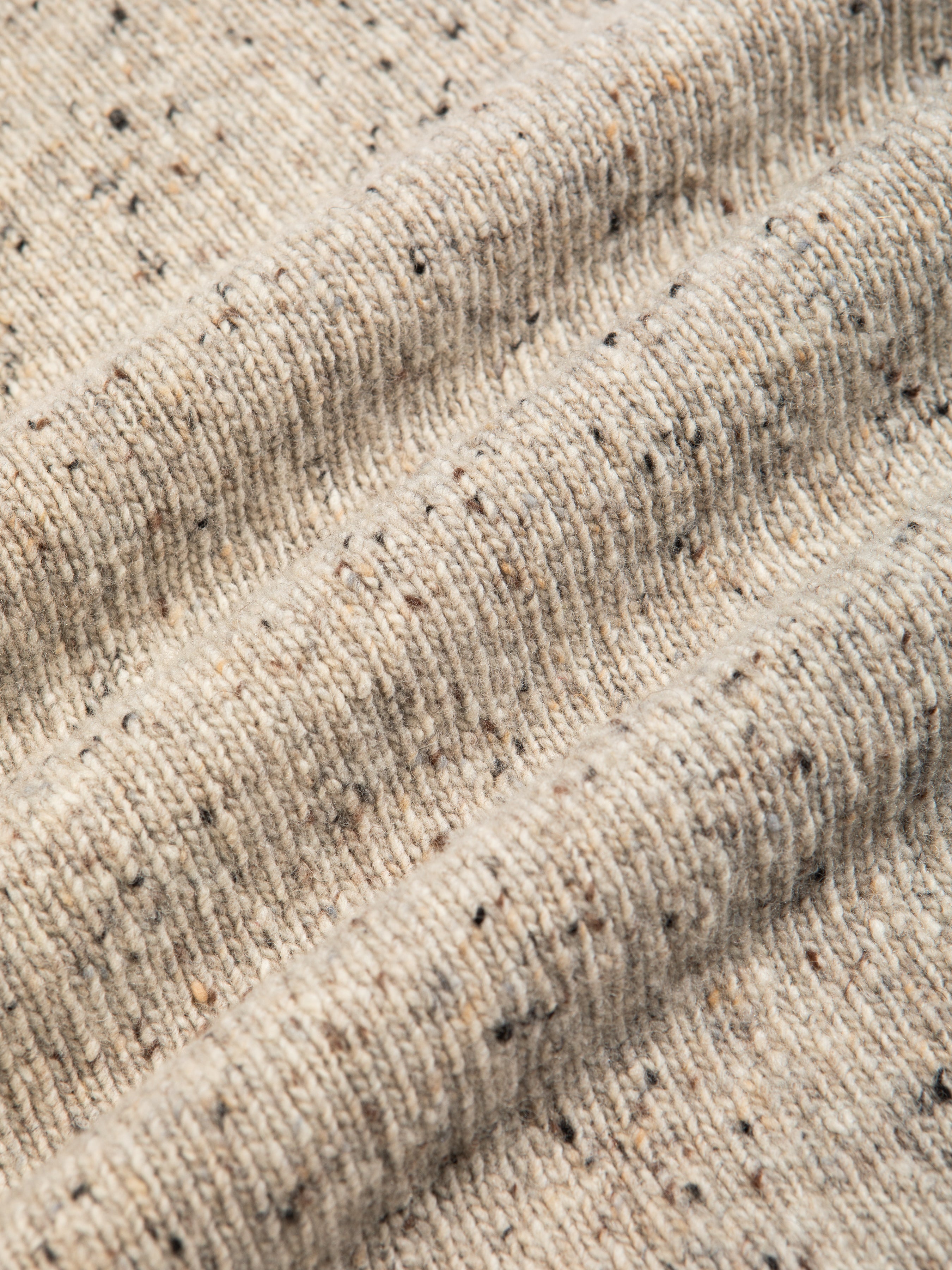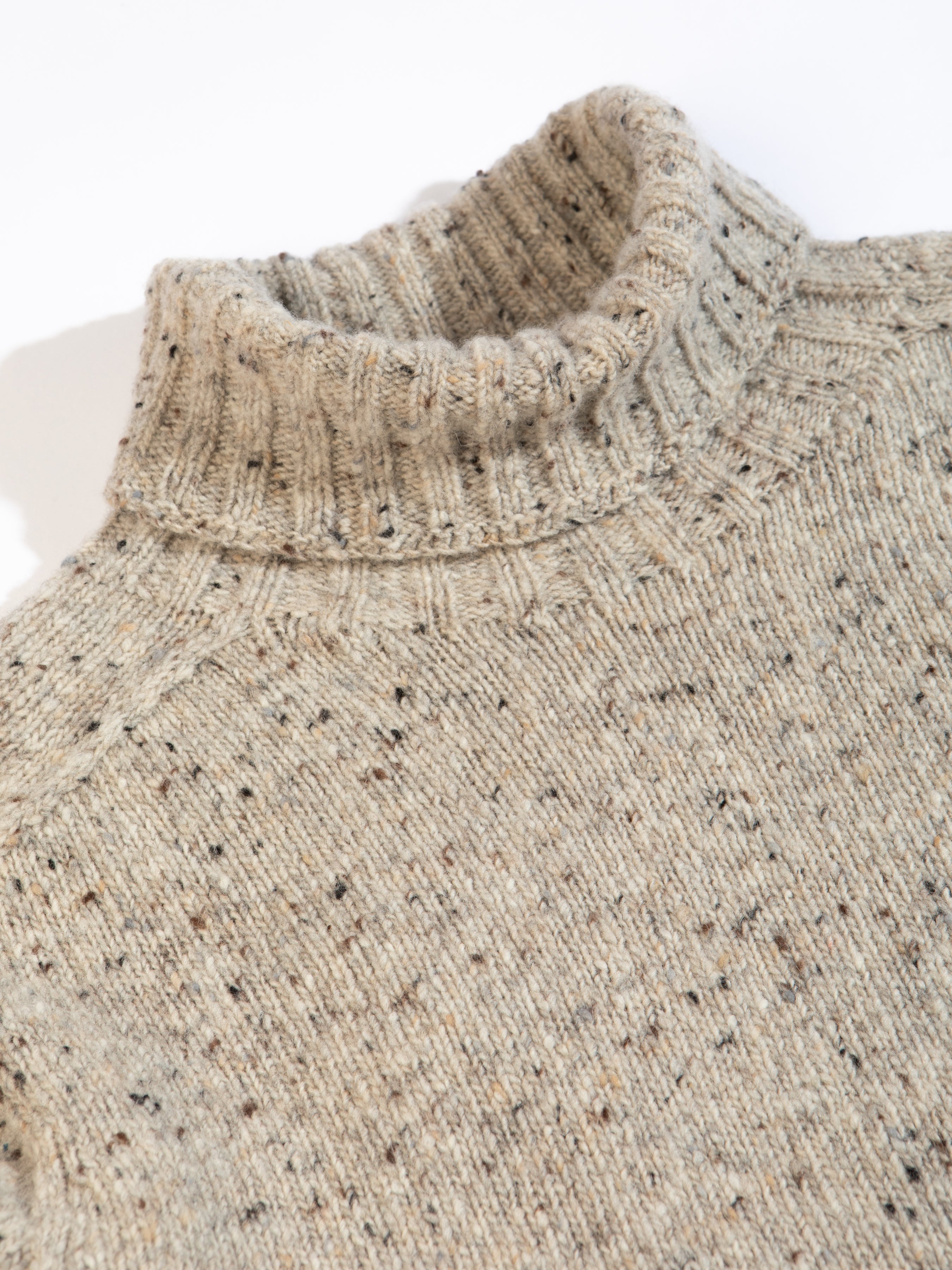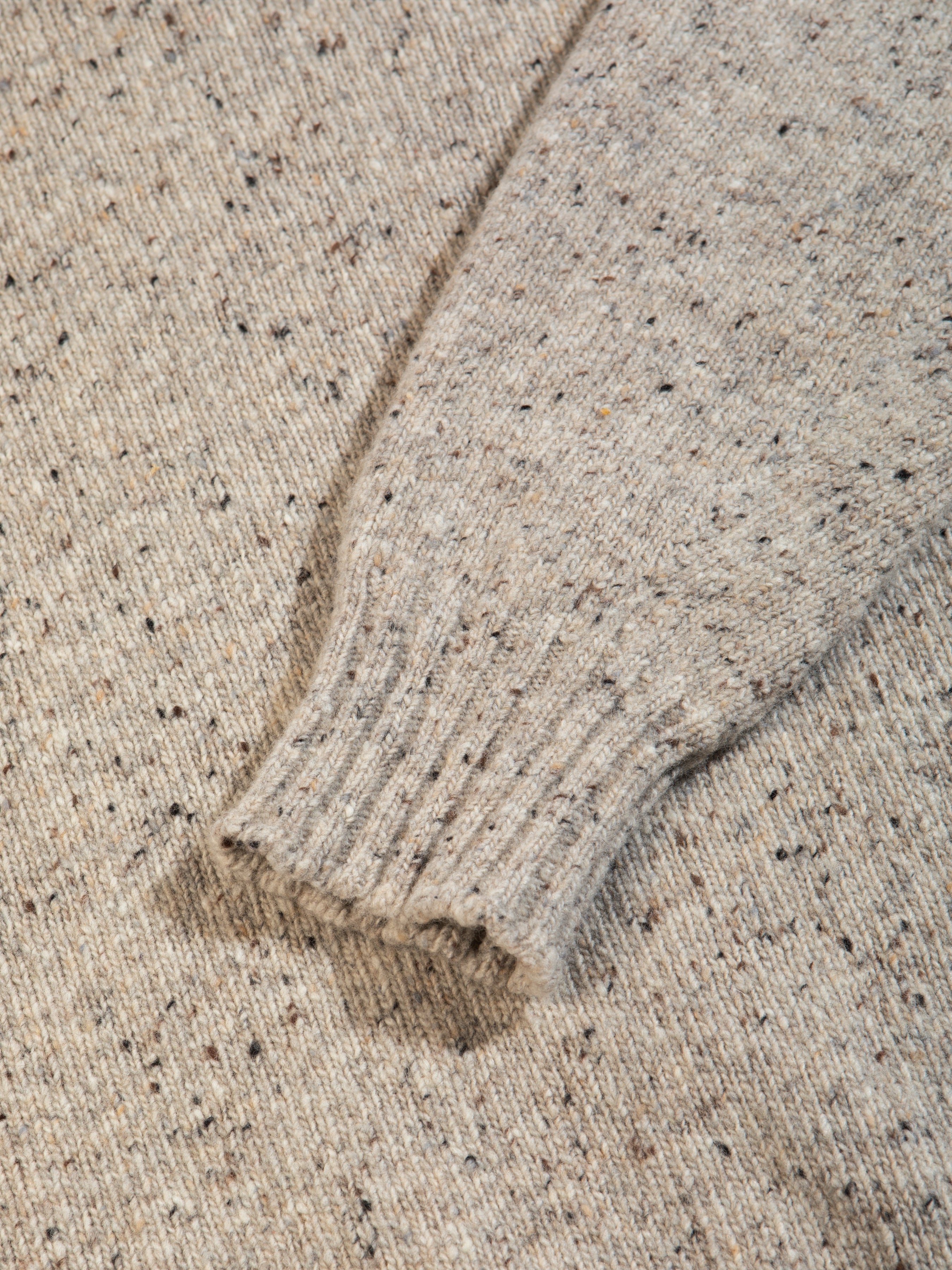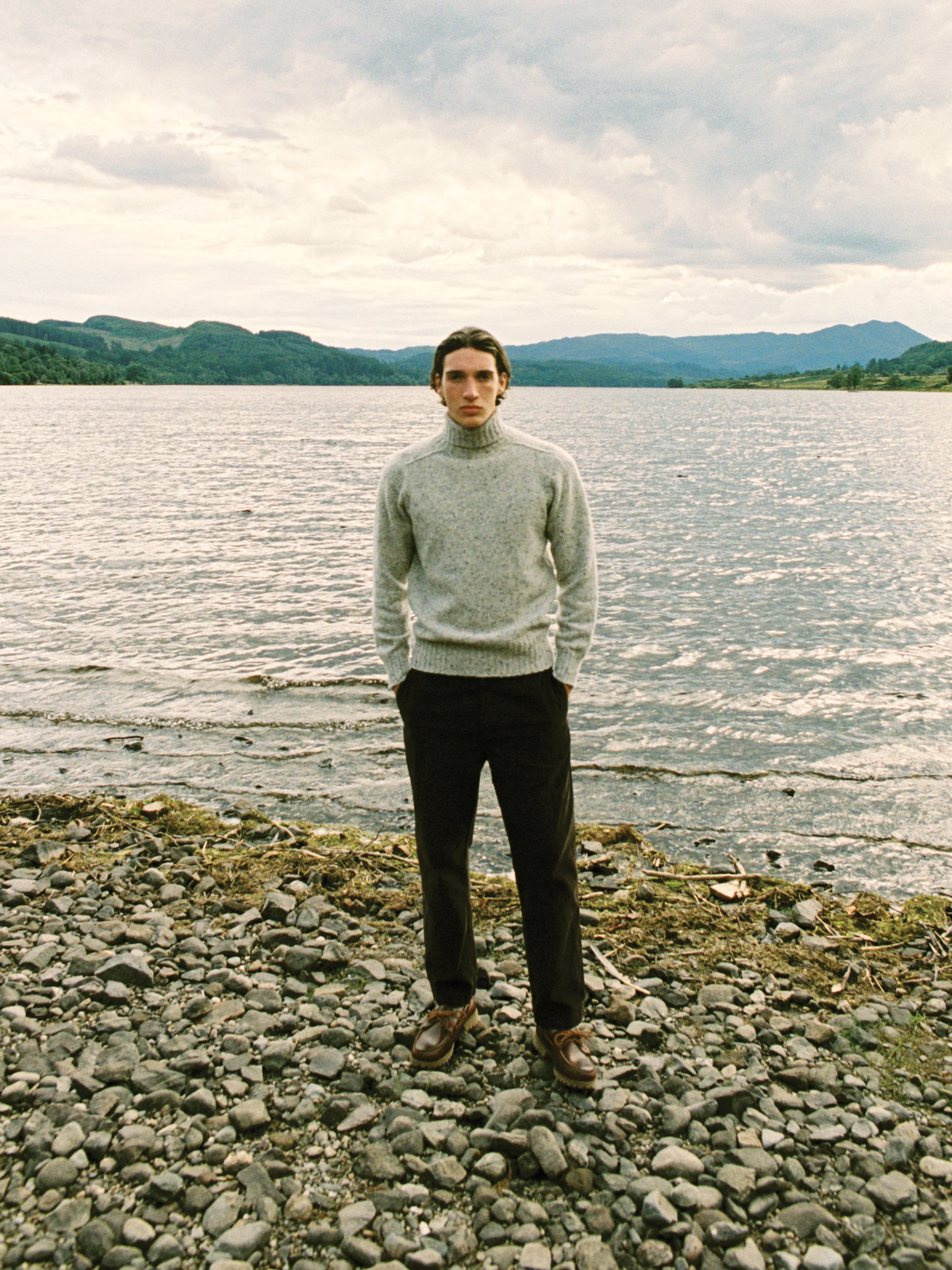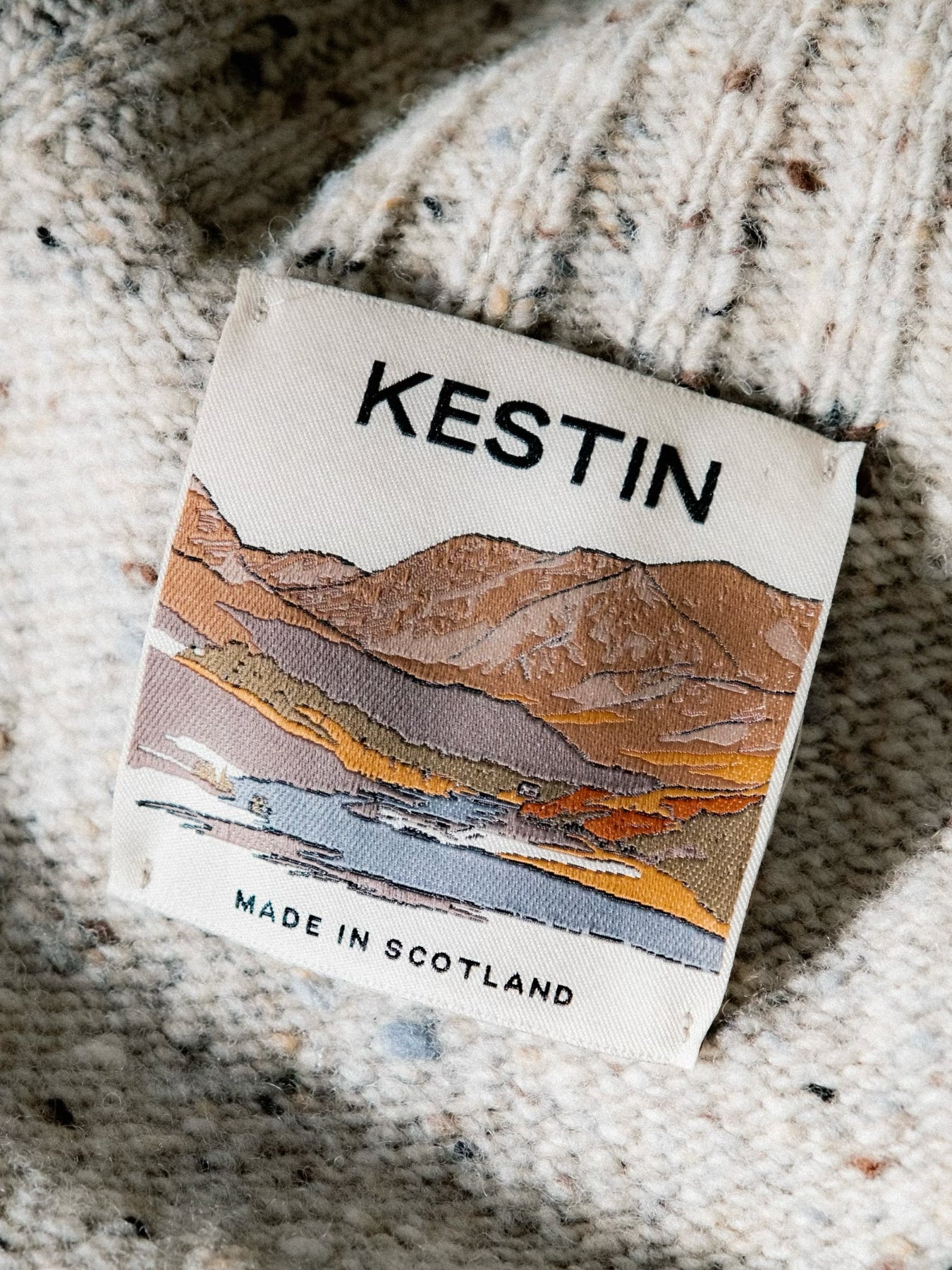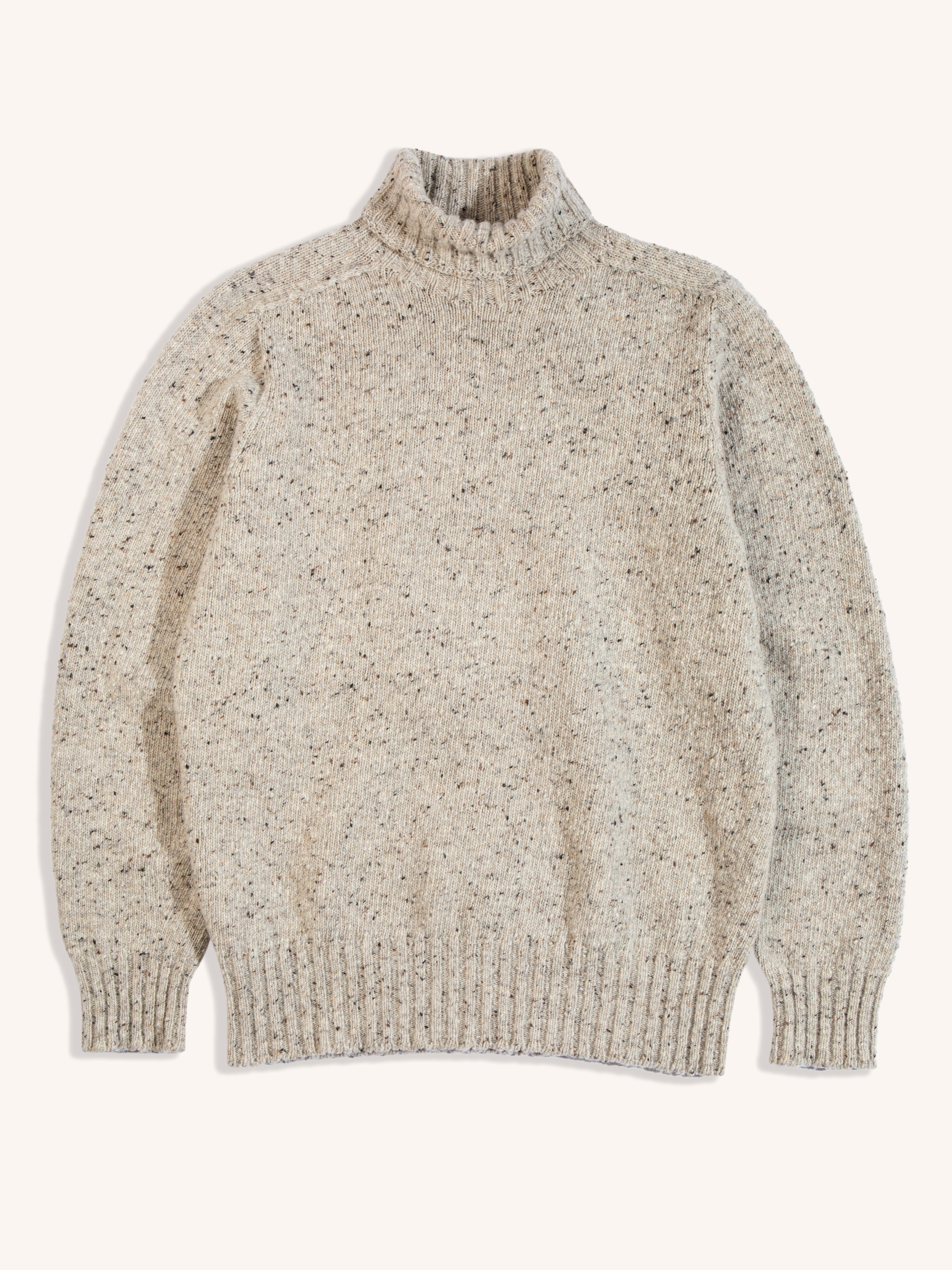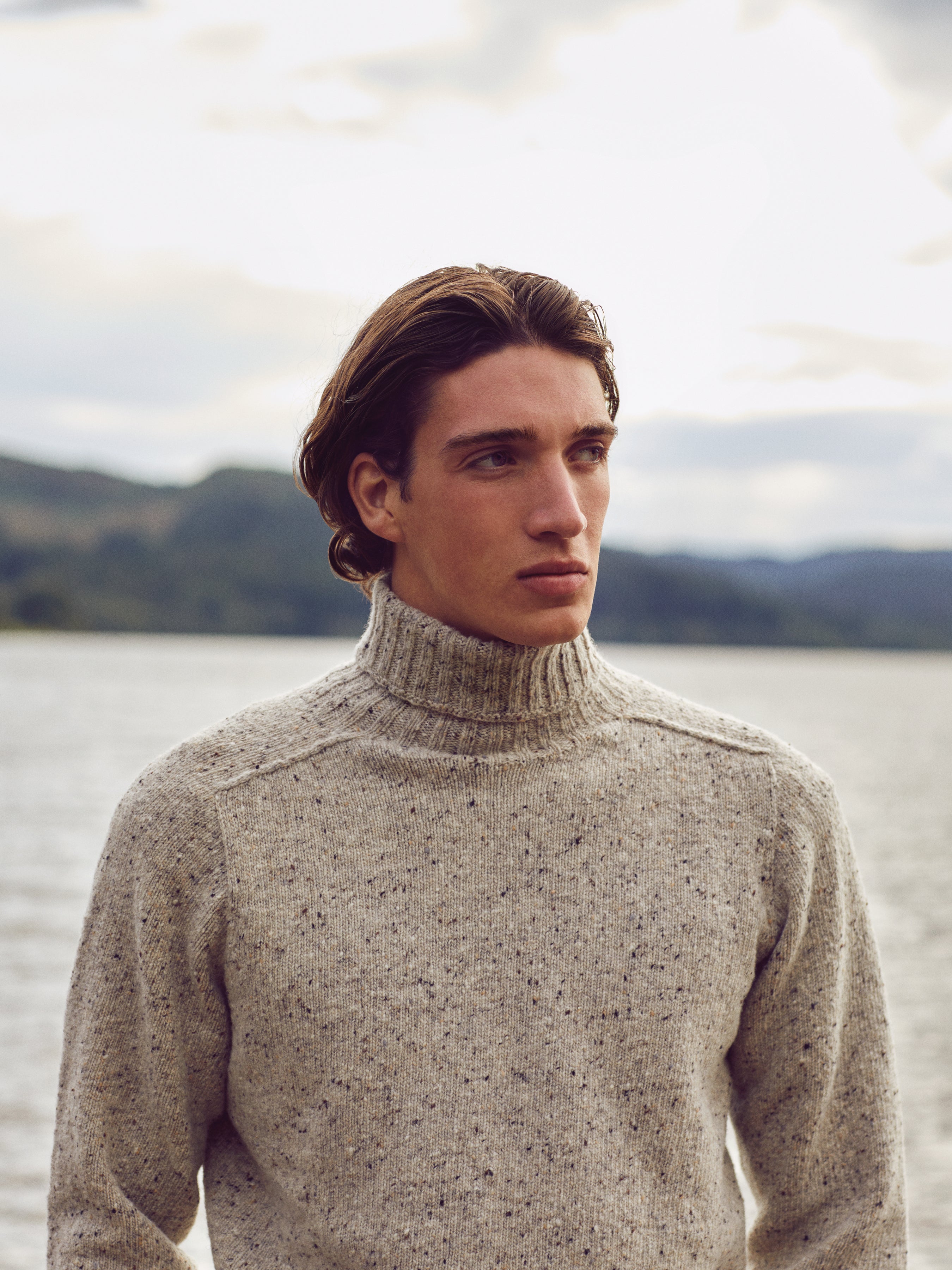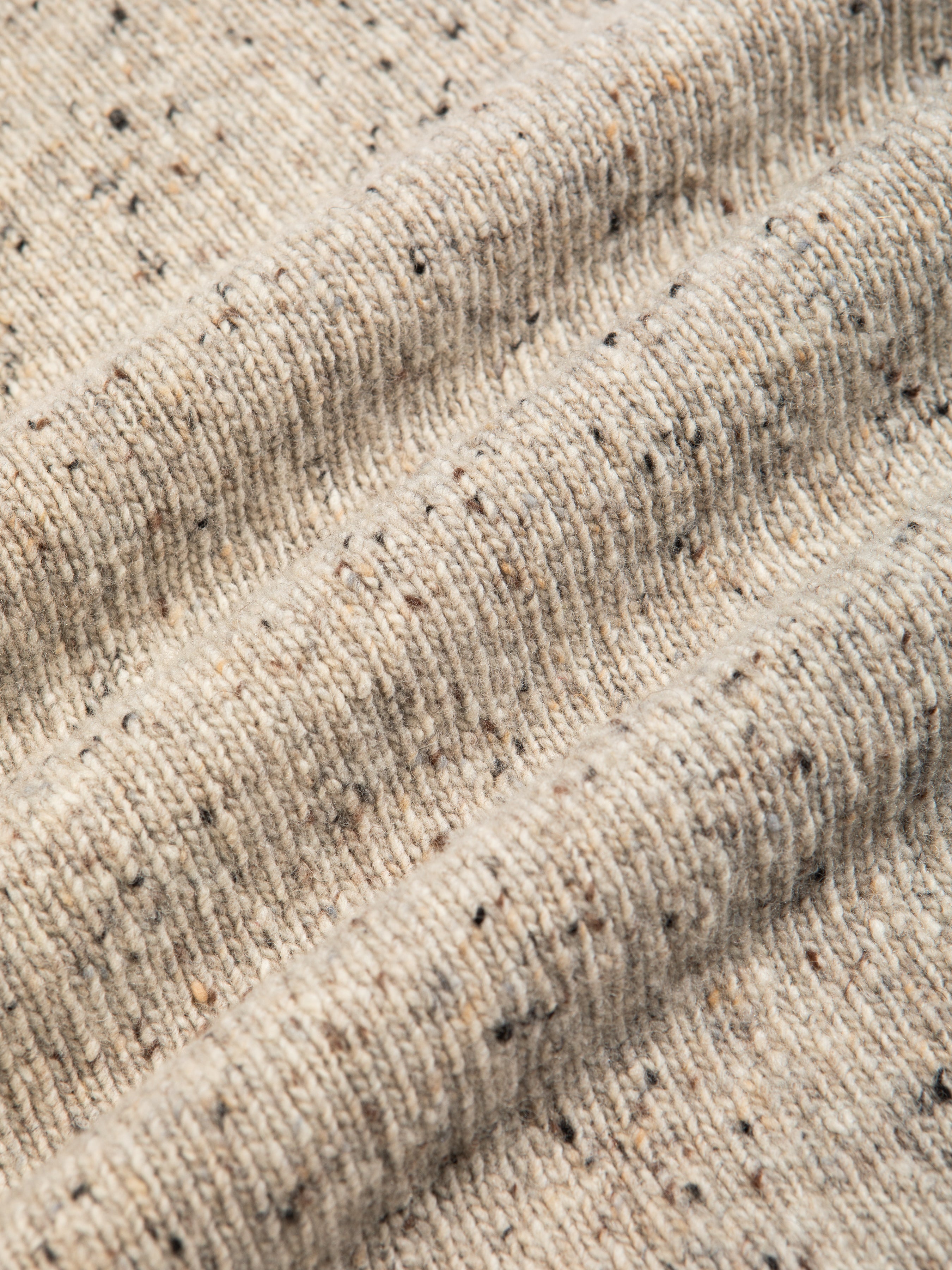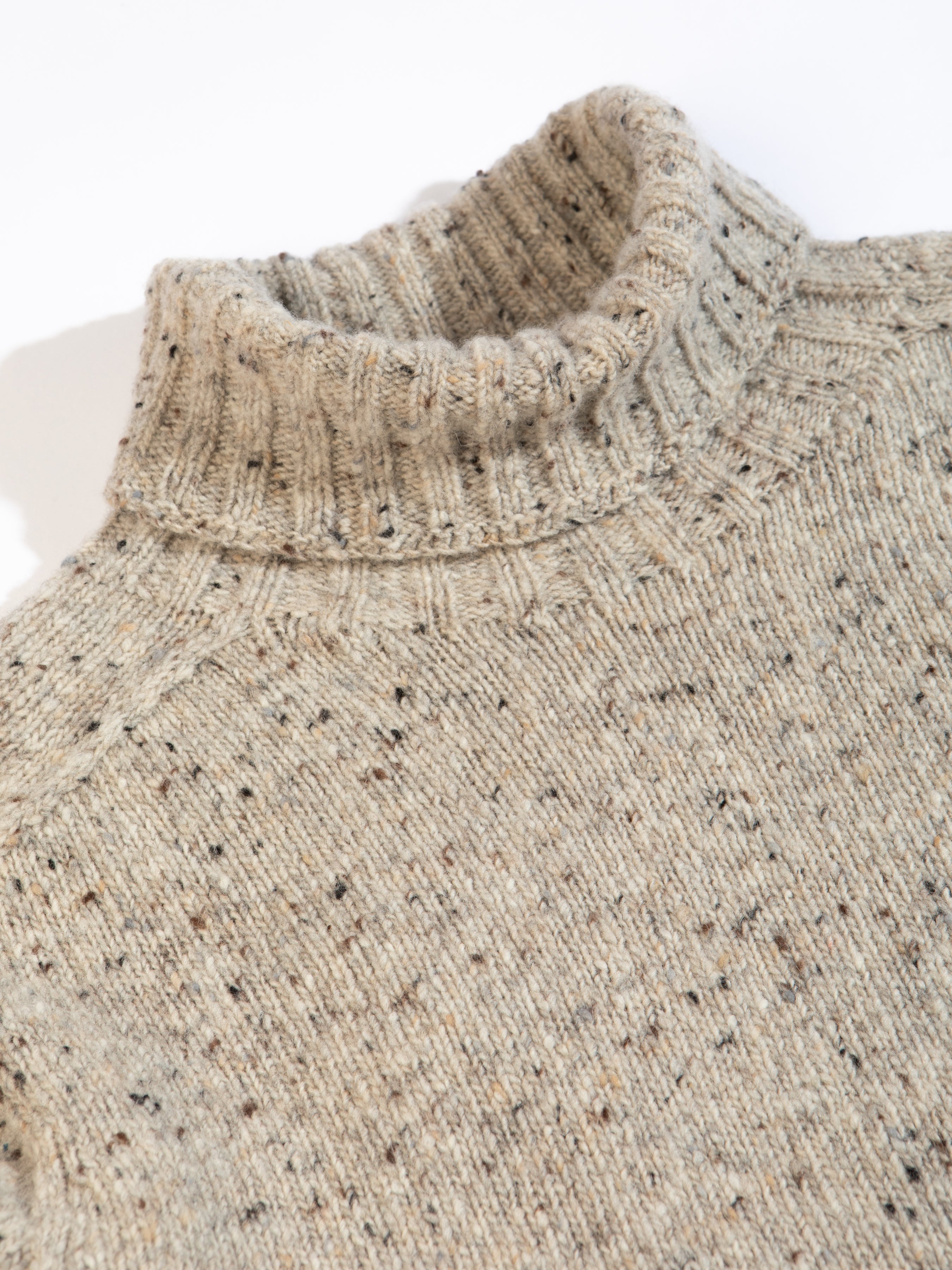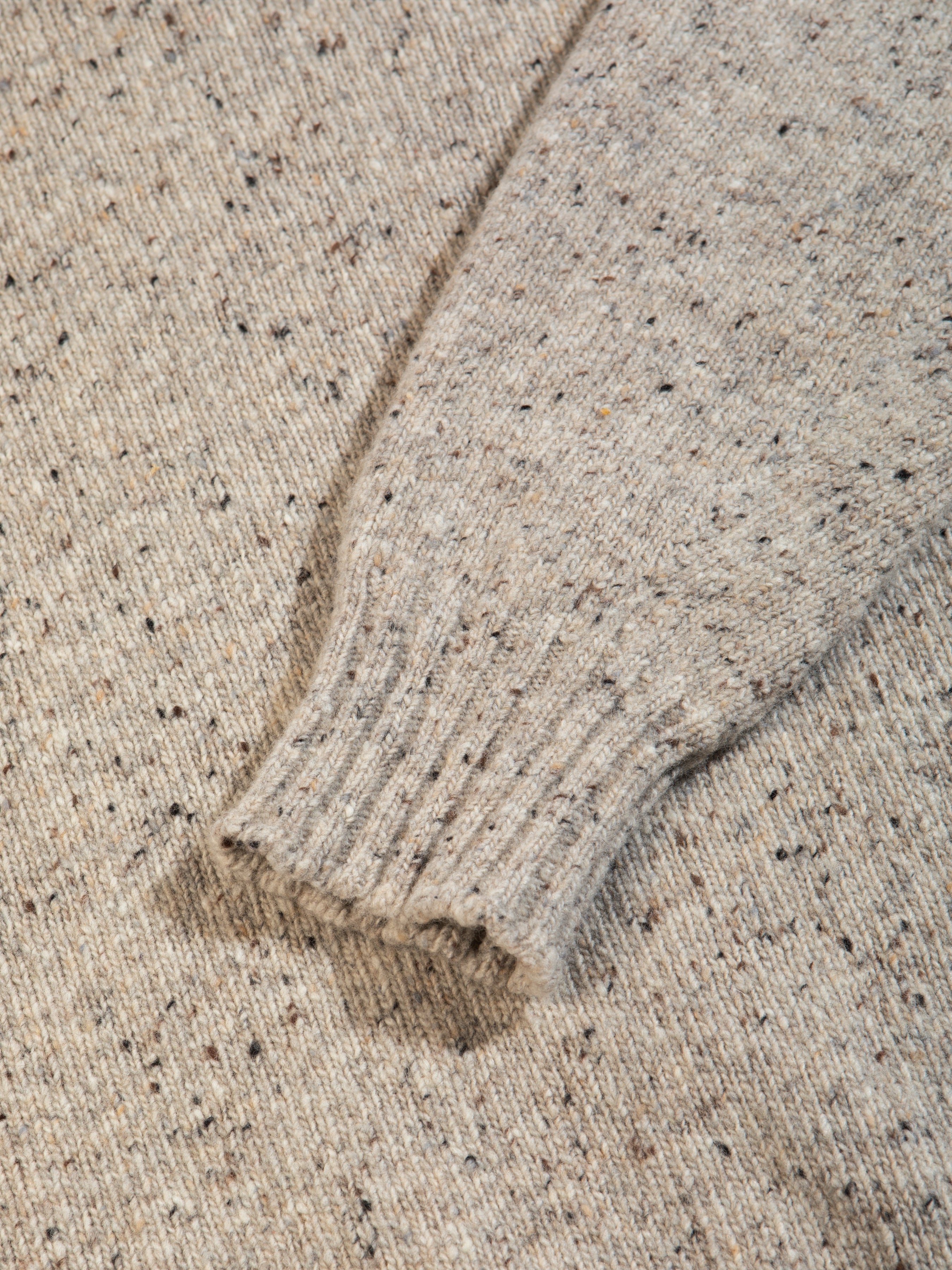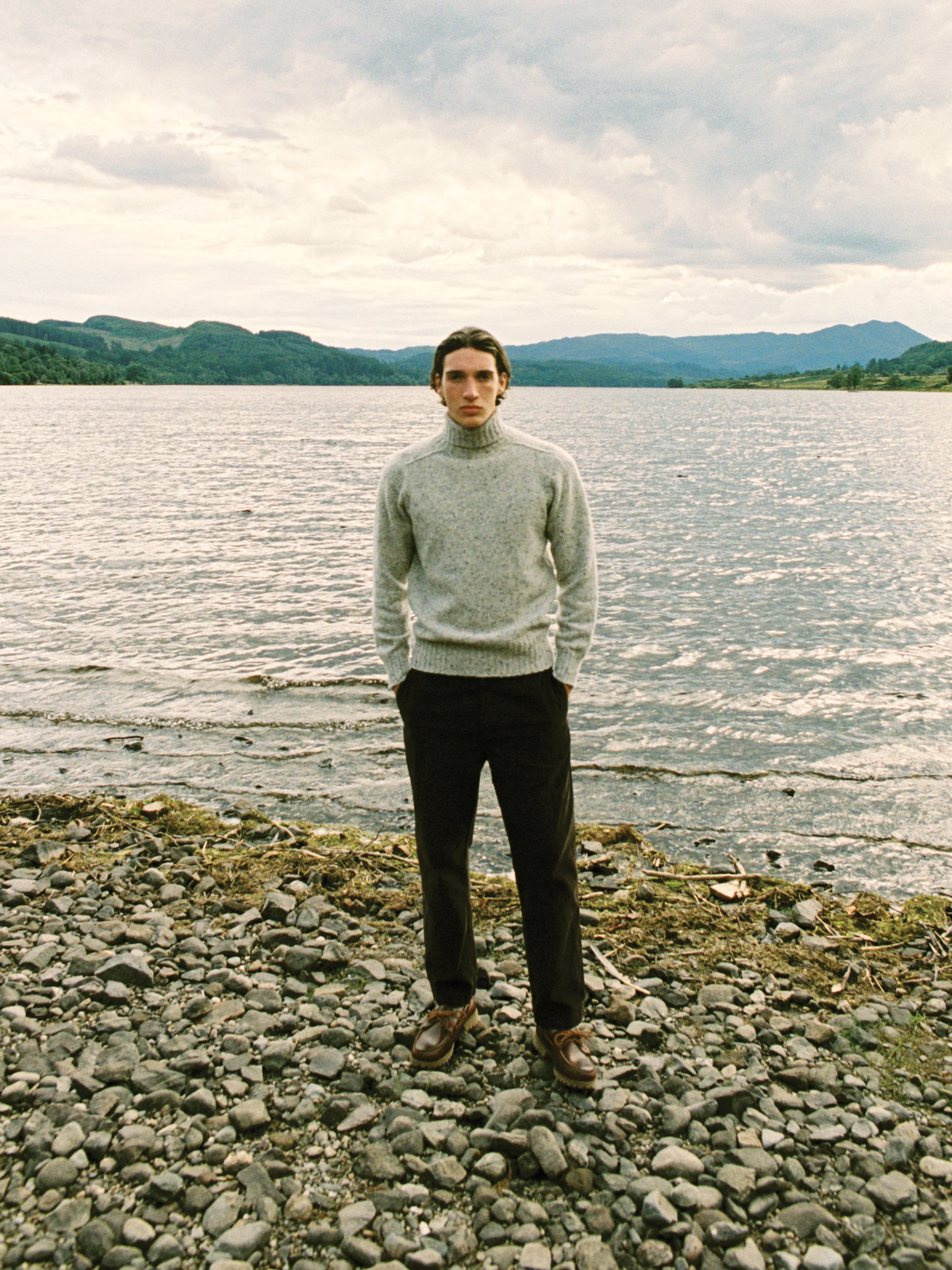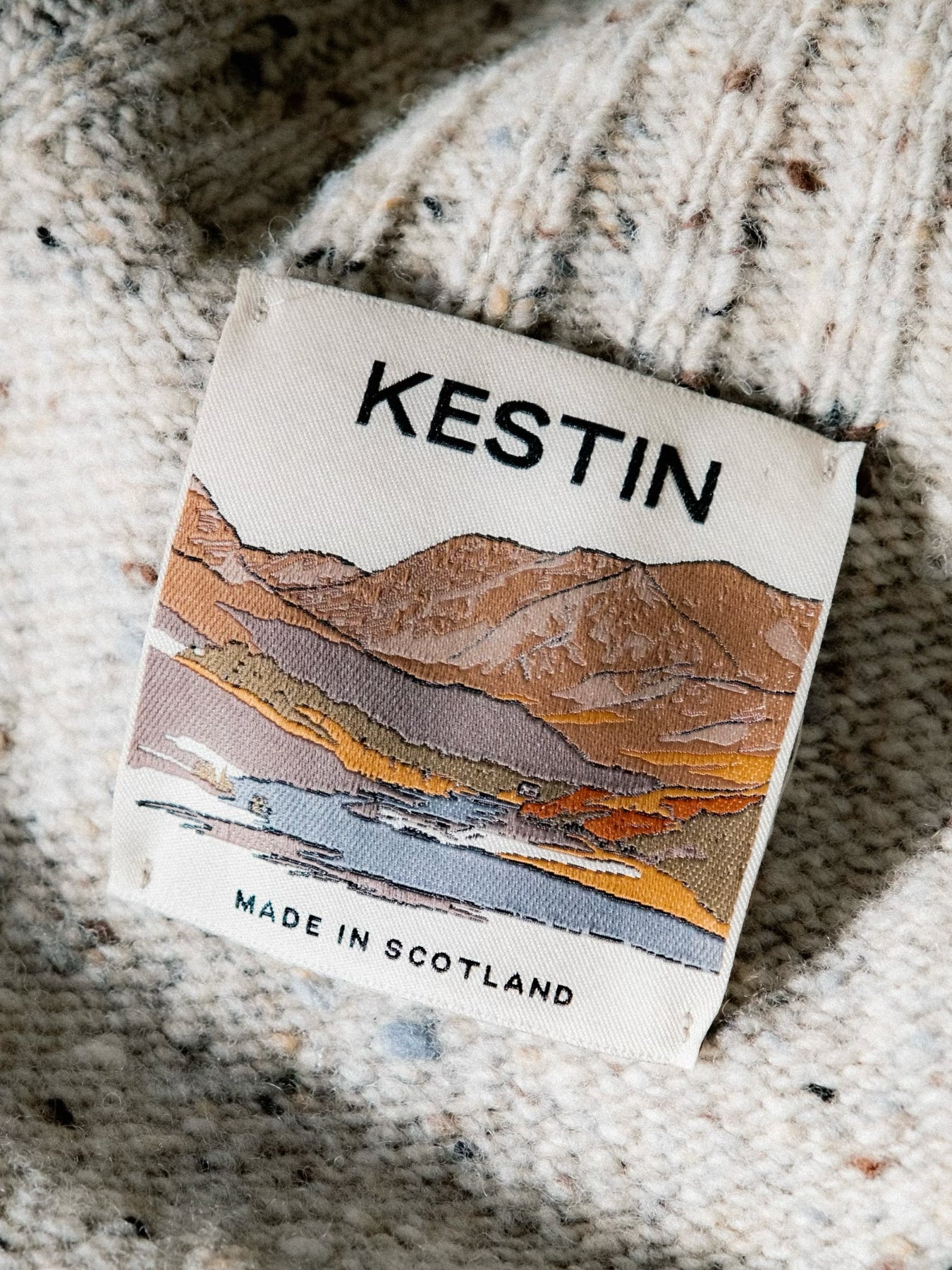 NATURAL
£175.00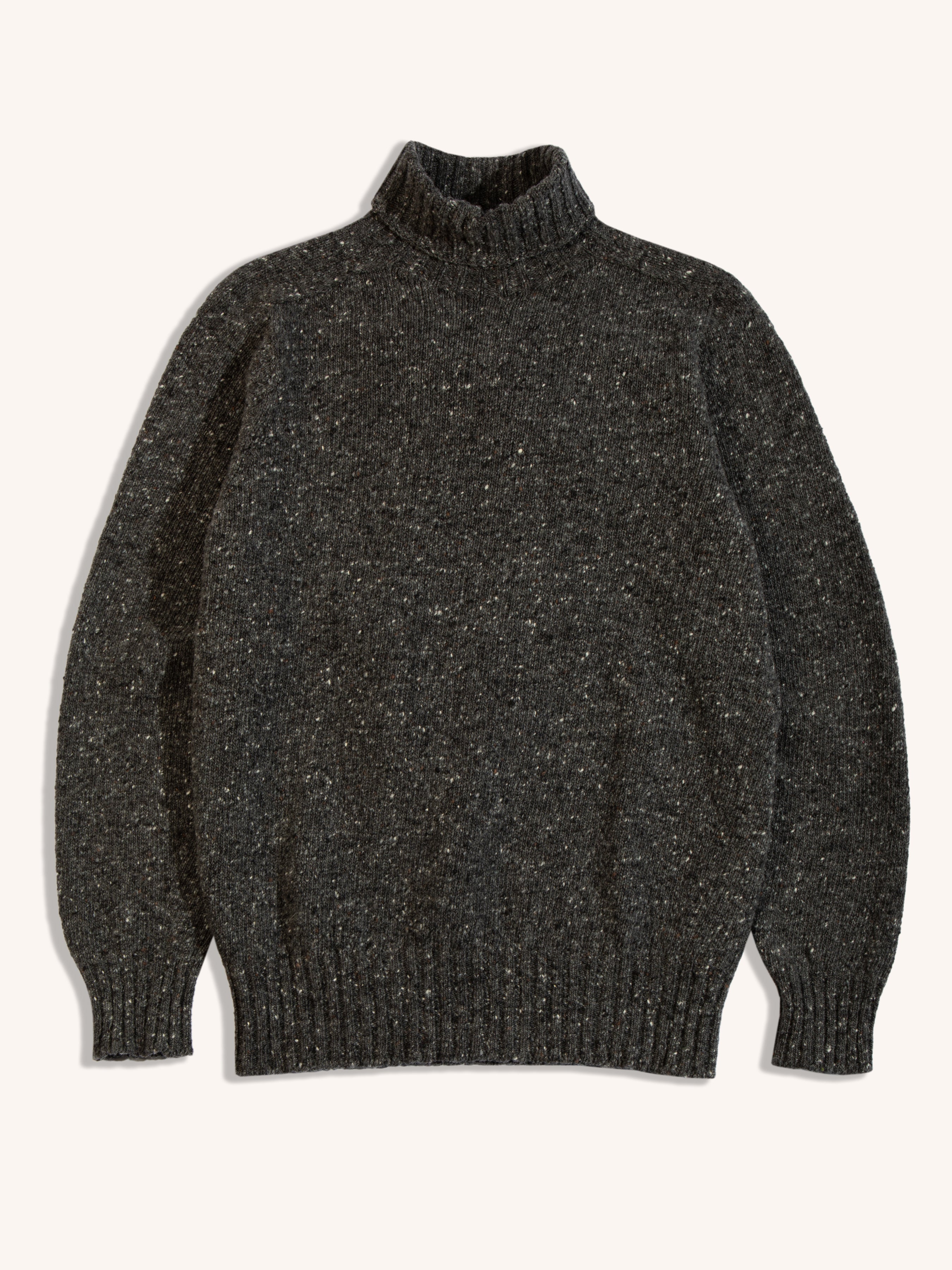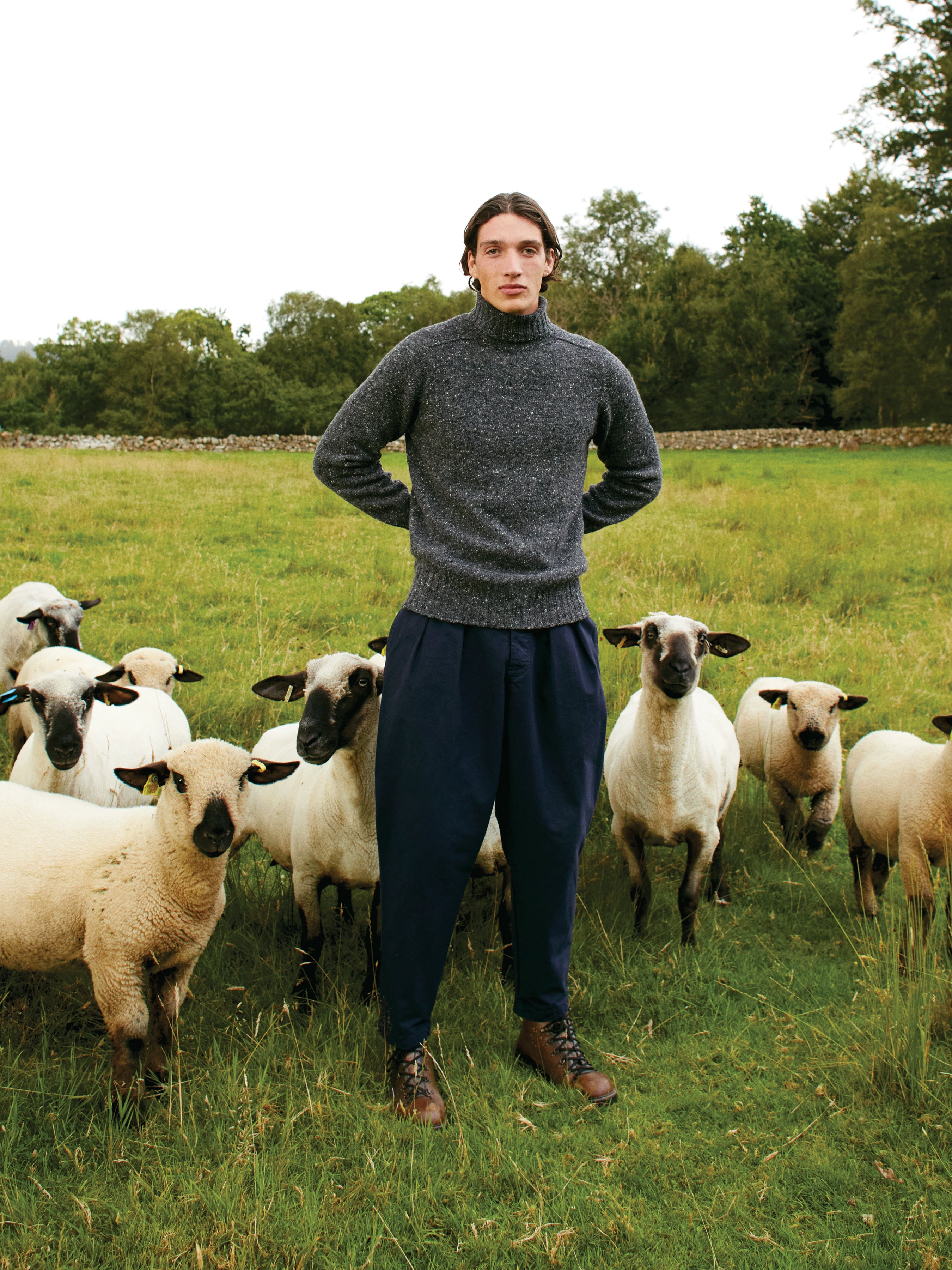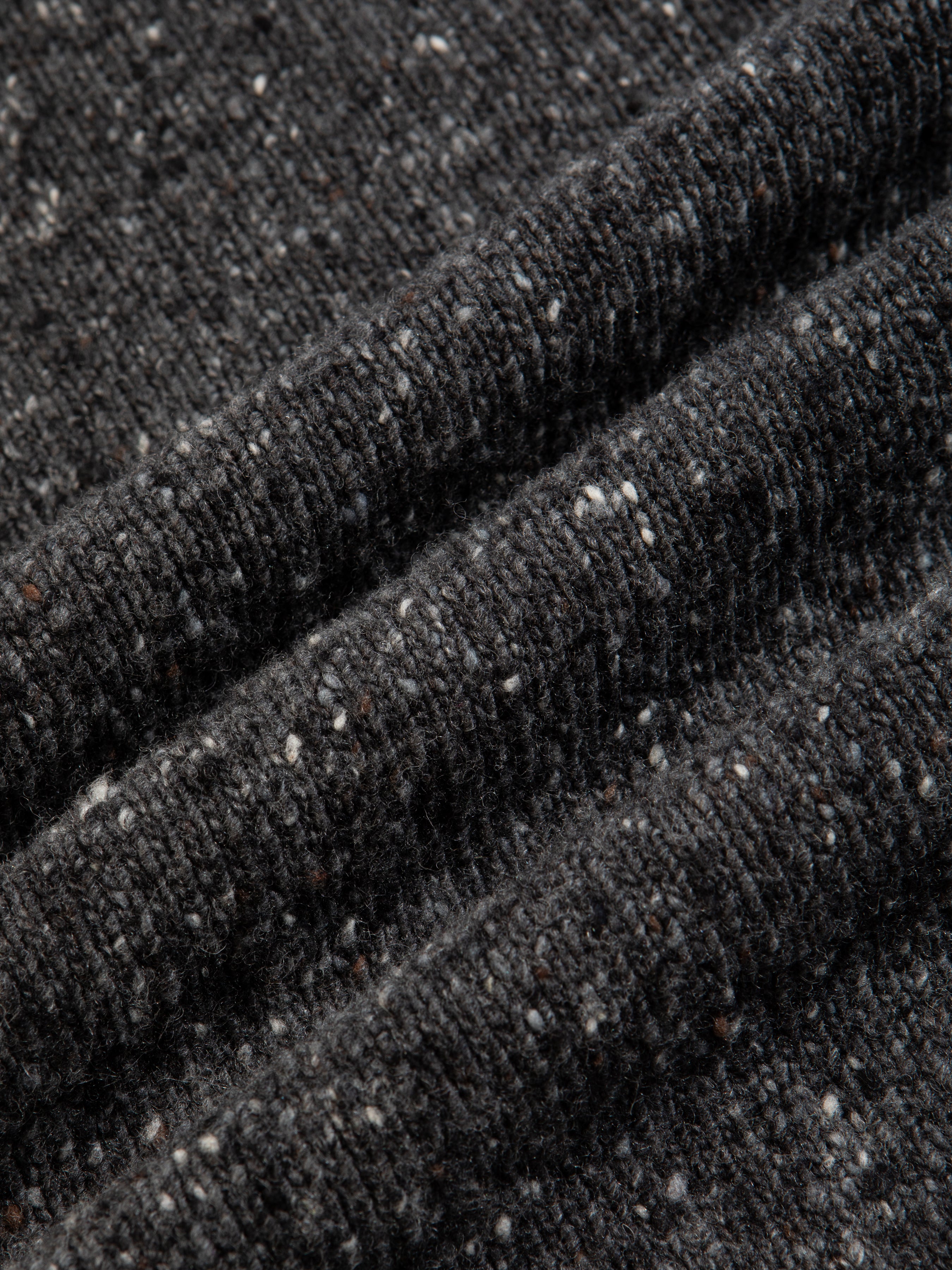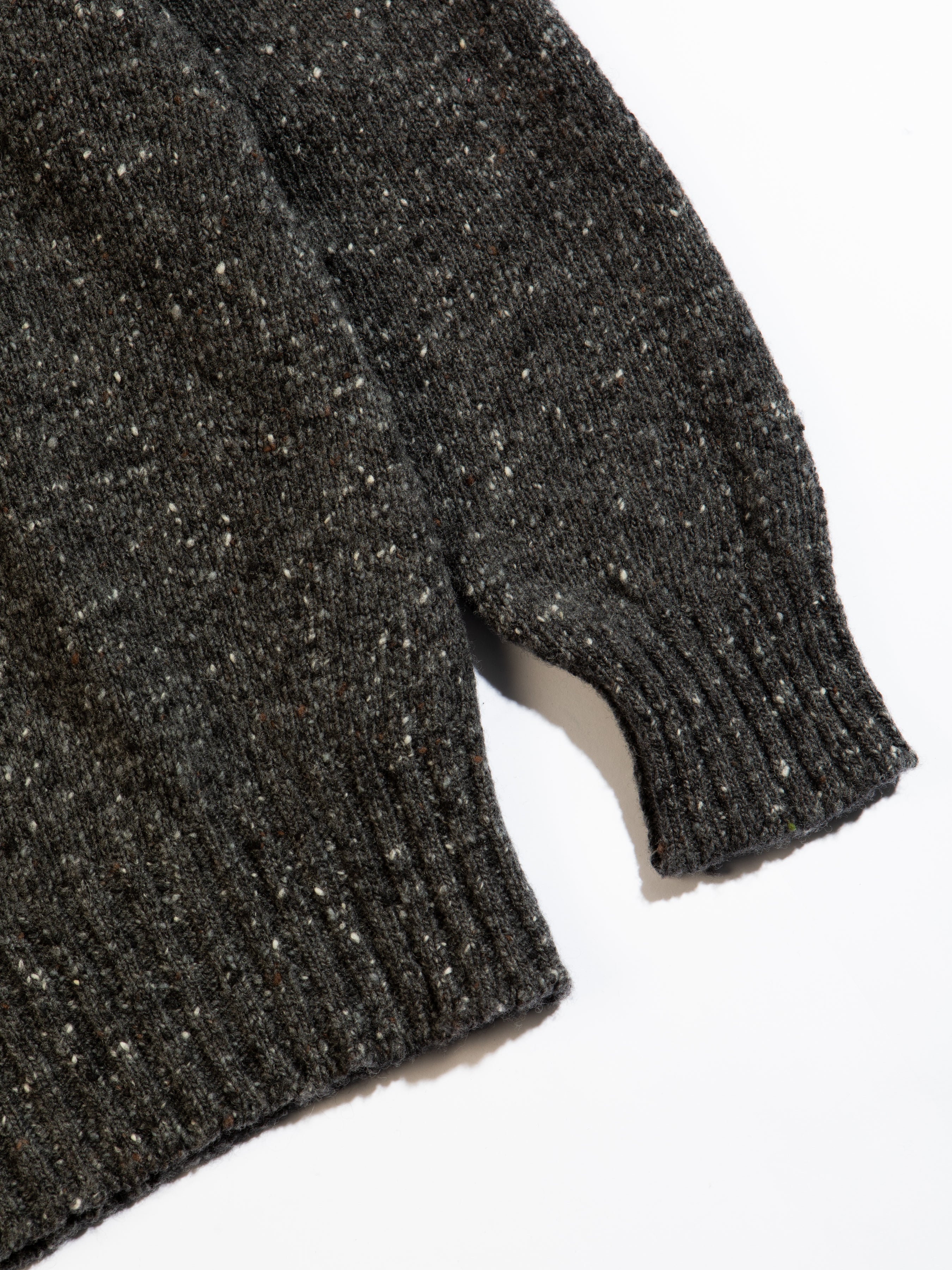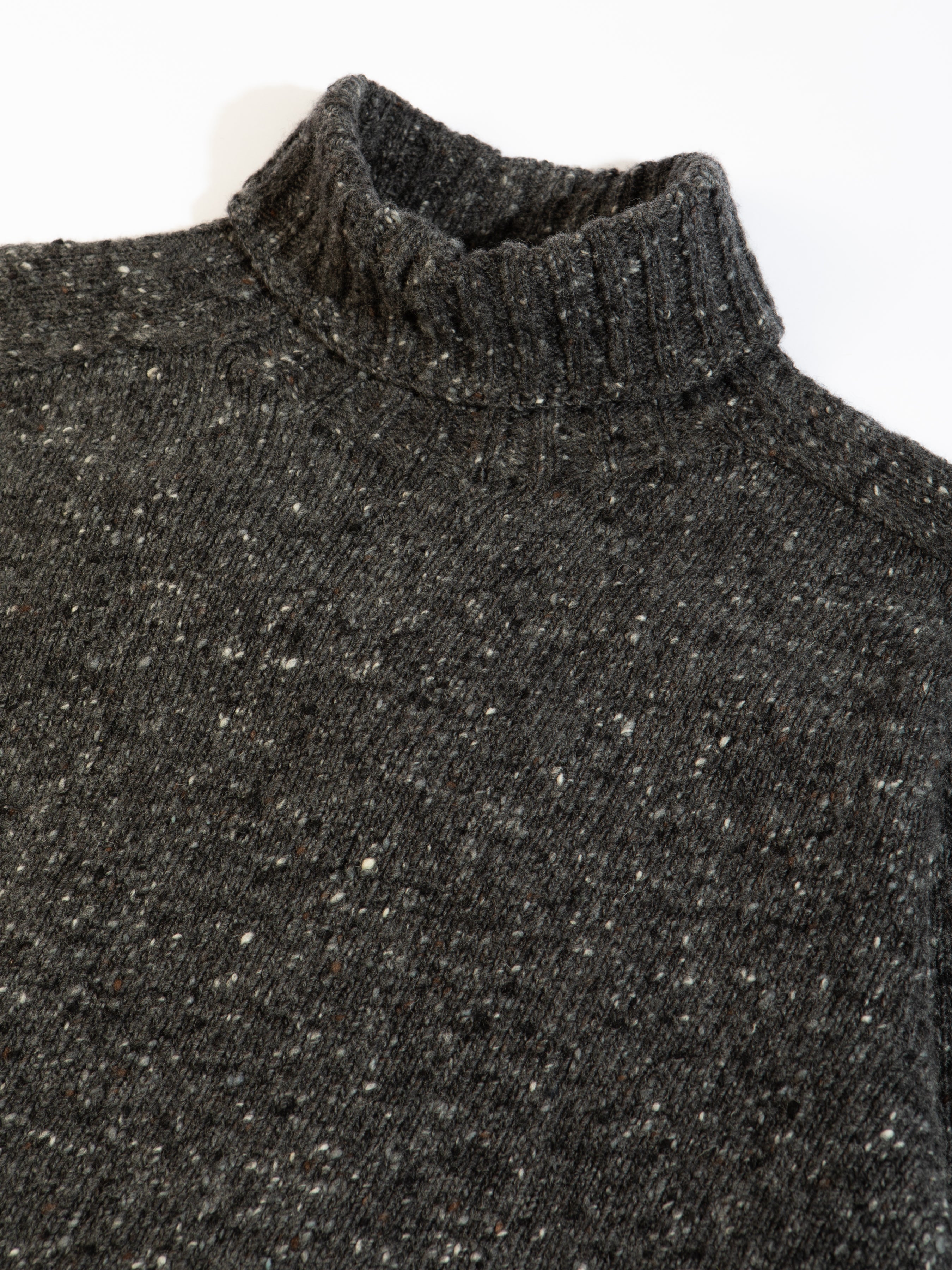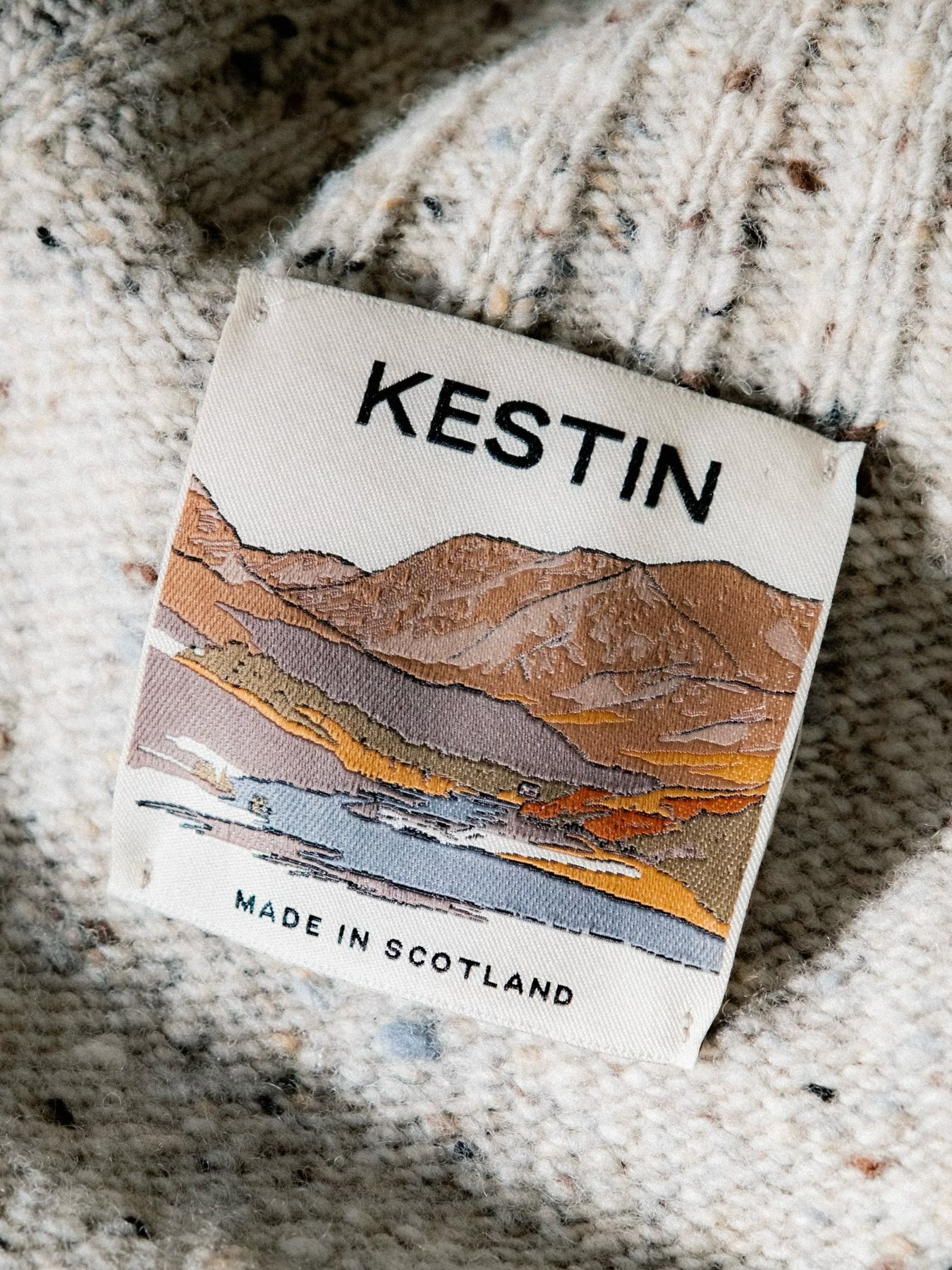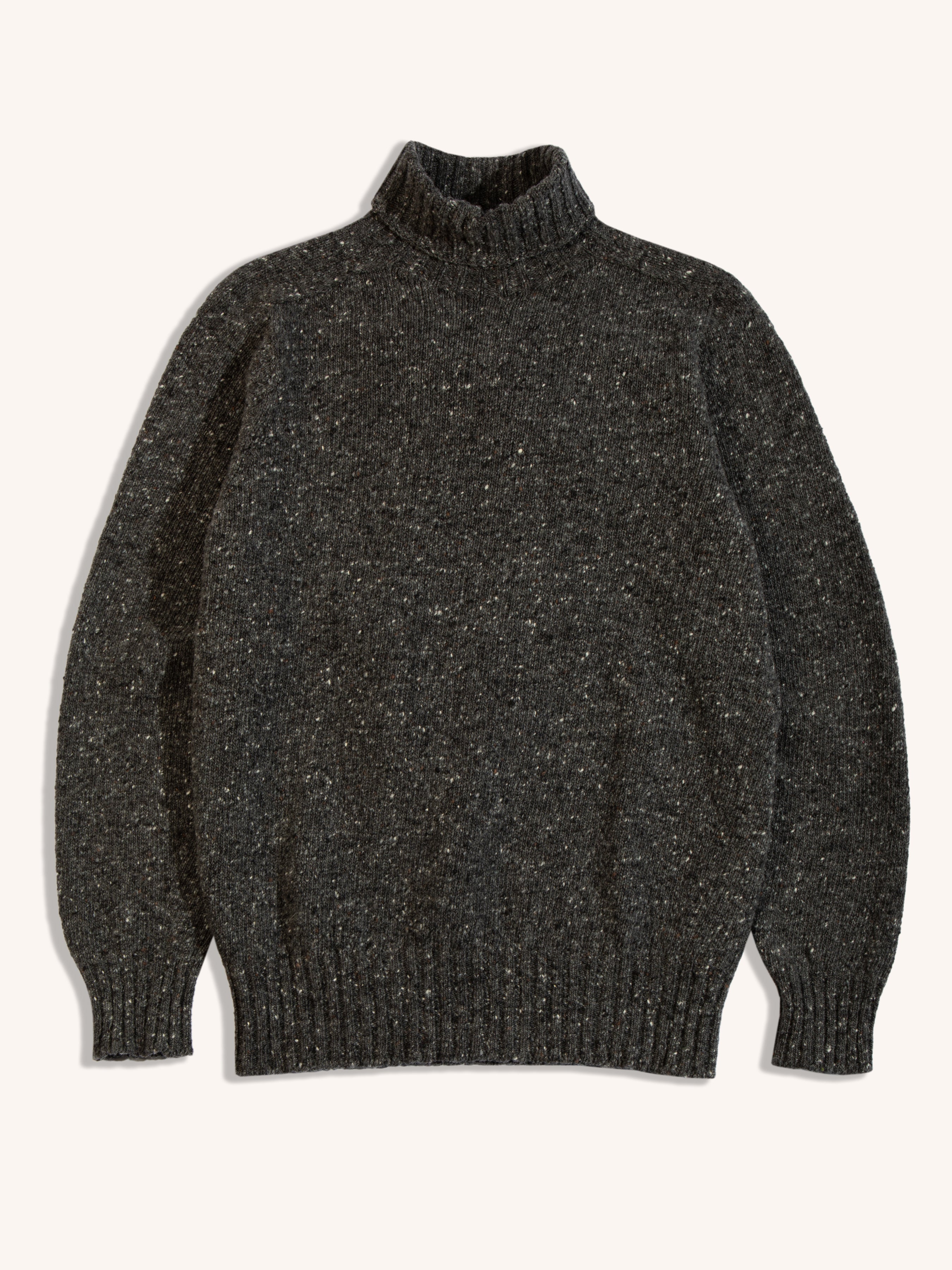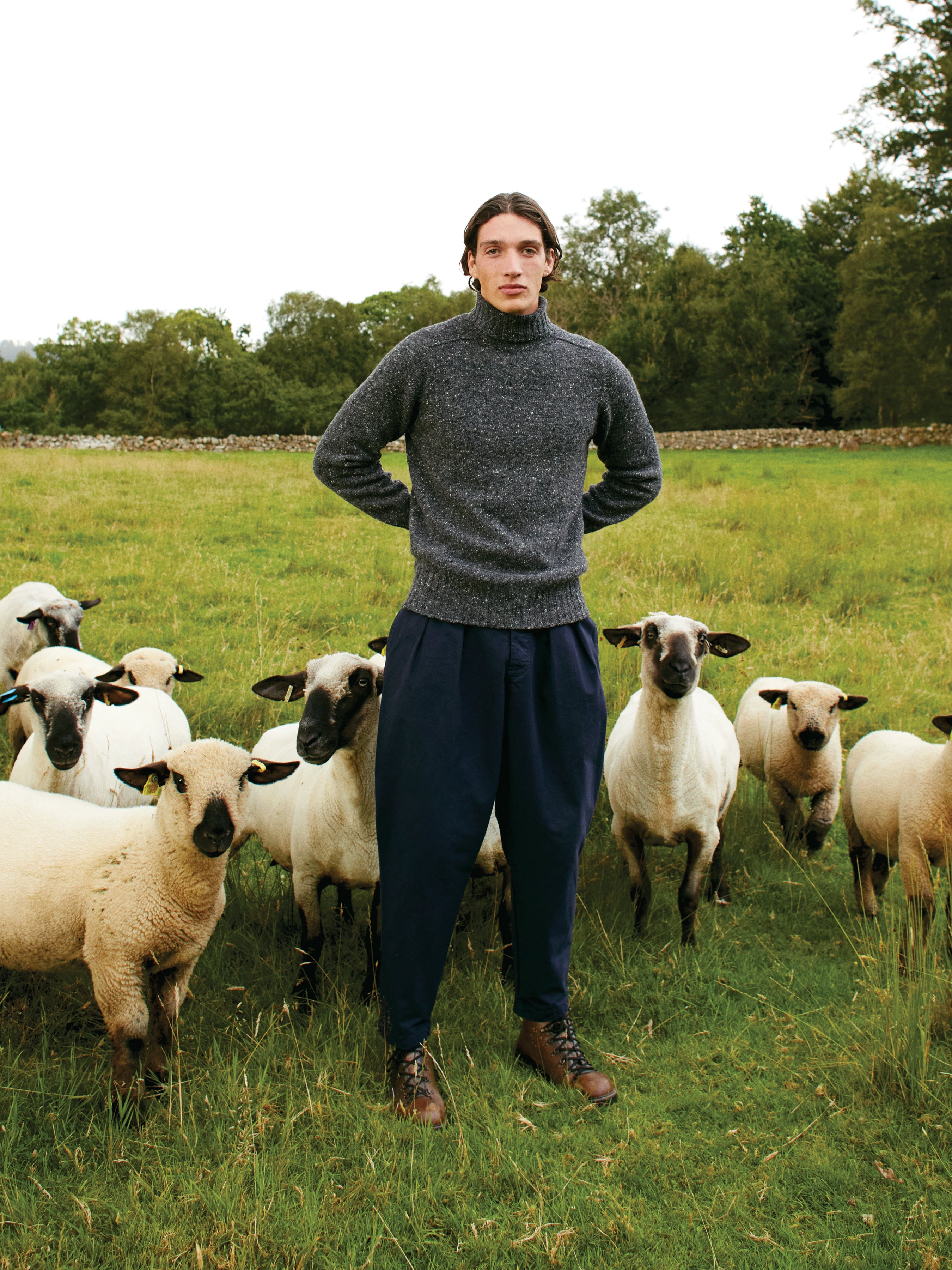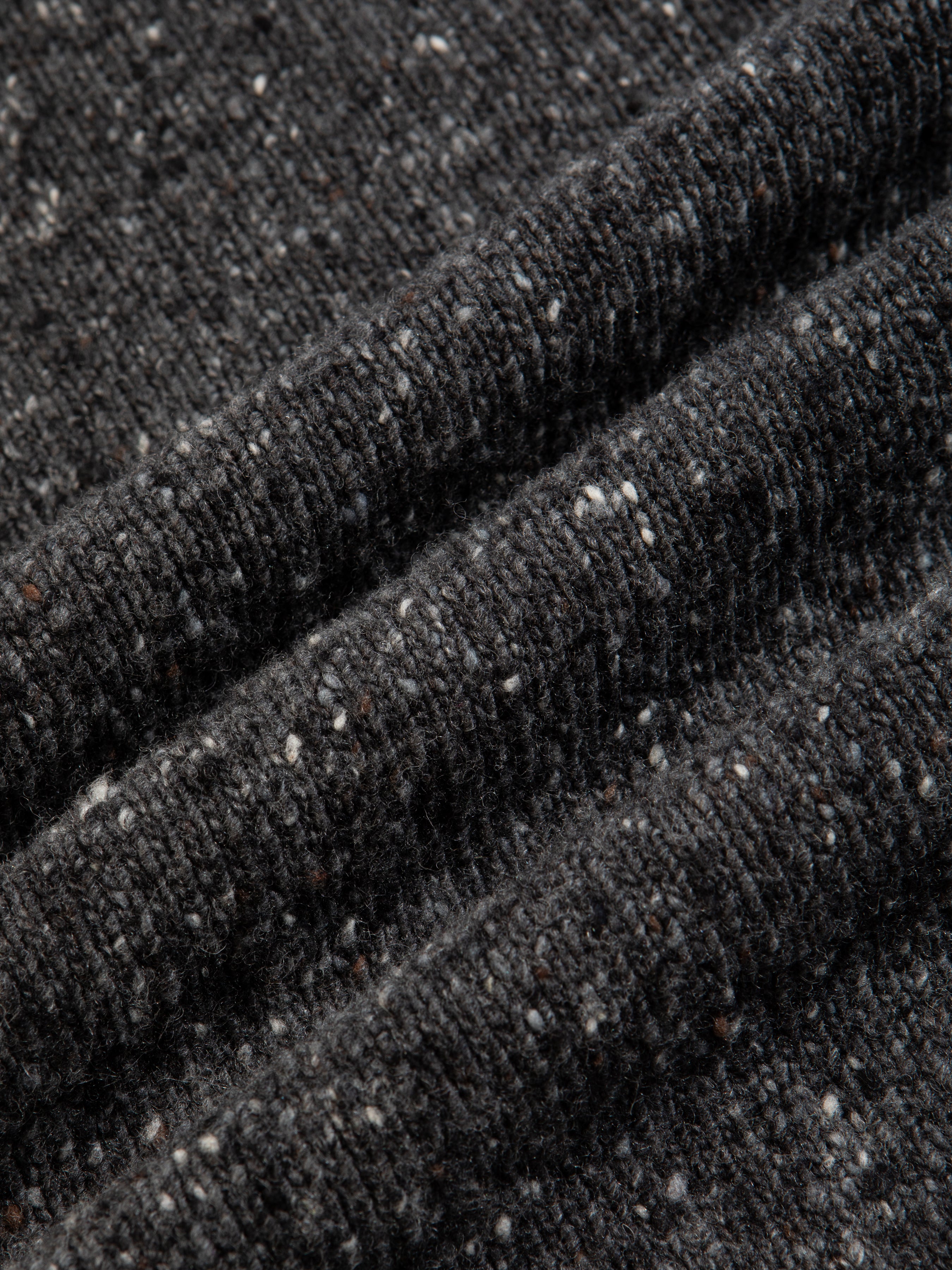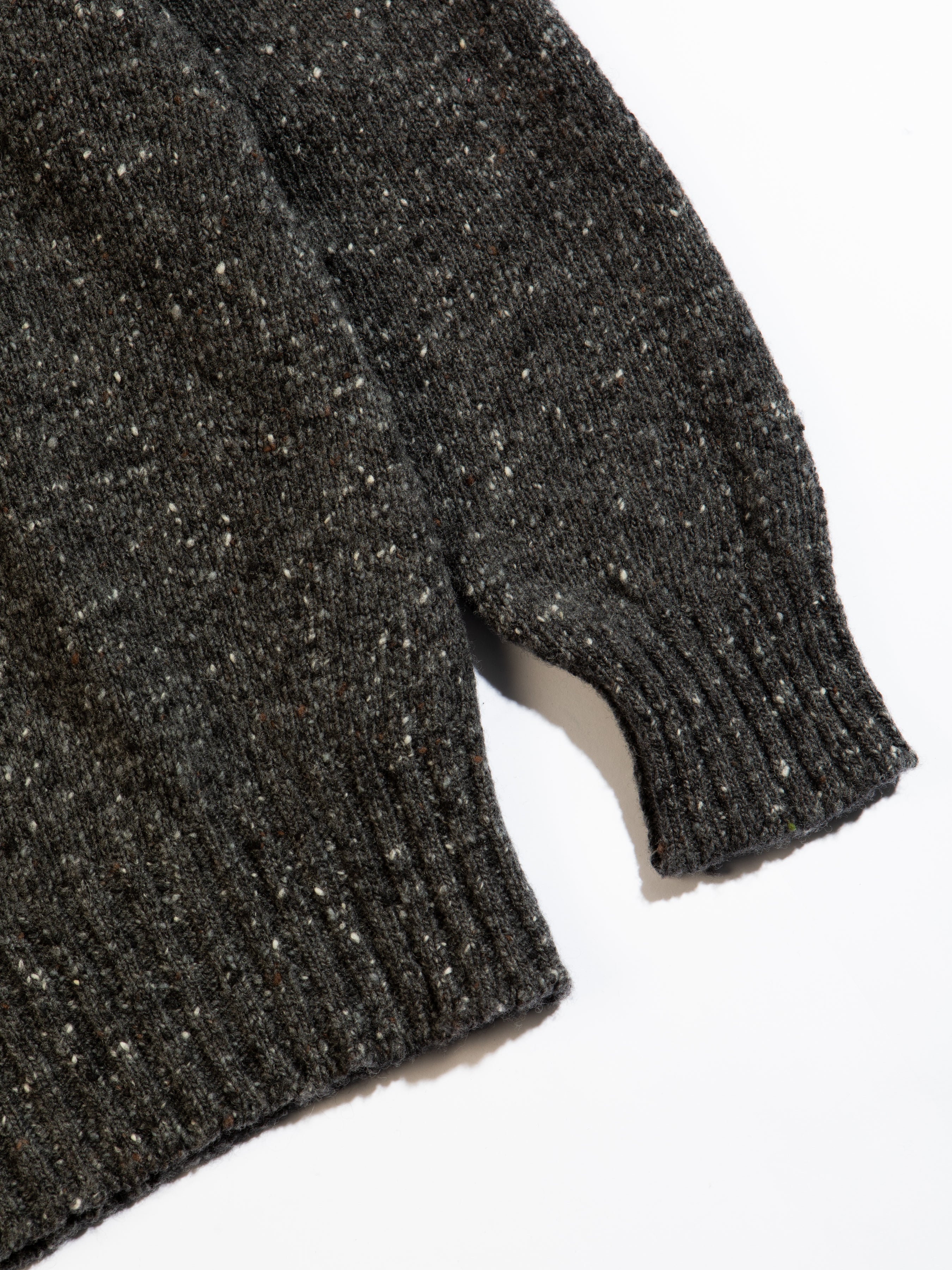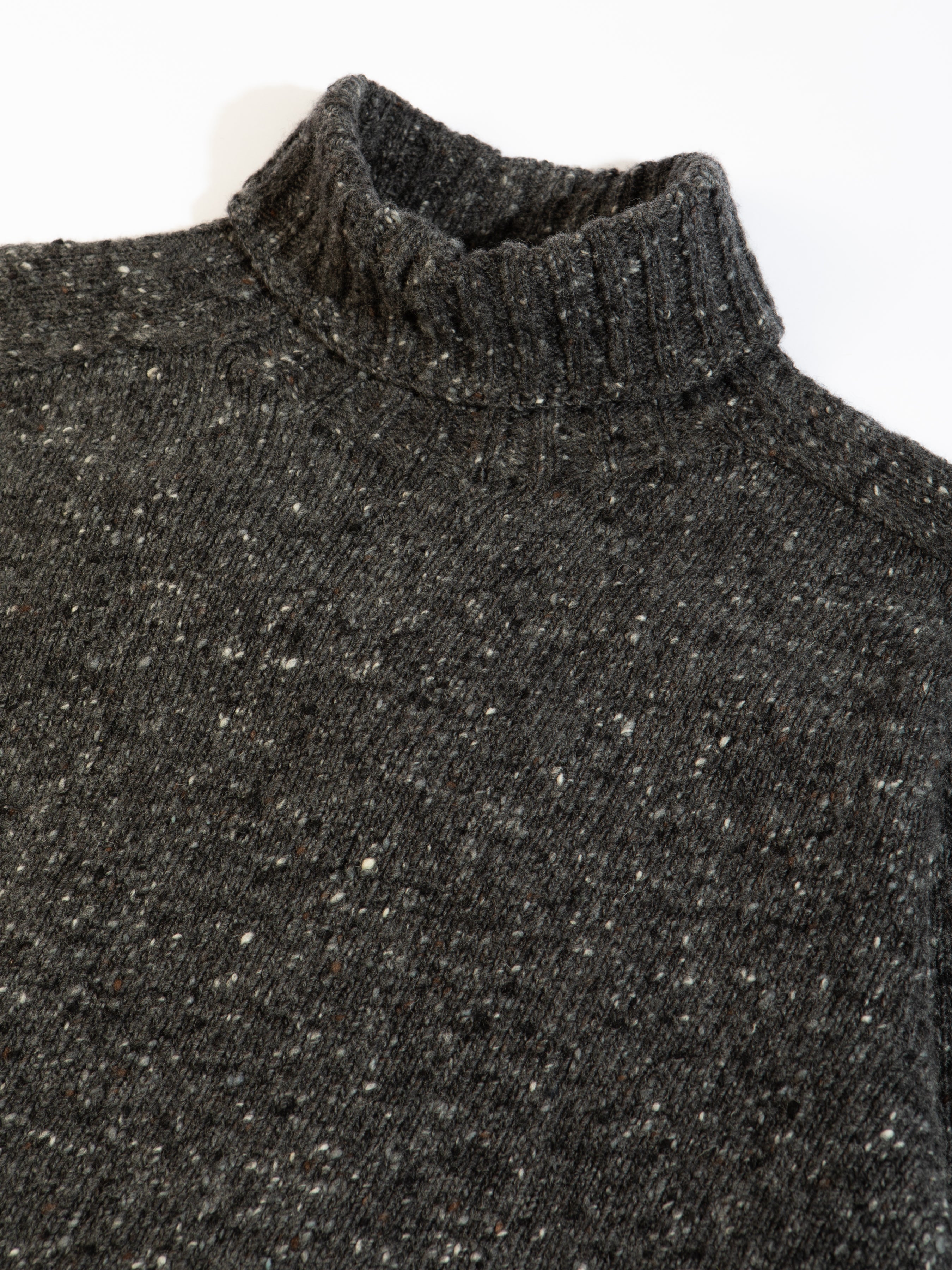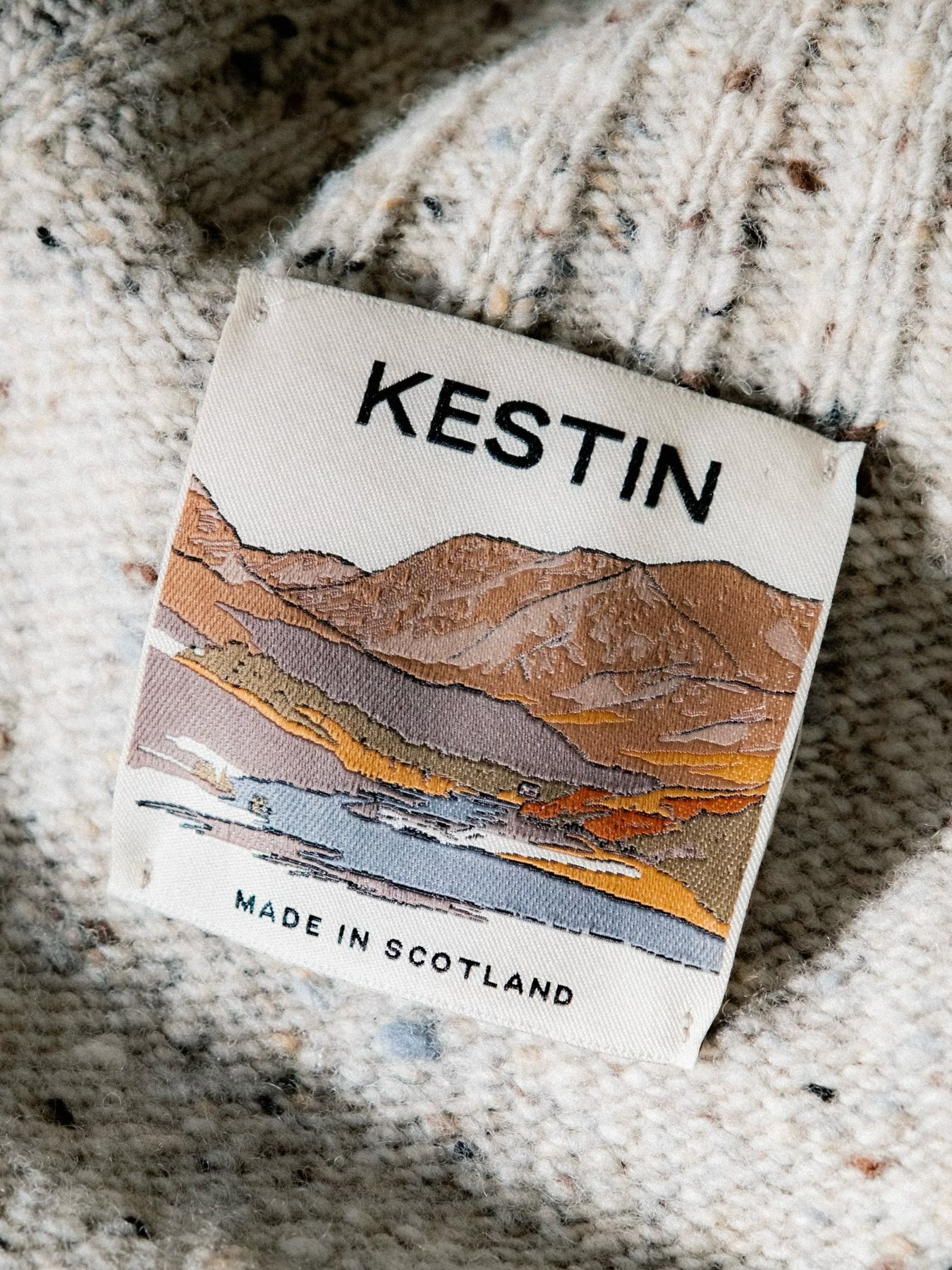 CHARCOAL
£175.00